If you're a Boca Raton biking enthusiast, you conserve fuel, save money, and reduce your carbon footprint. Biking is ideal for commuting, exercise, and fun, but you risk serious or catastrophic injury when you share the roads with motorists.
When a car or truck crashes into your bike, you experience unequal consequences. While you must seek emergency medical care, the motorist simply rides away unharmed. If a bicycle accident disrupts your life, our Boca Raton bicycle accident attorney can determine if a negligent driver owes you compensation.
Under Florida statutes, a bicycle is a vehicle. With few special exceptions, bicyclists have the same rights and responsibilities as other drivers on the road. Unfortunately, some car and truck drivers don't always allow bicyclists the same courtesies they expect. They crowd bicyclists' lanes and make turns in their paths.
When they speed and drive distracted, they make unsafe maneuvers that jeopardize a cyclist's life. If a motorist injured you while riding your bike, you shouldn't wait for them to step up and take responsibility. You need a Boca Raton bicycle accident attorney at at Dolman Law Group Accident Injury Lawyers, PA, working for you.
We Protect Our Clients' Legal Rights
We have always protected our clients' legal rights at Dolman Law Group Accident Injury Lawyers, PA. Our Boca Raton personal injury lawyers a have worked on behalf of injured bicyclists, and we have seen how a single accident could change their life. Our firm is dedicated to providing the legal services and the resources to make negligent drivers pay.
When we've worked with injured bicyclists, we first learned as much as possible about their accidents. We conducted an independent investigation, confirmed the facts, and preserved the evidence. We evaluated any liability issues, identified the responsible parties, and placed them on notice of our client's legal rights. When appropriate, our attorneys have presented our client's cases to insurance companies, their representatives, and their attorneys.
We have found that understanding our clients' injuries helped us evaluate their cases. Our legal team requested and reviewed medical records. We evaluated doctor reports and recovery projections, and we researched judgment trends. We learned from our clients how their injuries affected their lives, their relationships, and their future. We have done whatever was best to recover fair compensation for our clients.
Our Firm's Commitment to Our Clients
At Dolman Law Group Accident Injury Lawyers, PA, our Boca Raton bicycle accident attorneys work to deliver outcomes that benefit our injured clients. We have accomplished this challenge by preparing each case immediately after an accident. We were ready to present our evidence when we found an opportunity to resolve our client's case.
When insurers and their legal representatives cooperated, we negotiated settlements informally. We have participated in facilitated negotiations such as mediation, arbitration, and other Alternative Dispute Resolution processes. When necessary, our trial attorneys have initiated litigation, presented our evidence in court, and let a judge or jury determine the outcome.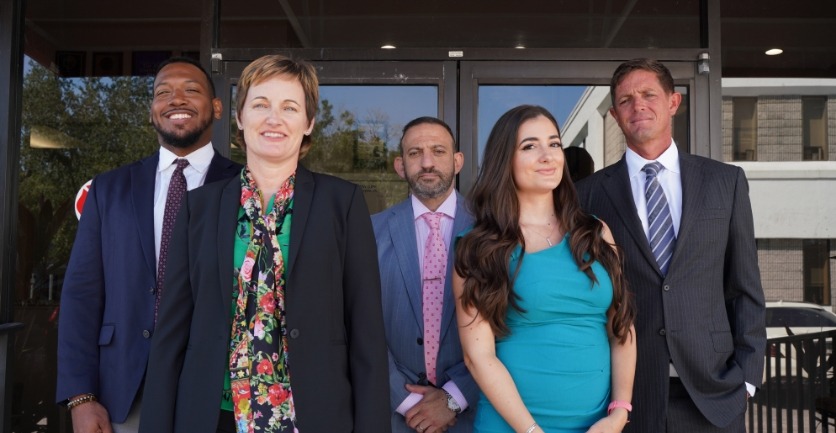 A Longstanding Commitment To Client Results
In working for injured bicyclists, our attorneys maintain a longstanding professional commitment.
We are proud of our results for our clients and their families.
Over 120 years of combined legal experience
Handled cases for over 40,000 clients.
Recovered over 400 million dollars in client compensation
Resolved over 400 cases for higher compensation than the defendant's pretrial offer
We can't guarantee a specific result because bicycle accidents and injuries are unique; however, we offer each client our commitment to work hard on their behalf.
Our case results and client testimonials demonstrate our commitment to our clients' case outcomes.
Semi-truck accident: We resolved our client's brain injury claim for $3,200,000.
Car Accident: Our attorneys resolved a questionable liability injury case for $1,875,000.
Car accident: A negligent driver injured our client in a vehicle crash, causing two herniated discs. We resolved their claim for $1,580,000.
Brain injury: A semi-truck struck our client, causing traumatic brain injuries. Our law firm recovered $3,200,000 on their behalf.
Motorcycle accident: Our client sustained multiple injuries. We resolved his claim for $1,400,000.
Bicycling in Boca Raton
Florida's sunny skies and tropical climate make it ideal for bicycling. For many riders, it's not just about leisurely, sunny day activities. Bicyclists in Boca Raton use their bikes for commuting, exercise, and pleasure. Delivery workers rely on bikes for economical transportation. Thriving local shops sell and rent bicycles, and the Brightline affiliate, Bright Bike, recently began bicycle-sharing rentals on local streets.
The League of American Bicyclists lists Florida as number eight on its most recent list of Bicycle Friendly States. The state earned this designation based on infrastructure, funding, education, and other bicycling-relevant factors. LAB also named Boca Raton as a Bicycle Friendly City.
Bicycle Safety in Florida
Recent changes under Florida Statutes, Title XXIII, Chapter, §316, establish and affirm these and other protective guidelines for bikers and motorists.
A bicycle is a vehicle: The statute confirms that a bicycle has the same rights as any other vehicle on the road.
Vehicle passing zones guidelines: A motorist may cross the center line to maintain three feet of space when passing a bicyclist traveling in the same direction.
Vehicle right turn guidelines: Vehicles must signal their right turn to prevent right-hook crashes with bicycles traveling in the same direction. They may only turn right if the bicycle is at least 20 feet from the intersection.
Guidelines for cyclists turning left: A bicyclist intending to turn left at an intersection can use the full lane. The cyclist must turn as close as possible to the right edge of the roadway.
Riding without a bike lane: Bicyclists must ride single file and close to the right-hand edge of the roadway if the road has no bike lane.
Mandated bicycle equipment: Bicyclists aged 16 and under must wear a Consumer Product Safety Commission-approved helmet. After dark, bikes must have front halogen lights and a rear red lamp visible at 600 feet. Bikers should wear reflective clothing.
The Boca Raton Bicycles/Pedestrians Program is increasing public awareness and making the city bicycle and pedestrian friendly. They accomplish these goals through engineering, education, encouragement, and enforcement programs. The city also publishes a bike map that provides location data for 84 miles of bike trails, shared-use pathways, and undesignated bike lanes.
Bicycle Accidents in Florida
The National Highway Transportation Administration tracks national bicycle casualties and other vehicle accidents. The pedalcyclist category includes bicycles, unicycles, tricycles, and other two-wheeled, pedal-powered vehicles.
The NHTSA's most recent Bicycle Traffic Safety Facts publication documents these trends.
Florida leads the nation in bicycle accident fatalities.
Tourism and high visitation rates contribute to bicycle casualties in Florida, California, and other states.
Recent annual statistics show men are seven times more likely than women to sustain fatal bicycle accident injuries.
Men are four times more likely than women to sustain bicycle accident-related injuries.
Nationally, 79 percent of fatal bicycle accidents occur in urban areas.
The Florida Highway Safety and Motor Vehicles department's Crash Dashboard captures bicycle casualty data in Florida and Palm Beach County.
The most recent statistics show:
Total bicycle accidents in Florida, 7,108
Cyclists injured in Florida, 6,639
Cyclists fatally injured in Florida, 209
Total bicycle accidents in Palm Beach County, 480
Cyclists injuries reported, 439
Cyclists fatally injured, 14
Looked but Failed to See
Researchers have often documented the cognitive or visual phenomenon looked but failed to see. This occurs when a motorist looks but doesn't see what's right in front of them. Researchers often identified LBFTS as a causation factor in motorcycle accidents, but it also occurs with bicycles.
International Association of Traffic and Safety Sciences researchers suggest vehicles sometimes crash into bicycles due to visibility or conspicuity issues. Their conspicuity and visibility study advises that color or pattern-enhanced bicycle equipment may reduce the problem. These findings suggest that bicyclists should be responsible for a motorist's visibility issues.
Bicycle Accident Injuries
When a car crashes into a bicycle, it's not usually a matter of whether the victim will sustain injuries. It's often a matter of severity. The above Boca Raton bicycle accident data demonstrates how frequently bicyclists sustain injuries during an accident. Of the 480 bicycle accidents documented, 439 of the victims sustained injuries. Fourteen sustained fatal injuries.
Unlike cars and trucks, bicycles have no reinforced compartments, seat belts, or other protective systems to prevent or minimize injury. Weight differences also contribute to a bicyclist's potential for harm. While the average vehicle weighs 4000 pounds, the average bicycle weighs slightly more than 22 pounds. The results become predictable when the two collide, even at low speeds. The impact easily sends the bicyclist to the pavement or airborne and into a stationary object.
As a result, they often sustain one or more injuries.
Traumatic brain injuries
Spinal cord damage
Partial or complete paralysis
Disc damage
Shattered bones
Multiple fractures
Internal organ damage
Soft tissue damage
Abrasions and lacerations
Loss of bodily functions
Fatal injuries
Responsibility for a Bicycle Accident
When motorists drive negligently, they become responsible for the injuries they cause. Insurers usually make the initial decisions about paying or not paying a bicyclist's injury claims.
They conduct an investigation and analyze the evidence based on traditional negligence standards.
Duty owed: Did their insured owe the bicyclist a duty to drive prudently? (yield the right of way, stop at a light, etc.)
Duty breached: Did they meet their duty?
Proximate cause: Did their actions cause or contribute to the bicyclist's accident?
Damages: Are the injuries directly related to their breach of duty?
Sometimes an accident involves more than one responsible party. This often occurs due to relationships, contracts, or informal agreements.
When more than one party acts negligently, our Boca Raton bicycle accident attorneys determine whether they share liability for a bicyclist's injuries.
Private passenger vehicles: A vehicle owner is responsible for damages a driver causes while using their vehicle with permission. An injured party sometimes has a separate negligent entrustment action against the owner. This occurs when the owner allows the driver to use their vehicle when they knew or should have known they had a bad driving record.
Commercial vehicles: A commercial driver's employer becomes vicariously liable if the driver performs work-related duties when they cause an accident. An employer also has a negligent entrustment exposure if they hire a driver knowing they have a bad driving history.
Shippers and loaders: A shipper, loader, and other independent contractors share liability when they negligently load cargo, and it shifts or otherwise causes or contributes to an accident.
Manufacturers: A vehicle manufacturer shares the driver's liability if a vehicle defect or defective component causes or contributes to a bicyclist's accident and injuries.
Maintenance or repair contractors: When a contractor's negligent repair or maintenance causes or contributes to an accident, they share liability with the driver and owners.
Florida Personal Injury Protection Coverage is Primary
When bicyclists have auto insurance, their Personal Injury Protection coverage provides primary benefits for their injuries. PIP pays 80 percent of their medical bills, 60 percent of their lost income, and other expenses. The responsible driver's insurer pays PIP benefits if the bicyclist has no auto insurance.
A bicyclist may claim bodily injury liability only if they meet a statutory injury threshold.
Significant/permanent loss of an important bodily function.
Permanent injury
Significant and permanent scarring or disfigurement.
Death
Recoverable Damages From Bicycle Accident Injuries
Negotiated settlements include economic and general damages and sometimes punitive damages when we resolve our clients' injury claims.
Economic Damages
The economic damages portion of a claim includes out-of-pocket expenses incurred during treatment, recovery, and rehabilitation. If our client is still undergoing treatment, settlement damages also include the value of future expenses.
Economic damages often include:
Lost income
Diminished earning capacity
Hospital and physician's bills
Medication
Prosthetics, mobility devices, and structures
Physical and psychological therapy
Medical transportation
Personal care
Replacement services
Funeral and burial expenses
General Damages
When negotiating a general damage claim, we evaluate our clients' pain, psychological trauma, and other subjective concerns.
General damages often include:
Anxiety and emotional distress
Diminished spouse and family relationships
Loss of bodily functions
Scarring
Disfigurement
Permanent disabilities
Punitive Damages
Florida Statute §768.72 authorizes court-awarded punitive damage. As the injured party's attorney, we must present clear and convincing evidence that a negligent party committed acts of intentional misconduct or gross negligence.
How do Negligent Parties Avoid Liability
Some drivers avoid liability for injuring bicyclists by leaving the scene unidentified. Others report the accident in a way that makes liability seem questionable. Insurers who receive claim reports sometimes rely on defense strategies to minimize claim payouts. When a company self-insures its losses, they pay claims out of the company's resources.
Self-insured entities often rely on the same strategies as insurers.
Negotiate unfairly: Some insurers control claim dollars by making low settlements or denying liability altogether
Push injured bicyclists to trial: When an insurer resorts to unfair strategies, they understand that some injured victims will simply settle low or walk away. Some people don't want to go through a litigation process. Others don't have the resources to pay discovery costs.
Deep pocket defense strategies: Some insurers use salaried staff counsel to defend cases. This limits their costs when they choose to defend a case through trial. If they use outside counsel, an insurer's deep pockets easily cover discovery and trial expenses.
Affirmative defenses: Some insurers plead multiple defenses when they file an answer to an injured party's lawsuit. They take a chance that a jury might return a low verdict. They also realize that juries sometimes return defense verdicts that relieve an insurer of any payment responsibility.
Our bicycle accident attorneys prepare for these creative defense strategies early during the life of each claim. We have relied on our skills and our firm's resources to present a strong case for our injured clients.
Get Help from a Bicycle Accident Lawyer in Boca Raton
Even while being safe and wearing a helmet, bike accidents can lead to life-altering injuries because bicyclists' bodies have no protection when they are struck by a vehicle. The low limits of PIP insurance often leave victims with unpaid medical expenses and a whole host of financial issues.
By hiring a skilled attorney, you can focus on your recovery and rehabilitation while your lawyer deals with the details of a lawsuit. If you or a loved one has been injured in a bike accident in the Boca Raton area, call (561) 220-4963 to schedule a free consultation with one of the Boca Raton bicycle accident attorneys at Dolman Law Group.
Dolman Law Group Accident Injury Lawyers, PA
301 Yamato Road, Suite 1240
Boca Raton, Florida 33431
Phone: 561-220-4963
Fax: 305-517-1306
What Our Clients Have to Say:
"Chad Robinson always responded immediately whenever I had questions or concerns. He worked hard to make sure I received what I deserved."
Rating: 5/5 ⭐⭐⭐⭐⭐
Michelle Dorn
December 19
Read more reviews on Google!