If you are the victim of a recent personal injury accident in Hialeah, you may try to wade through the effects of your injuries and options for recovery. Dealing with any injury can bring challenges to your day-to-day life, mainly when the injury is severe enough to warrant ongoing medical treatment and interferes with your ability to keep up with your job or other responsibilities. Unfortunately, medical care for a personal injury is often expensive, and the effects of the damage on your ability to live your life normally can be overwhelming.
At Dolman Law Group Accident Injury Lawyers, PA, we understand what you are going through as a personal injury victim, and we want to help you fight for what you need and deserve under the law. When you suffer an injury tied to the actions of another party, you may be eligible for compensation. Our Hialeah personal injury attorneys can help you discover who might be responsible for your damages and determine what compensation you might recover.
Contact us today at 833-552-7274 (833-55-CRASH) for a free consultation on how we can help you recover the full and fair compensation you need for your Hialeah personal injuries.
Table of Contents
Why Hire Dolman Law Group for Your Hialeah Personal Injury Case
At Dolman Law Group Accident Injury Lawyers, PA, our mission and focus are to fight for our clients and the maximum compensation possible in their cases. We are not afraid of insurance companies and are not eager to take just any settlement to resolve your personal injury claim and case. We are here to stand up for you, fight for you after your injuries and take the steps necessary to help accomplish a positive outcome in your case, even if that means taking the fight to court.
Dolman Law Group Accident Injury Lawyers, PA is a growing firm with office locations throughout Florida. As a member of the Hialeah community, we have several convenient locations near your home or work to visit with our attorneys and staff.
You can rely on us to deliver the highest level of representation possible for your Hialeah personal injury claim because our lawyers have more than 120 years of collective legal experience, and we have secured more than $400 million in total compensation for our clients. Our attorneys have also earned national recognition and awards for our outstanding professionalism and client service.
We respect our clients and their time. At Dolman Law Group Accident Injury Lawyers, PA, we offer clients the option of in-person or virtual consultations to accommodate their needs and life. We take pride in our strong and dedicated approach to representing our client's needs and fighting for the maximum compensation available in their personal injury cases. Our lawyers also work on a contingency fee basis, so you won't pay us anything upfront to handle your case, and we will only accept a fee if we recover compensation for you. Contact us to schedule a consultation as soon as possible after a personal injury accident in Hialeah.
Compensation Available to Victims of Personal Injury
When you suffer a sudden and serious injury, your whole life becomes affected. You do not only need to worry about your physical health and the rehabilitation of your injury but also about how you will continue to support yourself and your family. Injuries bring on an inundation of bills, including costs of your medical care and day-to-day living expenses that you may be struggling to meet because your injury restricts your ability to work.
This is a difficult and disheartening situation for many victims of personal injury. As a result, you cannot think about the future when you are struggling to get through now.
At Dolman Law Group Personal Injury Lawyers, PA, we know the struggles you face, and we want to help you get the money you may be eligible for under the law. Compensation for a personal injury should not just be to cover the bare minimum of your medical expenses so that you can try to scrape by as you recover. If you hire us, we want to fight for every loss category you can be eligible to recover under the law.
Damages in a Hialeah personal injury case can include:
Medical expenses - Your medical expenses after a personal injury can be significant, even for a minor to moderate injury. We can fight for all of your medical costs, including medical expenses you may continue to incur in the future due to your injuries.
Loss of income - After a painful injury, the last thing on your mind is when you will get back to work, but the reality is most people do not have that luxury. An incapacitating injury will cause you to lose out on income and even future potential income if there is a risk of permanent damage. We can fight for your income losses now and those that may occur because of your injuries.
Distress - Physical pain, suffering, and emotional or mental distress are all potentially recoverable in a personal injury case. Proving these injuries can be challenging, but we can guide you and help you fight for the compensation for these often-overlooked injuries that significantly impact your ability to live and enjoy your life as you did before the accident.
Property damage - There are situations such as motor vehicle collisions where the damage to property such as a vehicle can be costly to repair or replace. If your accident involves property damage, we can also fight for compensation to cover those losses when possible.
Wrongful death of a loved one - If you are a family member of a person who loses their life in a personal injury situation and you believe another party is to blame, you may have a case of wrongful death against the party at fault. We can help you determine whether you have a case eligible for compensation and how we can fight for that compensation is available.
Where Can You Get Hurt in Hialeah?
Sitting on the outskirts of the City of Miami and neighboring the Miami International Airport, Hialeah is a busy city with an eclectic mix of residents, visitors, and tourists that travel through the area on their way to their destination. Hialeah is also near many factories and warehouses where many workers commute to and from every day. Some major manufacturers include IC Industries, Inc., United Beddings Corp, and Atlas Paper Mills.
Personal injuries can happen anywhere in Hialeah. Whether at work, on the road, or visiting one of the area's many businesses and offices, you may find yourself a victim of an injury due to another person or entity's actions or failure to act.
You could be shopping at Target in the Miracle Mile Shopping Center, Westland Mall, or Publix Super Market at Hialeah and slip on a spill or trip over a pallet of products in the aisle. You could also get injured at the Miami Watersports Complex, Milander Park, or any other various public parks and spaces around town.
Additionally, Hialeah sees heavy traffic a lot, and you could get into a car accident anywhere in the city, including
I-95
E. 49th Street
E. 8th Avenue
Red Road
If you suffer such an injury, your rights are at risk as soon as the accident occurs. Therefore, you must act as quickly as you can to contact a lawyer so they may step in and preserve evidence and lead you on the steps to seeking compensation from the parties responsible.
What Qualifies as a Personal Injury?
It is impossible to list every personal injury scenario that can or has occurred. However, the premise of what institutes a personal injury is easier to explain. Accidents can happen anywhere to anyone. However, when an accident has a driving force behind it—the actions or inaction of another party aside from the victim—grounds for a personal injury claim or case may arise. A personal injury can cause an injury, condition, or illness.
The law recognizes that when a party suffers an injury through no fault of their own, the party responsible for the injury and subsequent damages should be in some way responsible for the harm caused to you. In addition, each state has laws that dictate when an injury victim can recover their losses.
Types of Hialeah Personal Injury Accidents We Handle at Dolman Law Group
Within each corner of Hialeah is a vibrant and hectic population of community members and visitors. People who do not expect or plan for what to do in the case of an injury accident. A personal injury accident can happen instantly, halting your day and potentially changing your life depending on the severity of the injuries and the impacts involved. At Dolman Law Group Accident Injury Lawyers, PA, we have nearly two decades of experience handling all sorts of personal injury matters throughout Florida.
We fight for clients that are victims of negligence in personal injury matters such as:
Hialeah Pedestrian or Bicycle Accidents
Hialeah Traumatic Brain Injury Cases
Hialeah Product Liability Matters
Hialeah Medical Malpractice
Hialeah Premises Liability
Hialeah Birth-Related Injuries
Hialeah Boat Accidents
Hialeah Nursing Home Negligence or Abuse
Hialeah Worker's Compensation
Most Common Injuries to Victims in a Personal Injury Case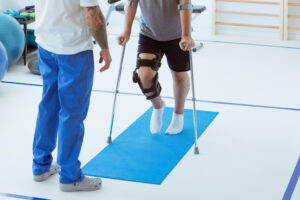 Your case will likely focus significantly on the seriousness of the injuries you suffer and the type of injury in your personal injury case. One accident can result in one or multiple injuries. Beyond the immediate injuries, a victim can also develop other complications and conditions the accident triggered.
If hired, the team at Dolman Law Group Accident Injury Lawyers, PA can speak with you and your providers to fully understand the complexities of your injuries and your recovery. The more we know about your injuries, the better we can fight for the compensation you deserve from the parties at fault.
Injuries to victims in personal injury cases may include:
Spinal cord injuries
Other head, neck, or back injuries
Broken bones
Internal injuries
Burns
Development of chronic disease, terminal illness, or other medical condition
Loss of vision or hearing loss
Amputation
Why Going Against Insurance Companies Is an Uphill Battle?
When you are a victim of a personal injury, and you know there is an insurer that potentially covers your incident, you may feel a sense of relief. Unfortunately, that relief quickly turns to dread in most cases once a victim realizes what a challenge it will be to fight the insurance company for the compensation they deserve.
While many people think that insurance companies' role is to pay victims' losses when an accident occurs, the reality is that their role is to pay only what they deem necessary, if anything, and to protect their bottom line at all costs.
An insurance company is not going to give you anything. They will make it as difficult as possible for an everyday victim to get the compensation they are eligible for under the law. As a result, many victims who choose to handle their cases without an attorney will lose a significant amount of money on their claims. Some may receive nothing after their injuries from the insurer.
When you hire Dolman Law Group Accident Injury Lawyers, PA, you do not need to be afraid of the insurance companies. Insurers know that we fight for our client's rights and will not allow them to take advantage of you or push your case aside.
Steps to Take After a Personal Injury Accident
Your biggest focus after a personal injury is on your physical, mental, and emotional health. Doctors will provide you with a treatment plan for your injuries that will guide your healing and recovery. Make sure to follow their plan, stay involved in your treatment, and stay focused on your recovery. Healing from a personal injury can cause discouraging moments but do not give up on yourself and stay the course of your treatment.
At Dolman Law Group Accident Injury Lawyers, PA, we will help you with your peace of mind. Simple steps that you can take to help your case include, trying to keep track of all evidence in your case and collecting your medical records and any critical information relevant to your personal injury so that you can bring this information to us. We can use it to prepare and build your case.
Contact Our Hialeah Personal Injury Accident Lawyers Today
Our team of litigation personal injury attorneys at Dolman Law Group Accident Injury Lawyers, PA, is ready to consult with you on your case and help you decide the best path to recover your losses after a personal injury accident in Hialeah. Call 833-552-7274 (833-55-CRASH) or submit our online contact form, and we will provide you with a free case consultation to discuss what compensation you might recover.
Emergency Rooms and Urgent Care Centers in Hialeah
If you suffered a serious personal injury in Hialeah, you can visit one of the following medical centers for treatment:
Hialeah Hospital Emergency Room: 651 E 25th St, Hialeah, FL 33013
Carbon Health Urgent Care Hialeah: 915 W 49th St, Hialeah, FL 33012
Larkin Community Hospital Palm Springs Campus (Hialeah) Emergency Room: 1435 W 49th Pl, Hialeah, FL 33012
*Disclaimer – Dolman Law Group Accident Injury Lawyers, PA does not endorse these companies nor do we profit from having them listed on our website.