Car accidents cause devastating bodily harm, emotional trauma, and significant unplanned financial burdens in Stockton. If you or your loved one is the victim of a car accident in Stockton, you could recover substantial financial compensation from those responsible for your suffering.
Navigating these complex situations requires the competence and experience of a proficient car accident lawyer. At Dolman Law Group Accident Injury Lawyers, PA, our primary mission is to fight tirelessly for the rights of car accident victims.
Our team of skilled Stockton car accident lawyers has successfully secured substantial payouts for countless clients who suffered injuries in car accidents. We strive to win the maximum compensation for your losses. To kickstart your journey toward justice, contact us today for a free case evaluation.
Why Choose Dolman Law Group Accident Injury Lawyers, PA
If you are searching for robust representation following a car accident in Stockton, California, look no further than Dolman Law Group Accident Injury Lawyers, PA. We bank on our formidable experience and profound understanding of car accident law to deliver unrivaled legal service to our clients.
Dolman Law Group Accident Injury Lawyers, PA, takes on car accident cases in Stockton. We are home to a multifaceted team of seasoned legal professionals who stop at nothing to secure the justice you deserve. We understand the nuances of California laws and how to use them to benefit our clients.
We Value Success and Commitment
We take pride in our impressive track record of success in handling car accident cases. The rigorous pursuit of maximum compensation and our ongoing communication throughout the process exemplifies our commitment to our clients. You can trust us to be your legal advocates and rely on our competence to get you through these challenging times.
The Dolman Law Group works with local counsel in any jurisdiction outside Florida for the purpose of filing lawsuits in jurisdictions where we are not licensed. Thus, we will follow each State's ethical rules to ensure a local attorney is involved. If you have suffered injuries in a car accident in Stockton, contact us today to review your legal options.
<iframe width="200" height="113" src="https://www.youtube.com/embed/sYGkfII8vzc?feature=oembed" frameborder="0" allow="accelerometer; autoplay; clipboard-write; encrypted-media; gyroscope; picture-in-picture; web-share" allowfullscreen title="When to Hire a Car Accident Lawyer"></iframe>
The Financial Damages You Can Pursue Following a Motor Vehicle Accident in Stockton
The repercussions of a car accident in Stockton include minor grievances, permanent injuries, and financial distress.
You have the legal right to seek compensation for your injuries and losses. At Dolman Law Group Accident Injury Lawyers, PA, we make it our business to protect your rights.
Clarification of Victims' Rights
California law provides car accident victims the right to pursue compensation for losses resulting from an accident. This compensation can cover medical bills, lost income, pain and suffering, and more.
Our skilled lawyers understand California law and can navigate these complex legal pathways for you so you can focus on your healing and recovery.
How Our Legal Team Can Investigate Your Case After an Accident
Our approach to securing you the rightful compensation involves thoroughly investigating the car accident. Our proficient legal team meticulously analyzes every detail of the incident to identify liable parties and calculate the potential settlement.
This includes scrutinizing accident reports, consulting medical professionals, and liaising with accident reconstruction experts. We aim to accurately quantify your damages and effectively argue your case. Choosing Dolman Law Group Accident Injury Lawyers, PA, positions you on the path toward appropriate compensation for your injuries and losses.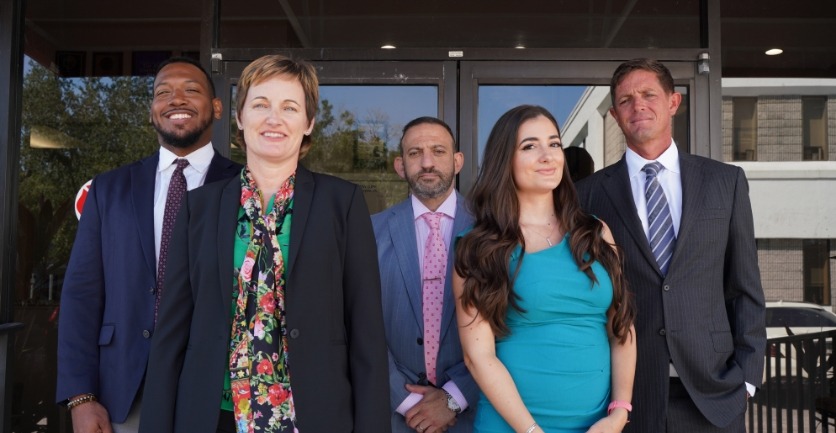 Common Accident Locations in Stockton
Understanding where accidents commonly occur can be crucial in understanding the specifics of your case and formulating an effective strategy. Stockton sees a significant number of car accidents every year.
Statistics and Information About Common Accident Locations
Certain intersections and roadways in Stockton are notorious for accidents. The intersections of March Lane and Pershing Avenue, Hammer Lane and Lower Sacramento Road, and Martin Luther King Boulevard and Charter Way have high incidences of car accidents. Roads such as Interstate 5 and State Route 99 also witness a considerable number of collisions every year.
How We Use This Local Information
With local knowledge, Dolman Law Group Accident Injury Lawyers, PA, can craft an informed, strategic litigation plan. This information can aid our investigations and help us better understand the circumstances surrounding your accident. We use this data to identify patterns, determine the liable parties more accurately, and ultimately secure the maximum compensation for your injuries and losses.
Types of Car Accidents and Injuries Our Legal Team Handles
Car accidents can occur in many ways, resulting in various injuries. Understanding your accident type and injury can be crucial in arguing your case effectively and securing rightful compensation.
Different Types of Accidents
At Dolman Law Group Accident Injury Lawyers, PA, we have extensive experience handling a broad range of car accidents, including rear-end collisions, side-impact crashes, head-on collisions, single-vehicle crashes, multi-vehicle pileups, vehicle rollovers, and hit and run accidents.
Potential Injuries Following a Motor Vehicle Accident
Different types of accidents can result in various injuries. We have the skills to handle whiplash cases, traumatic brain injuries, broken bones, spinal cord damage, internal injuries, and even emotional and psychological trauma. Each injury carries unique medical costs and recovery timelines, which we consider when calculating your compensation. We leverage our experience in handling these specific injury cases to fight relentlessly for your rights for optimal compensation.
Fighting the Insurance Company
Dealing with insurance companies after a car accident can often be daunting and complex. Insurance providers act in their best interest and employ various strategies to minimize their payout or deny your claim.
At Dolman Law Group Accident Injury Lawyers, PA, we navigate these challenges to ensure you get fair compensation.
Challenges of Dealing with Insurance Companies
Although purportedly on your side, insurance companies are ultimately businesses focusing on maximizing their profits. This often translates into tactics to deny or diminish your claim.
These can include disputing liability, downplaying the severity of your injuries, postponing settlement negotiations, or even challenging the necessity of your medical treatments. For unprepared or uninformed victims, these strategies can jeopardize the outcome of the claim.
How Our Legal Team Can Handle Your Claim
At Dolman Law Group Accident Injury Lawyers, PA, our team of skilled Stockton car accident lawyers recognizes the tactics insurance companies employ. We aim to fiercely advocate for your interests to prevent you from accepting a lowball settlement and fight for the compensation you deserve. We will work with you to manage these challenges, ensuring the insurance companies are accountable.
What to Do After a Car Accident in Stockton
The aftermath of a car accident can be tumultuous and confusing. Your actions following an accident can determine any potential compensation claim. Key steps include seeking immediate medical treatment, keeping all receipts and records, and obtaining a copy of the police report.
Contact the Authorities
Contacting the authorities after a car accident is crucial for several reasons. It ensures the timely filing of an official accident report, which serves as a critical piece of evidence in any legal proceedings.
This report typically contains essential details about the accident, including the date, time, location, weather conditions, and descriptions of the involved vehicles and injuries, if any. The police might also note their preliminary assessment of who was at fault, which can be a significant factor in your case.
An attending law enforcement officer at the scene can control the situation, direct traffic, and summon medical help if necessary. Their presence can also prevent altercations or disputes with the other driver.
Involving the authorities immediately can also facilitate engagement with insurance companies, since an official police report frequently expedites the claim process. The absence of a police report after a car accident may jeopardize your claim, as insurers tend to rely heavily on these documents when determining fault and settling claims.
Follow Treatment Plans and Keep Records
Your health should always be your priority following a car accident. Seeking immediate medical treatment ensures your well-being and establishes a medical record of your injuries—the cornerstone of your compensation claim.
Follow your doctor's orders, keep all medical receipts, and maintain a clear record of your physical, emotional, and financial ramifications following the accident.
Rely on Dolman Law Group Accident Injury Lawyers, PA, To Collect Evidence
Prompt action following an accident can drastically improve the likelihood of a favorable settlement or verdict. Dolman Law Group Accident Injury Lawyers, PA, plays an active role in collecting evidence after a car accident. This includes obtaining police reports and gathering witness statements. We take all necessary steps to strengthen your case.
Do Not Post on Social Media
Following a car accident, you might feel the urge to share your experience on social media platforms.
Resist this impulse.
Insurance companies and opposing legal teams can search your social media profiles for posts with the potential to contradict your claims about the accident or the extent of your injuries. This includes photographs, location check-ins, or even seemingly innocent comments from friends or family. Refraining from posting about your accident or injuries on social media can maximize your chances of obtaining fair compensation.
Understanding the Factors That Determine Your Compensation
Several factors can influence the compensation entitled to you following a car accident. These include the nature and severity of your injuries, the extent of your medical expenses, the amount of lost income if you cannot work, and the degree of your pain and suffering. The strength of your evidence, the credibility of your testimony, and the clarity of liability also play a significant role in determining the possible compensation.
The extent of damage and incurred costs for repairing or replacing your vehicle if it is a total loss are also considerations. Other determining factors include the long-term effects of the injuries that might restrict your future earning capacity and changes to your day-to-day activities or lifestyle due to the accident.
The policy limits of the at-fault driver's insurance coverage may also restrict your payout. If the cost of your damages exceeds these limits, you may need to file a lawsuit against the at-fault party or tap into your underinsured motorist protection.
Watch Out for the Statute of Limitations
Under California's statute of limitations for personal injury cases, you have two years from the accident date to file a lawsuit in the state's civil court system. Failure to adhere to this deadline could result in the dismissal of your case and the loss of your right to seek compensation for your injuries and damages.
After getting immediate medical attention, contact an experienced car accident attorney to protect your legal rights and initiate the necessary proceedings promptly.
Contact Dolman Law Group Accident Injury Lawyers, PA, Today
After a Stockton car accident, it is vital to take timely legal action. When you retain the legal team at Dolman Law Group Accident Injury Lawyers, PA, you will not have to manage this ordeal alone.
Our attorneys can:
Review the facts of your accident, determine if you have a viable legal claim, and evaluate your legal options.
Obtain evidence and seek the compensation you deserve.
Bring in experts to validate your legal claim.
Fight for the justice and compensation entitled to you.
Your recovery and justice are our priority. Contact Dolman Law Group Accident Injury Lawyers, PA, today for your free case evaluation and embark on your path to recovery and rightful compensation. Our team of experienced Stockton car accident lawyers is standing by at 833-552-7274 (833-55-CRASH). Call us at any time.
Great lawyer, glad we switched! Met with Mr Dolman regarding an auto accident. My daughter had "soft tissue' damage. I was unhappy with my current lawyer, but thought it was too late to change. We discussed my daughters case for about an hour and a half. Mr Dolman is very intelligent -legally and medically…I learned more that day than in the past 2 yrs with my last lawyer, that night my husband and I choose to switch both cases to Matt Dolman. No regrets! He noticed that a test had been missed on my daughter, the doctor agreed, and we found that she has bulging discs. We knew she was hurting, and now we have some proof as to why. Thanks Matt! My case is much more intricate…I am looking at possible cervical surgery, and live with pain and radiating numbness down my arm everyday. The good news is, I feel like my lawyer is finally fighting for me. He answers my calls immediately (prefers to be called on his cell phone so messages don't get lost). He is also "down to earth" & easy to talk to. Very Pleased!
Very Good Experience. I was with another attorney who did not return my phone calls, messages, or help me with any questions and had no advice as far as who to go to for the medical attention I needed. I found Matt and got everything I needed, my questions answered, and he was very fast , professional & helpful.