More than 35,000 people call Dunedin, Florida home, and many more visit each year. With gorgeous waterfront views, plenty of options for shopping and dining, a fun nightlife, and many special events, the Dunedin area has a lot to offer.
However, people living and working in this town still face many of the same stresses as people across Florida and the U.S., including unexpected accidents and injuries. If you've been injured in Dunedin, you need a law firm that knows Florida law and understands how courts in your area work.
At Dolman Law Group Accident Injury Lawyers, PA, we have decades of experience representing clients throughout Florida and standing up for our clients' rights. Please call our Dunedin personal injury attorneys today to discuss your options after an accident.
What Dunedin Personal Injury Cases Do We Handle?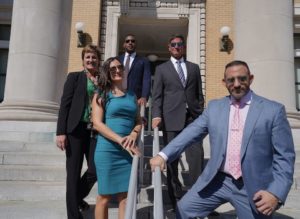 The legal team at Dolman Law Group Accident Injury Lawyers, PA, knows that accidents and injuries can happen in many different ways—some more expected than others. We've seen how any type of sudden injury can bring your life to a grinding halt and create significant stress in addition to your physical injuries.
To best serve the Dunedin area, we know how to handle a wide range of personal injury cases.
Traffic Accidents
Traffic-related accidents are one of the leading causes of accidental injury and death in the United States. Many different types of traffic crashes can occur, involving motorists, commercial truck drivers, bicyclists, motorcyclists, pedestrians, and more. 
There are many common causes of traffic accidents, including:
Drunk driving

Distracted driving

Road rage

Violations of traffic laws

Fatigued driving
Traffic accident cases can be more complicated than you may imagine, as injuries can be severe and liability can be challenging to prove. Florida also has unique auto insurance laws, and car accident claims differ from many other states.
Medical Malpractice
When you go to the doctor, you expect to get better—not worse. However, too many people experience unnecessary and preventable complications or injuries because of mistakes made by medical professionals.
When a medical error rises to the level of negligence (the doctor breaches their duty of care), you can seek compensation by filing a malpractice claim. Common types of medical malpractice include:
Surgical errors that lead to internal injuries, spinal cord injuries, or brain injuries

Birth injuries

Medication errors

Hospital errors

Misdiagnosis
Premises Liability
Business owners and property owners are expected to keep their premises in a safe condition so that customers and visitors do not get injured.
If a negligent person does not have their property properly inspected or maintained or customers are not warned of possible risks, the business's customers can be injured in various types of accidents. 
Common accidents that may result in a premises liability claim include:
Slip and falls leading to broken bones

Elevator and escalator accidents

Hotel and resort accidents

Swimming pool accidents

Parking lot pedestrian accidents

Dog bites

Loss of life
Products Liability
Manufacturers have the duty to design and assemble products in a manner that makes them safe for consumers to use as intended. If there are risks when using a product, manufacturers must warn consumers of these dangers. If you use a defective product that does not contain a proper warning, you can get seriously hurt.
Products that are commonly the subject of a products liability claim include:
Cars and other vehicles

Tools and appliances

Baby and child products

Medical equipment
Nursing Home Abuse
When you or a loved one pays the often-costly price of a nursing home or another assisted living facility, you should expect to receive adequate—or more than adequate—care. This includes proper nutrition, shelter, sanitary rooms, necessary medical assistance, and more.
Florida is notorious for nursing homes that regularly violate the minimum standards for health and safety, which results in injuries to residents. Legal claims can result from:
Nursing home neglect

Physical assault

Lack of timely medical care or medical attention

Sexual assault

Emotional distress or abuse

Financial abuse

Loss of companionship for spouses and loved ones

Any other harm caused by the negligence or intentional acts of nursing home staff
When you hire an accident lawyer, they will ensure the responsible parties are brought to justice.
Workplace Injuries
Going to your job should not make you nervous or afraid of an accident. Employers should take all necessary safety measures to keep employees safe and fully comply with occupational safety and health standards. However, millions of people suffer injuries or illnesses at work each year in the United States.
While industries such as construction, oil, or manufacturing have high risks of injuries, workplace accidents and injuries can happen in almost any work environment—even office buildings.
Workplace injuries may include:
Neck injuries

Burn injuries

Broken bones

A life-changing injury including paralysis or a traumatic brain injury
Seeking compensation for construction accidents or a workplace injury is often quite different from other types of personal injury claims. Therefore, make sure you have an experienced lawyer who knows how to handle workplace injury claims.
The above are only general descriptions of the types of personal injury cases the Dolman Law Group Accident Injury Lawyers, PA, takes. No matter what kind of accident occurred, please feel free to discuss how we can help you even the playing field and get maximum compensation for your injuries.
Are You Offered Fair Compensation for Injuries You May Be Suffering From?
There are different ways that our attorneys will help clients seek financial recovery for their medical bills, lost wages, pain and suffering, and other relevant damages. Some of these include:
Determining whether another party can face legal liability for your injuries and property damage

Calculating the value of your personal injury lawsuit

Gathering evidence to support your claim, including medical records, the police report, witness statements from bystanders or expert witnesses, and any other applicable incident report

Handling the insurance claims process for you

Managing the workers' compensation claim process for you

Filing a personal injury or wrongful death lawsuit on your behalf

Handling every step of the litigation process and all settlement negotiations with insurance companies
After a severe injury, your focus should be on your physical recovery, and this is where legal representation comes in. Our personal injury law firm is here to handle the legal and financial side of your injury case while you recover from your injuries.
We work to earn you the highest possible compensation for damages. Call us to have an initial consultation with a personal injury attorney to learn how we can help you.
You May Need Help Negotiating with the Insurance Company
Working with an insurance adjuster can be challenging, especially if they are fighting you on your personal injury settlement. You need an experienced law firm like ours with a track record of successful negotiations. Our goal as your lawyer is to fight for monetary compensation from the negligent parties.
Suppose you have property damage, medical bills, or pain and suffering that require extensive financial resources, you need to do everything you can to ensure you receive the most money possible.
As an injury victim, you want a settlement that's fair; however, insurance adjusters typically do whatever they can to limit your compensation offer.
Most offers seldom match your definition of a fair settlement. Without representation to back you up, the insurance adjuster will likely take advantage of you because they know more about the law than you do. They are masterful at convincing you to take a lowball deal even when it's not in your best interest.
In addition, if you were looking to represent yourself in court, you should be aware that if you represent yourself you could be cheating yourself out of thousands of dollars in settlement money.
According to the Insurance Research Council (IRC), settlement compensation is higher when a lawyer represents the claimant and you won't have to wait as long to receive your money from the defendant.
How Can Our Dunedin Personal Injury Lawyers Assist You?
The experienced Dunedin personal injury attorneys at the Dolman Law Group Accident Injury Lawyers, PA, have successfully helped many clients receive full compensation for medical expenses and other losses. Choose our legal services and discover the Dolman Law Group difference.
We know that accidents and injuries are stressful, and we're here to make the process as easy as possible for you while standing up for your rights as an accident victim. Plus, we work on a contingency fee basis, meaning that we don't get paid unless we win. So call or contact us online to set up your free, no-obligation case evaluation and confidential consultation today.
Dolman Law Group Accident Injury Lawyers, PA
800 N Belcher Rd.,
Clearwater, FL 33765

---
What Our Clients Have to Say:
"I can't express enough praise to Brent and his team for the superb results they achieved on my mother's personal injury case. Brent was very hands on with our case and had a genuine interest in my mother's well being. He has an amazing ability to explain all of the moving parts in a personal injury case. We were well informed of every aspect of our case and never felt confused for one moment. I would without a doubt recommend his services! Thank you again Brent !"
Rating: 5/5 ⭐⭐⭐⭐⭐
Jamie Saffran
September 2018
Read more reviews on Google!
Client Testimonial
"AMAZING and understanding attorneys! Did great on my case and I highly recommend Dolman Law Group Accident Injury Lawyers, PA for anyone that has been injured in an accident!"
Rating: 5/5 ⭐⭐⭐⭐⭐
Koralis R.
Jan 2020
Read more reviews on Google!