In addition to offering 17 miles of white sand beach, a nationally recognized art scene, and frequent festivals and events, New Smyrna Beach is a laid-back place where visitors come for relaxation and adventure. However, when visiting New Smyrna Beach or enjoying an evening out with friends, tourists and residents often involve alcohol in their plans. When those plans also involve driving the city's public roadways, there is an increased risk of drunk driving accidents.
Drunk driving accidents are a major source of death and disability in the U.S., and individuals involved in this type of accident often suffer more severe injuries due to the deficits alcohol impairment creates to the skills a driver needs to operate their vehicle safely. A driver who has chosen to recklessly consume alcohol before getting behind the wheel and severely injures you can result in profound expenses and devastating effects on the your life. The personal injury claims process is the legal method for those injured in drunk driving accidents to obtain compensation for those expenses and impacts.
The experienced New Smyrna Beach drunk driving accident attorneys at Dolman Law Group Accident Injury Lawyers, PA, are litigation lawyers at their core. While they can negotiate a settlement on your behalf if the offer is high enough, they're not afraid to fight for the full value of your claim in court to keep insurance companies honest when dealing with injuries caused to others by their insured and to help you get the compensation you need. We want you to win, and while we're working on making that happen, we also want to provide world-class service.
Trust Dolman Law Group Accident Injury Lawyers for Guidance and Results
According to the National Safety Council, around 4.8 million people annually incur injuries in car accidents across the U.S. that are serious enough to require medical treatment. One of the more common causes of those accidents is drunk driving.
Many lawyers throughout Florida handle accident claims in a settlement mill fashion—they take on as many cases as possible and settle them as quickly as possible. While this helps a law firm maintain a steady volume of work, it often does not provide the attention to detail or the willingness to fight for a client's right to the maximum compensation available for them, even if that fight winds up in a courtroom.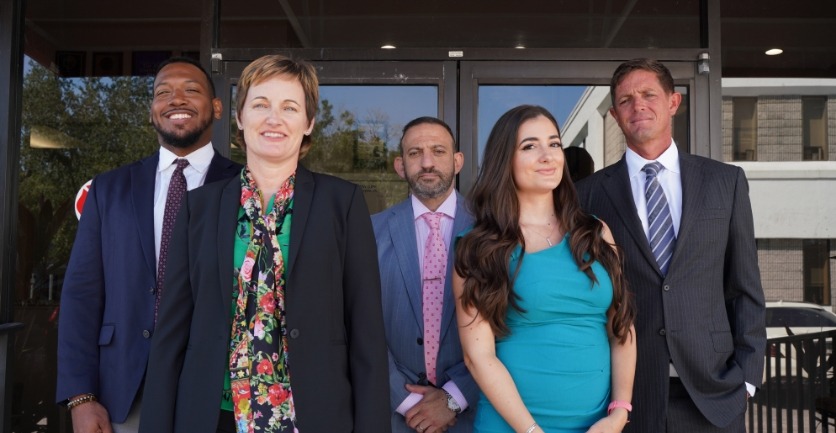 Finding Us in New Smyrna Beach is Easy
The Dolman Law Group legal team understands the importance of having your Fort Lauderdale car accident attorney close by and easy to reach. We have opened offices throughout Florida and other states across the country, to make obtaining our services as easy as possible. Our New Smyrna Beach office is conveniently located at 500 Canal Street, at the intersection with Orange Street, just across from The General Public House restaurant.
What Makes Drunk Driving so Dangerous?
As explained by the Florida Department of Highway Safety and Motor Vehicles (FLHSMV), the legal impairment limit for most adult drivers in Florida is 0.08 grams of alcohol per deciliters of blood, which is typically achieved through the consumption of four to five drinks. However, this amount varies depending on the weight of the individual consuming the drinks and how often they drink. The legal impairment limit for those who operate commercial vehicles is reduced to 0.04 g/dl. Those under the age of 21 have an impairment limit of 0.02 g/dl.
Unfortunately, as noted by the National Highway Traffic Safety Administration, the deficits created to a driver's skills and abilities do not begin when they reach the legal impairment limit of 0.08 for drivers over 21. These deficits begin with the first drink. At 0.02 g/dL—equivalent to around one alcoholic drink within an hour of driving for most people—the driver is already experiencing some loss in judgment and a decline in visual processing functions, such as the ability to track a moving target. They also begin having difficulty performing multiple tasks simultaneously.
By the legal impairment limit of 0.04 for the operators of semi trucks and other large commercial vehicles, the driver also begins to experience reduced coordination, difficulty steering, and a reduced ability to respond appropriately in emergency driving situations, such as swerving to avoid an accident. By the 0.08 legal impairment limit for drivers over 21, a driver is experiencing difficulty controlling their speed, maintaining lane position, or detecting changes in traffic signals.
The Risk of Drunk Driving Accidents in New Smyrna Beach
The New Smyrna Beach area sees more than 100 drunk driving accidents each year, resulting in around a dozen fatalities and more than 60 injuries. With miles of beaches and a thriving downtown area, New Smyrna Beach offers a getaway for Florida residents from more crowded areas and a more relaxing atmosphere for vacationers than the heavily-hit nearby communities of Daytona Beach and Tampa. Alcohol is a common and accepted part of the lifestyle for many people who live in and visit New Smyrna Beach.
During weekends throughout the year—particularly when there are festivals in town or in nearby Daytona Beach—the roads into and out of the area tend to fill up. While increased traffic poses risks to all drivers, it is particularly risky when that traffic includes a drunk driver who cannot stay in a single lane of travel or provide an adequate response if a pedestrian, bicyclist, or another vehicle enters their path.
Where New Smyrna Beach Drunk Driving Accidents Are Most Likely
One of the most dangerous roadways in New Smyrna Beach is State Road 44, which is a popular thoroughfare for those heading to and from the beach. This road sees lots of traffic on weekends, including by those who have been drinking during their time at the beach. The Canal Street Historic District features tree-lined roads and access to many restaurants, bars, and nightclubs where individuals also commonly enjoy alcoholic beverages before getting behind the wheel.
Drunk Driving Accidents Can Change Your Life
Drunk driving accidents are commonly more serious than other types of accidents due to the driver's inability to control their speed. Excess speed equals additional force when a collision occurs. Unfortunately, serious injuries are not cheap, either in a monetary sense or the effect on the sufferer's quality of life.
Some of the impacts of being injured in a drunk driving accident include:
Extreme medical expenses. PeopleKeep reports that an overnight hospitalization in the U.S. costs an average of around $11,700, and that's just for the bed. Thousands of dollars in additional expenses can be expected for ambulance transport, surgery, the services of physicians and surgeons, the provision of prescription medications, physical therapy, in-home care or care provided in a rehabilitation facility, and more.
Income loss. According to Payscale, the average hourly wage for workers in New Smyrna Beach is $17.16. The injuries sustained in drunk driving accidents commonly cause individuals to miss weeks or even months of work while they recover. For some individuals, the injuries incurred in drunk driving accidents will create permanent disabilities that will impair their ability to earn an income.
Property damage. When an accident occurs, it often results in significant damage to all of the vehicles involved. Money reports that the average price of a new vehicle in the U.S. is inching toward $50,000, and supply shortages have caused the price of used vehicles to increase dramatically in recent years.
Physical pain and suffering. Serious injuries create a source of significant pain in most cases, and the methods used to treat these injuries are often also painful. Many serious injuries will result in long-term physical impacts and complications.
Emotional distress. The serious injury not only impacts the sufferer, who faces new limitations on the activities they can participate in but creates impacts that affect their entire family. Family members can find themselves tasked with caregiving responsibilities after the sufferer is discharged from the hospital while mourning the loss of normalcy.
The Process of Seeking Compensation for the Financial and Psychological Impacts of the Accident
Florida is a "no-fault" state. This description does not mean that there is never fault assigned after an accident or that fault doesn't matter. What it means, as noted by FLHSMV, is that Florida drivers are required to purchase at least $10,000 in personal injury protection (PIP) insurance to provide coverage of medical expenses and wage loss associated with car accident injuries, regardless of who was at fault for causing the injury.
As mentioned, however, the minimum required coverage from a PIP policy will not even cover the full cost of overnight hospitalization in many cases, much less the other expenses and impacts associated with the injury. Only when the expenses of medical treatment and wage loss exceed the limits of the PIP policy, or the injury meets the state's serious injury threshold is an injured party permitted to seek compensation through the at-fault party.
Florida's serious injury threshold includes injuries that result in significant and permanent loss of an important bodily function, permanent injury (within a degree of medical probability), permanent and significant scarring and disfigurement, or death.
The personal injury claims process, which can be used to seek compensation for serious injuries, involves filing a claim against the drunk driver's auto liability insurance policy. If their insurer fails to pay the claim, a personal injury lawsuit can be filed within Florida's four-year statute of limitations so a judge or jury can consider the case and determine whether the claimant is owed compensation.
Proving Liability
One of the most crucial aspects of a personal injury claim is the ability to prove that someone else was liable (legally responsible) for causing the claimant's injuries.
In a drunk driving accident claim, this involves showing evidence and witness testimony that proves these elements:
The at-fault driver was operating a vehicle on a public roadway and had a legal duty to take reasonable actions, such as driving safely and in accordance with local and state traffic laws to avoid causing harm to others.
There was a breach in the duty owed by the at-fault driver when they chose to operate their vehicle while impaired by alcohol.
This breach resulted in a drunk driving accident in which you were injured and incurred economic and psychological costs.
The evidence commonly used to prove liability in a drunk driving accident includes a police report indicating the arrest of the driver for suspected DUI, the results of a blood alcohol screening, the results of the criminal case against the driver, video surveillance footage that shows how the accident occurred, and the testimony of eyewitnesses and expert witnesses.
What You Can Do Now to Help Your Drunk Driving Accident Claim
It is often difficult to know immediately whether your injuries will meet Florida's serious injury threshold or exceed the limits of your PIP policy.
However, there are things you can do right away to support your ability to file a claim in the future, such as:
Following your doctor's orders and complying with your treatment plan.
Obtaining a copy of the police report for your accident.
Saving receipts and bills to document the expenses you incurred due to the accident.
Keeping track of the treatments you've been provided and the level of discomfort you experience through a journal.
Attending a free case evaluation with an experienced New Smyrna drunk driving accident lawyer from Dolman Law Group Accident Injury Lawyers, PA.
Were You Injured in a Drunk Driving Accident? ​A New Smyrna Beach Drunk Driving Accident Lawyer Can Help.
The experienced legal team at Dolman Law Group Accident Injury Lawyers, PA, has garnered a reputation for getting results for our clients. We will work to quickly identify all sources of liability in your accident and aggressively pursue the compensation you need. With offices across both Florida coasts, as well as in Savannah, Houston, San Antonio, New York City, and Boston, reaching us is easy.
For a free case evaluation in New Smyrna Beach, call us at 833-552-7274 (833-55-CRASH) or send us a message using our online contact form.