The bustling city of Milwaukee sees many car accidents every year, transforming lives into tales of grief, pain, and loss. Accidents are unpredictable, and the repercussions often extend beyond physical injuries, seeping into emotional trauma and financial instability.
It's a harsh reality that underscores the importance of effective legal support in such challenging times. The Dolman Law Group Accident Injury Lawyers, PA, are here to provide precisely that support. Our Milwaukee car accident attorneys can handle your car accident case for you, alleviating stress and working to achieve the settlement you deserve.
About Dolman Law Group
The Dolman Law Group Accident Injury Lawyers, PA, is not your average law firm. With years of experience, we command a deep understanding of personal injury laws and a unique approach to handling car accident cases. Our practice areas span a broad range of accident-related cases, including rear-end collisions, reckless driving accidents, drunk driving accidents, distracted driving accidents, and hit-and-run accidents.
Every case is unique, demanding a tailored strategy and personalized attention. We understand that the aftermath of an accident can be overwhelming for the victims, so we take the time to understand your circumstances, answer your questions, and handle your legal matters with utmost care and commitment.
Empathy, transparency, and aggressive representation drive our approach to personal injury cases, ensuring you receive the justice and compensation you're entitled to. In pursuing justice, we are relentless, letting nothing stand in our way. With Dolman Law Group by your side, you can rest assured that your case is in the hands of dedicated professionals committed to ensuring the best possible outcome.
<iframe width="200" height="113" src="https://www.youtube.com/embed/sYGkfII8vzc?feature=oembed" frameborder="0" allow="accelerometer; autoplay; clipboard-write; encrypted-media; gyroscope; picture-in-picture; web-share" allowfullscreen title="When to Hire a Car Accident Lawyer"></iframe>
Services Offered by Dolman Law Group
Dolman Law Group is here to assist with the daunting work of dealing with insurance companies. Our attorneys offer a broad range of services specifically tailored to meet the needs of car accident victims. We understand that every client is unique, and we work hard to understand all the details of your case to serve you better.
Our services cover every aspect of legal needs arising from car accidents. These include but are not limited to filing claims, gathering evidence, negotiating with your insurance company, and representing you in court. We can also assist you with property damage issues and offer advice on dealing with car repairs and rentals.
We believe in a comprehensive approach to legal representation, meaning that we will guide you through each step of your journey toward recovery and justice. We aim to be your attorney and a trusted advisor who can provide you with the necessary support in challenging times.
Choosing Dolman Law Group
Founded with an unyielding commitment to champion victims of car accidents, Dolman Law Group offers professional, dedicated, and compassionate legal services in Milwaukee. Our team of seasoned attorneys brings together rich experience, extensive legal knowledge, and unwavering dedication to guide those who unexpectedly walk into the chaos of a car accident.
We are committed to helping our clients navigate the complex legal terrain that follows an accident, empowering them to seek the justice and compensation they deserve. The road to recovery after an accident can be arduous, but with the right legal team by your side, it doesn't have to be a lonely journey.
At Dolman Law Group Accident Injury Lawyers, PA, we understand that choosing the proper legal representation is a crucial step in your recovery, aiming to ensure you receive the justice and compensation you deserve.
Choosing Dolman Law Group is choosing a team committed to your well-being and justice. We boast a team of highly skilled, experienced, and dedicated lawyers who handle every case with the utmost care, tenacity, and professionalism. Our firm is renowned for meticulous case preparation, aggressive representation, and a track record of successful outcomes.
We operate on a contingency fee basis, meaning you won't incur any legal fees unless we win your case. This client-first approach demonstrates our commitment to ensuring justice without imposing financial burdens on you.
Dolman Law Group's Successful Past Cases
Don't just take our word for it. Our past clients vouch for the quality of service Dolman Law Group provides. We have a long list of satisfied clients to whom we gave the best possible legal advice and representation, resulting in them receiving the justice and compensation they deserved.
Our case studies showcase just a few of our past successful cases. In one car accident personal injury case, our client underwent a one-level cervical fusion and suffered a traumatic brain injury. We went to bat for our client, securing a $1,875,000 settlement and improving their life. Another case we handled involved an auto accident where our client suffered two herniated discs impinging on the spinal cord. We were able to win a settlement of $1,400,000.
These, and many other case studies, prove that Dolman Law Group is a true advocate for the people. If you or a loved one has suffered a car accident, know you are not alone.
The Dolman Law Group is ready to support and advocate for you. We offer a free, no-obligation initial consultation where we discuss your case's specifics, explaining the potential avenues for compensation and how we can assist in your pursuit of justice.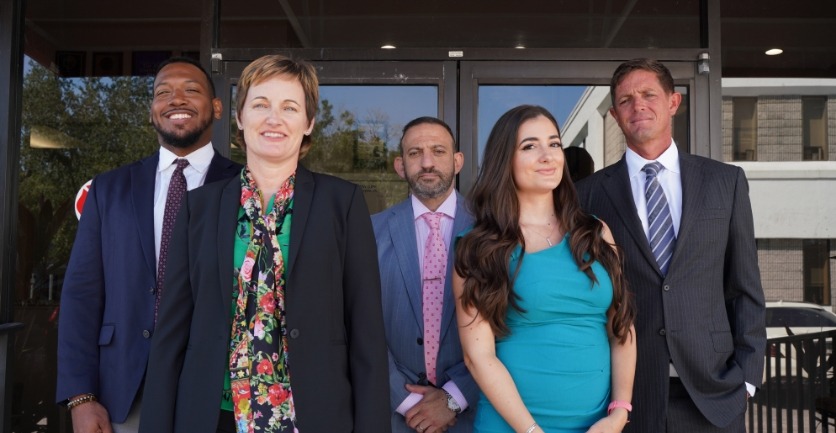 Car Accidents in Milwaukee: An Urgent Issue
As a busy city, Milwaukee is home to many car accidents yearly. According to the Wisconsin Department of Transportation, the city sees thousands of car accidents every year. The high frequency of these incidents underscores the urgent need for awareness, precautions, and legal readiness after an accident.
The number of car accidents surged during the pandemic, with drivers reportedly engaging in more speeding and reckless traffic behaviors than in previous years. With more and more people moving to Milwaukee in search of the area's promising economic climate, car accidents remain on the rise. While driving defensively and remaining aware of your surroundings is an excellent way to safeguard against accidents, there's no one foolproof way to prevent car accidents.
Most Accident-Prone Areas
While accidents can happen anywhere, certain areas and intersections in Milwaukee are notorious for being accident-prone. These include Layton Avenue, 76th Street, and Good Hope Road. Understanding the risk associated with these areas can be an essential step toward exercising caution and minimizing the risk of collisions.
What to Do After an Accident Occurs
Understanding your legal rights is critical in the unfortunate aftermath of a car accident. Whether you're a driver, passenger, or pedestrian involved in an accident, you have specific rights that the law must safeguard. You have the right to contact law enforcement and have an official accident report for record-keeping and future reference.
You also have the right to pursue legal action against the at-fault party—to seek compensation for damage to your vehicle, medical bills, lost earnings, and other accident-related expenses. You also have the right to legal representation to navigate the complex compensation process.
Potential Compensation Victims Can Receive
Accident victims may recover three types of compensation: economic, non-economic, and punitive damages. Economic damages cover quantifiable expenses, such as medical bills, repair costs, and lost earnings. Non-economic damages are compensation for pain and suffering, disability, disfigurement, and loss of enjoyment of life.
The court awards punitive damages to punish the wrongdoer and discourage similar behavior.
The compensation you might receive depends on your specific case. Your car accident lawyer can work through these details so that you can spend less time worrying and more time healing.
Fighting the Insurance Company
A car accident forces you to deal with injuries, property damages, insurance companies, and legal considerations. The car accident claim is one of the most critical aspects of this process.
The claims process typically begins with reporting the accident to the insurance company. An investigation into the circumstance of the accident, examination of the involved vehicle(s), medical examination for injuries, and negotiation for settlement then ensue. You need to remember that the settlement an insurance company offers might not fully cover the costs of damages and injuries sustained in the accident.
You can file a lawsuit against the at-fault party if you don't settle. This procedure involves a discovery process, exchange of evidence, negotiation for settlement, and, if necessary, a trial.
Importance of Legal Representation
Navigating the car accident claims process is complex and challenging on your own. Working with insurance companies can be confusing and frustrating, even in the best of times. Legal representation from a knowledgeable and experienced car accident lawyer may be instrumental. A lawyer can guide you through the process, advocate for your rights, negotiate with insurance adjusters on your behalf, and, if necessary, represent you in court.
What Is the Role of Our Car Accident Lawyers?
A car accident lawyer plays several crucial roles in a personal injury case. They primarily advocate for your rights, ensuring you receive fair treatment from insurance companies and at-fault parties. They understand the complexities of the law and can interpret it to your advantage. They will also gather necessary evidence, negotiate settlements, and provide legal representation should your case go to trial.
Experiencing a car accident could be one of the most stressful events in your life. A skilled car accident lawyer helps to ease this burden and increase your chances of receiving the compensation you deserve.
How a Lawyer from Dolman Law Group Can Assist You
At Dolman Law Group Accident Injury Lawyers, PA, our lawyers possess a wealth of knowledge and experience. We work diligently to ensure that the victims of car accidents win the compensation they deserve, bearing the legal burdens so that you can focus on healing.
With a keen understanding of the law and a commitment to safeguarding your interests, hiring a lawyer from Dolman Law Group to manage your case means putting your trust in skillful hands.
Contact Dolman Law Group Today for Legal Representation
We understand that time is crucial following a car accident, so our lines are open 24/7. You can contact us by calling 833-552-7274 (833-55-CRASH) or filling out the online inquiry form on our website. Once we receive your message or call, a staff member will promptly reply to you to schedule your free consultation.
We welcome the opportunity to work with you. Don't wait! Contact the Dolman Law Group today and let us navigate your legal journey. Remember: Size doesn't matter unless it comes to your settlement!
The Dolman Law Group works with local counsel to file lawsuits in any jurisdiction outside Florida where we are not licensed. Involving a local attorney ensures we follow the ethical rules applicable in each State.