Car accidents turn many Virginian lives upside down every year. These unexpected events often bring a cascade of challenges, from physical injuries and emotional trauma to financial strain from medical bills and lost income.
When you find yourself in such a scenario, you need dedicated, experienced Virginia car accident lawyers to navigate the complexities of Virginia's car accident laws. That's where Dolman Law Group Accident Injury Lawyers, PA, comes in.
Dolman Law Group Accident Injury Lawyers Can Help With Your Virginia Car Accident Claim
Dolman Law Group Accident Injury Lawyers, PA, has an experienced team of attorneys committed to providing legal assistance to car accident victims and other victims of serious accidents. Our skilled attorneys serve as your dependable allies in these trying times. We stand ready to fight tirelessly to ensure you receive justice and appropriate compensation.
We know that the aftermath of a car accident can feel overwhelming. As a result, we work diligently to safeguard your rights, allowing you to focus on recovery while we tackle the legalities.
About Us
Dolman Law Group Accident Injury Lawyers, PA, has built a reputation of commitment, determination, and tireless pursuit of justice for its clients. Our attorneys have earned a reputation for dedication and an uncompromising drive to win. They also deeply understand car accident law and its implications for victims and their families.
We built our law firm to value empathy, professionalism, and relentless advocacy for our clients. We are not just lawyers—we stand as your partners in navigating this trying journey, offering a shoulder to lean on every step of the way.
Success Rate
We take immense pride in our success rate in handling car accident cases.
Our team of highly skilled attorneys, backed by years of experience and legal acumen, has won significant verdicts and settlements that genuinely reflect the pain and suffering endured by our clients, including:
$5 million when a car accident resulted in burns.
$3.85 million when a semi-truck accident resulted in traumatic brain injury.
$1.875 million when a car accident resulted in cervical fusion and mild brain injury.
$1.58 million when a car accident led to two herniated discs.
The results of past claims, of course, cannot guarantee future results. Our attorneys, however, remain well-versed in the art of negotiation with insurance companies and will not hesitate to take a case to trial if it secures the best outcome for you.
Dolman Law Group Accident Injury Lawyers, PA, understands that each case is unique, each client different, and each victory a testament to our dedication toward leveling the playing field for accident victims against formidable adversaries.
<iframe width="200" height="113" src="https://www.youtube.com/embed/sYGkfII8vzc?feature=oembed" frameborder="0" allow="accelerometer; autoplay; clipboard-write; encrypted-media; gyroscope; picture-in-picture; web-share" allowfullscreen title="When to Hire a Car Accident Lawyer"></iframe>
Understanding Car Accidents in Virginia
Car accidents can prove highly disorienting, and dealing with the legal aftermath can add another layer of stress. By working with Dolman Law Group, you can better understand Virginia's car accident laws and the legal terms we and the insurance company may use in your case. This knowledge can help you ensure you're taking the proper steps to protect your rights and secure the best possible outcome for your situation.
Contributory Negligence in Virginia
Virginia operates under a strict contributory negligence rule, which bars you from recovering damages if the court finds you even slightly at fault for the accident.
It proves a complex and often misunderstood aspect of Virginia's accident law. Navigating such nuances requires the skill of a seasoned lawyer from Dolman Law Group Accident Injury Lawyers, PA, to decrease the likelihood that the court will hold you liable for any percentage of the accident, thus making it difficult for you to recover damages.
Virginia Car Accident Statistics
Virginia sees more than 100,000 car accidents yearly.
Those accidents result in more than 800 fatalities and 60,000 or more injuries across the state:
Alcohol causes between 6,000 and 7,000 injuries.
Speed-related reasons result in 22,000 and 25,000 crashes. Around half of car accidents involving speed result in injuries.
Approximately 1,300 crashes in Virginia each year involve pedestrians.
Virginia sees an average of 2,000 motorcycle crashes annually.
Distracted driving contributes to more than 20,000 accidents each year.
No matter what caused your car accident, working with an attorney can help better establish whose negligence contributed to the accident and what compensation you deserve.
How Do Car Accidents Occur in Virginia?
Virginia car accidents can occur for some common reasons.
Dangerous intersections: Many intersections do not have the infrastructure to handle the number of drivers that move across them daily.
Flooding: Coastal Virginia can see flash flooding, making it difficult for drivers to navigate safely.
Driver distraction: Despite Virginia's distracted driving laws, many drivers continue to drive while distracted, increasing accident risk.
Speeding: Speeding remains a common cause of driver accidents across Virginia.
Identifying the other driver's negligence is crucial in dealing with a car accident claim.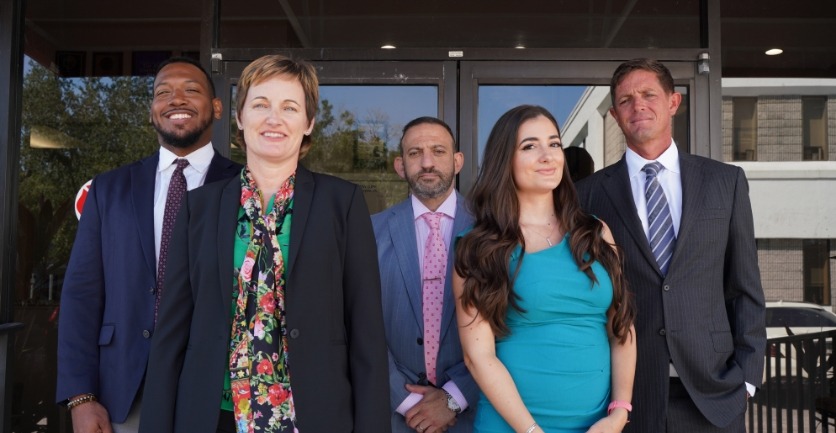 The Importance of Hiring a Car Accident Lawyer
A lawyer with relevant experience in car accident cases can help you navigate the dense legal landscape efficiently. They can guide you through processes such as filing claims, negotiating with insurance companies, and even taking your case to court if necessary. By hiring a lawyer, you can focus on your recovery while they fight for the compensation you deserve.
Manage Concerns With Contributory Negligence
The benefits of hiring an experienced lawyer in Virginia prove even more pronounced due to the state's contributory negligence rule. Many victims find the rule a significant hurdle in car accident claims, and having a proficient lawyer by your side can increase your chances of a favorable outcome.
The Car Accident Claim Process
The car accident claim process typically involves several stages.
Contacting a Lawyer
To file a car accident claim, contact an attorney at Dolman Law Group Accident Injury Lawyers as soon as possible. Talk to your lawyer about the circumstances that led to your car accident and any other information you need to share, including the extent of your injuries.
Investigation
Your lawyer can report the accident to the insurance company and investigate the circumstances that led to your accident. Your lawyer will examine whether the other driver violated the rules of the road, drove while distracted, or behaved recklessly.
That may involve looking at several key pieces of evidence, including:
Any video footage of the accident.
Witness statements.
The damage to the two vehicles.
Your statement about the accident and a statement from the other driver.
The accident scene.
Photos of the accident scene, if available.
In addition, your lawyer and the insurance company will want to carefully investigate the extent of your injuries and the damages you sustained in the accident. The more severe your injuries, the more compensation you may have the right to recover.
Negotiation
Once your lawyer scrutinizes the events that led to the accident, he will assemble a demand package that lays out your losses and the evidence that the other driver caused the accident. The insurance company will generally come back with an offer. You will continue the negotiation process until you arrive at a reasonable settlement agreement or realize that you cannot reach a fair agreement through negotiation. A lawyer can facilitate each stage of the negotiation process, ensuring that you do not inadvertently accept an offer that does not cover your financial needs or ignore the extent of your damages.
Mediation
You may go through mediation if you cannot reach an agreement through negotiation. During the mediation process, you will sit down with your attorney and representatives from the car insurance company and make a last attempt to reach a reasonable agreement. A mediator, usually a judge or former judge, will guide you through that process.
Court
If you cannot agree through negotiation or mediation, you may end up in court regarding your car accident claim. Your attorney will present your case in court, advocating for you to recover maximum compensation for your injuries and damages.
Dolman Law Group Accident Injury Lawyers, PA's comprehensive services include guidance through every stage of the claim process. Our attorneys will handle the necessary paperwork, communicate with insurance companies on your behalf, and fiercely advocate for your interests should your case go to trial.
Types of Damages Recoverable in Virginia Car Accident Cases
If you suffered injuries in a Virginia car accident, you may have the right to compensation for your losses. These potential compensations, known as damages, fall into two major categories: special and general.
Special Damages
Special damages refer to monetary losses resulting from the car accident. They include medical expenses, loss of earnings, property damage, and other direct, tangible out-of-pocket expenses.
General Damages
General damages include non-monetary losses such as pain and suffering, emotional distress, and loss of enjoyment of life. An experienced car accident lawyer can determine how to include general damages in your car accident claim.
Calculating these damages requires knowledge of intricate laws and a considerate assessment of the losses incurred. The lawyers at Dolman Law Group Accident Injury Lawyers, PA, have the necessary experience and knowledge to accurately compute these damages and ensure you get the maximum compensation.
Steps to Take After a Car Accident
Car accidents can leave you disoriented and unsure about what to do next. The steps you take immediately following the incident, however, can significantly influence the progression of your claim and your chances of getting legal compensation.
The most crucial step is to contact a car accident lawyer immediately after the accident. An experienced attorney from Dolman Law Group Accident Injury Lawyers, PA, can help protect your rights and guide you through filing an accident claim, relieving you of the burden of legal proceedings.
Follow all instructions issued by your medical care providers. You may sometimes think you did not suffer any injuries in the accident, which may tempt you to skip medical care. Injuries such as broken bones and traumatic brain injuries, however, may not show full symptoms immediately after the accident. Make sure you seek complete medical care for any injuries. Document any expenses you face due to medical care, and follow all the instructions issued by your care provider.
Our lawyers may advise you to keep a journal detailing your concerns and challenges on your recovery journey. A journal can make it easier to keep track of critical dates, events, and more related to your accident.
Get in Touch With a Virginia Car Accident Lawyer Today
As a leading nationwide car accident law firm, Dolman Law Group Accident Injury Lawyers, PA, has the experience necessary to take on a variety of car accident claims.
We have a comprehensive understanding of car accident laws, experience tackling insurance companies, and a track record of securing significant client compensation. We start with a free consultation to help us and our clients better understand the vital next steps related to the accident claim process. Accepting cases on a contingent fee basis means you only pay once we win.
Did you suffer injuries in a car accident in Virginia? Contact Dolman Law Group Accident Injury Lawyers, PA, today at 833-552-7274 (833-55-CRASH) to learn more about your rights.
The Dolman Law Group works with local counsel in any jurisdiction outside Florida to file lawsuits in jurisdictions wherein we are not licensed. Thus, we will follow each State's ethical rules to ensure a local attorney is involved.