In recent years, there has been a significant increase in car accidents in Tri-Cities, Tennessee—Bristol, Johnson City, Kingsport, and the surrounding areas in Northeast Tennessee and Southwest Virginia. These unfortunate incidents injure thousands of drivers, passengers, cyclists, and pedestrians each year. These accidents cause despair, physical injury, emotional trauma, and financial setbacks.
Our Tri-Cities car accident attorneys at Dolman Law Group Accident Injury Lawyers, PA, will protect your rights and fight for the compensation you and your family need to recover from your injuries.
Reasons to Choose Dolman Law Group as Your Car Accident Lawyer
Our experienced Dolman Law Group lawyers can aid you after a car accident, ensuring you receive the justice you deserve. Led by a competent team of accident injury lawyers, we provide legal representation to the residents of Tri-Cities, Tennessee, assisting them in navigating the complexities of car accident cases and advocating for their rights.
Our Experience
At Dolman Law Group Accident Injury Lawyers, PA, we have an illustrious history of seeking justice and delivering legal representation spanning several years. Our firm has a team of seasoned lawyers, each boasting impressive credentials, extensive training, and a profound understanding of the intricacies of car accident cases.
Knowledgeable About Car Accident Cases
We fight for victims in many car accident cases, making us an excellent choice if you are seeking professional legal support. We intricately know the laws surrounding car accidents in Tennessee, the tactics insurance companies may employ, and the most effective ways to secure maximum compensation for our clients.
Successful Car Accident Cases in Tri-Cities, TN
Our track record in Tri-Cities, Tennessee, speaks volumes of our commitment and effectiveness. We handle countless car accident cases, winning substantial settlements and verdicts that help victims recover from their losses and rebuild their lives. Each victory underscores our legal prowess and dedication to achieving favorable client outcomes.
Our experienced lawyers at Dolman Law Group work with local counsel in any jurisdiction outside Florida to file lawsuits in jurisdictions wherein we are not licensed. We follow the ethical rules for each state to ensure a local attorney is involved.
<iframe width="200" height="113" src="https://www.youtube.com/embed/sYGkfII8vzc?feature=oembed" frameborder="0" allow="accelerometer; autoplay; clipboard-write; encrypted-media; gyroscope; picture-in-picture; web-share" allowfullscreen title="When to Hire a Car Accident Lawyer"></iframe>
How Dolman Law Group Handles Car Accident Cases
We understand that every car accident case is different and requires a personalized approach. The legal process starts with the initial consultation and continues with investigations, representation at settlement negotiations, or trial proceedings.
The Legal Process
We approach your case systematically and meticulously. We offer free consultations where we will gather all the necessary information about your accident. We conduct an in-depth investigation to collate all the evidence and build a robust case. Our lawyers will then represent you in settlement negotiations or, if necessary, in a court trial.
Personalized Approach to Every Case
Our team truly cares for our clients and their specific situations. We take the time to get to know you and the specifics of your case to tailor our legal strategy to your unique requirements. That is how we ensure the best possible outcome for you. Our personalized approach extends beyond the courtroom and ensures you feel our support every step of the way.
Why Hire the Dolman Law Group?
Choosing legal representation after a car accident is a big decision and can significantly influence your claim. With Dolman Law Group, you can relax knowing your case is in the hands of experienced, dedicated professionals fighting for the best possible outcome.
Track Record in Successful Car Accident Cases
Throughout our history, Dolman Law Group Accident Injury Lawyers, PA, has experience handling various car accident cases with impressive results. Our lawyers help numerous clients in Tri-Cities, Tennessee, secure the compensation they deserve. We are proud of our success rate and are transparent about our past performance.
Commitment to Our Clients
At Dolman Law Group, the well-being of our clients is our top priority. We understand the physical, emotional, and financial toll that car accidents can take. Our lawyers provide compassionate, high-quality legal services to alleviate stress during these difficult times. We work tirelessly to pursue the maximum compensation, and our hard work and navigation of the legal process can help you get your life back on track.
Consultation and Legal Fees
You may worry about the cost of legal representation after your car accident. Regardless of your financial situation, you deserve the best legal support.
We also understand that choosing the right law firm is a big decision. That is why we offer a free initial consultation to all prospective clients. This session allows us to thoroughly explore your claim and determine the best course of action without any financial obligation.
At Dolman Law Group, we operate on a contingency basis. This fee structure means we directly tie the fee to the result of your case—if we do not win, you do not pay. We are confident in our ability to represent you effectively, and our fee structure reflects that confidence and aligns our interests with yours.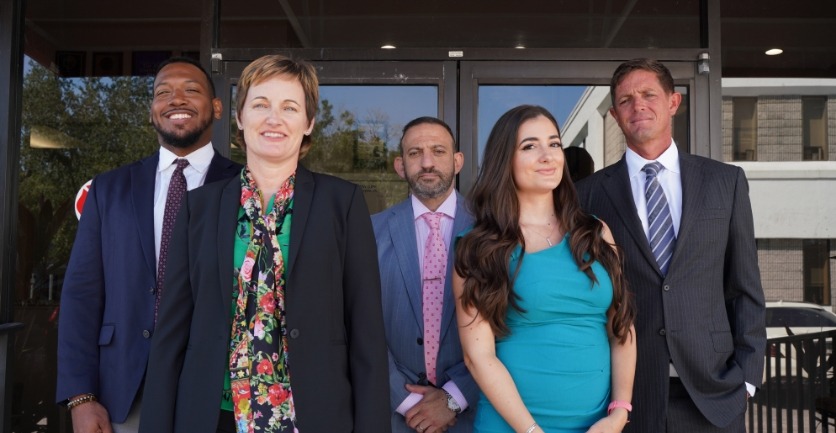 How Much Is My Case Worth?
Every car accident case is unique, and your compensation amount can vary significantly depending on the specifics of the accident. You may be eligible to claim different types of damages and compensation, and the threat of competent legal representation in securing damages can also be a factor.
Damages and Compensation
Car accident victims in Tennessee can seek compensation for economic damages, such as medical expenses, lost earnings, and property damage. Non-economic damages for pain and suffering or emotional distress may also be available. The courts may also award victims punitive damages to punish the at-fault party and deter similar behavior in the future.
The Role of Legal Representation in Getting Full Compensation
Having our robust legal representation on your side can significantly increase your chances of obtaining maximum compensation. Our experienced car accident lawyers understand the intricacies of car accident laws in Tennessee and have the skills and resources necessary to fight for your rights. We negotiate with insurance companies and, if necessary, advocate for you in court to ensure you receive the compensation you deserve.
Understanding Car Accidents in Tri-Cities, TN
Car accidents are increasingly common in Tri-Cities, Tennessee, adding an unfortunate reality to the picturesque serenity of our community. This recent troubling upward trend demands awareness and action.
According to Tennessee's Department of Safety and Homeland Security, approximately 71 crash fatalities occurred in Tri-Cities in one recent year. Car accidents caused 282 people severe injuries, with Sullivan County having the area's most deaths and seriously injured car accident victims.
Identifying the common causes of car accidents in our area paints a clearer picture of the problem.
These cases often originate from:
Distracted driving.
Driving under the influence.
Speeding.
Reckless driving.
Adverse weather conditions.
Understanding these triggers can help decide your legal action course when accidents occur. The effects of car accidents extend far beyond the physical injuries sustained. The emotional trauma, financial strain, and drastic change in the quality of life can be equally, if not more, devastating. We firmly believe that you should receive adequate compensation for these tragedies to aid your recovery and restore normalcy to your life.
Car Accident Practice Areas of Dolman Law Group
Dolman Law Group Accident Injury Lawyers, PA, has extensive experience in car accident cases, providing professional legal representation and compassionate support to victims and their families.
We handle a wide range of car accident cases, including:
Rear-end accidents.
Multi-vehicle car accidents.
Rollover accidents.
Head-on collisions.
Pedestrian accidents.
Bicycle accidents.
Uninsured/underinsured motorist accidents.
Hit-and-run accidents.
Truck accidents.
After a car accident, you can trust Dolman Law Group to handle your claim and fight for your rights. We understand the complexities of car accident cases and are here to ensure you get the justice you deserve.
Fighting the Insurance Company
Though the law mandates compensation for victims of car accidents, insurance companies often make that process difficult. Our industry experience has made us aware of how insurance companies employ tactics to limit or deny claims. You can trust Dolman Law Group to relentlessly advocate for your rights and fight against the insurance company.
We will work hard to secure the maximum compensation, presenting a persuasive, well-documented case to the insurance company so they understand the consequences their actions have on you. Our goal is to create an environment of collaboration, not confrontation, with the insurance company and ensure they understand the gravity of your situation.
What to Do After an Accident
Our lawyers will need evidence to prove your case. We will gather documentation and records that support your claim.
Documentation and records could include:
Medical records and bills.
Insurance policy information.
Documentation of property damage.
Documentation of lost income or missed time off of work.
Your medical records are a significant component of your case. We will gather documentation of your injury diagnosis and treatment plan, medical bills, insurance information, and records of lost income due to missed work. We may also need car repair bills and other records of property damage.
We can use other evidence besides the documents and records you provide.
Our experienced car accident lawyers at Dolman Law Group will collect the following:
Police reports.
Photos and videos of the scene of the accident.
Witness testimonies.
Expert testimonies.
Other relevant evidence.
These evidential elements will help us investigate and identify the at-fault party and corroborate your story.
Legal Rights of Car Accident Victims
As the victim of a car accident, you are not just a statistic. You have legal rights, and our duty at Dolman Law Group is to uphold and enforce these rights.
Tennessee is a fault state regarding car accident laws, which means the person at fault for causing the accident is responsible for any resulting harm.
Damages that they could be responsible for include:
Medical bills.
Lost income.
Property damage.
Pain and suffering.
Understanding these laws can be complex, but we are here to guide you through them. If you are the victim of a car accident in Tennessee, you and your family have the right to seek compensation from the at-fault party. Legal rights include the right to assert damages claims, receive representation from a lawyer, and get a fair trial.
At Dolman Law Group, we make it our mission to stand with you and your family. Our experienced team works tirelessly to seek the justice and compensation you deserve. We investigate your claim thoroughly, use our extensive legal knowledge, and leverage our negotiation and courtroom skills to your advantage.
Don't Wait to Call for a Free Consultation With Dolman Law Group
If you sustain damages in a car accident, you should seek professional legal help immediately. The sooner you start the legal process, the better your chances of securing maximum compensation. Do not hesitate to protect your rights and your future. Dolman Law Group Accident Injury Lawyers, PA, is a dedicated group of professionals ready to navigate the legal complexities of your claim and fight for the compensation you deserve.
At Dolman Law Group, we are here to help you. Call for a free, no-obligation case evaluation. Let us use our experience, dedication, and personalized approach to help you receive the compensation you deserve. You do not have to face this challenging time alone. Contact us today by calling 833-552-7274 (833-55-CRASH) or using our online contact form to recover your compensation and fight for your rights.