You need the right professionals to guide you through the complex legal process and ensure you receive the justice you deserve after a Sacramento car accident.
The team of experienced Sacramento car accident attorneys at Dolman Law Group Accident Injury Lawyers, PA, can represent individuals suffering from car accident-related injuries in Sacramento.
Dolman Law Group Accident Injury Lawyers, PA, has a longstanding history and exceptional reputation. Our firm has a deep-rooted commitment to helping those suffering from injuries that the negligence of others caused. Over the years, we have relentlessly pursued justice for our clients, creating a track record of excellence and dedication.
When dealing with car accidents, our qualifications are extensive. Our team consists of seasoned professionals who are well-versed in the nuances of personal injury law and have taken on hundreds of car accident cases. We handle issues ranging from contested liability to complex insurance matters with an understanding of their intricate dynamics. With Dolman Law Group by your side, you have a top-tier legal force fighting diligently for your rights.
How Dolman Law Group Can Help You
A car accident's physical, emotional, and financial burden can feel insurmountable. With the proper legal guidance, however, you can navigate this challenging journey with greater ease and confidence.
We begin by offering a free, no-obligation consultation to understand the details of your case. We know that every car accident case has a unique set of circumstances. That is why we take the time to evaluate each case thoroughly to determine the best course of action. We will review all available evidence, analyze the facts, and consider each party's perspective.
We then devise a strategic plan, communicate with insurance companies on your behalf, determine fair compensation, and prioritize your rights. If the insurer refuses a fair settlement, our battle-tested trial lawyers are ready to represent your interests in court.
Our attorneys and staff provide you with the highest levels of compassion and respect. We prioritize communication and transparency, keeping you up to date on the progress of your case. We understand that the legal process can be overwhelming and confusing, so we are always here to answer your questions and provide the legal advice and guidance you need.
Successful Case Results and Client Testimonials
When choosing a law firm to represent you after a car accident, find a firm with a strong track record and a commitment to its clients. Over the years, Dolman Law Group has successfully resolved numerous cases. We have secured millions in compensation for our clients, helping them recover financially and emotionally. Several client testimonials praise our dedication, tenacity, and personalized approach.
Personalized Attention and Fierce Representation
At Dolman Law Group, we believe each client is unique and deserves a customized legal strategy. We offer personalized attention, treating your case with the importance it deserves. Our assertive representation ensures we leave no stone unturned in pursuing justice for our clients. We hold the responsible parties accountable and work tirelessly to achieve your best possible outcome.
The Dolman Law Group works with local counsel in any jurisdiction outside Florida for the purpose of filing lawsuits in jurisdictions where we do not have licenses. We will follow each state's ethical rules to ensure the involvement of a local attorney.
How Much Is My Case Worth?
Dealing with accident-related expenses can be daunting. Understanding compensation and what you may be eligible for can provide a more precise roadmap for your path to recovery.
In legal terms, compensation for car accident victims restores the individual to their pre-accident position. Also known as damages, this compensation covers various losses, ranging from medical expenses and property damage to lost earnings and pain and suffering.
There are two main types of damages you could be eligible for in a car accident claim.
Special damages cover tangible losses such as:
Medical bills.
Rehabilitation costs.
Lost income.
Loss of earning capacity.
Vehicle repairs.
Long-term care.
Prescriptions.
General damages aim to compensate for intangible losses such as pain and suffering, emotional distress, and loss of enjoyment of life. The experienced attorneys at Dolman Law Group help clients understand what they are eligible for and work tirelessly to ensure they receive it.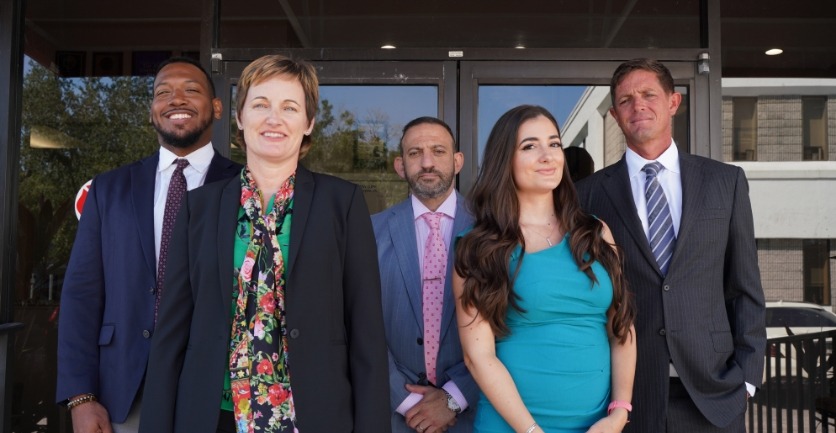 Common Causes of Car Accidents in Sacramento
Car accidents are an unfortunately common occurrence in Sacramento. The bustling city streets and highways lend themselves to frequent traffic incidents, ranging from minor fender benders to multi-car pileups with devastating consequences.
Understanding the most common causes of car accidents in Sacramento can help prevent future accidents and provide context for victims. Car accidents can occur for numerous reasons.
In Sacramento, certain factors seem to contribute more frequently, including:
Distracted driving.
Drunk driving.
Speeding.
Reckless driving.
Failure to obey traffic rules.
Bad weather conditions and poor road maintenance can also play a role. Aggressive driving, where drivers express significant anger, aggression, or road rage, is also a concern in Sacramento.
At Dolman Law Group, we thoroughly investigate the causes of a car accident. We gather and analyze all available evidence, liaising with law enforcement and expert witnesses when necessary to determine the cause and establish liability. We will not leave you with the burden of someone else's negligence.
Sacramento Dolman Law Group Practice Areas
At Dolman Law Group Accident Injury Lawyers, PA, we provide comprehensive legal solutions to individuals in car accidents. Our team of experienced attorneys draws on its extensive knowledge to handle most car accident cases.
Our practice areas include:
Automobile accidents.
Motorcycle accidents.
Truck accidents.
Bicycle accidents.
Pedestrian accidents.
Wrongful death claims.
At Dolman Law Group, we tailor our comprehensive legal services to the needs of each client. Our offerings range from gathering evidence, investigating the accident, negotiating settlements, and representing you in court if necessary. We manage every element of the legal process so that you can focus on your recovery.
Fighting the Insurance Company
Insurance companies are not always willing to pay the amount an injured person deserves. Their main goal is to minimize and deny claims and pay as little as possible. Contact a personal injury lawyer to fight the insurance company for you and ensure you get the compensation you deserve.
At Dolman Law Group Accident Injury Lawyers, PA, we have the knowledge and resources to fight the insurance company and pursue maximum compensation for your injuries. We can investigate the accident to determine who was at fault, analyze your medical records, evaluate current and future damages, and negotiate with the insurance company. We will protect your rights and pursue the best possible outcome for your case.
If the insurance company denies your claim or refuses to offer a fair settlement, we will take your case to court. A lawsuit helps you get compensation from the responsible party for accident-related damages. Once we file the case, the courts will require the responsible party to financially cover your losses. Our skilled attorneys are ready to fight for you with a deep understanding of injury law and a passion for justice.
What to Do After an Accident
You need evidence and records to support your car accident claim and make your case for a fair settlement.
The attorneys at Dolman Law Group Accident Injury Lawyers, PA, have provided tips to guide you through the legal process and ensure you get the justice you deserve.
Gather your insurance contract and information.
Collect medical records and reports.
Track all accident-related medical appointments and bills.
Journal how your injuries alter you and your family's daily life.
Document any time off work due to the accident.
Collect vehicle repair estimates.
Do not accept a settlement offer before hiring a lawyer.
Contact an experienced injury lawyer for legal guidance and representation.
The Dolman Law Group lawyers will collect whatever records and evidence you cannot obtain yourself.
Some other common pieces of evidence include:
A police report from the accident.
Photos or videos from the accident scene.
Witness testimony.
Accident reconstruction reports.
Physical evidence from the scene, such as beer cans or broken tail lights.
When filing a car accident claim, you must have evidence to support your damages. The attorneys at Dolman Law Group Accident Injury Lawyers, PA, are well-versed in the types of evidence you need to prove damages in a car accident claim.
Standards of Personal Injury Law in California
Understanding the complexities of personal injury law and its influence on car accident cases ensures a favorable outcome. Comparative negligence laws regarding car accidents can influence the development of a settlement. This law determines the amount of compensation one can recover according to their percentage of fault in the accident.
Determining fault and liability in car accidents is a complex, multi-step process. It involves investigating the accident scene, interviewing witnesses, reviewing police reports, and more.
The legal team at Dolman Law Group is well-versed in this process. We understand how to interpret the law in conjunction with the unique elements of each case to establish fault and determine liability.
The Importance of Immediate Legal Assistance
Seeking immediate legal assistance after a car accident protects your rights and secures the compensation you deserve. There is usually a limit, or statute of limitations, on the time you have to submit a claim. If you do not file your claim accordingly, you may lose your right to seek compensation, regardless of the severity of your injuries or who was at fault.
Taking swift action after an accident has several benefits, including promptly gathering evidence, fresher witness memories, and better availability of physical evidence from the accident scene. Immediate legal action also conveys to the at-fault party and their insurance company that you are serious about your claim.
Contact the Dolman Law Group for a Free Consultation Today
Engaging an experienced car accident lawyer protects your rights and maximizes your compensation. The skills and experience that Dolman Law Group's lawyers possess equip them to aggressively represent your interests in negotiations or court.
Your first step toward achieving justice starts with a free consultation at Dolman Law Group Accident Injury Lawyers, PA. Speak with our committed team of professionals and let us review your case, explain your rights, and advise you on the best legal course of action. Call for your free consultation today at 833-552-7274 (833-55-CRASH) or contact us through our website.
The earlier we start, the stronger your case can be. Your journey to justice begins with a single step. Let that step lead you to Dolman Law Group Accident Injury Lawyers, PA.