The seemingly inconsequential act of driving to work, school, or a social event can turn into a tragedy within seconds, changing lives forever. Harrisburg car accident victims often deal with physical pain, psychological trauma, and financial stress. This is where the knowledge and abilities of a skilled Harrisburg car accident lawyer at Dolman Law Group Accident Injury Lawyers, PA, become invaluable.
At Dolman Law Group Accident Injury Lawyers, PA, our Harrisburg car accident lawyers understand a car accident's life-changing consequences. Our firm has a solid reputation for aggressively pursuing justice for our clients, helping them navigate the complexities of car accident cases with diligence and professional care. We fight for fair compensation for all car accident victims to help them rebuild their lives.
About Dolman Law Group Accident Injury Lawyers, PA
With a dedicated team of skillful lawyers, Dolman Law Group Accident Injury Lawyers, PA, has established itself as a national legal powerhouse. Our firm's practice areas extend across all scopes and dimensions of car accident cases, ranging from minor fender benders to fatal multi-car pileups. We have built a reputation on the foundations of trust, transparency, and tenacity, constantly pushing for optimal outcomes in the best interest of our clients.
Our commitment to our clients goes beyond legal representation. We understand that the aftermath of a car accident extends to the personal, professional, and financial aspects of our client's lives. We strive to secure fair compensation and guide our clients through their recovery journey. Our compassionate approach and relentless determination have helped numerous car accident victims find the justice and closure they need to move forward.
Why Choose Dolman Law Group?
Dolman Law Group Accident Injury Lawyers, PA, has a reputation for its ability to handle car accident cases in Harrisburg, PA. Our attorneys thoroughly understand the state and local traffic laws, which are crucial for building a compelling case for our clients.
At Dolman Law Group, we handle each case with the dedication and attention it deserves. Starting with a comprehensive case evaluation, we gather the necessary evidence, engage with medical and forensic experts if needed, and negotiate assertively with insurance companies. We fearlessly take cases to trial if necessary. We update you on your case's progress every step of the way. When you know the status of your case, you can rest easier at night knowing that we are doing everything we can to get your case past the finish line.
Client Testimonials and Success Stories
The positive testimonials we have received over the years demonstrate our commitment to our clients. We invite you to read through some of our client success stories, which reflect our dedication to securing the best possible outcomes for car accident victims in Harrisburg, PA. Deciding to seek legal help after a car accident is a significant step toward fair compensation.
We pride ourselves on handling every client's case to the best of our ability. Every client is different, so we take the time to thoroughly learn our clients' interests, goals, and history. When you work with us, you'll harness the power of a team of attorneys who work well together and have years of experience in making our clients' lives happier and more secure.
<iframe width="200" height="113" src="https://www.youtube.com/embed/sYGkfII8vzc?feature=oembed" frameborder="0" allow="accelerometer; autoplay; clipboard-write; encrypted-media; gyroscope; picture-in-picture; web-share" allowfullscreen title="When to Hire a Car Accident Lawyer"></iframe>
The Scale of Car Accidents in Harrisburg, PA
The prevalence and consequences of car accidents in Harrisburg jeopardize public safety and impose substantial physical, emotional, and financial burdens on the victims. Car accidents can occur due to impaired, aggressive, or distracted driving.
Harrisburg witnesses many car accidents yearly, contributing to the overall state and national statistics. The nature of these incidents varies, encompassing rear-end collisions, rollovers, side impacts, and head-on collisions. Many accidents result in serious injuries, while unfortunate fatalities are also common. According to data from the Pennsylvania Department of Transportation, the number of traffic fatalities was 1,179 in a recent year.
Types of Car Accident Injuries
Car accident injuries are one of the leading causes of emergency room visits and hospital admissions in the United States. The severity and type of injuries victims suffer depend on the type of accident and the speed of the vehicles involved. Common types of car accident injuries include whiplash, broken bones, concussions, dislocations, cuts, scrapes, internal bleeding, fractures, brain injuries, and nerve damage.
Emotional Damages After a Car Accident
Car accidents can also take a substantial emotional toll on the victims. Traumatic experiences, such as a life-threatening accident, often leave the victims anxious, scared, and vulnerable. The symptoms of post-traumatic stress disorder can be especially severe depending on the magnitude of the accident and the nature of the injuries. Victims may suffer from depression, insomnia, appetite loss, and stress.
What to Do After a Car Accident
A car accident's consequences extend far beyond the immediate physical injuries. Victims often grapple with the long-term consequences of their injuries, including chronic pain, disability, and related medical costs.
Car accidents can leave victims overwhelmed and unsure of what to do next. In these times of distress, understanding your legal rights is crucial, as it equips you to make informed decisions and take appropriate steps to protect your interests.
After a car accident in Harrisburg, log everything and keep all your physical records of the crash. Keep receipts of any expenses you incur, and write in a journal so you remember everything. Always follow any care plan that your doctor and medical care team prescribe.
Importance of Seeking Legal Advice Promptly
Prompt legal advice is vital after a car accident. This allows your lawyer to gather evidence, seek professional opinions, and negotiate effectively with insurance companies.
The attorneys at Dolman Law Group Accident Injury Lawyers, PA, are readily available to provide legal counsel and guide you through the complex legal process to secure the compensation you deserve.
Handling the complexities of a car accident's aftermath alone can be stressful and emotionally taxing. Working with a lawyer will free up your time to return to the duties and activities you love rather than focusing on the accident that disrupted your life.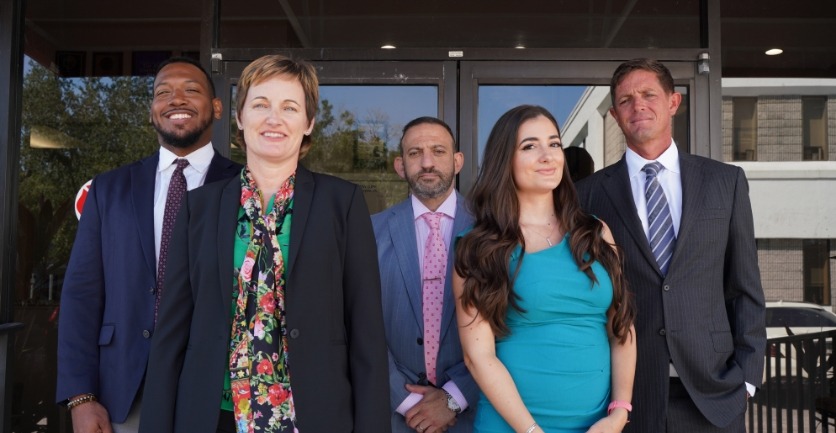 Overview of the Rights of Car Accident Victims in Harrisburg
As a car accident victim in Harrisburg, PA, you have various rights per law. These include the right to compensation for your injuries and other losses you incurred due to the accident and the right to representation by legal counsel. You also have the right to refuse to settle the claim until you identify all your injuries and damages.
Depending on the specifics of the accident, you could hold various parties liable. This may include the other driver, the faulty vehicle or part manufacturer, or the entity responsible for maintaining the road. Identifying the liable party or parties is crucial to the claim process.
What Is My Case Worth?
Understanding your rights to compensation after a car accident can offer some much-needed relief during this difficult time. The law acknowledges that car accident victims should not bear the financial losses from an incident caused by someone else's negligence. It's hard to know how much your pain and suffering are worth, but there are a few ways to calculate a fair settlement amount.
Car accident victims in Harrisburg can seek compensation for various damages. These can include medical expenses for immediate and long-term care, loss of earnings, loss of earning capacity, property damage, and compensation for pain and suffering. The victim's family can claim wrongful death damages when the accident results in a fatality.
Factors Influencing the Amount of Compensation
Various factors come into play when calculating the compensation you may receive. These can include the severity of your injuries, the consequences of the injuries on your quality of life, the amount of your medical bills, and the level of fault of each party involved in the accident.
At Dolman Law Group Accident Injury Lawyers, PA, we thoroughly examine all these factors to achieve the maximum compensation possible for our clients. We'll negotiate with the insurance company on your behalf and work with you to determine a fair settlement amount so that you don't have to settle for anything less than you deserve.
Fighting the Insurance Company
Insurance companies have an inherent interest in minimizing payouts. As a result, car accident victims often battle with insurance companies at a disadvantage. Dealing with the insurance company on your own can be a struggle. You must handle all the associated paperwork for an insurance claim and deal with lengthy phone calls, meetings, and in-person appointments. Insurance companies design all of this to minimize the compensation that you receive.
At Dolman Law Group Accident Injury Lawyers, PA, we understand how insurance companies reduce their financial exposure. We also understand that the claimants lack the legal knowledge and resources to counter these tactics. This is why we bring extensive experience in effectively dealing with insurance companies, utilizing our competence to protect clients' rights and ensure fair compensation.
Dolman Law Group Accident Injury Lawyers Practice Areas
We offer our clients diverse services and benefits at Dolman Law Group Accident Injury Lawyers, PA. We strive to provide our clients with comprehensive support and guidance through every stage of the legal process.
Our services include:
Conducting a comprehensive, independent investigation into the facts of your case.
Gathering and preserving evidence.
Identifying the liable parties.
Negotiating with insurance companies.
Representing you in court and other legal proceedings.
Assisting with the filing of insurance claims.
Advising on legal options.
Helping you understand the applicable laws and regulations.
Securing fair compensation and closure.
To ensure that our services are accessible to all, we operate on a contingency fee basis. This means you only pay us if we win your case. We firmly believe in our ability to obtain the compensation that our clients deserve.
Contact Us for Car Accident Assistance Today
After a car accident in Harrisburg, Dolman Law Group stands ready to help you. You can reach us through our phone line, available 24/7, at (833) 552-7274 or (833) 55-CRASH. Our dedicated attorneys are eagerly waiting to listen, advise, and champion your rights toward obtaining the justice and compensation you deserve. 
Take a stand today, and let us journey with you through this challenging period. Your fight for justice starts here.
The Dolman Law Group works with local counsel in any jurisdiction outside Florida for the purpose of filing lawsuits in jurisdictions wherein we are not licensed. Thus, we will follow each State's ethical rules to ensure a local attorney is involved.