After a car accident in Oregon, don't let dealing with paying medical bills or negotiating with insurance companies overwhelm you. With a seasoned Oregon car accident lawyer fighting for compensation, you can focus on recovery and healing.
With a commitment to championing the rights of car accident victims, Dolman Law Group Accident Injury Lawyers, PA, has become a reputed force in the legal landscape. Our firm has obtained numerous successful verdicts and settlements, each a testament to our dedication and pursuit of justice. Our legal team has successfully handled diverse car accident cases, providing our clients in Oregon with peace of mind during tough times.
Dolman Law Group Accident Injury Lawyers, PA, Seeks Justice for Oregon Car Accident Victims
Our car accident lawyers thoroughly understand Oregon's traffic rules, regulations, and insurance laws. Our knowledge, litigation skills, and empathy for our clients differentiate us from other law firms. Our attorneys are not just lawyers—we are tireless advocates who stand by our clients at every step, turning over all stones in the pursuit of truth and justice.
We take pride in the positive feedback we receive from our clients. Their testimonials reflect the dedication, compassion, and professionalism we bring to every case. Clients commend us for our thoroughness, tenacity in negotiations and courtrooms, and unwavering support during difficult times. These satisfied clients endorse our service and dedication to obtaining justice for car accident victims.
Our firm believes in complete transparency when it comes to our fee structure. We operate on a contingency fee basis, meaning we only collect attorney fees if we secure a settlement for you. We are happy to discuss our payment structure and other possible expenses with you during a free consultation.
Dolman Law Group works with local counsel in any jurisdiction outside Florida to file lawsuits in jurisdictions where we do not have licenses. We follow each state's ethical rules to ensure the involvement of a local attorney.
<iframe width="200" height="113" src="https://www.youtube.com/embed/sYGkfII8vzc?feature=oembed" frameborder="0" allow="accelerometer; autoplay; clipboard-write; encrypted-media; gyroscope; picture-in-picture; web-share" allowfullscreen title="When to Hire a Car Accident Lawyer"></iframe>
Dolman Law Group Accident Injury Lawyers, PA, Fights Aggressive Insurance Companies
Only accept an insurance settlement after a lawyer reviews it with you. Having our skilled car accident lawyers on your side can make a massive difference in negotiations, as we know insurance companies' tactics and can effectively counter them. Insurance companies often strategically undervalue claim amounts to benefit their bottom line.
Insurance companies may deny claims for various reasons, such as inadequate evidence, an unclear cause for the car accident, or a claim value they feel is too high. Insurance companies may intentionally delay a claim or offer lowball settlements to benefit them financially. Hire a skilled car accident lawyer to combat these tactics.
At Dolman Law Group Accident Injury Lawyers, PA, we fully commit to seeking justice for you and pursuing fair compensation. We take a firm stance against attempts by insurance companies to undervalue or deny your claim. We will determine the actual value of your claim and pursue full compensation for your expenses and other damages. Our experienced car accident lawyers are relentless in negotiations and court and strive to bring you the best possible outcome.
How Much Are Car Accident Settlements Worth in Oregon?
Car accident settlements vary on a case-by-case basis, depending on the details of the accident and your circumstances. The extent of your injuries, responsibility for the accident, and insurance coverage availability and limits are key factors. There are numerous issues to consider, and negotiating with insurance companies can be difficult.
At Dolman Law Group Accident Injury Lawyers, PA, we seek various compensation for your damages. The laws on personal injury categorize these damages as economic, non-economic, and punitive.
Common Economic Damages After a Car Accident
Economic damages are concrete, measurable losses, such as medical bills, property damage, and lost income.
Economic damages can include:
Emergency department visits, surgery, physical therapy, in-patient care, and medication.
Lost income during hospitalization and recovery.
Loss of future earning capacity if your injuries prevent you from returning to your previous job.
Repair or replacement of your vehicle and other personal belongings.
We can prove your economic damages with documentation such as medical bills, car repair estimates, and income statements.
Non-Economic Damages That Car Accident Victims May Experience
Non-economic damages are more subjective and harder to quantify than economic damages.
These damages include:
These damages can be more challenging to prove as they lack set monetary costs. Insurance companies may attempt to devalue or deny compensation for emotional distress and other intangible damages. Our attorneys will aggressively pursue full compensation for all of your damages.
Punitive Damages in Car Accident Claims
The court may award punitive damages on top of other compensatory damages. This compensation punishes the negligent party for recklessness and discourages similar behavior from others in the future.
Securing a settlement on your behalf is not just about winning a legal battle. It's about ensuring that you get justice. You can count on Dolman Law Group Accident Injury Lawyers, PA, to pursue the maximum compensation the law may entitle you to.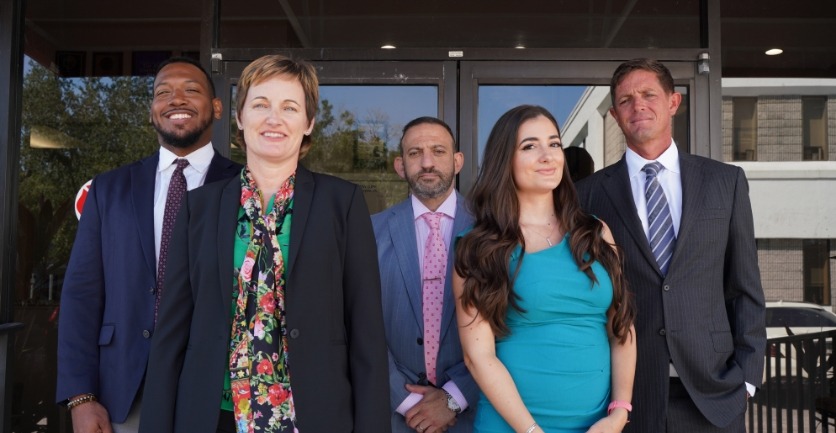 Car Accident Injuries: A Problem Throughout Oregon
Underneath Oregon's scenic landscapes and routes exists a grim reality: Car accidents are abundant in our state. Data from the Oregon Department of Transportation shows that in a recent year, 35,945 individuals sustained injuries in motor vehicle accidents. Another 599 people have sadly lost their lives in crashes on the state's roadways.
Three contributing factors to car accidents in Oregon are driver negligence, inclement weather conditions, and poor maintenance of roads.
Dangerous Driver Behaviors
Negligent or reckless actions from motor vehicle operators cause many crashes throughout the state.
Some of the most common driver errors in reported accidents in Oregon are:
Driving too fast for the road conditions.
Failing to avoid a stopped vehicle.
Improper traffic lane changes.
Drivers lacking the right of way.
Following a vehicle too closely.
Intoxication.
We will thoroughly investigate and hold negligent drivers accountable for your injuries.
Poorly Maintained Roads
Potholes, cracks, and uneven surfaces can reduce the traction between tires and the road, making it difficult to brake, maneuver, and control the vehicle. Poor road signage, debris, oil, and other hazards can also cause car accidents.
You can see the growing necessity for car accident lawyers in Oregon. Dolman Law Group Accident Injury Lawyers, PA, is ready to serve as your ally in the challenging time after an accident.
Car Accident Injury Claims in Oregon: An Overview of the Legal Process
The complex road to justice for car accident victims can be daunting. What sets Dolman Law Group Accident Injury Lawyers, PA, apart is our unique approach to handling car accident cases.
We provide personalized attention for every client. We make the legal process as stress-free as possible so you can focus on recovery while we tackle the legal complexities. Our dedication, experience, and client-centric approach are driving factors behind the successful outcomes we have achieved for many car accident victims.
We Hold Negligent Parties Accountable for Their Actions
We can establish negligence when a driver fails to obey Oregon's Rules of the Road for Drivers or otherwise acts recklessly. Negligence is a form of careless or reckless behavior that results in injury to another person. In a car accident case, the law may require the negligent party to provide compensation for the injured party's damages.
We establish negligence by carefully examining all relevant evidence and details of the accident. We may gather police reports, witness statements, photos, videos, and expert testimonies to build a solid foundation for our argument.
Our attorneys may work with medical experts to determine the extent of your injuries and their long-term effects. We might hire financial experts to calculate your economic damages from lost income and medical bills if necessary.
Once we have enough information, we will present a compelling case on your behalf to fight for the compensation you deserve.
We Handle Negotiations with Insurance Companies
Negotiating a car accident claim with an insurance company is challenging. Insurance company adjusters may use complex language, and the claims process can be time-consuming and stressful.
At Dolman Law Group Accident Injury Lawyers, PA, we have extensive experience negotiating settlements with insurance companies.
Our attorneys understand the strategies insurers use to minimize payments. We know how to present a claim to increase the chance of a favorable outcome. We take a no-nonsense approach to negotiating with insurance companies and are always ready to take your case to trial if necessary to ensure a reasonable settlement.
We Can Represent You in Court
A car accident claim might go to trial if the parties cannot agree on a settlement amount, which could happen for several reasons. First, insurance companies might offer you an unfairly low settlement amount. As the injured party, you can dispute this amount and seek compensation through a trial. Second, a trial may need to prove the defendant's negligence. Last, you may need to go to trial if an insurance company denies your claim.
We're With You No Matter How Long It Takes
The time it takes for a car accident to settle in Oregon varies on a case-by-case basis and depends on various factors, such as the case's complexity, the extent of the injuries, and whether the case goes to trial. A car accident case can take a long time to settle. Our legal team can clarify your case's potential timeline at your free consultation.
Contact Dolman Law Group Accident Injury Lawyers, PA, Today
We offer a free initial consultation to discuss your case and clarify any questions you might have about the legal process.  You can reach us via phone, email, or through our website. We look forward to demonstrating how we can put you on the path to justice and recovery. Call us today at 833-552-7274 (833-55-CRASH) for your free consultation.