Car accidents occur frequently in Albuquerque, New Mexico, causing many physical, emotional, and financial implications for the victims. Understanding the procedures and legalities surrounding these accidents is challenging when dealing with the aftermath. This is where Dolman Law Group Accident Injury Lawyers, PA, comes in.
Dolman Law Group is more than just a law firm. We are advisors, negotiators, and advocates with a firm grasp of Albuquerque's legal landscape and a reputation for securing excellent client outcomes. Our Albuquerque car accident lawyers focus on providing comprehensive legal services for those injured in car crashes.
About Dolman Law Group
Understanding the complexities of car accident laws and navigating the intricate legal landscape in Albuquerque, New Mexico, can be daunting. With a rich history built from a deep understanding of the law, Dolman Law Group Accident Injury Lawyers, PA, have proven invaluable allies to numerous car accident clients.
At Dolman Law Group, we have amassed years of experience handling diverse car accident cases with a high success rate. We have a reputation for diligent work, deep knowledge of every aspect of the law, and a commitment to achieving justice for our clients.
Our approach to legal representation is distinctive. Every case and client is unique, and we treat them as such. We take the time to listen to your case, understand every detail, and tailor our legal strategies to achieve the best possible outcome.
Our services include case evaluation, in-depth investigation, professional advice, negotiation with the opposing party, and, if necessary, active representation in court. Your time is valuable, and we understand you are eager to return to what really matters in life.
At Dolman Law Group, we are more than just your lawyers; we are your dependable partners and dedicate ourselves to guiding you through tough times. It's not just about winning cases; it's about making a positive difference and providing our clients with a stress-free experience.
Our team strives to maximize the possibility of securing the highest and fairest compensation you deserve for every physical, emotional, and financial implication you've suffered due to a car accident.
<iframe width="200" height="113" src="https://www.youtube.com/embed/sYGkfII8vzc?feature=oembed" frameborder="0" allow="accelerometer; autoplay; clipboard-write; encrypted-media; gyroscope; picture-in-picture; web-share" allowfullscreen title="When to Hire a Car Accident Lawyer"></iframe>
Why Choose Dolman Law Group Accident Injury Lawyers, PA, in Albuquerque?
Deciding on the right legal advisor to handle your car accident case is a crucial step that could significantly influence the outcome of your claim. In Albuquerque, Dolman Law Group Accident Injury Lawyers, PA, stands tall among other law firms for our unwavering dedication to our clients and fearless representation.
Our past clients testify to our commitment. They applaud us for our legal achievements and our empathetic and respectful approach to their cases. We understand that behind every case is a person enduring distress, and your comfort and satisfaction are our priority.
We operate on a no-win-no-fee basis, so we don't charge you any legal fees unless we win your case. We believe that everyone deserves quality legal representation, regardless of their financial situation. This structure allows us to carry the cost burden while you focus on recovering from your accident.
Choosing us to represent you gives you access to our legal services, personal attention to your case, and peace of mind knowing that we can tirelessly fight for your rights and interests. You are not just another case to us—you are a person who deserves justice and compensation, and we'll never tire while aiming to ensure you receive both.
Dolman Law Group Practice Areas
At Dolman Law Group, we represent all kinds of car accident cases, providing comprehensive legal services for our clients.
Our practice areas include:
Comprehensive case evaluation
Comparative negligence
Documentation and evidence preservation
All types of car accidents
Hit and runs
Aggressive driving incidents
Uninsured/underinsured motorists
Wrongful death
Drunk driving accidents
Distracted-driving accidents
Head-on and rear-end collisions
No matter what sort of car accident you've experienced in Albuquerque, we can take care of you. Reach out to Dolman Law Group to learn about our practice areas. If you have other legal needs, we can also handle them. Our full-service law firm can tackle any of our clients' issues or concerns.
Car Accidents in New Mexico
Regarding car accident laws, New Mexico operates under a fault system when determining liability and compensation. This means the driver who caused the accident is responsible for any losses the other parties suffer. It also means the party the accident injured has multiple options for seeking compensation. They can file a claim with their own insurance company or the at-fault driver's insurance company or a personal injury lawsuit against the driver.
When dealing with a car accident case, the at-fault party may argue that the victim's injuries were pre-existing or that the victim partly caused the accident. Knowing these possibilities can help us prepare a strong case and improve the chances of securing full compensation.
A car accident lawyer guiding you through the process can significantly improve your chances of receiving the most from your claim. At Dolman Law Group, we can provide this guidance and represent your interests during this challenging time.
Where Do Car Accidents Occur in Albuquerque?
New Mexico is a state where thousands of car accidents occur annually, and Albuquerque is one of the most dangerous cities in the state for motorists. Accidents in Albuquerque happen all around the city, including on highways and side streets.
They can also occur in parking lots and residential neighborhoods, especially during high-traffic times or late at night. Data from Albuquerque revealed that the number of alcohol-related crashes was on the rise, along with the number of traffic fatalities.
Many car accidents in the city relate to alcohol or impaired driving, which can complicate your case and involve even more pain and emotional damage. No matter what caused the accident, the victim ultimately picks up the pieces.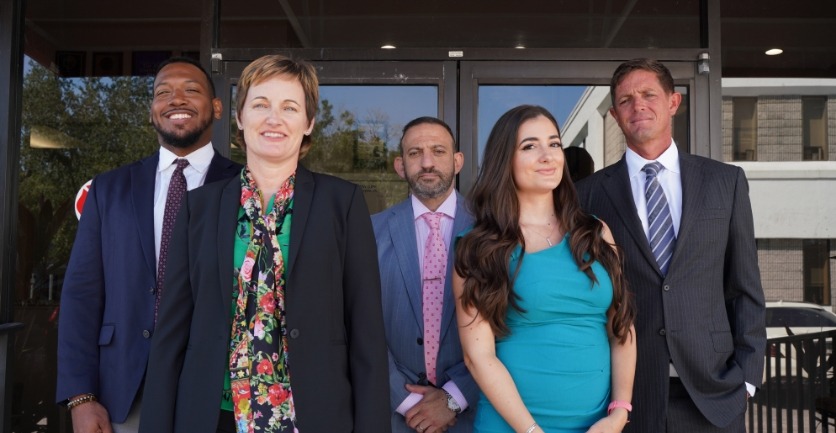 The Aftermath of a Car Accident: A Victim's Perspective
Physical injuries from a car accident can affect your health and well-being. Emotional trauma is also often a direct consequence of car accidents, decreasing the quality of life for many victims.
Financial burdens typically follow as medical bills pile up and loss of income takes effect due to incapacity to work. After a car accident, keep up with all the necessary paperwork, filing it away for safekeeping and keeping a journal to stay abreast of any new developments. Then ensure you follow your doctor's care plan regarding any medical treatment you need. Contact Dolman Law Group after the car accident so we can handle your side of the situation and attempt to achieve the compensation you deserve.
Fighting the Insurance Company
Performing all of this while dealing with the insurance company can be stressful, involving lengthy phone calls and difficult representatives. Insurance companies often take more interest in their own welfare than yours, and they might present you with an offer well below what you should receive. Here lies the necessity for legal representation.
An experienced and skilled car accident attorney can alleviate your stress by handling all the legal processes, guiding you through the complex path of claiming compensation and aiming to ensure the protection of your rights.
The claims process begins with an investigation to establish the facts of the accident, gather and preserve evidence, and determine liability. Your lawyer can then prepare a claim, including all your damages, and negotiate with the at-fault party or their insurance company to settle. If this doesn't result in a reasonable settlement, your attorney can take your case to trial, fighting for your rights and seeking the justice you deserve.
At Dolman Law Group, we handle this process efficiently to secure the compensation that is rightfully yours. We stand beside you every step of the way, offering the guidance, support, and professionalism you need to navigate the claims process successfully.
How Dolman Law Group Can Act on Your Behalf
Engaging a professional car accident law firm, such as Dolman Law Group Accident Injury Lawyers, PA, can significantly ease your burden and increase your chances of securing compensation.
Our thorough and meticulous investigative process goes to great lengths to gather all available evidence, interview witnesses, liaise with accident reconstruction experts if necessary, and work to establish the at-fault party's liability.
Our industry-acclaimed negotiation and litigation skills allow us to firmly represent you when dealing with insurance companies. We don't hesitate to take your case to court if negotiations do not achieve an appropriate settlement. We always aim to ensure you receive the highest possible compensation for your damages.
We strive to keep you updated and comfortable throughout your journey with us. We understand the stress an accident can cause and work hard to minimize this. Our commitment to aiming for your best possible outcome is unwavering, and we will fight tirelessly on your behalf.
How Much Is My Case Worth?
After a car accident, victims may find themselves facing a range of different expenses and losses. Understanding what types of compensation you deserve can be crucial in ensuring a fair settlement.
Car accident victims are typically eligible for compensatory damages, which aim to restore the victim to the state they were in before the accident. These damages include current and future medical expenses, lost earnings if you cannot work, property damage, pain and suffering, and emotional distress. Each case is unique, and the combination of damages will reflect the specific circumstances of your accident.
In some cases, the process may award punitive damages. These don't compensate the victim but punish an at-fault party's egregious or reckless actions and deter similar behavior.
Our lawyers at Dolman Law Group can work diligently to calculate the full extent of your damages and fight for the highest possible compensation on your behalf.
Contact Dolman Law Group's Albuquerque Car Accident Lawyer Today
Recovering from a car accident can be an overwhelming experience. Amid dealing with injuries, property damage, and insurance companies, you shouldn't have to fight for your rights and compensation alone. At Dolman Law Group Accident Injury Lawyers, PA, we believe that everyone deserves high-quality legal representation, regardless of their circumstances. We are here to navigate this complex process and protect your legal rights.
We encourage you to take the first step toward securing your future by contacting us. With a free consultation, you can discuss your case with an experienced lawyer, understand your legal options, and receive answers to all your questions. This is your risk-free opportunity to learn how we can work on your behalf on your path to recovery.
Don't wait. Every moment matters in a car accident case. Contact us today at (833) 552-7274 or (833) 55-CRASH and let our lawyers in Albuquerque work for you.
The Dolman Law Group works with local counsel in any jurisdiction outside Florida for the purpose of filing lawsuits in jurisdictions where we do not have licenses. We will follow each State's ethical rules to ensure the involvement of a local attorney.