A good New Mexico car accident lawyer represents you and substantially influences the outcome of your case by ensuring you get the deserved compensation and justice.
Our New Mexico car accident lawyers at Dolman Law Group bring extensive experience and dedication to your case, promising to fight for your rights relentlessly. Our New Mexico firm has a long-standing reputation for providing robust legal representation to car accident victims. We have navigated the complex landscapes of countless auto accident cases, guiding our clients through the process and winning them the compensation they deserve.
When dealing with a car accident, you need a trusted ally who can competently represent you in the complex world of legal litigation. At Dolman Law Group, we pride ourselves on championing the rights of auto accident victims, providing them with exceptional legal representation, and advocating for their best interests in the fight for fair compensation.
Our History and Legacy
With integrity, compassion, and relentless advocacy, Dolman Law Group has stood at the forefront of personal injury law, focusing on car accident cases. We strive to ensure that every car accident victim we represent receives the legal recourse they deserve.
We proudly serve clients all across the United States, including New Mexico, providing legal advice and competent representation to car accident victims. We bring decades of experience with a team of stalwart attorneys committed to upholding your rights and interests.
Our Skills
Our attorneys understand the intricacies of car accident cases, the nuances of New Mexico's traffic laws, and insurance company tactics to minimize compensation. With this in-depth knowledge, we have successfully litigated countless car accident cases, securing favorable settlements and verdicts for our clients.
At Dolman Law Group, we handle all kinds of car accident cases, including rear-end collisions, hit-and-run cases, drunk driving accidents, distracted driving, and aggressive driving and road rage incidents. Our holistic approach and exceptional legal acumen enable us to provide our clients with robust representation, making us the preferred choice for car accident victims in New Mexico.
How Dolman Law Group Can Help Car Accident Victims
At Dolman Law Group, we understand the profound consequences a car accident can have on you and your family. Our team provides comprehensive legal support to car accident victims and relentlessly pursues their right to fair compensation.
Our services go beyond just filing your claim.
We advocate for you throughout every step of the process.
Case evaluation: We start by providing a thorough case evaluation, where we assess your situation, determine the prospective value of your case, and explain your legal options.
Investigation: Our lawyers and investigators will meticulously examine your accident to establish fault and strengthen your case.
Paperwork: We handle all the paperwork, court filings, and communications with insurance companies on your behalf, letting you focus on your recovery.
Negotiation: We have a proven track record of tough negotiations with insurance companies, ensuring you get the maximum compensation you deserve.
Litigation: If necessary, we take your case to court and fight for your rights before a judge and jury.
Over the years, our team has handled thousands of car accident cases, securing millions of dollars in compensation for our clients.
<iframe width="200" height="113" src="https://www.youtube.com/embed/sYGkfII8vzc?feature=oembed" frameborder="0" allow="accelerometer; autoplay; clipboard-write; encrypted-media; gyroscope; picture-in-picture; web-share" allowfullscreen title="When to Hire a Car Accident Lawyer"></iframe>
Car Accidents in New Mexico
Car accidents are an unfortunate reality on the roads of New Mexico. According to the New Mexico Department of Transportation, thousands of road traffic crashes occur annually, leading to significant injury and loss of life. Understanding the common causes of these accidents and where they occur can help drivers be more vigilant and take necessary precautions.
While every area of New Mexico is prone to car crashes, certain cities tend to have more accidents than others. These include Santa Fe, Farmington, Rio Rancho, and Albuquerque. Car accidents, unfortunately, remain one of the leading causes of death in the state. Teen and senior drivers are prone to distracted driving car accidents.
Consequences
The consequences of car accidents range from mild injuries to severe, life-changing conditions or even fatalities. Apart from the physical and emotional trauma, car accident victims may also face significant financial challenges due to medical expenses, property damage, and loss of income.
Understanding the Legal Rights and Obligations in a Car Accident
Knowledge of your legal rights and obligations can significantly aid in pursuing compensation and justice for your car accident.
A car accident victim has certain rights in New Mexico. You can seek compensation for any injury or loss you incurred due to the accident. This could cover medical expenses, earnings loss, changed earning capacity, pain and suffering, and more.
You also have the right to refuse any immediate settlement offers from insurance companies. These rapid offers often fall short of the compensation you may be entitled to. Always contact a legal professional before accepting any such offers.
What Do You Do After a Car Accident?
Following an accident, you'll need to stay in touch with your insurance company about updates and developments in your case. Keep all your paperwork on hand, and consider filing it in a safe location so you don't lose or damage it. Follow any treatment plans your doctor prescribes, and write a journal about new developments. Contact our New Mexico car accident lawyers as soon as possible to quickly get fair compensation.
Understanding Negligence and Determining Liability
Establishing who was at fault or negligent is critical in car accident cases. Negligence refers to a person's failure to act with the level of care that a reasonable person would have exercised under the same circumstances.
Proving negligence can make a significant difference in the outcome of your case. Collecting papers and pursuing a case alone can leave you little time for anything else. There's an easier way, fortunately.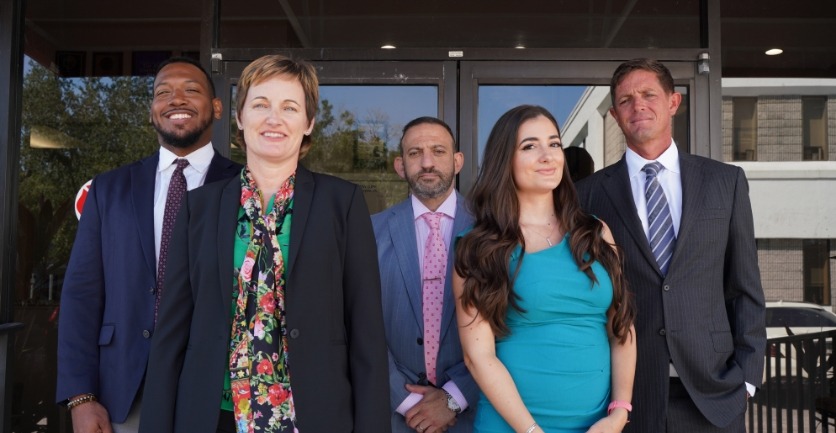 How a Car Accident Lawyer Can Help
A car accident lawyer can provide invaluable assistance. They can guide you on the laws relevant to your case, your rights, and the compensation you might be entitled to. They collect and preserve crucial evidence supporting your claim and debunk any claims the opposing side may make to reduce compensation.
When the insurance company disputes your claim, your lawyer can be instrumental in building a solid case with substantial evidence. Insurance companies often have their interests at heart and may employ tactics to minimize the compensation they pay out. An experienced car accident lawyer knows these tactics and can negotiate to ensure you receive fair compensation.
Don't stress about fighting with the insurance company on your own. Reach out to Dolman Law Group to deal with insurance companies. When you work with us, you don't have to worry about getting the compensation you deserve.
Seeking Compensation
Your lawyer plays a crucial role in seeking compensation. They do this by filing a personal injury lawsuit against the at-fault party, presenting a compelling case in court, and advocating for your rights.
Potential Compensation for Car Accident Victims
Winning your car accident case brings justice and can also lead to financial compensation. This compensation covers medical bills and other losses you may have suffered due to the accident. Let's look at the compensation you may seek due to a car accident and how authorities determine these amounts.
Types of Compensation a Victim May Seek
The compensation you may seek falls into economic and non-economic damages. Economic damages are quantifiable with easy calculation.
They include:
Medical expenses: This accounts for all costs related to medical care, from emergency room visits to ongoing therapy sessions.
Lost earnings: If your injuries force you to take time off work or reduce your earning capacity, you may seek compensation for lost earnings.
Property damage: This covers the repair or replacement costs of any damaged property, typically your vehicle.
Non-economic damages, on the other hand, don't have a clear monetary value.
They include:
Pain and suffering: This compensates for the physical and emotional stress resulting from the accident.
Emotional distress: This includes compensation for anxiety, depression, and other emotional trauma.
Loss of consortium: This is compensation for the consequences of injuries on your relationship with your spouse or family.
Dolman Law Group can work with you to determine what amount you can get and how all these factors will come into play. You might be entitled to damages in one or even five or six categories, and while no one wants to deal with the fallout of a car accident, a compassionate lawyer will help you work through all the fine points and get back to what matters.
How to Determine the Compensation Amount
The process of determining compensation amounts is unique to each case. Several factors come into play, including the severity of your injuries, the influence of the accident on your lifestyle, and your future medical needs.
Your attorney will collect all necessary evidence and work with professionals to estimate your damages fairly. Remember, the aim is to ensure you receive fair compensation, not just what the insurance company initially offers.
Consultation and Representation
We believe in empowering our potential clients through knowledge and understanding. As the first step in our relationship, we offer a free consultation to discuss your case, answer your questions, and lay out your best options. Our firm operates on a contingency fee basis, ensuring you will only pay fees if we win your case.
At Dolman Law Group, we offer a free, no-obligation initial consultation to victims of car accidents in New Mexico. The consultation allows us to understand your case details, explain the legal process, and discuss your legal rights and potential compensation. We believe in transparency and want you to have all the information you need to make an informed decision about your legal representation.
The Importance of Legal Representation
From understanding your rights to dealing with insurance companies and navigating the complex legal system, having an experienced car accident lawyer can make all the difference. We strive to take the stress off your shoulders, allowing you to focus on your recovery while we fight for your rightful compensation.
Don't let the fear of legal fees or navigating the legal process deter you from seeking justice. Reach out to us for a free, no-obligation consultation today. Remember, we operate on a contingency fee basis, meaning you don't pay unless we win. Let us put our extensive resources, network, and experience to work for you.
We're ready and waiting to fight for you at Dolman Law Group. Contact us today at (833) 552-7274 or (833) 55-CRASH to learn more about our services and how we can get the compensation you deserve.
The Dolman Law Group works with local counsel in any jurisdiction outside Florida for the purpose of filing lawsuits in jurisdictions wherein we are not licensed. Thus, we will follow each State's ethical rules to ensure a local attorney is involved.