Car accidents remain an unfortunate reality in New Jersey, involving thousands of people yearly. The aftermath of these incidents often proves challenging, with victims left navigating complex legal procedures while dealing with physical and emotional trauma. Having an experienced, reputable lawyer on your side can make all the difference as you deal with the aftermath of an accident.
Are you ready to start the claims process? Dolman Law Group provides legal advice and representation to car accident victims in New Jersey and nationwide. Contact our New Jersey car accident lawyers today for your free consultation.
About Dolman Law Group Accident Injury Lawyers, PA
With an impressive legacy and strong credentials, the Dolman Law Group Accident Injury Lawyers, PA, is a leading legal firm that can guide you through your car accident claim.
Our Experience in Handling Car Accident Cases
Born with a vision to provide reliable, efficient, and compassionate legal support to car accident victims, Dolman Law Group has built a reputation for excellence over the years. Our team includes highly qualified attorneys, paralegals, and support staff, all working together to ensure the best possible outcome for you.
We understand that no two car accidents look exactly alike. Each case brings with it a unique set of circumstances and challenges. We believe in a personalized approach, customizing our strategies to fit the specifics of each case. We can meticulously analyze every aspect of an accident, including understanding the causes and identifying liable parties. Doing so increases the odds that our clients will receive the full financial compensation they deserve.
Whether it means negotiating settlements or representing our clients in court, we at Dolman Law Group have a track record of securing substantial verdicts and settlements for our clients.
Here are some of our past car accident claims and their results:
$5 million for a car accident that resulted in burns.
$3.85 million for a semi-truck accident that caused traumatic brain injury.
$1.875 million for a car accident that caused cervical fusion and brain injury.
$1.58 million when a car accident caused two herniated discs.
You can rely on us for professional, empathetic, and results-driven legal support that lets you focus on your recovery while we handle the complex legalities.
The Dolman Law Group works with local counsel in any jurisdiction outside Florida for the purpose of filing lawsuits in jurisdictions wherein we are not licensed. Thus, we will follow each State's ethical rules to ensure a local attorney is involved.
<iframe width="200" height="113" src="https://www.youtube.com/embed/sYGkfII8vzc?feature=oembed" frameborder="0" allow="accelerometer; autoplay; clipboard-write; encrypted-media; gyroscope; picture-in-picture; web-share" allowfullscreen title="When to Hire a Car Accident Lawyer"></iframe>
Services That Dolman Law Group Accident Injury Lawyers, PA, Offer
Navigating the legal process of a car accident claim is challenging. Dolman Law Group Accident Injury Lawyers, PA, is here for you. With our extensive experience in car accident law, our team strives to provide top-tier services to our clients.
Our comprehensive legal services begin with a free consultation where we assess your case and advise you on the best path forward. Our team works tirelessly to collect evidence, liaise with medical providers, negotiate with insurance companies on your behalf, and, if necessary, represent you in court proceedings. We endeavor to ensure you receive the compensation you deserve.
Car Accident Statistics in New Jersey
Car accidents occur all too commonly across New Jersey:
New Jersey also tracks cell phone use and notes its impact on auto accidents. Around 1,000 accidents occur each year due to cell phone use, even though New Jersey bans using handheld devices while behind the wheel.
Common Causes and Types of Accidents
The causes of car accidents vary from case to case. Some of the most common causes include:
Distraction: Despite warnings from New Jersey's laws about the risk of distraction while driving, many drivers continue to use their cell phones while behind the wheel of their vehicles.
Speeding: Speeding increases the risk of an accident and causes more severe injuries.
Drunk driving: Drunk drivers engage in several reckless behaviors, including swerving over the road or ignoring traffic signals, that increase the risk of an accident.
Reckless driving: Reckless drivers may tailgate, swerve in and out of traffic, or engage in risky behavior that makes it harder for other drivers on the road to avoid them.
Each type of accident has unique legal implications, making it crucial to employ a knowledgeable car accident attorney who can navigate the complexities.
Understanding Car Accident Laws in New Jersey
A car accident can be a stressful experience, and understanding the legal complexities can feel daunting. Working with our experienced team at Dolman Law Group Accident Injury Lawyers, PA, can bolster your confidence in understanding the laws relevant to your New Jersey car accident.
New Jersey has a complicated choice no-fault system that can influence how you handle your car accident case. In New Jersey, you can carry personal injury protection (PIP) insurance (the industry sometimes calls it no-fault coverage). PIP insurance allows you to turn to your insurance company for compensation for the medical bills you face after a car accident, regardless of who caused the accident.
However, some drivers in New Jersey opt out of that coverage, which means they may turn to the other driver's insurance company for coverage and accident compensation.
Details About Negligence and Its Role in Car Accident Cases
In car accident cases, negligence plays a critical role. For legal purposes, negligence means a person failed to act sensibly and safely. If your lawyer can prove that the other driver's negligence caused the accident, it significantly influences the direction of the claim.
New Jersey, however, follows the modified comparative negligence rule, meaning that if you are partly responsible for the accident, your compensation could decrease proportionally. Understanding and proving negligence requires the insight of an experienced car accident lawyer.
The Importance of Hiring an Experienced Car Accident Lawyer
The legal process that follows a car accident is often complex and confusing. Hiring an experienced car accident lawyer can significantly ease this burden. We can evaluate the true value of your claim, negotiate with insurance companies, and, if necessary, represent your interests in court.
An Explanation of the Claims Process, Settlements, and Court Proceedings
The car accident claims process begins with reporting the accident to the relevant insurance companies. Then comes the investigation phase, which gathers the facts of the case, after which the insurance company determines liability for the accident.
Settlement negotiations then commence to agree upon the compensation for damages. The case may go to court if you cannot reach a fair settlement agreement. Throughout this detailed process, having an experienced car accident lawyer by your side proves crucial for achieving a successful outcome.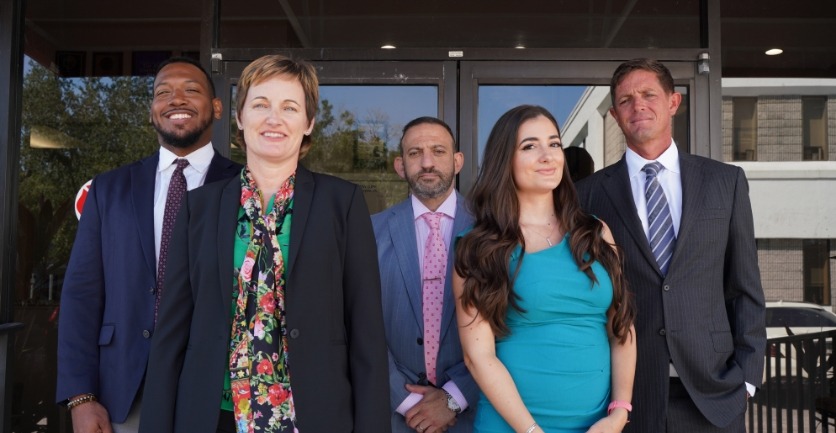 What to Do After a Car Accident in New Jersey
Your actions immediately after a car accident can significantly influence any legal actions that might follow. Make sure you take steps to protect your right to compensation.
You may need to:
Follow any advice or requirements your medical care provider issues. Keep in mind that this advice serves to prevent you from worsening your injuries. If you fail to follow that advice the insurance company may refuse to accept full liability for the damages resulting from the accident.
Keep a file listing all the medical costs you have faced because of the car accident. Include copays and deductibles you paid and any ongoing appointment costs and bills from your care providers.
Contact an experienced car accident lawyer at Dolman Law Group immediately. Only talk to the other driver's insurance company or your PIP insurance provider after you speak to a lawyer who can provide deeper insight into your rights.
Document the challenges you face as you recover, including your emotional struggles and specific physical or financial issues that may arise.
These steps can protect you and increase your odds of a successful resolution.
New Jersey Car Accident Frequently Asked Questions
You may have many questions when dealing with the aftermath of a car accident. Understanding your rights, the legal process, and what to expect can feel overwhelming.
1. What Should I Do Immediately After a Car Accident in New Jersey?
Follow your medical care provider's instructions, keep track of your medical costs, and contact Dolman Law Group Accident Injury Lawyers, PA, as soon as possible. Do not communicate with the insurance company, since you may inadvertently reduce the compensation you can recover. Let us instead take on those interactions for you.
2. How Much Does a Consultation With Dolman Law Group Accident Injury Lawyers, PA, Cost?
We offer a free initial consultation to evaluate your case and advise you on your next steps. We also accept clients on a contingency fee basis, so you only pay for legal services if we win your case.
3. How Much Can I Expect To Receive From My Car Accident Claim?
The settlement amount depends on various factors, such as the extent of your injuries, the influence on your life, loss of income, and fault in the accident. Settlement amounts may also depend on your chosen insurance coverage and the other party's insurance policy. At Dolman Law Group Accident Injury Lawyers, PA, we work with you to maximize the compensation you can recover, including carefully evaluating all those elements and determining how they may influence your case.
4. Why Do I Need a Lawyer for a New Jersey Car Accident That Wasn't My Fault?
Even if the other driver caused the accident, the services of Dolman Law Group Accident Injury Lawyers, PA, could prove critical. We can protect your rights, navigate the complex legal system, and negotiate fair compensation on your behalf. Having us on your side can maximize the compensation you can recover in many car accident cases.
5. How Do We at Dolman Law Group Accident Injury Lawyers, PA, Charge for Our Services?
We operate on a contingency fee basis, which means you only pay us if we win your case.
Contact a New Jersey Car Accident Lawyer Today
A car accident can turn your life upside down in an instant. Amid the confusion, stress, and pain, you deserve a team of legal professionals who can ease your burden and fight tirelessly on your behalf. At Dolman Law Group Accident Injury Lawyers, PA, we strive to navigate the complexities of your car accident claim and advocate for your rights. Contact us today at (833) 552-7274 or (833) 55-CRASH to learn more about your rights.