Unfortunately, Kentucky's picturesque landscapes and serene drives come with the risk of car accidents. These complex medical and legal cases can overwhelm victims.
After such an accident, you need a Kentucky car accident attorney to navigate the intricate legal process and understand the challenges you may face.
In choosing Dolman Law Group Accident Injury Lawyers, PA, you place your trust in a firm with a reputable history of successful cases and satisfied clients. Our unmatched commitment to our clients allows us to offer guidance on what to do after a car accident and the rest of our legal services on a contingency fee basis. Contact us to learn about your rights and how to pursue compensation after a Kentucky car accident.
How Dolman Law Group Accident Injury Lawyers, PA, Can Assist After a Kentucky Car Accident
With years of experience, Dolman Law Group Accident Injury Lawyers, PA, has long been at the forefront of the legal industry, offering considerable services and support in car accident law.
As a premier law firm, Dolman Law Group consistently delivers quality representation to its clients. Our team includes seasoned attorneys with a wealth of experience and a deep understanding of the local legal landscape, effectively representing clients in their car accident cases. We maintain a client-focused approach, treating each case with the individual attention it deserves and working tirelessly to secure the best possible outcomes.
Experience in Car Accident Cases
Dolman Law Group Accident Injury Lawyers, PA, has a proven track record of success in dealing with car accident claims and supporting its clients on their journey to compensation.
Take a look at some of our past claim results:
$5 million when a car accident caused burns.
$3.85 million when a semi-truck accident resulted in traumatic brain injury.
$1.875 million when a car accident caused cervical fusion and mild brain injury.
$1.58 million when a car accident led to two herniated discs.
Our attorneys can guide clients through each stage of the car accident claim process, including negotiating with insurance companies, pursuing litigation, or navigating Kentucky's no-fault car insurance system. Our lawyers can identify all the damages that victims can claim and use proven legal strategies to maximize their compensation.
We Understand the Difficulty and Trauma You Face
After a car accident, victims often face numerous challenges, such as physical injuries, emotional trauma, and financial setbacks. In such circumstances, the assistance of a competent car accident lawyer proves invaluable. The intricate nature of Kentucky's car insurance policies and the complexity of legal procedures make it essential to hire a lawyer who can guide you through the process to secure the compensation you rightfully deserve.
At Dolman Law Group Accident Injury Lawyers, PA, we have a personal understanding of the challenges that car accident victims face. Our founder dealt with a car accident that hurt his family. Their legal issues made navigating the system and getting fair compensation difficult. As a result, Dolman Law Group focuses on ensuring that every client feels supported on their journey to compensation.
Affordable Legal Support
At Dolman Law Group, we fully understand the financial difficulty that can accompany any type of car accident, and we aim to make the legal process affordable and accessible to our clients. We start with a free consultation to examine the conditions that led to your accident and determine your next steps. Then, we take claims on a contingent fee basis, so you pay nothing unless we win.
Have you suffered injuries from a car accident in Kentucky? Do not handle your claim alone. Contact Dolman Law Group Accident Injury Lawyers, PA, today to learn more about your rights.
<iframe width="200" height="113" src="https://www.youtube.com/embed/sYGkfII8vzc?feature=oembed" frameborder="0" allow="accelerometer; autoplay; clipboard-write; encrypted-media; gyroscope; picture-in-picture; web-share" allowfullscreen title="When to Hire a Car Accident Lawyer"></iframe>
Understanding Kentucky's No-Fault Car Insurance System
Kentucky operates a no-fault car insurance system. This means that after a car accident, irrespective of who bears fault, your car insurance will cover your medical bills and other out-of-pocket losses up to a limit. Only when the cost of treatment for your injuries exceeds those limits can you pursue compensation through the other driver's insurance company.
The Role of a Lawyer in Securing Compensation
A car accident lawyer from Dolman Law Group Accident Injury Lawyers, PA, can teach you about your rights and the compensation you can expect for your damages. Our attorneys can investigate the accident, collect evidence, negotiate with insurance companies, and, if necessary, represent you in court to secure the compensation you deserve. Having a knowledgeable lawyer in your corner could mean the difference between receiving full compensation and settling for less than you deserve.
Common Causes of Car Accidents in Kentucky
Every year, more than 700 people lose their lives on the streets of Kentucky. Another 33,000 people suffer injuries on public roads, and approximately 110,000 property damage accidents occur. Of those injured, around 3,000 suffer severe or life-altering injuries each year, including injuries that permanently affect their quality of life. Understanding the common causes of car accidents can prove vital to identifying who is to blame and who is financially accountable.
In Kentucky, several factors contribute to car accidents, some of which occur more commonly than others:
Distracted driving. Kentucky law bans drivers from texting behind the wheel. Yet, some still engage in potentially dangerous behaviors, including texting, looking away from the road, or even changing the channel on the radio. Distracted driving includes any behavior that takes the driver's eyes, hands, or attention away from the task of driving.
Speeding. Kentucky has several rural mountain roads that make speeding dangerous or deadly. Speeding increases accident risk and raises the force behind an accident, which can cause more severe injuries.
Driving while intoxicated. Driving under the influence of any substance, including drugs or alcohol, raises the risk of an accident and can cause more severe injuries.
Reckless driving. Reckless driving behaviors significantly increase the risk of all kinds of accidents. Tailgating, running other cars off the road, or weaving through traffic can all make it more dangerous for others to share the road.
Poor road conditions, including bad weather, can also raise the risk of an accident. During those conditions, drivers must slow down and exercise greater caution to prevent accidents.
Dolman Law Group Can Help Regardless of the Cause
Regardless of the cause of your car accident, Dolman Law Group Accident Injury Lawyers, PA, can assist. Our attorneys analyze accident scenarios and identify all responsible parties to make it easier for you to recover compensation from everyone who contributed to your accident.
We work diligently to build a strong case on your behalf, gathering all relevant evidence and working to prove liability. With our guidance, you can effectively hold negligent parties accountable and seek the compensation you deserve for your injuries and losses.
Potential Damages in a Car Accident Case in Kentucky
As a victim, knowing what kind of damages you can claim in a car accident case can prove essential to ensuring that you receive adequate compensation for the harm you sustained.
A claim for a car accident may recover compensation for your:
Medical bills. These include the cost of co-pays, deductibles, and incoming bills related to your medical treatments.
Lost earnings. This means any bearing on your income due to not working after your accident.
Pain and suffering. This involves the emotional and intangible damages potentially associated with an accident.
Because Kentucky passed no-fault car accident insurance laws, victims typically cannot recover compensation for pain and suffering until they have exceeded the protection offered by their PIP insurance.
At Dolman Law Group Accident Injury Lawyers, PA, we understand how important it is for victims to recover full and fair compensation. Our attorneys meticulously calculate your damages—including current and future expected losses—to ensure the case does not overlook or undervalue any aspect of your suffering. We negotiate aggressively with insurance companies on your behalf and take your case to court if they cannot reach a fair settlement.
When you choose to work with Dolman Law, you can trust that we do everything in our power to secure the best possible outcome for your case.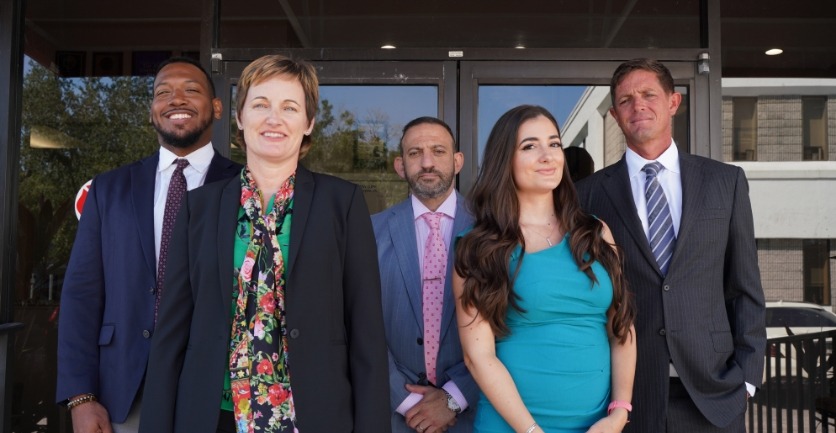 What Should You Do After a Car Accident?
Knowing what to do after an accident can prove crucial to protecting your rights and setting the foundation for a potential legal claim.
As the days and weeks after your accident progress and you pursue compensation for your injuries:
Follow the advice your medical care provider issues after the accident. Your medical care provider aims to maximize your recovery, and ignoring those instructions could make you liable for those damages. If your medical care provider recommends that you avoid specific activities, engaging in them could minimize the compensation you can recover, as the insurance company could claim that you have worsened your injuries.
Document any medical payments you make or any bills you have come in. Medical costs can pile up fast after an accident, and it does not take long to lose track of them. Keep records of everything you pay to assemble a claim that includes all your damages.
Document your challenges and struggles. Keep a journal and describe your emotional difficulties or the losses you have sustained.
Most importantly, get in touch with a lawyer as soon as possible. Your lawyer can guide you through the claim process, including providing essential information to maximize the compensation you can recover.
The Importance of Legal Guidance
You need legal guidance after a car accident in Kentucky due to the intricacies of the state's no-fault insurance laws. Dolman Law Group Accident Injury Lawyers, PA, provides immediate and insightful legal advice to ensure you take the necessary steps following an accident.
This guidance not only strengthens your potential claim but also shields you from tactics insurance companies may use to minimize their liability.
Insurance companies may:
Pressure you to accept a low settlement offer that does not reflect the compensation you deserve.
Ignore the extent of your injuries and the damages you sustained in the accident.
Claim that your injuries did not cause the complications and challenges you noted in your accident claim.
Deny liability for the accident, including pressuring you to accept partial fault for the incident.
Insurance companies often work to minimize the damages they must pay for as much as possible after an accident. But you deserve the maximum compensation possible for your injuries and losses.
Call Dolman Law Group Accident Injury Lawyers, PA, Today for Help With Your Kentucky Car Accident
You do not have to navigate a complex car accident legal claim alone.
Dolman Law Group Accident Injury Lawyers, PA, can provide the legal assistance you need. If you or a loved one has suffered injuries in a car accident in Kentucky, contact us today. We offer a free, no-obligation consultation to discuss the details of your case and how we can assist.
Contact Dolman Law Group Accident Injury Lawyers, PA, through our toll-free line at (833) 552-7274 or (833) 55-CRASH or through our website's live chat.
Contact us today for the support you need to move forward with your Kentucky car accident claim.
The Dolman Law Group works with local counsel in any jurisdiction outside Florida for the purpose of filing lawsuits in jurisdictions wherein we are not licensed. Thus, we will follow each State's ethical rules to ensure a local attorney is involved.