Car accidents are an unfortunate reality in Hawaii. Its enchanting paradise islands see their fair share of motor vehicle crashes. From minor fender-benders to high-impact collisions, car accidents routinely disrupt lives and lead to substantial personal and financial hardships for victims.
You may receive significant compensation if you or someone you love recently suffered injuries in a Hawaii car accident. Let our Hawaii car accident attorneys at Dolman Law Group Accident Injury Lawyers, PA, serve as your formidable legal ally after a Hawaii car accident.
We provide top-tier legal representation for crash victims and their families, navigating the complex landscape of accident injury law on their behalf to earn them justice and fair compensation. Contact us to learn what we can do for you.
About Dolman Law Group Accident Injury Lawyers, PA
Dolman Law Group Accident Injury Lawyers, PA, is a national personal injury law firm with a rich history of obtaining maximum compensation for car accident victims. Our team comprises seasoned trial lawyers to handle various car accident cases, from minor road accidents to major collisions involving severe injuries or fatalities.
Our talents demonstrate our steadfast dedication to client service. We understand the devastating impact of car accidents and work relentlessly to ensure that our clients receive the support and guidance they need to overcome the challenges a car accident has imposed on their lives.
At Dolman Law Group Accident Injury Lawyers, PA, we understand that every car accident case is unique. We approach each one with the meticulous care and attention it deserves. From analyzing the specifics of a crash to passionately arguing our clients' cases in court, we leave no stone unturned in fighting for your rights and interests.
The Dolman Law Group works with local counsel in any jurisdiction outside Florida to file lawsuits in jurisdictions wherein we do not have a license. We will, therefore, follow each state's ethical rules to ensure a local attorney participates.
<iframe width="200" height="113" src="https://www.youtube.com/embed/sYGkfII8vzc?feature=oembed" frameborder="0" allow="accelerometer; autoplay; clipboard-write; encrypted-media; gyroscope; picture-in-picture; web-share" allowfullscreen title="When to Hire a Car Accident Lawyer"></iframe>
The Heavy Toll of Car Accidents in Hawaii
Hawaii is famous for its scenic landscapes and beautiful beaches, but it is also the site of numerous car accidents. According to the latest crash data from the Hawaii Department of Transportation (HDOT), motor vehicle accidents kill more than 100 people annually and cause hundreds of severe injuries across the island chain. Thousands of crashes causing less serious injuries and property damage also occur.
Car accidents in Hawaii have numerous causes, from distracted driving to speeding to drunk driving. What sets Hawaii apart, though, are its unique traffic and road conditions that may make driving here somewhat unique and potentially hazardous.
Hawaii's road conditions are unlike any other in the United States. Driving there requires heightened care and attention. The roads wind across the islands' varied landscape and often feature wet, slippery, or unpredictable conditions from the tropical climate and changing weather.
Additionally, the state's large tourist population means many motorists are unfamiliar with local traffic rules and road conditions. These factors create potentially significant crash hazards unique to the island chain.
Legal Rights of Car Accident Victims in Hawaii
Victims of car accidents in Hawaii possess valuable legal rights to compensation for their losses. Here's an overview of the applicable laws and legal doctrines.
Hawaii's No-Fault Car Accident Insurance System
Hawaii operates under a modified no-fault auto insurance system. Drivers must purchase personal injury protection (PIP) insurance, which covers their medical expenses resulting from a crash, regardless of who was at fault, by law.
PIP in Hawaii also covers injuries to a driver's passengers and any pedestrian, cyclist, moped, or e-scooter rider the driver hits. If you suffer injuries in a Hawaii car accident, you turn first to the PIP insurance that covers you to pay for your medical care.
Hawaii car accidents often cause other types of harm that no-fault insurance does not cover, such as property damage. If you suffer severe injuries in a crash, you will likely face medical expenses exceeding your PIP coverage's limits.
That's why Hawaii law also entitles car accident victims to seek compensation, in addition to their PIP benefits, from the party at-fault crash whenever a collision causes the following:
Property damage
Death
Injury involving significant permanent loss of a body part or function
Injury involving permanent and serious disfigurement
Expenses covered by PIP that exceed $5,000
We obtain compensation for Hawaii car accident victims from insurance companies and at-fault parties at Dolman Law Group Accident Injury Lawyers, PA. No matter who might owe you money for your injuries, our team has what it takes to get results.
Who May You Hold Liable for a Hawaii Car Accident?
The party responsible for a Hawaii car accident varies from case to case. A careless or reckless driver may sometimes bear legal and financial responsibility for the crash and the damage it caused. Other parties may, however, share that liability or bear it entirely.
If a mechanical issue, for example, caused the crash, the manufacturer or the mechanic maintaining the car may owe damages to a crash victim. A local government entity or contractor could bear the blame if the crash resulted from unreasonably hazardous road conditions.
Multiple parties may have liability to a Hawaii car accident victim, in other words. At Dolman Law Group Accident Injury Lawyers, PA, we have the resources and skills to identify all responsible parties in a crash and pursue compensation for our clients accordingly.
Potential Compensation for a Hawaii Car Accident
Car accident victims in Hawaii usually have the right to receive significant compensation for their losses.
Every case differs, but at Dolman Law Group Accident Injury Lawyers, PA, we can often secure payment for our clients for:
Past and future medical expenses.
Cost of repairing or replacing a damaged car or other property.
Loss of earnings and job benefits from missing work.
Future income loss due to a disability.
Physical pain.
Loss of enjoyment of life.
Scarring, disfigurement, or loss of bodily function.
In a fatal Hawaii car accident, the deceased victim's surviving spouse, beneficiaries, children, parents, dependents, or legal representatives may have the right to sue the at-fault party (or parties) under Hawaii's wrongful death statute and survival of cause of action law.
Compensation available through those legal actions may include payment for:
Loss of society, companionship, comfort, or protection.
Loss of care, attention, advice, counsel, or parental guidance.
Loss of the victim's income, inheritance, services, or financial support.
Expenses associated with the victim's care before death.
The victim's pain and suffering before death.
Funeral and burial expenses.
At Dolman Law Group Accident Injury Lawyers, PA, we fight for every penny of compensation our clients deserve for their losses. Contact our team today to learn about the types and amounts of damages you may have the right to claim after a Hawaii car accident.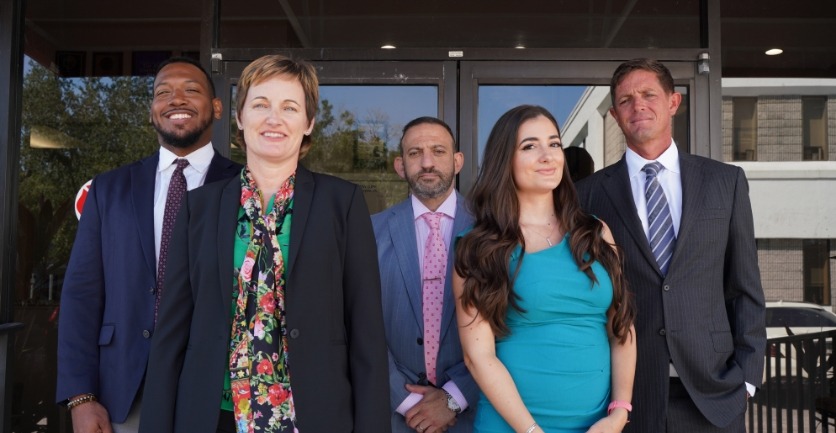 How We Handle Hawaii Car Accident Cases
When you choose Dolman Law Group Accident Injury Lawyers, PA, to handle your Hawaii car accident claim, your team works to deliver comprehensive and personalized legal representation and top-dollar results. We are thorough in our investigation process, strategic in our negotiation with insurance companies, and prepared to take a case to trial, if necessary, to ensure justice for our clients.
Our Thorough Case Investigation Process
Every car accident case we handle at Dolman Law Group Accident Injury Lawyers, PA, undergoes a thorough investigation process. We gather all the necessary evidence to prove our client's claim, such as police reports, witness statements, and medical records.
We frequently work with experts who can provide crucial evidence and opinions to support our client's case, such as by reconstructing an accident or providing in-depth medical testimony. Our thorough approach lays the foundation for a robust claim for car accident damages.
Smart, Aggressive Negotiation With Insurance Companies
Our ability to negotiate effectively with insurance companies is another key aspect of our approach to winning car accident cases at Dolman Law Group Accident Injury Lawyers, PA. Insurance companies often try to minimize the amount they pay in settlements.
We use our talent, resources, and experience to combat these tactics and fight for a fair settlement for our clients whenever possible. We handle all insurance issues and interactions on your behalf so that you stop getting calls from aggressive insurance adjusters and have the time and space you need to heal.
Always Ready to Take Cases to Trial
While settlements resolve many Hawaii car accident cases, Dolman Law Group Accident Injury Lawyers, PA, is always bold in taking a case to trial if it is in our client's best interest. Our team of skilled trial lawyers presents compelling cases to judges and juries to ensure our clients receive the compensation they deserve.
Testimonials and Case Results
One of the best ways to gauge a law firm's performance is to examine its track record and listen to what past clients say about their services. At Dolman Law Group Accident Injury Lawyers, PA, we take pride in our results and the positive feedback we've received from our clients.
Success Stories From Past Clients
We're proud to have secured the maximum compensation for car accident victims in many cases. Our clients' success stories highlight our dedication to serving their interests and securing the money they need to rebuild after a car accident. Check out the testimonials of some of our satisfied clients and what they have to say about our team's commitment to their physical, emotional, and financial recovery.
A Team That Gets Results
Dolman Law Group Accident Injury Lawyers, PA, has an impressive track record of winning significant cases and securing substantial compensation for our clients. From complex car accident claims involving multiple at-fault parties to cases requiring meticulous investigation for evidence gathering, our team has consistently demonstrated its ability to navigate and succeed in diverse and challenging legal landscapes.
Our past victories, while no guarantee of future success, demonstrate our law firm's proficiency and unwavering commitment to our clients' welfare.
The Importance of Calling a Lawyer ASAP
Time is of the essence when it comes to car accident cases. Under Hawaii's statute of limitations for personal injury claims, car accident victims have at most two years, and often far less, to take legal action seeking compensation for their losses from a liable party. Failure to file within this period will usually result in forfeiting your right to pursue compensation.
Contacting a skilled Hawaii car accident lawyer as soon as possible after your accident protects you against missing a critical legal deadline. It also increases the chances that the lawyer can collect valuable evidence and build the strongest case on your behalf.
At Dolman Law Group Accident Injury Lawyers, PA, we believe that everyone who suffers harm in a crash should have access to legal advice, regardless of their financial situation. We offer a free consultation for Hawaii car accident victims and their loved ones.
We also represent our clients on a contingent fee basis, so we don't charge upfront fees or bill you by the hour. You pay us only if we win for you.
Contact a Skilled Hawaii Car Accident Lawyer Today
Victims of car accidents in Hawaii have significant legal protections that entitle them to compensation. In many cases, you do not only acquire the money from your no-fault insurance for the losses you suffered in a crash. You may have the right to pursue additional funds from the party at fault for your car accident and the harm you've suffered. 
Dolman Law Group Accident Injury Lawyers, PA, can evaluate your case and explain your options. Contact us online today or call (833) 552-7274 or (833) 55-CRASH for a free consultation with our knowledgeable legal professionals.