After a car accident, you must deal with your physical injuries, emotional distress, and monetary losses. That's why a team of experienced Georgia car accident lawyers makes all the difference to your case. Dolman Law Group Accident Injury Lawyers, PA, will provide reassurance and legal knowledge as we handle the legal aspects of your car accident claim so you can focus on your recovery.
Why Choose Dolman Law Group Accident Injury Lawyers, PA, to Represent You?
Understanding the nuances of Georgia's laws and how they apply to your situation is paramount to securing a favorable outcome. That is precisely what our team commits to delivering.
Dolman Law Group Accident Injury Lawyers, PA, has built a reputation for dedication, integrity, and excellence in handling car accident cases like yours for many years. Our firm provides high-quality service and ensures our clients receive the representation they deserve.
Our formidable team comprises seasoned attorneys who have successfully represented numerous car accident victims and have an intimate understanding of these individuals' physical, emotional, and financial challenges. Our lawyers possess the skills, knowledge, and empathy to navigate the complex legal system and fight relentlessly for your rights.
The Dolman Law Group works with local counsel in any jurisdiction outside Florida for the purpose of filing lawsuits in jurisdictions where we do not have licenses. We follow each state's ethical rules to ensure the involvement of a local attorney.
We make access to legal representation easier for all Georgians, regardless of their ability to pay upfront attorney fees. Our firm works on a contingency fee basis. We do not collect our attorney fees unless we secure a settlement on your behalf. We are happy to discuss any questions you have about legal costs during your free consultation when you call us today.
<iframe width="200" height="113" src="https://www.youtube.com/embed/sYGkfII8vzc?feature=oembed" frameborder="0" allow="accelerometer; autoplay; clipboard-write; encrypted-media; gyroscope; picture-in-picture; web-share" allowfullscreen title="When to Hire a Car Accident Lawyer"></iframe>
How Much Is the Average Car Accident Settlement in Georgia?
Car accidents can result in many physical injuries, pain and suffering, and financial hardships. Your potential compensation after a car accident in Georgia reflects these varying factors.
Injuries from car accidents differ depending on the severity of the accident.
Outcomes can include:
Minor injuries, such as bruises, cuts, and sprains.
Major injuries, such as fractures, traumatic brain injuries, and spinal cord injuries.
Death.
Car accidents can also lead to emotional and psychological distress, such as post-traumatic stress disorder. While less visible, this trauma can be just as debilitating as physical injuries.
Victims of car accidents in Georgia have the right to seek compensation for their losses.
This compensation can cover several areas, including:
Medical expenses.
Pain and suffering.
Lost income.
Loss of future earning capacity.
Property damage.
Wrongful death—in the most severe cases.
Because the specifics of each car accident claim are unique, there is no average settlement. The compensation you receive can vary greatly depending on the case, the nature and extent of your injuries, and the skill and experience of your legal representation.
A proficient legal team, like the one at Dolman Law Group Accident Injury Lawyers, PA, will consider all these elements properly and seek the maximum possible compensation.
The law generally categorizes losses relating to a car accident as economic, non-economic, and punitive.
Economic Damages
Economic damages compensate for calculable expenses relating to a personal injury. Examples of such damages may include medical expenses, lost income, loss of future earning capacity, and other quantifiable costs.
Non-Economic Damages
Non-economic damages aim to compensate for losses that do not have a set cost. Examples of these may include compensation for physical pain, mental anguish, emotional trauma, physical disfigurement, disability, loss of companionship, and loss of consortium.
Georgia's insurers may attempt to deny or devalue these intangible losses, so this is where the skilled lawyers at Dolman Law Group Accident Injury Lawyers, PA, will ensure you get the compensation you deserve.
Punitive Damages
A court may award punitive damages if it deems the at-fault party's conduct intentional, malicious, or reckless. Your lawyer will advocate for these if you qualify.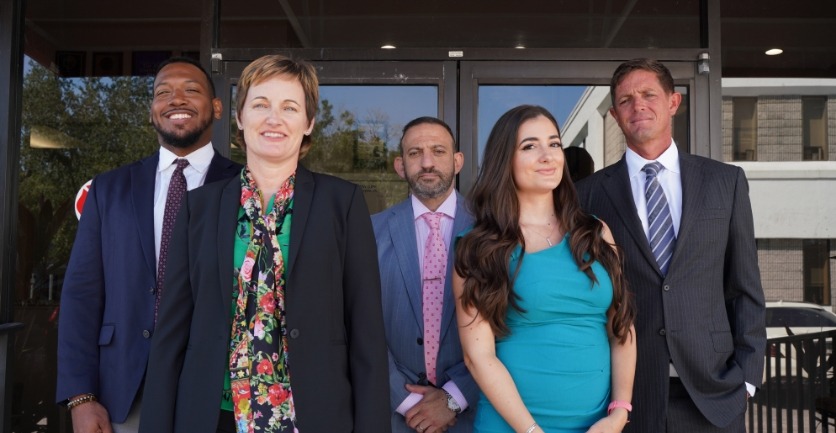 Georgia Car Accident Statistics
Car accidents are unfortunately common in Georgia, often resulting in severe injuries and property damage. Data from the Georgia Department of Transportation shows that there were 387,444 accidents in the state in a recent year.
While these crashes occurred throughout the state—in urban, suburban, and rural areas—some regions are more prone to car accidents. Several interstates converge in the busy Atlanta metro area, such as I-75 and I-85, and a heavy traffic volume can lead to increased crashes.
The causes of car accidents in Georgia range from driver negligence, including distracted driving or driving under the influence, to external factors, such as poor road conditions and inclement weather. Other common causes include speeding, tailgating, reckless driving, and failure to adhere to traffic signals and laws. Our attorneys also consider less obvious but equally important factors, such as mechanical failures or vehicle defects, which may shift the burden of liability.
At Dolman Law Group Accident Injury Lawyers, PA, we know there is pain and suffering behind these statistics. According to the Georgia Department of Public Health, in a recent year, motor vehicle accidents were the second leading cause of hospitalizations and emergency room visits.
Average Timelines for Car Accident Injury Claims in Georgia
Car accident cases can take time to settle. The time it takes to resolve your claim depends on the complexity of the case, the type of claim, and the particularities of the insurance company. Trials can also prolong the process when negotiations fail.
Experienced car accident attorneys, like those at Dolman Law Group Accident Injury Lawyers, PA, can anticipate these delays while pursuing the best and fastest outcome for you.
We Work Tirelessly to Identify Negligent Parties
Negligence is a critical concept in car accident cases. A negligent party fails to act with the level of care that a reasonable person would apply under the same circumstances. In car accident cases, proving negligence often involves demonstrating that the at-fault party violated a traffic law or acted carelessly. Determining negligence requires the support of our experienced car accident lawyers.
We Handle Negotiations with Insurance Companies
Insurance companies do not work on your behalf, but we do. They have a bottom line to protect and often devalue or deny claims to save money. We work tirelessly to negotiate an adequate settlement on your behalf. We know insurance companies' tactics and are ready to counter lowball offers.
We Represent You in Court If Necessary
Should the insurer refuse a fair settlement, we'll take your case to trial. At every step, our team will guide you, fight for you, and work diligently to achieve the best possible outcome.
At Dolman Law Group Accident Injury Lawyers, PA, we recognize that each client is unique and has different needs. We personalize our approach, therefore, to every case in Georgia, and our commitment to our clients runs deep. We prioritize open communication, keeping you updated at every step of the legal process, and making ourselves available to answer any questions or concerns.
Dolman Law Group Accident Injury Lawyers, PA, Pursues Maximum Compensation
Insurance companies often deny car accident injury claims, with the primary goal of minimizing their financial obligations. This is why you need our experienced car accident lawyers to represent you.
Insurers may deny or reduce compensation by arguing that:
There was a failure to prove liability for the accident.
The claimant's medical records show pre-existing conditions.
The claimant failed to disclose their medical history.
The claimant's damages do not meet the financial threshold necessary to file a claim.
The claimant did not seek medical treatment soon enough.
The claimant's actions contributed to the severity of the injury or caused the accident.
At Dolman Law Group Accident Injury Lawyers, PA, our lawyers understand Georgia's car accident laws and the claims process. We can use every leverage available to seek maximum compensation for your losses. We have successfully negotiated with even the most challenging insurance companies and have a track record of favorable outcomes.
Actions You Can Take to Help Build a Strong Claim
After a car accident, many circumstances are out of your control. However, you can preserve your legal rights and help build a solid personal injury claim.
1. Contact Dolman Law Group Accident Injury Lawyers, PA
There is a deadline, known as a statute of limitations, to file car accident claims in Georgia. You must take legal action promptly to maintain your legal right to pursue compensation. It's never too early to call our office.
First, seek emergency medical treatment, then contact us to discover your legal options. Many forms of evidence diminish or even disappear over time. The sooner we build a strong claim on your behalf, the stronger your case.
Insurance companies are also in business to make money and will likely attempt to offer you the lowest possible settlement. Only accept offers from your insurance company after a car accident lawyer reviews them. The amount the company offers will rarely cover your losses. Our experienced attorneys will ensure you receive fair compensation for your losses and will fight aggressively on your behalf.
2. Follow Your Medical Treatment Plan
You can use your medical records as evidence when pursuing a car accident claim, so delaying or not following your doctor's medical treatment plan can hinder your case. Listening to your doctor's orders and adhering to the prescribed plan is essential for your recovery and critical to the success of your claim.
3. Obtain and Keep All Accident-Related Documents
We can use accident-related documents like police reports, medical bills, and photographs to prove your case. Keep track of all out-of-pocket expenses, such as bills for medical treatment and car repairs. If you accurately document these expenses, you can use them as evidence for a potential car accident injury claim.
4. Stay Off Social Media
Stay off social media to avoid making any comments that a party might use against you in a potential car accident injury claim. Insurance companies and defense lawyers in Georgia can carefully monitor Facebook, Instagram, and other platforms for posts that could hurt your case and diminish the value of your claim. After a car accident, keep off social media until your case resolves.
Contact Dolman Law Group Accident Injury Lawyers, PA, Today
Car accidents can cause severe physical, emotional, and financial consequences. Hire a competent and experienced car accident lawyer to navigate these challenges while trying to recover and deal with insurance companies. Our lawyers can alleviate this stress and protect your rights and interests.
Securing the services of our skilled and experienced car accident lawyers will make a significant difference to the outcome of your case. At Dolman Law Group Accident Injury Lawyers, PA, you have a team of dedicated professionals to fight for your rights and secure the compensation you deserve. Call us today for your free consultation at (833) 552-7274 or (833) 55-CRASH.