Vibrant beaches and fast-paced racing characterize Daytona, but the high incidence of car accidents forms another, more alarming aspect of life in this dynamic city. Car accidents affect countless people yearly, leading to severe injuries, emotional trauma, and other hardships.
Victims do not have to face a tough and complex car accident claim alone. Dolman Law Group Accident Injury Lawyers, PA has years of experience and an established reputation in Daytona. We can guide you through the daunting legal landscape. Armed with a deep understanding of Florida's car accident laws, our Daytona car accident lawyers ensure that you achieve a just outcome and secure the compensation you deserve for your ordeals.
Why Choose the Dolman Law Group
The Dolman Law Group is synonymous with high-quality, comprehensive legal services in Daytona, FL. We pride ourselves on our rich history of providing exceptional legal assistance to individuals who have been unfortunate victims of car accidents.
We aim to deliver cutting-edge legal solutions, and our history shows relentless commitment, strategic thinking, and a proven track record of successful cases. Our passion, dedication, and continuous drive for excellence have deepened over the years as we have set new benchmarks in providing legal aid to car accident victims.
Our firm has extensive experience representing clients in various areas, particularly car accident cases. Our lawyers are well-versed in the complexities of car accident cases and leverage their considerable knowledge to protect your rights and secure the fairest possible outcomes. Whether securing you the highest possible settlement offer from an insurance company or fighting for your rights in court, you can count on us to serve your interests to the best of our ability.
<iframe width="200" height="113" src="https://www.youtube.com/embed/sYGkfII8vzc?feature=oembed" frameborder="0" allow="accelerometer; autoplay; clipboard-write; encrypted-media; gyroscope; picture-in-picture; web-share" allowfullscreen title="When to Hire a Car Accident Lawyer"></iframe>
Car Accident Statistics and Causes in Daytona, FL
Car accidents can happen anywhere, anytime—but they're a significant problem in Daytona. Daytona is in Volusia County, and according to Florida's Department of Highway Safety and Motor Vehicles, there were 10,497 car accidents in one recent year, up 14.83 percent from 2020. Those crashes caused 147 fatalities and 7,416 injuries.
Common causes of car accidents in Daytona include speeding, drunk driving, distracted driving, and reckless driving. Because the city is a popular tourist destination, there's a high chance of accidents involving out-of-town drivers unfamiliar with the local roads.
Consequences of Car Accidents in Daytona
The repercussions of car accidents in Daytona go beyond physical injuries. Victims often suffer from emotional trauma, financial stress from medical bills and lost income, and long-term impacts on their quality of life. Severe accidents can lead to lasting disabilities, requiring lifelong care and support. Understanding these implications is crucial in determining the legal actions to ensure you receive fair compensation.
Whether you live in or visit Daytona, if a car accident injures you, you must seek qualified legal help to pursue any damages to which the law entitles you.
How Much Is My Car Accident Claim Worth in Daytona, FL?
How much compensation you might receive due to a car accident depends on many factors. Florida handles car accident claims differently from other states, so it's crucial to retain the services of a knowledgeable attorney familiar with Florida laws.
Understanding Car Accident Laws in Florida
Car accident claims have complicated elements. It's essential to hire an experienced attorney who can navigate a car accident case, especially since Florida has specific laws designed to manage car accident claims.
You can claim compensation for economic damages, such as medical bills and lost income, and non-economic damages, including pain, suffering, mental anguish, and inconvenience. For successful claims, it's crucial to demonstrate the liable party's negligence and the direct connection between the negligence and your injuries.
Is Florida an At-Fault or No-Fault State?
Florida is a no-fault state when it comes to car accidents. In the event of a car accident, each driver's insurance policy must cover their medical bills, regardless of fault. A driver, however, may still sue another driver if the damages suffered exceed their personal injury protection insurance limits. Your car accident attorney can provide more details on how Florida's no-fault system works.
Who Can Be Held Liable in a Car Accident Case in Daytona?
Determining liability in a car accident is challenging and often depends on the traffic rules violated, evidence at the scene, and statements from witnesses.
The liable party could be a reckless or impaired driver or sometimes even a car manufacturer if there's a flaw in the vehicle's design or manufacturing.
What Is Florida's Statute of Limitations for Car Accident Claims?
Florida's statute of limitations for personal injury claims (including car accident cases) is two years from the accident. This means you won't be able to file a claim after two years.
Understanding car accident laws in Florida can be difficult, but these laws form the bedrock of any legal action you might undertake following a car accident. It is always advisable to hire a knowledgeable car accident lawyer, like those at Dolman Law Group, to ensure you understand your rights and legal options.
Why You Shouldn't Fight an Insurance Company Alone
Insurance companies try to minimize their payouts. After an accident, they will eagerly take advantage of you if you do not have adequate legal representation. Working with a qualified lawyer is essential to maximize your chance of obtaining fair compensation for your injuries and damages.
At Dolman Law Group, our attorneys know how to handle insurance companies and negotiate firmly. We advocate for your rights and build a strong legal case to ensure you receive the maximum compensation for your injuries and damages.
What to Do After a Car Accident
Every motorist fears experiencing a car accident. Knowing the appropriate steps to take afterward is critical if the unthinkable occurs. Not only can these actions protect your rights as a victim, but they are also essential in building a robust car accident claim. Seeking legal counsel is crucial in obtaining fair compensation.
Specific Steps to Take in the Days and Weeks After the Accident
Gather as much accident-related evidence as you can. Try to obtain a copy of the police report from the scene. Review and store important documents, such as eyewitness accounts and photographs of the accident's aftermath.
If you still need to do so, have us tell your insurance company about the incident.
Seek experienced legal counsel as soon as possible. A skilled car accident lawyer can help you understand your rights, guide you through the complex legal process, and work tirelessly to ensure you receive fair compensation for your injuries and damages.
If you received or are receiving medical attention for your injuries, carefully follow your prescribed treatment plan.
Dolman Law Group will navigate these challenging circumstances and take the steps needed to strengthen your personal injury claim. Our lawyers will fight for you and provide the sound advice you require.
The Role of a Car Accident Lawyer
Your car accident lawyer works with you throughout the challenging legal and insurance proceedings, enhancing your chances of securing a favorable outcome.
An experienced lawyer can help you understand the complex laws and regulations surrounding car accidents in Daytona, FL, ensuring you know your rights and legal options.
Skilled lawyers can gather and preserve vital evidence, formulate a robust legal strategy, and advocate for you in legal proceedings. They negotiate with insurance companies on your behalf. If parties can't reach a just settlement offer, your lawyer will take your lawsuit to court and vigorously fight for the damages you deserve.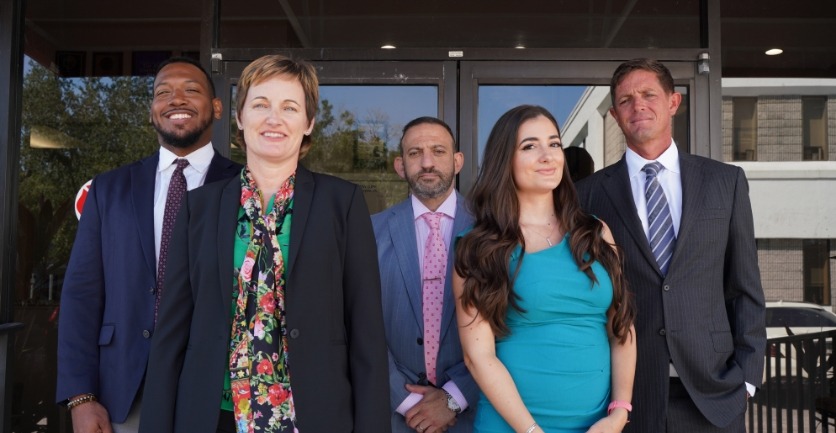 The Benefits of Having Legal Representation
Having legal representation during a car accident case can provide many benefits. The experience of a seasoned lawyer can increase your chances of obtaining fair compensation for your injuries and damages.
Your lawyer navigates the complex legal proceedings for your case, allowing you to focus on your recovery. Knowing that you have a professional in your corner fighting for your rights can provide much-needed peace of mind in a stressful situation.
The lawyers at Dolman Law Group understand the complexities of car accident claims and provide effective and compassionate legal representation for each client.
How Dolman Law Group Can Help
When dealing with a car accident, choosing the right legal representation is essential to overcome this challenging time. Dolman Law Group offers you personalized attention, professional advice, and fierce representation.
The Dolman Law Group offers many services for car accident victims, including:
Conducting a thorough investigation of the accident.
Collecting and preserving evidence.
Working with experts in various fields to strengthen your case.
Handling all insurance company correspondence and negotiations.
Boldly advocating for your rights.
Working tirelessly to ensure you receive the compensation you deserve.
The Dolman Law Group approach includes extensive preparation, assertive representation, and a genuine commitment to each client's well-being. We understand each case is unique and tailor our strategies to your circumstances.
The Dolman Law Group team focuses on two main objectives: alleviating the stress associated with the legal proceedings of a car accident case and securing a fair settlement or verdict.
Contact the Dolman Law Group Today
Choosing Dolman Law Group means choosing a team that's deeply invested in your case and committed to fighting for your rights every step of the way. If you've suffered a car accident in Daytona, we encourage you to contact us for a free, no-obligation consultation. This initial consultation will allow us to assess your case and provide preliminary advice on proceeding with your case.
You can contact us through our website or call us at (833) 552-7274 or (833) 55-CRASH. We guarantee a prompt response to your inquiry. Remember, we are not just a law firm; we are a team ready to stand by your side, guide you through the legal process, and fight for the justice and compensation you deserve. Reach out today to learn more.