Colorado Springs is a bustling city, home to about half a million residents. It boasts scenic views and attractions like the Garden of the Gods Visitor and Nature Center and historic landmarks like the Tudor-style castle Glen Eyrie.
As with many big cities, unfortunately, Colorado Springs is also the site of many car accidents throughout the year.
After a car accident, you may face financial loss and legal complications besides dealing with injuries. In such a stressful situation, you need a Colorado Springs car accident lawyer.
At Dolman Law Group Accident Injury Lawyers, PA, we offer unwavering dedication to help car accident victims in Colorado Springs navigate the complex legal web associated with personal injury cases. We understand the pain and distress a car accident can inflict on an individual and their family.
Our team of experienced attorneys can efficiently handle car accident claims, ensuring fair compensation for victims. Whether you're dealing with a minor accident or a major crash, we deliver personalized and high-quality legal services and tenaciously fight for your rights.
Why Work With Dolman Law Group?
Drawing upon our vast experience in car accident laws, Dolman Law Group seeks justice for all victims. Our firm has national recognition for its impeccable track record in dealing with car accident claims. We have managed to earn our clients the compensation they deserve and give them peace of mind during challenging times.
Our reputation relies upon unwavering commitment to clients, attention to detail, and legal prowess. Our seasoned team of professionals dedicates its services to fighting for victims' rights, arming them with the legal advice and representation they need to obtain just compensation and win their lawsuits if litigation becomes necessary.
<iframe width="200" height="113" src="https://www.youtube.com/embed/sYGkfII8vzc?feature=oembed" frameborder="0" allow="accelerometer; autoplay; clipboard-write; encrypted-media; gyroscope; picture-in-picture; web-share" allowfullscreen title="When to Hire a Car Accident Lawyer"></iframe>
Car Accident Compensation in Colorado Springs, CO
As an accident victim in Colorado Springs, you have the right to seek compensation for all damages resulting from the accident. This includes physical injuries, property damage, emotional distress, and lost income. You have the right to legal representation to protect your rights in all interactions with insurance companies and at-fault parties.
Types of Damages a Victim Can Claim
Under Colorado law, a car accident victim can claim economic and non-economic damages (or losses). Economic damages cover tangible losses, such as medical expenses, lost income, and property damages. Non-economic damages, on the other hand, compensate for intangible losses, such as pain and suffering, emotional distress, and reduced quality of life.
In cases where the at-fault party's conduct was particularly egregious, a court may award punitive damages as punishment and deterrence. The team at Dolman Law Group has the competence and experience to secure all forms of damages that our clients deserve. They will explain the strengths of your case and what you may reasonably expect to receive for compensation.
Statistics and Common Causes of Car Accidents in Colorado Springs
A car accident can injure virtually any resident of Colorado Springs. In one recent year, 50 fatal car accidents in the city resulted in 53 deaths. Hundreds of accidents resulted in moderate-to-severe injuries.
Some common causes of car accidents in Colorado Springs include distracted driving, vehicle malfunctions, and disregard for traffic laws. Impaired driving is also a major contributor to the high rate of car accidents in Colorado Springs, accounting for 26 percent of all fatal accidents in one recent year. Certain areas of Colorado Springs can be dangerous to drive through, such as the intersection of I-25 and West Cimarron Street.
Understanding Car Accident Laws in Colorado
Mastering the ins and outs of car accident laws is crucial to successfully pursuing compensation. In Colorado, these laws protect victims and ensure they can claim their rights. A car accident attorney with an in-depth understanding of Colorado personal injury law will highlight the strengths of your case and work to obtain the maximum compensation possible.
An Overview of Colorado's Car Accident Laws
The essence of Colorado's car accident laws lies in its status as an at-fault state. This means that the driver responsible for the accident also covers the damages. It's important to note that Colorado follows a modified comparative negligence rule, where victims can still receive compensation even if they were partially at fault, as long as they were less than 50 percent responsible for the car accident. Your attorney will guide you on how the comparative negligence principle may affect your case.
Understanding Colorado's statute of limitations for car accident claims is also helpful. The state generally allows the filing of personal injury lawsuits within two years from the date of the incident. As for claims involving the use of a motor vehicle, the statute of limitations is three years instead.
The experienced car accident attorneys at Dolman Law Group will walk you through the different Colorado laws and statutes that may apply to your claim. Their practical knowledge can make the best decisions for you and your family.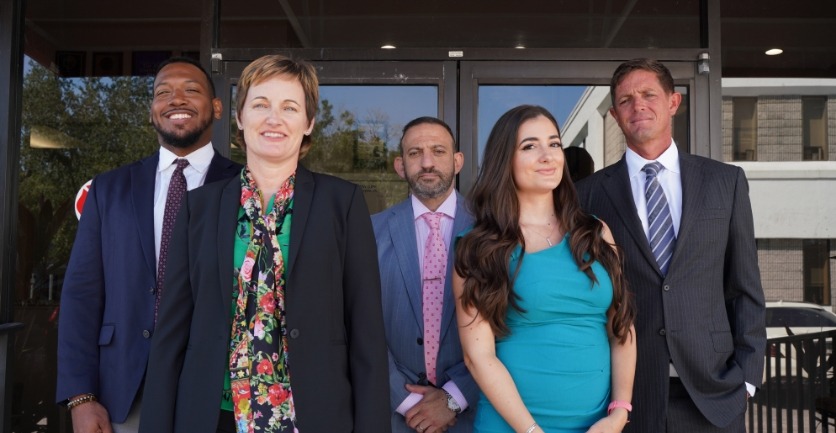 Don't Fight Your Insurance Company by Yourself
Insurance companies are not always on your side—most want to pay as little as possible for claims. After a car accident, you may receive calls from different insurance companies, but remember, they may seek to protect their best interests, not yours.
At Dolman Law Group, we will manage your interactions with insurance companies to protect your rights. We will ensure that the insurance company doesn't take advantage of you and that you get the compensation you deserve.
The Role of a Car Accident Lawyer
You need our Colorado Springs car accident lawyers when dealing with injuries, insurance companies, and legal procedures.
Our car accident lawyers represent your best interests, explain the law, and fight on your behalf for maximum compensation. A lawyer's experience can help when the at-fault parties accuse each other, anyone sustains severe injuries, or insurance companies refuse to cooperate.
How an Attorney Can Assist You
Car accident attorneys do much more than argue in court. They can gather and preserve vital evidence, help you understand your rights, negotiate with insurance companies, and take your case to trial if necessary. They can accurately evaluate your case and estimate the real value of your claim, considering all damages you might have incurred. They can provide you with some much-needed emotional support during this challenging time.
With Dolman Law Group, you're getting a lawyer and a dedicated team fighting on your behalf.
Seeking Compensation Without Going to Court
People resolve most car accident cases in Colorado Springs without going to court. Settlement negotiations often involve an attorney providing a comprehensive overview of the facts, presenting a strong argument for compensation, and negotiating with the insurance company on your behalf.
Your car accident lawyer will take the time to understand the physical, emotional, and financial toll the car accident has had on you and your family and use this information to craft an effective case to maximize your compensation. Your lawyer will provide practical advice and keep you up to date on the status of your negotiations. They will fight for your rights in court if necessary.
Dolman Law Group's Approach to Car Accident Claims in Colorado Springs
At Dolman Law Group, we value each client and understand that every case is unique. We adopt a detailed and personalized approach to handling car accident claims to ensure the best possible results.
Our case evaluation process begins with a thorough understanding of the events leading up to your car accident. We construct a strong case through rigorous fact-checking and evidence collection. We examine every detail, no matter how minor it may seem, as it could play a crucial role in proving liability. We pay attention to where the car accident occurred within Colorado Springs, for example, whether at the intersection of I-25 and West Cimarron Street, North Powers Boulevard, or a less busy road.
Once the case details are in place, we gather evidence. This involves capturing photographs from the accident scene, acquiring police reports, gathering medical records, and collecting eyewitness statements. We then utilize these facts to negotiate with the insurance company on your behalf to achieve maximum compensation. If settlement negotiations fail, our experienced litigators are ready to represent your interests in court.
Steps to Take After a Car Accident
The time following a car accident can be overwhelming and confusing. Knowing what steps to take can determine subsequent legal processes and your right to compensation.
Remain level-headed and follow these procedures after the incident:
Review and organize the documentation you gathered at the accident scene, including any photographs you took and eyewitness accounts.
Obtain a copy of the police report of the accident.
Reach out to your insurance company to inform them of the accident.
Carefully following any medical treatment plan that your doctor has prescribed for you.
Keep a detailed journal of your experiences following the car accident, including lost income, medical expenses, and incidents of physical, mental, and emotional pain.
Contact an experienced car accident lawyer as soon as possible.
Never admit fault or sign any documents without contacting your lawyer. Seek experienced legal counsel to protect your rights moving forward. Present your attorney with the detailed evidence you've compiled to make your case compelling.
Contact Dolman Law Group for Your Colorado Springs Car Accident Case
Navigating the path to compensation after a car accident can be complex, but you don't have to face this challenging process alone. Legal representation can protect your rights, secure the compensation you deserve, and offer support in your time of need. Hiring an experienced car accident attorney could mean the difference between obtaining minimal compensation and securing a settlement that covers your medical expenses, lost income, pain and suffering, and other damages.
If you or a loved one has suffered injuries in a car accident in Colorado Springs, don't hesitate to contact Dolman Law Group for help. We're here to tirelessly advocate for your rights and guide you to navigate this challenging time. Contact us today for a free consultation, and let our experienced team show you how we can make a difference in your case. Reach out online, or call us at (833) 552-7274 or (833) 55-CRASH.
Dolman Law Group works with local counsel in any jurisdiction outside Florida to file lawsuits in jurisdictions where we do not have a license. Thus, we will follow each State's ethical rules to ensure the involvement of a local attorney.