With 60 miles of sandy beaches, dozens of golf courses, and pleasant weather most of the year, living, working, or visiting Myrtle Beach is on many people's to-do lists. However, even great locations have risks, and we see the results of too many people driving dangerously in our city.
If someone else's negligence injured you in a Myrtle Beach car accident, call an experienced Myrtle Beach car accident lawyer from Dolman Law Group Accident Injury Lawyers, PA. We can seek compensation for the monetary and psychological costs of your injury.
Why Trust Dolman Law Group Accident Injury Lawyers, PA, With Your Myrtle Beach Car Accident Claim?
Many personal injury law firms in South Carolina can help someone with a car accident claim. However, they often need more resources to handle a challenging claim and help their clients receive the maximum compensation.
At Dolman Law Group Accident Injury Lawyers, PA, our national law firm provides legal services to clients across the U.S., including Myrtle Beach.
Dolman Law Group Accident Injury Lawyers, PA, doesn't simply make our services available to clients in Myrtle Beach; we leverage the power of more than 120 years of combined experience and a reputation for providing fierce advocacy to help us understand the unique needs of car accident claimants and to help them as they seek the compensation they need.
Dolman Law Group Accident Injury Lawyers, PA, works with local counsel in any jurisdiction outside Florida to file lawsuits in jurisdictions where we are not licensed. Thus, we will follow each state's ethical rules to ensure a local attorney is involved. Contacting us for a free case evaluation is easy: Call us day or night, or message us online.
How Much Is a Car Accident Claim Worth in Myrtle Beach?
A car accident is not an inexpensive proposition. Medical expenses alone can rack up tens or even hundreds of thousands of dollars in bills and cause further financial distress due to the inability to work while recovering from the injury. Some injuries are so severe that they permanently impact the sufferer's earning capacity.
Victims will generally need to repair or replace their vehicles, and the inconvenience of traveling to medical appointments places an additional burden on them, as does the pain related to the injury and the psychological trauma that often plagues a person after an accident.
South Carolina's laws generally allow those injured in car accidents caused by another party's negligence to seek compensation for their injuries within three years of the injury by first filing a claim against the at-fault party's auto liability insurance policy. You can sue if the insurer fails to pay the claim outright or negotiate a settlement.
Claimants can seek compensation both for the expenses they incurred because of the accident, such as medical bills, vehicle damage, and income loss, as well as the psychological costs of their injury, including pain and suffering, emotional distress, inconvenience, loss of the enjoyment of life, and more.
There is no standard amount that a personal injury claim will bring. The claim's value depends on the at-fault party's insurance policy, the severity of the injury, the income the injured party earned before the accident, the presence of permanent injuries, and even the level of recklessness exhibited by the at-fault party.
In South Carolina, plaintiffs can receive punitive damages if they prove that the accident resulted from extreme recklessness or willfulness.
An experienced car accident attorney can establish a value for your claim that considers all these factors.
The claimant may first need to reach maximum medical improvement.
Pinnacol Insurance explains that maximum medical improvement is when the injury becomes stable and no further treatment will improve the claimant's condition. In most cases, this is the proper time to value a claim, as a clearer picture of the medical expenses emerges of any lost earning capacity.
Hazardous Intersections in Myrtle Beach
According to The State, Horry County has the second highest traffic fatalities of all South Carolina counties, with 70 deaths on area roadways within a year. For every death in a car accident, there are several accidents in which someone survived but suffered significant injuries.
One of the most dangerous places for drivers is at intersections, where many driver's traveling in various directions all meet and rely on others to yield the right-of-way.
Sun News reports that South Carolina Department of Public Safety (SCDPS) data reveals that some of the most dangerous intersections in Myrtle Beach include:
U.S. 17 Bypass and S.C. 544 near Surfside Beach, where there were 240 collisions in three years and 73 injuries and fatalities.
S.C. 9 at State Highway 57 North, which saw 73 injuries and fatalities in three years as cars frequently try to cut in line from business entrances along 57.
U.S. 501 at Gardner Lacy Road, where wrecks frequently back up traffic to and from the beach.
Readers who responded to a survey about the worst intersections in Myrtle Beach listed the following areas:
Carolina Forest Boulevard and U.S. 501
U.S. 17 Bypass at Robert Grissom Parkway
Tournament Boulevard at McDowell Shortcut
U.S. 17 Bypass at Palmetto Pointe Boulevard
Common Causes of Car Accidents and the Injuries That Result
Most car accidents result from someone's carelessness or recklessness while operating a motor vehicle on a public roadway.
Drivers in Myrtle Beach have a legal duty to take reasonable actions to avoid harming others while driving, including:
Making sure that their vehicle is in good running condition and properly insured.
Avoiding violating local and state traffic laws that prohibit such activities as driving too fast for the conditions of the road, driving while impaired by drugs or alcohol or while distracted or fatigued, or failing to yield the right-of-way when legally required to, such as at a red light or stop sign.
Using extra caution when backing up or passing a vulnerable road user, such as a motorcyclist, bicyclist, or pedestrian.
Human bodies cannot sustain the impact of a severe motor vehicle collision. A Myrtle Beach car accident can injure nearly every body part.
Injuries associated with car accidents include:
Spinal cord injuries
Traumatic limb amputations
Severe burns
Internal injuries
Broken bones
Bruises and lacerations
Soft tissue injuries
Many of the injuries incurred in car accidents will permanently affect the sufferer's ability to earn an income or even to accomplish daily living tasks independently. These catastrophic injuries typically result in a significantly higher claim.
What Makes Recovering Fair Compensation After a Car Accident so Hard?
People obtain liability insurance policies not only because the law requires it but because they protect a person's finances if they cause an accident that results in physical harm and property damage to others.
Unfortunately, insurance companies aren't in business to pay out on claims made against the policies of their insured; they're in the business of making money by selling insurance policies. Because claim payouts hurt their bottom line, these companies employ claims adjusters to evaluate them and determine the bottom-dollar amount that will resolve the claim.
They commonly exploit a claimant's lack of understanding of personal injury law by providing the claimant with a ridiculously low settlement offer before they finish receiving treatment for their injuries and setting an arbitrary deadline for the claimant to meet to pressure them into accepting the settlement without first speaking with an attorney.
They also commonly convince claimants to give recorded statements that can be used against them and even request that the claimant release their entire medical history to look for pre-existing conditions that will devalue the claim.
Often, the higher-valued the claim is, the more likely the insurance company will dispute it.
An experienced Myrtle Beach car accident lawyer from Dolman Law Group Accident Injury Lawyers, PA, can communicate with the insurance claims adjuster to protect the claim's value and keep the conversation focused on a fair settlement. If the at-fault party's insurance company refuses a high enough settlement offer, our attorneys are unafraid to fight for the compensation you need in court.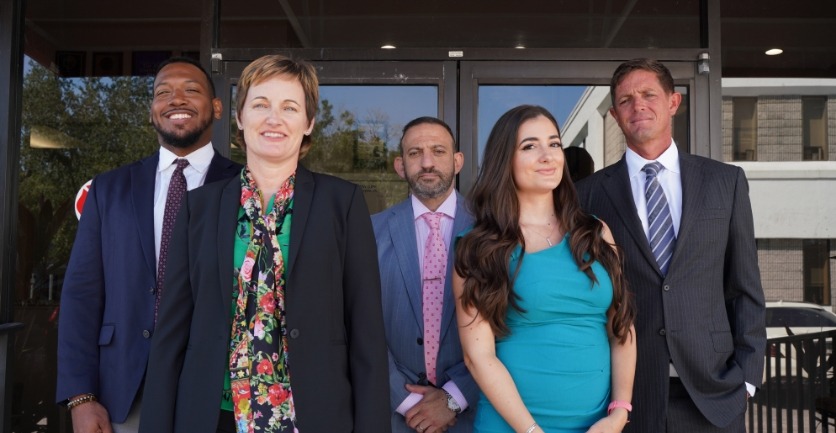 How Can You Help Your Case?
When you work with the Dolman Law Group Accident Injury Lawyers, PA, we want you to focus on recovering from your injuries so you can move forward from the accident.
Let our legal team gather the documents, testimony, and evidence to prove your claim. Our attorneys will provide the guidance you need to make informed decisions about important matters in your case.
However, you can help with the process by:
Attending all injury-related medical appointments and complying with your doctor's treatment plans. Not only does this provide the best opportunity for recovery, but it also eliminates the ability of the claims adjuster to argue that you needed to do more to mitigate your damages.
Not posting about your injury on social media, as these posts can be perceived as public statements and used against you by the insurance company.
Keeping a private journal to track the frequency of medical appointments, your daily pain levels, and other information to help your attorney evaluate your claim.
Providing Dolman Law Group Accident Injury Lawyers, PA, with any evidence you have obtained on your own, such as a police accident report, photos from the accident scene, bills and receipts for medical treatment and car repair, and any paperwork provided by your doctor about the nature of your injury and your prognosis.
Be patient during your recovery and the settlement process. Physical injuries and legal matters often take far longer to resolve than anyone would like. While you might easily obtain a settlement offer from an insurance company, obtaining an offer that fairly compensates your claim or taking the matter to trial can take time.
After a Car Accident in ​​Myrtle Beach, Contact Dolman Law Group Accident Injury Lawyers, PA
One of the most distressing events a person can experience is an injury due to someone else's negligence. Dolman Law Group Accident Injury Lawyers, PA, understands the pressure our injured clients often face when they're in pain, they must attend frequent medical appointments, they lose their vehicle, and they can't work.
As a national firm, we have the resources and reputation needed to fight the insurance company for a fair resolution to the claim.
For a free case evaluation with a ​​Myrtle Beach car accident attorney from Dolman Law Group Accident Injury Lawyers, PA, call 833-552-7274 (833-55-CRASH) or message us using our online contact form.