Negligent drivers in Columbia, South Carolina, and throughout the state put others at risk for fatal accidents and injuries. Severe accidents force victims of negligence to spend weeks or months recovering in the hospital. Some never fully recover, facing a lifetime of physical, emotional, and financial struggles.
If you suffered injuries in a Columbia car accident, you shouldn't have to cope with these struggles when another party's carelessness led to your car accident injuries. South Carolina law gives you the legal right to seek compensation for losses incurred because of the accident and your injuries.
An experienced Columbia car accident lawyer from Dolman Law Group Accident Injury Lawyers, PA, can advocate for you if you have a viable claim. Our top-notch legal team has advocated for car accident victims for nearly two decades. Contact us today to discuss your Columbia car accident and injuries and learn if you can recover damages.
Why Choose Dolman Law Group Accident Injury Lawyers, PA, for Your Columbia Car Accident Claim
Recovering from your injuries must be your main focus after a car accident, leaving little time to file claims and communicate with the insurance company. Additionally, the frustrating ways insurance companies try to wiggle out of paying claims or reduce the amount they should pay create more stress that can sidetrack the healing process.
Dolman Law Group Accident Injury Lawyers, PA, does not let insurance carriers get away with their questionable strategies. We can advocate for our clients and pursue maximum compensation for a claim.
Our experienced legal team has been recognized for their professional excellence and client advocacy. Various members of Dolman Law Group Accident Injury Lawyers, PA, belong to prestigious national organizations like the Million Dollar Advocates Forum and the Multi-Million Dollar Advocates Forum. Members of the firm have also received awards from Best Lawyers, Super Lawyers, and National Trial Lawyers. Additionally,
Our Columbia car accident lawyers have the experience and resources to help car accident victims seek damages for their injuries.
Recent case results include:
$1 million for a client who sustained multiple car accident injuries
$775,000 for a father and son who suffered injuries in a car accident
$425,000 for a client who suffered various car accident injuries
$380,000 for a client who faced a bulged disc from a rear-end traffic collision
$270,000 for a client who suffered a Chiari malformation and bulged disc from a car accident
$220,000 for a client who suffered a central disc profusion from a T-bone car crash
Dolman Law Group Accident Injury Lawyers, PA, has several offices throughout Florida, where we began. However, we represent clients nationwide, including those injured in Columbia, South Carolina, car accidents.
Dolman Law Group works with local counsel in any jurisdiction outside Florida to file lawsuits in jurisdictions wherein we are not licensed. Thus, we will follow each state's ethical rules to ensure a local attorney is involved.
If you sustained injuries in a Columbia car accident, you can share information about your accident and injuries online or contact us to learn how we can help you through your claim.
Compensation in Columbia Car Accident Claims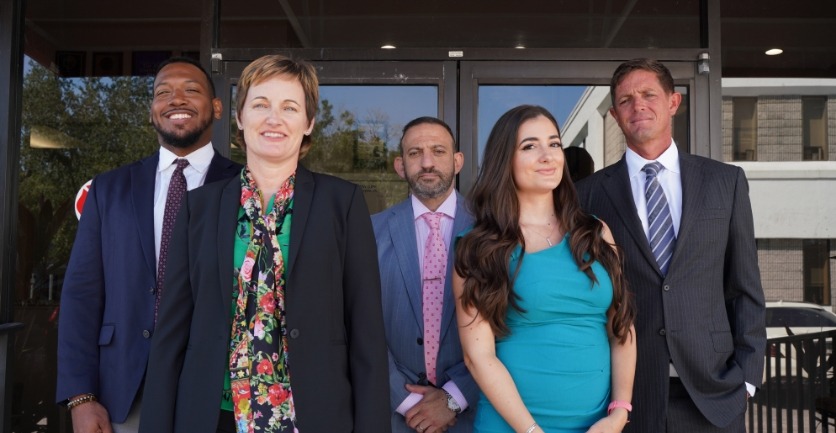 If you sustained injuries in a Columbia car accident, South Carolina law entitles you to seek compensation for damages if they occurred because of negligence. Each Columbia car accident claim has different underlying facts that impact how much compensation someone might receive if they reach a settlement agreement or win their case in court.
Damages that Columbia car accident claims can recover include:
Medical treatment costs, including ambulance transport, emergency room treatment, hospital stay, surgery, follow-up doctor visits, X-rays, lab tests, prescriptions, and transportation to and from doctors appointments
Estimated future medical treatment costs when a Columbia car accident causes permanent injuries that require continued care or additional surgeries
Costs for rehabilitation treatment like physical therapy, occupational therapy, mental health services, and other specialized therapies that help car accident victims deal with their physical and emotional struggles after an accident
Lost income from missing work or closing a business
Physical and emotional pain and suffering
Diminished quality of life
A wide range of factors can impact how much compensation someone might receive after a South Carolina accident, such as:
Severity and Nature of Injuries
Although exceptions exist, those who sustain the most severe injuries usually receive more compensation after a car accident. Also, certain injuries, especially those that leave permanent, visible scars, can lead to a high-value claim.
Severe injuries require more time to heal, and victims face more pain, suffering, and other noneconomic losses related to how an accident impacts someone's life and relationships. Noneconomic damages add more money to a claim, sometimes a significant amount.
Total Economic Losses
The severity of a car accident victim's injuries is heavily tied to their economic losses. Severe injuries come with more medical treatment, often with significant time in the hospital. Even if patients return home, they have a long road involving various follow-up appointments, physical therapy, and more.
Your medical bills and lost income from missing work or having to close down a business add up quickly. More economic loss translates to more compensation in a car accident claim.
Likelihood of a Full Recovery
A car accident victim's long-term prognosis significantly impacts the value of a settlement offer or a jury award. Simple broken bones, minor soft tissue injuries, and even some brain injuries heal completely. After recovery, victims return to the same life interrupted by their car accident.
However, this is not the case with severe injuries. Some suffer from chronic pain or discomfort, and others face the permanent loss of an amputation or paralyzation. In most cases, a grim prognosis translates to more compensation.
An experienced Columbia car accident lawyer from Dolman Law Group Accident Injury Lawyers, PA, can evaluate your case, gather and review evidence, and seek consultation with experts to place a monetary value on your Columbia car accident claim.
Statute of Limitations for Columbia Car Accident Claims
If you sustain injuries in a Columbia car accident, you have three years from the crash to bring a lawsuit against the party responsible for the accident and your injuries. Eligible family members who lost a loved one in a fatal Columbia car accident also have three years to bring a wrongful death claim to receive compensation for economic and noneconomic losses related to the death of their loved one.
Even though you have three years after a Columbia car accident to bring a personal injury claim, it's best to hire an experienced lawyer to advocate for you as soon as possible. Failure to meet the statute of limitations deadline often results in missing out on the chance to recover damages related to the accident and your injuries.
The law creates some exceptions, but only for rare circumstances that often revolve around a car accident victim's mental and physical capacity. Additionally, injured children whose parents do not file a claim have a delayed time limit. The clock doesn't start until they turn 18.
Preserving the quality of evidence in your Columbia car accident also requires car accident victims to take immediate action. Finding video evidence from traffic cams or nearby security cameras grows difficult or impossible as time passes. Also, witnesses move away, and their memory of the event becomes cloudy and unreliable.
We can immediately begin working on your case once you consult our Columbia car accident lawyers.
Injuries in Columbia Car Accident Claims
The South Carolina Department of Public Safety estimates that a car accident resulting in injuries occurs every 14 to 15 minutes across the state, with fatal accidents occurring about once every eight hours. Injuries vary among car accidents, and some are not severe enough to warrant taking legal action. However, moderate to severe injuries often give rise to a Columbia car accident claim.
Examples of these injuries include:
Broken bones. Complex breaks and multiple fractures, especially those requiring surgery, can lead to lifelong difficulties with pain, discomfort, and arthritis near the injury and the closest joints.
Traumatic brain injuries (TBI). Traffic collisions are among the leading causes of TBIs in people of all ages. Permanent brain damage can lead to lifelong difficulties with brain function, impacting memory, learning, and other cognitive functions.
Neck and back injuries. The force of a car accident puts various amounts of pressure on the spinal column, potentially causing severe injuries to the neck and back. Car accident victims might suffer minor sprains and strains but can also suffer soft tissue tears, broken vertebrae, and herniated discs.
Spinal cord injuries. In the worst car accidents, victims risk costly spinal cord injuries. Most spinal cord damage is permanent and paralyzes victims in some or all of their bodies.
Amputations. Sometimes car crashes crush arms or legs, stopping blood flow. The infection spreads throughout the body if doctors cannot restore blood flow to the affected limb. Unfortunately, the only way to prevent death is to amputate the infected limb, leaving people with lifelong physical and emotional challenges.
Burns. If a Columbia car accident leads to a fire or explosion, victims can suffer severe burns that require months of healing and often involve one or more skin grafts or corrective surgeries.
Fighting the Insurance Company After a Columbia Car Accident
Auto insurance carriers stay in business by avoiding financial liability whenever they can. This includes denying claims or finding reasons to devalue a claim. Once you, the other driver, or another party responsible for your car accident injuries files an auto insurance claim under the appropriate policy, the company assigns an adjuster to review the claim. The adjuster gathers statements and evidence and decides whether to pay or deny the claim.
Enlisting the help of a Columbia car accident lawyer helps protect the value of the claim and gives you the best chance to receive maximum compensation commensurate with your injuries. Insurance companies take claimants with legal representation more seriously than those who go it alone. They are also less likely to use questionable tactics to avoid liability.
What to Do After Suffering Injuries in a Columbia Car Accident
Put healing from your injuries as your top priority, but pay attention to other things that can help your case. Some actions can preserve the value of your claim because they make it more difficult for the auto insurance provider to avoid financial liability.
These guidelines can help:
Follow doctors' orders to the best of your ability. You likely agreed to a treatment plan after your initial visit to the emergency room. Following your treatment plan makes it more difficult for the insurance company to downplay your injuries.
Keep copies that prove your total economic loss. This includes medical bills, receipts, pay stubs, and business income information. Share these with your lawyer, so they can accurately value your claim and estimate future economic loss if you have a permanent injury.
Write or record your struggles in a daily journal. Include information about your pain, economic hardship, struggles with relationships, missed activities, and other ways your injuries have affected your life.
Provide all the above information and anything else relevant to your case to your lawyer during your initial meeting. This gives them the information they need to determine your eligibility for compensation.
Get the Legal Help You Need From a Columbia Car Accident Lawyer
If you have suffered injuries in a Columbia car accident, let an attorney evaluate your case. Dolman Law Group Accident Injury Lawyers, PA, treats clients like family and offers personalized service. Let us help you during this difficult time.
Contact us today online or call 833-552-7274 (833-55-CRASH) to discuss your Columbia car accident.