A car accident can inflict severe physical, emotional, and financial injuries. Innocent crash victims frequently need extensive medical care, endure debilitating pain, miss time at work or school, and struggle under the weight of crushing unplanned expenses. Without exaggeration, even a seemingly minor car accident can upend your life for years. Reach out to a Pennsylvania car accident lawyer.
If you or someone you love recently suffered injuries in a Pennsylvania car accident, you may have the right to claim significant financial compensation from at-fault parties or insurance companies. Dolman Law Group Accident Injury Lawyers, PA, wants to help you get it. We represent Pennsylvania crash victims and their families in lawsuits, insurance claims, and other legal actions seeking maximum payment for their expenses, losses, and future needs. Contact us today to learn more.
About Our Team
Dolman Law Group Accident Injury Lawyers, PA, is a renowned car accident injury law firm serving clients in Pennsylvania and nationwide. Our lawyers set the standard for high-quality legal representation in motor vehicle accident cases. We've secured millions in compensation for injured crash victims and their loved ones.
Dolman Law Group Accident Injury Lawyers, PA's clients receive personalized attention. We never treat a car accident as a cookie-cutter exercise. Our caring, intelligent, hard-working lawyers approach every case with a passion for seeing justice done and fair compensation paid. With Dolman Law Group Accident Injury Lawyers, PA, in your corner, you can rest easy knowing your car accident claim is in experienced, capable, talented hands.
Your Rights as Pennsylvania Car Accident Victim
Car accidents take a heavy toll in Pennsylvania. According to the Pennsylvania Department of Transportation (PennDOT), more than 76,000 car accidents happened on roads in the Commonwealth in a recent year, causing 550 deaths and tens of thousands of injuries. Many of those accidents occurred because of someone's preventable mistake.
Crash victims in the Keystone State have significant legal rights after those preventable crashes. Pennsylvania law entitles them to demand monetary damages from at-fault parties, insurers, and others. At Dolman Law Group Accident Injury Lawyers, PA, we work tirelessly to identify every individual, business, or entity that owes money for our client's losses and to pursue maximum compensation in every case.
Potentially Liable Parties
Under Pennsylvania law, anyone whose unreasonably dangerous decisions or conduct led to your crash could have liability for your losses. So could others with a legal obligation to answer for that party's actions, such as liability insurance companies. Your insurance could also cover some of the expenses you face.
At Dolman Law Group, we scour the evidence of a car accident to identify every party potentially liable to our client for damages. We aim to find and target as many liable parties as possible to maximize our client's chances of a full financial recovery.
For example, the individuals, businesses, or entities who owe you damages for your crash could include:
An at-fault driver whose careless actions at the wheel led to a collision;
An at-fault driver's employer if the crash involved a work vehicle or the driver was performing work duties;
A bar, restaurant, or other licensed alcohol provider liable under Pennsylvania's Liquor Code for serving alcohol to a visibly intoxicated customer who subsequently caused a drunk driving crash;
The manufacturer of dangerously defective automotive parts or systems that failed, causing the accident;
A local government or private landowner responsible for unreasonably hazardous road conditions that contributed to the crash;
An insurance company that issued liability coverage to any of the parties above;
An insurance company that sells you insurance covering your losses.
These are only examples. A party other than those mentioned here could owe damages for your injuries in a Pennsylvania car accident. It all depends on your particular circumstances.
That's why, at Dolman Law Group Accident Injury Lawyers, PA, we treat every car accident case as unique and deserving of our individualized attention and analysis.
Damages You Could Recover
Pennsylvania law generally entitles you to seek compensation from liable parties for the physical, emotional, and financial harm you suffered in a car accident. Recoverable damages span a wider range of categories than most crash victims realize.
At Dolman Law Group Accident Injury Lawyers, PA, we delve into a car accident's effects and consequences for our clients to uncover every dollar of compensation they might recover.
Frequently, our team can obtain payment for a client's:
Costs of medical treatment for injuries and related health complications;
Repair or replacement expenses for a damaged vehicle or other personal property;
Other expenditures arising from the accident, such as the cost of home modifications to accommodate a disability or hiring someone to help with childcare or transportation while they heal;
Lost income and job benefits from missing work, including vacation and sick days used;
Lost future earning potential or job opportunities due to a disability;
Physical pain and discomfort from an injury or medical treatments;
Emotional distress and accident-related mental health challenges like anxiety or PTSD;
Loss of independence or quality of life;
Disruption of family, personal, or intimate relationships;
Difficulties dealing with scarring, disfigurement, or loss of bodily function.
Pennsylvania law does not limit the amount of compensatory damages in car accident cases except when the defendant is a state or government entity. Crash victims may also have the right to seek punitive damages in cases involving extreme or outrageous misconduct leading to a crash.
The damages you can claim differ from the amount you can recover. Factors affecting the amount of your ultimate recovery can include the strength of your case, the skill and resources of your lawyer, and the liable parties' financial resources and legal rights. The Dolman Law Group Accident Injury Lawyers, PA team explores every liable party's ability to pay damages and pursues claims against them for maximum compensation.
Fatal Pennsylvania Car Accidents
Hundreds of Pennsylvania car accidents cause tragic fatalities annually. When that happens, the deceased victim's surviving spouse, child, parent, or personal representative may have the right to pursue a wrongful death claim seeking damages for their loss. Dolman Law Group Accident Injury Lawyers, PA, has years of experience handling wrongful death cases and assisting families in navigating the complexities of securing justice and compensation for the death of their loved one.
A fatal crash can lead to two related lawsuits. A wrongful death action seeks damages for the losses caused by the death. A survival action seeks the damages the deceased victim could have claimed before death.
Wrongful death and survival actions usually get filed as a single lawsuit and can result in an award of monetary damages for:
Loss of the deceased victim's income, services, and financial support;
Loss of the deceased victim's consortium, companionship, and guidance;
The deceased victim's medical and other car accident-related expenses before death;
The victim's pain and suffering from car accident injuries before death; and
Funeral and burial expenses.
At Dolman Law Group Accident Injury Lawyers, PA, we recognize that money is no replacement for a life tragically cut short by a car accident. But in our experience, the money we can secure through a wrongful death and survival lawsuit can supply vital financial support for those left behind to honor their loved ones and rebuild from their tragedy.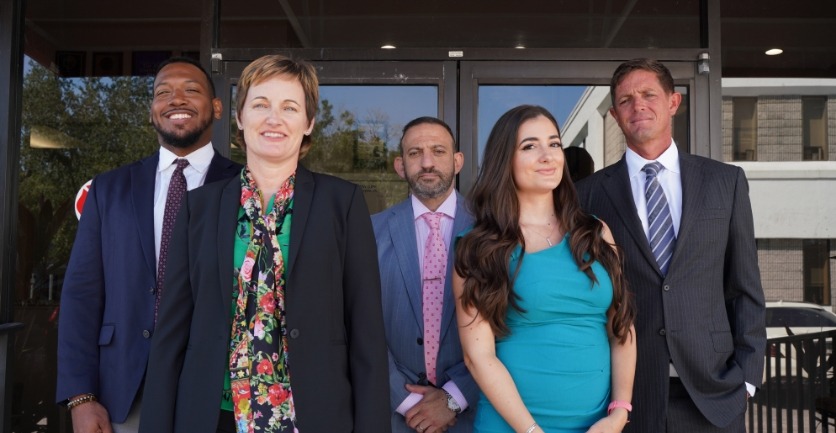 What We Can Do for a Pennsylvania Car Accident Victim
Dolman Law Group Accident Injury Lawyers, PA, is a full-service personal injury law firm. We have the experience, personnel, and financial resources to tackle any Pennsylvania car accident case, no matter how complicated or contentious. Our clients value our responsiveness, professionalism, and total commitment to serving their interests and getting them paid. They also appreciate how having a seasoned lawyer on their side gives them an advocate and trusted advisor who can guide them through a difficult period of their lives.
The services we provide in a car accident case depend on the unique circumstances of our client's crash and injuries. Every case we handle differs. In each, we take the steps necessary to obtain maximum compensation while serving our client's particular needs and priorities.
That may require us to, for example:
Conduct an independent investigation of a car accident to explore how it happened and who should face liability;
Coordinate and interact with official investigators probing the accident;
Thoroughly evaluate the scope of harm our client has suffered to determine the potential size of their claim;
Analyze insurance policies to determine whether and for how much they cover our client's losses;
Take over all dealings with insurance companies on your behalf;
Answer our client's questions and advise them about decisions that could affect their rights;
Prepare and file lawsuits and insurance claims seeking compensation on our client's behalf;
Negotiate settlements of our client's claims whenever possible;
Go to court to fight for our client's rights, including in a trial before a Pennsylvania judge and jury; and
Collect and disburse the money owed to our client under a settlement, judgment, or jury award.
However, one thing doesn't differ from case to case: Our commitment to making our services affordable to anyone who needs them. We offer car accident victims and their loved ones a free initial case evaluation they'll never have to pay for, even if they choose not to hire us. We also handle car accident cases on a contingent fee basis. That means we never charge you an upfront fee or bill hourly for our time. We only get paid if we get you results.
Protect Your Rights After a Pennsylvania Car Accident
Your actions after getting hurt or losing a loved one in a Pennsylvania car accident can substantially affect your rights. Following the suggestions below can protect and position you for maximum financial recovery.
Seek Immediate Medical Care
Always go to the doctor after any car accident, even if you think you escaped significant injury. The aches and pains you feel now could be signs of life-altering or life-threatening trauma. Let a qualified medical professional check you over, diagnose any injuries, and begin treatment immediately.
Getting medical help protects not only your health but also your legal rights. Medical records of your treatment can serve as valuable evidence for a lawyer to use in pursuing your claim. And it forecloses any defense lawyer or insurance company allegations that you should bear the blame for allowing your injuries to worsen.
Hire a Lawyer ASAP
After addressing your immediate medical needs, retain the services of an experienced car accident lawyer to handle your case. There's no need to wait until you heal to call an attorney. The sooner you have a lawyer advocating for you, the better the odds of building a solid case and obtaining a favorable outcome. Hiring an attorney immediately also ensures compliance with any legal deadlines applicable to your claim. And it gives you access to a trusted advisor when you can benefit most from their guidance and counsel.
Do Not Agree to a Settlement Without Consulting a Lawyer
The party at fault for your crash or that party's insurance company might offer you a quick cash settlement before you've had the chance to hire a lawyer. Do not agree to their proposal or sign any document they send you without talking to an attorney. Settlement offers made directly to car accident victims like you rarely, if ever, reflect the value of your potential claim. But accepting them can sacrifice your rights to seek more money later.
Leave negotiation of any settlement in your car accident case to an experienced attorney. At Dolman Law Group Accident Injury Lawyers, PA, we can usually obtain far more for our client than an at-fault party or insurance company initially offered.
Contact an Experienced Pennsylvania Car Accident Lawyer Today
If you or someone you love recently suffered harm in a Pennsylvania car accident, you may have the right to receive substantial compensation from an at-fault party or insurance company. The experienced car accident injury lawyers at Dolman Law Group Accident Injury Lawyers, PA, want to help you get it. Contact us today at 833-552-7274 (833-55-CRASH) for your free case evaluation.
The Dolman Law Group works with local counsel in any jurisdiction outside Florida for the purpose of filing lawsuits in jurisdictions wherein we are not licensed. Thus, we will follow each State's ethical rules to ensure a local attorney is involved.