Newark, New Jersey, is a bustling city, and car accidents are unfortunately common. These incidents can inflict significant physical damage, emotional trauma, and financial burdens on victims. If you or a loved one has suffered an injury in a car crash in Newark, you can seek compensation for your losses.
Navigating the legal intricacies of a car accident claim requires skilled guidance and advocacy. This is where Dolman Law Group Accident Injury Lawyers, PA, steps in. We are a seasoned law firm committed to obtaining the maximum compensation for car accident victims in Newark and beyond. Our experienced Newark car accident lawyers aim to fight for your rights against the responsible parties.
Do not allow a car crash to continue disrupting your life. Contact us today for a free case evaluation, and let us pursue the justice and compensation you deserve.
Why Choose Dolman Law Group Accident Injury Lawyers, PA
When facing a car accident, you need a trusted, dedicated, and experienced legal team. Dolman Law Group Accident Injury Lawyers, PA, is a leading personal injury law firm that seeks financial compensation for Newark car accident victims.
With an impressive track record and a team of qualified professionals, Dolman Law Group Accident Injury Lawyers, PA, is at the forefront of personal injury law in Newark. Our lawyers have extensive experience in dealing with the complexities of car accident cases. This knowledge enables us to strategize effectively, ensuring our clients receive the maximum compensation for their losses.
Our Success in Car Accident Cases and Commitment to Our Clients
We have successfully recovered substantial compensation for countless car accident victims at Dolman Law Group Accident Injury Lawyers, PA. Our commitment to the welfare of our clients goes beyond just professional duties. We genuinely care about your healing and recovery. We thoroughly examine each case and deploy all available resources to achieve the optimal legal outcome. Our pursuit of justice and unwavering commitment to our clients sets us apart.
Choose Dolman Law Group for comprehensive, compassionate, and competent representation.
The Dolman Law Group works with local counsel in any jurisdiction outside Florida to file lawsuits in jurisdictions in which we are not licensed. We follow each state's ethical rules to ensure the involvement of a local attorney. If you believe you have a valid legal claim following a Newark motor vehicle accident, contact us today to discuss your legal options.
<iframe width="200" height="113" src="https://www.youtube.com/embed/sYGkfII8vzc?feature=oembed" frameborder="0" allow="accelerometer; autoplay; clipboard-write; encrypted-media; gyroscope; picture-in-picture; web-share" allowfullscreen title="When to Hire a Car Accident Lawyer"></iframe>
Compensation Following a Newark Car Accident
In Newark, you may claim compensation if you experienced injuries from a car accident that another party's negligence or recklessness caused. These compensatory damages can cover your medical bills, lost income, vehicle repairs, pain and suffering, and other accident-related expenses.
At Dolman Law Group Accident Injury Lawyers, PA, we fight to secure the maximum compensation for your injuries and losses.
Investigating Car Accident Cases To Identify Liable Parties and Compensation Figures
To determine your rightful compensation, it is essential to accurately identify all liable parties and fully understand the extent of your losses. At Dolman Law Group Accident Injury Lawyers, PA, we have a meticulous process for thoroughly investigating each car accident case. We leave no stone unturned, including gathering evidence at the accident scene and examining police and medical reports.
Our lawyers are skilled at proving fault and liability in car accident cases. We work to establish the other party's negligence and show how it directly caused your injuries. We ascertain the full range of damages you have suffered using all available evidence. This includes quantifiable losses, such as medical costs and lost income, and non-economic damages, such as pain and suffering.
We aim to recover the compensation you need to address your current needs and any potential future expenses in connection with the accident. Dolman Law Group Accident Injury Lawyers, PA, will fight for the compensation you deserve.
Where Accidents Occur in Newark
Newark, the largest city in New Jersey, witnesses many car accidents due to its heavy traffic, complex roadways, and unpredictable weather conditions. Understanding where these accidents occur can provide valuable insights into the city's common causes and potentially hazardous areas.
Accident Statistics and Local Information in Newark
Car accidents in Newark are an unfortunate reality. According to official statistics, Newark consistently ranks among the top New Jersey cities for car accidents. This negatively affects public health and safety and the socioeconomic well-being of the city's residents.
Common Accident-Prone Areas and Streets in Newark
Certain areas and streets in Newark present a higher risk for car accidents due to high traffic volumes, poor road conditions, inadequate signage, and other factors. These accident-prone areas include popular routes such as the Newark Turnpike, Interstate 78, and Raymond Boulevard.
Accidents can occur anywhere and at any time, though. If you or a loved one has suffered an injury in a car accident, regardless of where it happened, do not hesitate to contact Dolman Law Group Accident Injury Lawyers, PA. Our experienced Newark, New Jersey, car accident lawyers are ready to navigate the legal complexities and obtain the maximum compensation for your losses.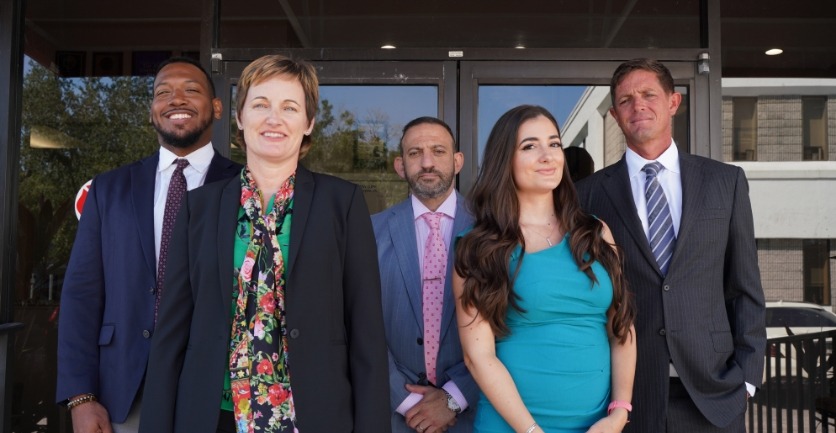 Types of Car Accidents and Injuries That Can Ensue
Each car accident has unique legal considerations and potential injuries. Knowing the kinds of accidents that occur can help you understand the challenges and options you might encounter in your case.
Comprehensive List of Car Accidents and Injuries Handled by Dolman Law Group Accident Injury Lawyers, PA
At Dolman Law Group Accident Injury Lawyers, PA, we handle various car accident cases, including rear-end collisions, head-on crashes, rollovers, T-bone or side-impact accidents, and hit-and-runs. With our experience and extensive knowledge of Newark's legal landscape, we can handle all types of accident claims, irrespective of their complexity.
Different Types of Injuries That Can Result From a Car Crash
Each type of car accident can cause many injuries, including minor bruises and severe, life-altering conditions. Whether it is a traumatic brain injury from a high-speed collision or whiplash from a sudden rear-end impact, our team is ready to fight for you. We understand the physical, emotional, and financial toll these injuries can take, and we can ensure you receive the rightful compensation.
Fighting the Insurance Company
Dealing with insurance companies after a car accident can be daunting and complex. These commercial entities often employ tactics to minimize their financial liability, leaving you with inadequate compensation for your distress and losses.
The Challenges of Dealing With Insurance Companies
Insurance companies are businesses that look after their bottom line. They may undervalue your claim, deny liability, delay payment, or reject your claim outright. Such practices can be frustrating and financially draining, especially while you are trying to recover from your injuries.
At Dolman Law Group Accident Injury Lawyers, PA, we understand insurance companies' tactics and know how to counter them effectively. We have experience negotiating with insurance adjusters to ensure you receive fair compensation.
How Dolman Law Group Accident Injury Lawyers, PA, Can Take on These Companies
Hiring a seasoned car accident lawyer from Dolman Law Group Accident Injury Lawyers, PA, to handle negotiations with the insurance company can significantly level the playing field.
Our team can collect and present evidence to support your claim, countering lowball settlement offers, and taking your case to court, if necessary, to secure a favorable verdict.
We are passionate about protecting your rights and ensuring that insurance companies do not exploit you. Let us handle the insurance company while you focus on your recovery.
What to Do After a Car Accident in Newark
After a car accident, you may not know what to do and in what order. Your actions and decisions during this time can significantly affect your compensation claim.
The Importance of Following Treatment Plans and Keeping Receipts
Seeking medical treatment immediately after an accident is crucial, even if you think your injuries are minor. Follow all treatment plans and keep all medical receipts. These documents help substantiate your claim and determine the compensation you recover.
Obtaining a copy of the police report and other relevant documentation can be beneficial. These records provide an official account of what happened and can be instrumental in establishing liability.
Let Dolman Law Group Accident Injury Lawyers, PA, Gather the Evidence You Need Following the Accident
The Dolman Law Group Accident Injury Lawyers, PA team can gather crucial evidence, such as traffic camera footage or eyewitness testimonies, to strengthen your claim. Our attorneys can provide guidance and advocacy for you at every step of the legal process.
A Word of Caution Following the Accident
Avoid discussing the accident after it occurs, especially without your attorney present. Only accept the first settlement offer you receive unless you speak with your Newark, New Jersey, car accident lawyer. These premature actions could potentially undermine your claim.
Let the skilled team at Dolman Law Group Accident Injury Lawyers, PA, guide you on the best steps to take for your situation.
Make Sure You Do Not Run Out of Time To File Your Legal Claim
In New Jersey, you typically have two years from the accident date to file a personal injury lawsuit against the at-fault driver under the state's statute of limitations. It is crucial to act within this time frame, as failure to do so may result in the dismissal of your case.
While two years may seem like plenty of time to pursue legal action after the accident, gathering evidence, navigating insurance claims, and preparing a solid legal case can be time-consuming.
You should discuss your crash with a dedicated car accident attorney at Dolman Law Group Accident Injury Lawyers, PA, as early as possible following a car accident. Our legal professionals can expedite the process, meet deadlines, and secure the compensation you deserve.
Contact Dolman Law Group Accident Injury Lawyers, PA, Today
After a car accident, act promptly to preserve evidence, identify liable parties, and initiate the claims process. The Dolman Law Group Accident Injury Lawyers, PA, legal team understands this urgency and can provide swift and comprehensive legal representation to pursue your compensation.
Call Us Today for Your Free Case Evaluation
We understand that you have many questions and concerns following a car accident. We offer a free case evaluation to get you the information you need quickly. During this meeting, we will discuss the details of your accident, answer your questions, and review your potential for compensation. We believe that everyone should have access to quality legal counsel, regardless of their current financial situation.
We operate on a contingency fee basis, so you pay no legal fees unless we secure compensation on your behalf.
If you or a loved one has experienced an injury in a car accident in Newark, New Jersey, contact Dolman Law Group Accident Injury Lawyers, PA, today at 833-552-7274 (833-55-CRASH). Let us fight for the justice and compensation you deserve.
Great lawyer, glad we switched! Met with Mr Dolman regarding an auto accident. My daughter had "soft tissue' damage. I was unhappy with my current lawyer, but thought it was too late to change. We discussed my daughters case for about an hour and a half. Mr Dolman is very intelligent -legally and medically…I learned more that day than in the past 2 yrs with my last lawyer, that night my husband and I choose to switch both cases to Matt Dolman. No regrets! He noticed that a test had been missed on my daughter, the doctor agreed, and we found that she has bulging discs. We knew she was hurting, and now we have some proof as to why. Thanks Matt! My case is much more intricate…I am looking at possible cervical surgery, and live with pain and radiating numbness down my arm everyday. The good news is, I feel like my lawyer is finally fighting for me. He answers my calls immediately (prefers to be called on his cell phone so messages don't get lost). He is also "down to earth" & easy to talk to. Very Pleased!
Very Good Experience. I was with another attorney who did not return my phone calls, messages, or help me with any questions and had no advice as far as who to go to for the medical attention I needed. I found Matt and got everything I needed, my questions answered, and he was very fast , professional & helpful.