Car accidents are a common occurrence in New Orleans. Each incident can cause substantial physical, emotional, and financial damage. Victims of car accidents in New Orleans often face severe injuries, debilitating emotional trauma, and unexpected expenses.
If you or a loved one has had a car accident in New Orleans, you may recover significant financial compensation from those responsible. Dolman Law Group Accident Injury Lawyers, PA, is here to help you realize that potential.
Our experience and commitment can increase your chance of receiving maximum compensation. To discover how our New Orleans car accident lawyers can assist you, reach out to us today for a free case evaluation.
Why Choose Dolman Law Group Accident Injury Lawyers, PA, for Your New Orleans Car Accident Claim
Our New Orleans car accident lawyers have extensive experience and an impressive reputation for managing car accident cases.
Experience and Reputation
Dolman Law Group Accident Injury Lawyers, PA, is not just another law firm. We have a track record of securing substantial compensation for car accident victims, regardless of the complexity of their cases. We understand the legal aspects of an accident, the financial hardship it can cause, and the emotional trauma you may suffer because of your accident.
Our past claims include many car accident victims who suffered substantial injuries and needed support as they recovered.
Some of our past successes include securing:
$5 million when a car accident resulted in burns to the victim.
$3.85 million when a semi-truck accident resulted in traumatic brain injury for the victim.
$1.875 million when a car accident resulted in cervical fusion and mild brain injury for the victim.
$1.58 million when a car accident led to two herniated discs in the victim's spine.
These results cannot guarantee the outcome of any future claim, but we will work tirelessly to provide you with the comprehensive support you need following any type of accident. 
Dolman Law Group works with local counsel in any jurisdiction outside Florida for the purpose of filing lawsuits in jurisdictions wherein we are not licensed. Thus, we will follow each State's ethical rules to ensure a local attorney is involved.
We Understand Your Challenges
At Dolman Law Group Accident Injury Lawyers, PA, our New Orleans car accident lawyers understand the many challenges of dealing with a car accident case.
Founding partner Matthew Dolman experienced the claim process many years ago when his father was a car accident victim and suffered injuries. The experience solidified his drive to become a car accident attorney. He now provides support to, and has compassion for, all his clients, ensuring they have the resources they need to move through the claim process. 
If you are the victim of injuries following a car accident in New Orleans, Dolman Law Group Accident Injury Lawyers, PA, can help. Contact us for your free consultation.
<iframe width="200" height="113" src="https://www.youtube.com/embed/sYGkfII8vzc?feature=oembed" frameborder="0" allow="accelerometer; autoplay; clipboard-write; encrypted-media; gyroscope; picture-in-picture; web-share" allowfullscreen title="When to Hire a Car Accident Lawyer"></iframe>
Understanding Car Accident Compensation in New Orleans
Dolman Law Group Accident Injury Lawyers, PA, can handle the complicated process of evaluating your medical bills, lost income, property damage, and emotional trauma.
Potential Compensation for Car Accident Victims in New Orleans
You could receive extensive compensation as a result of your car accident, depending on the severity of your injuries and the impact on your daily life.
You can receive compensation for some of the following economic and noneconomic damages:
Medical expenses: These can range from immediate emergency treatment costs to long-term physical therapy and rehabilitation.
Lost earnings: You could recover lost income if you cannot work due to your injuries.
Pain and suffering: This covers compensation for the physical pain and mental anguish resulting from the accident.
Vehicle damage or loss: This includes the cost of repairs or the value of the car if it is a total loss.
All these damages are significant and can instantly change your life. Louisiana is an at-fault state, which means that if you suffer injuries in a car accident, you have the right to pursue compensation for those damages from the other party's insurance company. Many factors can influence the compensation you can pursue, however, including whether you have insurance coverage.
Louisiana is a pay-to-play state, which means if you do not carry auto insurance, you may lose the right to recover the first portion of your damages.
How Dolman Law Group Accident Injury Lawyers, PA, Evaluates Car Accident Cases
Dolman Law Group Accident Injury Lawyers, PA, knows how to estimate potential compensation in car accident cases. We thoroughly investigate the accident scene, talk to witnesses, and examine police reports. We also review your medical records to understand the extent of your injuries, their impact on your life, and the potential costs of future treatment.
We look at any time off work you've had, whether for recovery or medical appointments, and calculate your potential losses. Then we consider the long-term implications of your injuries and the lifestyle changes you've had to make following the accident.
Our evaluation process allows us to provide a detailed estimate that reflects the true and full impact of your unique case. Our comprehensive approach ensures that we can argue for the most substantial compensation possible for your case.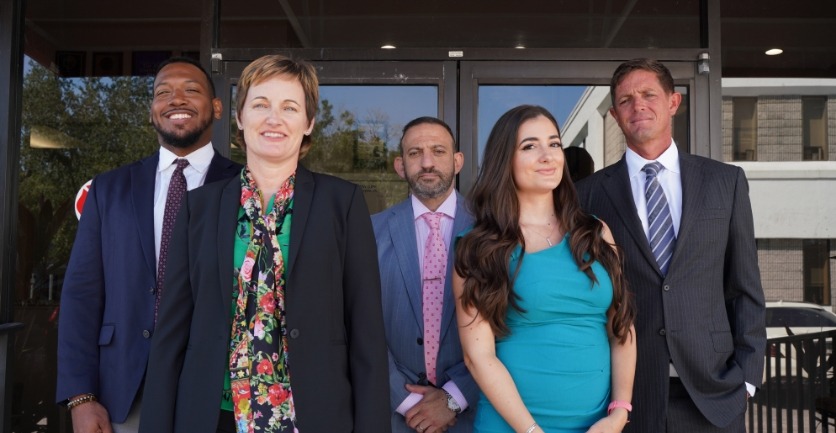 Car Accidents in New Orleans: Where Do They Occur?
Understanding where car accidents occur most frequently in New Orleans can help you recognize the most accident-prone areas of the city and reduce your risk of becoming a car accident victim.
Analysis of Car Accident Statistics in New Orleans
According to reports from the New Orleans Police Department, the busiest intersections are often the most dangerous. There are often accidents on Orleans Avenue and North Claiborne Avenue, for instance, due to the heavy traffic on those roads. 
There can be a notable increase in car accidents when there are more vehicles on the road, such as weekday rush hours, holiday seasons, and weekends. During Mardi Gras, when more than one million visitors fill the streets of New Orleans, it can prove more difficult to travel in the city, increasing the risk of accidents.
Each year, around 1,000 car accident fatalities occur throughout Louisiana, with dozens of them occurring in New Orleans.
There are frequent reports of car accidents in residential areas, near school districts, and hospital zones. This underlines the importance of caution and speed limits in these areas.
How Car Accidents Occur
There are many potential causes of car accidents. To help determine who may bear liability for these incidents, here is a list of some common causes of car accidents:
Distracted driving: This is one of the leading causes of car accidents in New Orleans. Phones, food, or other passengers can distract drivers, meaning they can fail to notice crucial traffic signals or changes in the road ahead.
Speeding: Exceeding the speed limit is against the law. It also reduces a driver's ability to steer safely around curves or objects in the roadway.
Drunk driving: Despite strict laws, drunk driving remains a serious issue. Alcohol impairs a person's driving ability and slows their reactions to hazards on the road.
Reckless driving: Changing lanes too quickly, driving aggressively, or tailgating can cause unnecessary accidents.
Failure to adjust to the weather: Navigating severe weather conditions, such as rain, fog, or hail, can make driving dangerous.
When an accident does occur, our New Orleans car accident lawyers can investigate the cause of the incident and consider who bears liability as a result of negligent behavior on the road.
Battling Insurance Companies in New Orleans: Why You Need Us
Insurance companies are not necessarily on your side after an accident. Their aim, as a business, is to minimize payouts and increase profits. They often use tactics to reduce payout amounts after an accident.
They may:
Deny your claim outright: Insurance companies often look for ways to deny a claim, such as insisting that their covered driver did not cause the accident or that it falls under a policy exclusion.
Underestimate your claim value: Insurance companies may ignore the full extent of your damages. They may try to claim that you did not need the medical treatments in your report or that your policy does not cover some of your damages.
Confuse you: Insurance companies may use complex terminology and insurance terms, leaving you unsure about the compensation you deserve.
Pressure you: Some insurance companies will pressure you to accept settlement offers that do not cover your full damages. They may try to get you to accept an early settlement offer, for example, before you have the chance to understand the full extent of your damages.
Dolman Law Group Accident Injury Lawyers, PA, understands the games insurance companies play. Our New Orleans car accident lawyers know how to communicate with them, ensuring you receive the compensation you deserve.
Our Role in Negotiating With Insurance Companies
Our team of New Orleans car accident lawyers at Dolman Law Group Accident Injury Lawyers, PA, takes pride in its ability to successfully negotiate with insurance companies. Our lawyers have a keen understanding of insurance laws and strong negotiation skills. We will work diligently to ensure that the insurance company fulfills its obligations to you.
We will meticulously review your insurance coverage, investigate the accident, document all your losses, and present a solid case to the insurer. If negotiations fail, we will take your case to court to fight for the compensation you deserve.
What to Do After a Car Accident: Steps to Strengthen Your Case
Your actions after a car accident can significantly affect the strength of your claim. You must protect your rights and establish a strong foundation for your car accident case. 
Follow Treatment Plans, Keep Receipts, Write in a Journal, and Obtain Copies of Police Reports
After a car accident, seek immediate medical attention and follow your prescribed treatment plan. This will protect your health, record your injury, and document all your costs. Keep all related receipts, such as your medical expenses, treatments, and prescriptions. These documents will serve as crucial evidence to substantiate your claim.
Check the Police Report
The police report about your accident contains valuable information, including the officer's assessment of fault, any issued citations, and descriptions of the accident scene.
Get Legal Representation
After a car accident, you may feel uncertain about what comes next. Experienced legal representation will give you the confidence and support you need.
Speak to Dolman Law Group Accident Injury Lawyers, PA
At Dolman Law Group Accident Injury Lawyers, PA, we understand how to build a strong car accident case. Our experienced attorneys can guide you through each step following your accident to ensure that you have the best possible chance of securing maximum compensation.
Our team will gather essential documents, file your claim, and negotiate with the insurance companies on your behalf. We will take your case to court, if necessary, to fight for the settlement you deserve.
Contact a New Orleans Car Accident Lawyer Today
With our team by your side, you can focus on your recovery while we tackle the complexities of your legal case. Contact Dolman Law Group Accident Injury Lawyers, PA, today at (833) 552-7274 (833-55-CRASH) to begin building a strong case.
Great lawyer, glad we switched! Met with Mr Dolman regarding an auto accident. My daughter had "soft tissue' damage. I was unhappy with my current lawyer, but thought it was too late to change. We discussed my daughters case for about an hour and a half. Mr Dolman is very intelligent -legally and medically…I learned more that day than in the past 2 yrs with my last lawyer, that night my husband and I choose to switch both cases to Matt Dolman. No regrets! He noticed that a test had been missed on my daughter, the doctor agreed, and we found that she has bulging discs. We knew she was hurting, and now we have some proof as to why. Thanks Matt! My case is much more intricate…I am looking at possible cervical surgery, and live with pain and radiating numbness down my arm everyday. The good news is, I feel like my lawyer is finally fighting for me. He answers my calls immediately (prefers to be called on his cell phone so messages don't get lost). He is also "down to earth" & easy to talk to. Very Pleased!
Very Good Experience. I was with another attorney who did not return my phone calls, messages, or help me with any questions and had no advice as far as who to go to for the medical attention I needed. I found Matt and got everything I needed, my questions answered, and he was very fast , professional & helpful.