With a low cost of living, excellent educational opportunities, and pleasant, four-season weather, South Bend, Indiana, offers many benefits. Unfortunately, we encounter many hazards here, too, not the least of which is the risk of an accident caused by a negligent driver.
Car accident injuries can result in significant expenses and damage a person's quality of life. After a car accident caused by another person's carelessness or recklessness, an experienced South Bend car accident attorney from Dolman Law Group Accident Injury Lawyers, PA, can explain how we can seek compensation for your injury and the services our firm can provide to help you with your claim.
Why Trust Dolman Law Group Accident Injury Lawyers, PA, with Your Car Accident Claim?
Dolman Law Group Accident Injury Lawyers, PA, is a national firm that can assist those injured to obtain the compensation they need, providing access to expanded resources and legal expertise that a local firm cannot always provide.
Our lawyers have more than 120 years of combined experience and have assisted more than 40,000 clients through the years to obtain more than $400 million in compensation through negotiated settlements and court verdicts.
While no guarantee of success in all cases, we are known for getting results, as reflected in some of our recent victories:
$5 million for a client who suffered severe burn injuries in a car accident.
$3.85 million for a client with a traumatic brain injury from a semi-truck accident.
$1.58 million for a client with auto accident injuries, including two herniated discs impinging on the spinal cord.
While hiring an attorney required face-to-face meetings in the past, Dolman Law Group Accident Injury Lawyers, PA, uses all modern communication methods, including phone calls, texts, emails, and even video conferencing to provide their service across long distances.
The legal team at Dolman Law Group Accident Injury Lawyers, PA, has assisted the injured nationwide with their claims for many years, providing aggressive advocacy and attention to detail that our clients deserve.
Obtaining a free case evaluation is easy: Simply contact us by phone or message us online to discuss your case with us and get started on seeking compensation for the monetary and psychological costs of your injuries.
The Dolman Law Group Accident Injury Lawyers, PA, works with local counsel in any jurisdiction outside Florida to file lawsuits in jurisdictions where we are not licensed. Thus, we will follow each State's ethical rules to ensure a local attorney is involved.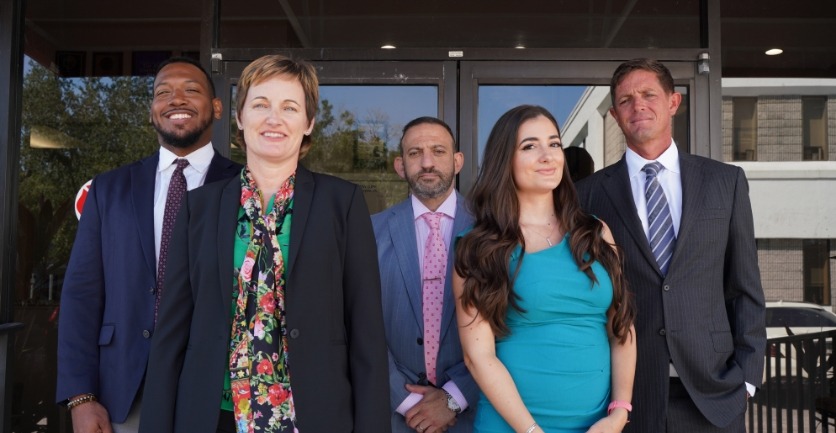 How Much Is My South Bend Car Accident Claim Worth?
Thousands of accidents occur on roadways in and around South Bend each year, resulting in hundreds of injuries and dozens of fatalities. Each of these accidents contains unique facts, including the severity of the crash, the type of injuries suffered, and the driving behavior that caused the accident. Because of these unique facts, it is impossible to determine an average value of a car accident claim.
An experienced car accident lawyer from Dolman Law Group Accident Injury Lawyers, PA, considers all of these facts when determining the value of a claim. Indiana accident claimants can seek compensation for the accident's expenses, such as medical bills, the expenses associated with repairing or replacing a vehicle damaged in an accident, and income loss that the claimant incurred while they were too injured to work.
Additionally, if the injuries sustained are permanent and will impair the claimant's ability to work, compensation can be sought for the loss of their future earning capacity.
Car accident claimants in South Bend can also seek compensation for the quality-of-life impacts they experienced due to their injuries, such as pain and suffering, emotional distress, loss of enjoyment of life, and much more.
Dangerous Roads in South Bend
While an accident can occur on any public roadway, there are areas in South Bend where they are more likely. There are several major highways and interstates near South Bend, including Interstates 80 and 90 and U.S. Routes 31 and 20.
Each road attracts many different types of traffic and features high speeds. The higher the speed a vehicle travels, the greater the risks of the driver losing control of the vehicle or being unable to stop in time to avoid colliding with another vehicle that has unexpectedly entered its travel lane.
According to MoneyGeek's four-year study of traffic fatalities in Indiana, the most dangerous road in St. Joseph County is U.S. 20, with four fatal accidents during the study period.
As explained by WVPE 88.1, LaSalle Avenue—the main thoroughfare from downtown South Bend—is not only one of the busiest roads in the city but also one of the most dangerous, with more than 100 reported crashes between Niles and Notre Dame Avenues in three years.
Concerns about the safety of travelers to the area prompted the city to begin a $5.6 million project to slow motor vehicle traffic down and provide safer roadway access for bicyclists and pedestrians.
Common Types of Car Accidents and the Injuries They Cause
Several types of car accidents occur in South Bend, and each can cause serious injuries.
Head-on collisions occur when the front of one vehicle collides with the front of another vehicle traveling in the opposite direction. Head-on collisions are generally the result of wrong-way driving, often due to alcohol impairment, unfamiliarity with the roadway, improper passing, or even a previous accident that pushes one of the vehicles involved into an opposing travel lane.
Broadside accidents, commonly called T-bone crashes, occur when the front of one vehicle collides with the side of another. These are one of the more common types of accidents in intersections and are usually caused by one driver's failure to yield the right-of-way at a red light or stop sign.
Rear-end collisions are among the most common crashes, accounting for more than a third of all injuries associated with two-vehicle collisions. These accidents occur when the front of one vehicle collides with the rear of another and are often caused by one vehicle following another too closely.
Sideswipe crashes occur when the side of one vehicle collides with the side of another. These accidents are risky due to the increased risk of one of the drivers losing control when the vehicles collide and leave the roadway or crash into other vehicles traveling in adjacent lanes.
Rollovers can occur as a result of a prior crash or can be an isolated event that is typically caused when the wheels of the vehicle "trip" over an object such as a median or a rock near the roadway or when the driver of a tall, narrow vehicle attempts an emergency maneuver such as swerving to avoid an accident.
Car accidents are associated with many significant and even catastrophic injuries, including:
Traumatic brain injuries
Spinal cord injuries
Damage to spinal vertebrae and discs
Soft tissue injuries, including sprains, strains, and whiplash
Broken bones
Damage to the body's internal organs
Burns
Severe bruises and lacerations
A catastrophic injury will prevent the sufferer from earning an income and cause a permanent disability. Catastrophic car accident injuries include traumatic brain injuries, which can cause memory loss, the inability to speak or understand spoken language, and the loss of balance and coordination, and spinal cord injuries that paralyze the body below the injury.
Other catastrophic car accident injuries include severe damage to spinal vertebrae and discs, severe burns, traumatic limb amputations, and loss of a primary sense such as vision or hearing. Catastrophic injury claims may recover significant compensation for future income loss and long-term medical expenses.
We Can Fight the Insurance Company for the Compensation You Need
In Indiana, when someone is injured due to a car accident caused by another driver's negligence, they can seek compensation for the monetary and psychological costs they incurred due to the accident by filing a claim against the at-fault driver's auto liability insurance policy.
Unfortunately, while insurers must pay for the harm caused to others by the carelessness or reckless actions of their insured, they will protect their bottom line by eliminating or devaluing claims.
An experienced car accident lawyer from Dolman Law Group Accident Injury Lawyers, PA, can protect the claim's value by handling communication with the insurer on behalf of the claimant, keeping the conversation focused on negotiating a settlement that will fairly compensate the claim.
If the insurer fails to offer a settlement that the claimant agrees to, a legal complaint (lawsuit) can be filed in civil court. In most South Bend car accident cases, there is a statutory deadline of two years from the date of the accident in which to file the lawsuit. However, your claim can still settle after you file a lawsuit.
A car accident lawyer works with a legal team that helps gather the documentation and evidence needed to prove both legal responsibilities for the expenses and impacts incurred and justify the compensation the claim seeks.
How You Can Protect the Value of Your Claim
While the Dolman Law Group Accident Injury Lawyers, PA, legal team, and local counsel will do much of the legwork involved in fighting the insurance company for the compensation you need, you can protect the value of your claim by:
Continuing to receive medical treatment for your injuries until your doctor determines that you have healed as much as possible. This creates the documentation needed to show the significance of your injuries and helps ensure the best opportunity for physical recovery.
Keeping a journal of the day-to-day impacts of your injury on your life, including the amount of pain you're experiencing, the frequency of medical appointments, and other inconveniences you encounter due to your injury.
Providing your legal team with any evidence you have on your accident or injuries, such as a police report, photos from the scene of the accident, accident-related bills or receipts, or information from your employer about your wages and missed time from work due to your injury.
After a South Bend Car Accident, Contact Dolman Law Group Accident Injury Lawyers, PA
Many South Bend attorneys would gladly assist you with your claim. However, our national law firm provides the expanded professional and monetary resources often needed to handle the most challenging or highly valued cases.
Obtaining assistance from the legal team of Dolman Law Group Accident Injury Lawyers, PA, is affordable, as you only pay us for ourservices if we get compensation for your claim, either through a settlement or a court award. Reach out to a personal injury lawyer.
For your South Bend car accident claim, trust Dolman Law Group Accident Injury Lawyers, PA, to answer your legal questions and an array of services aimed at helping you obtain the compensation you need. To obtain a free case evaluation, call 833-552-7274 (833-55-CRASH) or message us through our online contact form.