If you or a loved one suffered severe injuries in a motor vehicle accident in Indiana, we know you are going through a lot. You have enough on your plate between the emotional and physical trauma and the financial hardships. However, you must realize you do not have to handle this situation alone.
If your car accident was due to another person's reckless, intentional, or negligent actions, you may be entitled to financial recovery to help you through this challenging time.
Do not wait any longer.
Instead, contact the Indiana car accident lawyers at Dolman Law Group Accident Injury Lawyers, PA, to review your legal options and determine what legal remedies you can pursue.
Dolman Law Group Accident Injury Lawyers, PA: Car Accident Lawyers Who Get Results
At Dolman Law Group Accident Injury Lawyers, PA, our car accident attorneys are known for getting results, providing the services our clients need, and working directly with them to ensure their case is handled properly. We not only identify all the potential sources of financial damages our clients can go after, but we vigorously pursue the maximum compensation they deserve.
Contact our legal team if an Indiana car accident injured you. We have won millions for our clients, including recent judgments of:
$1.58 million for a motor vehicle accident that caused two herniated discs to impinge on the spinal cord
$1 million for a car accident resolution
$5 million for a car crash resulting in burn injuries
The Dolman Law Group works with local counsel in any jurisdiction outside Florida for the purpose of filing lawsuits in jurisdictions wherein we are not licensed. Thus, we will follow each State's ethical rules to ensure a local attorney is involved.
The Most Common Causes of Motor Vehicle Accidents in Indiana
Car crashes can occur for several reasons.
However, in Indiana, these accidents frequently tend to develop due to:
Excessive speeding
Driving while distracted, such as texting and driving or eating while driving
Reckless driving
Intoxicated driving
Motor vehicles not abiding by traffic signs or signals
Car defects
Dangerous streets and intersections, including 38th Street from North Hawthorne Lane to Cornelius Avenue, considered the deadliest stretch of road in Indiana; I-80 West from Exit 9 to Exit 3; and Madison Avenue from East Murry Street to Lisa Walk Drive
However, if you suffered harm in an Indiana car accident for a reason not indicated above, do not let this stop you from getting the help you need. Reach out to an experienced Indiana car accident lawyer today and find out whether you have a viable legal claim, the legal actions you should take next, and what financial damages you can pursue.
Common Injuries Resulting From an Indiana Motor Vehicle Accident
Car accidents can result in various injuries, impacting almost every body part.
However, typically, these accidents tend to result in the following trauma:
Traumatic brain injuries
Spinal cord injuries and paralysis
Broken bones
Back strains
Internal bleeding and organ damage
Lacerations and cuts
Severe burns
Post-traumatic stress disorder (PTSD)
Scarring and disfigurement
Wrongful death
Yet, while the extent and severity of these injuries will depend on the circumstances of the crash, when these injuries lead to a lifetime of medical treatments, it can also mean car crash victims must endure astronomical medical bills.
For these reasons, after an Indiana car accident, go over your case with the legal team at the Dolman Law Group. Our attorneys can figure out the total losses you suffered as a result of this accident and then help you go after the monetary damages you need to cover your current medical treatments and future medical care.
Financial Recovery After an Indiana Car Accident
Following a motor vehicle accident in Indiana, you may be able to pursue several types of damages, including:
Economic Damages
Economic damages, also called special damages, compensate victims for the monetary losses from an accident.
These damages include payment for:
Past and current medical bills. Some examples of medical expenses include emergency room visits, doctor visits, physical therapy sessions, hospital stays, surgeries, prescriptions, and even the cost of traveling to appointments
Lost income and business opportunities
Property damages, including costs related to the repair and the replacement of a vehicle
Replacement of at-home care services
Non-Economic Damages
Non-economic damages, also known as general damages, compensate an accident victim for the non-monetary consequences of an accident and the injuries involved. Their subjective nature makes these losses hard to prove.
They include:
Physical pain and suffering
Emotional distress, also referred to as mental anguish
Scarring and disfigurement
Loss of enjoyment of life
Loss of consortium
Punitive Damages
In Indiana, the court only awards punitive damages to punish the wrongful party for their egregious actions and prevent others from committing similar acts. To receive punitive damages, the victim must show that the at-fault party acted with conscious and intentional misconduct that had a high probability of causing harm.
The Damages You Can Go After
To better understand which damages you can pursue after an Indiana car accident, discuss the crash with a knowledgeable car accident lawyer as soon as possible. An attorney can help you figure out not only your legal remedies but they can also prepare the strongest legal arguments for how much compensation you deserve.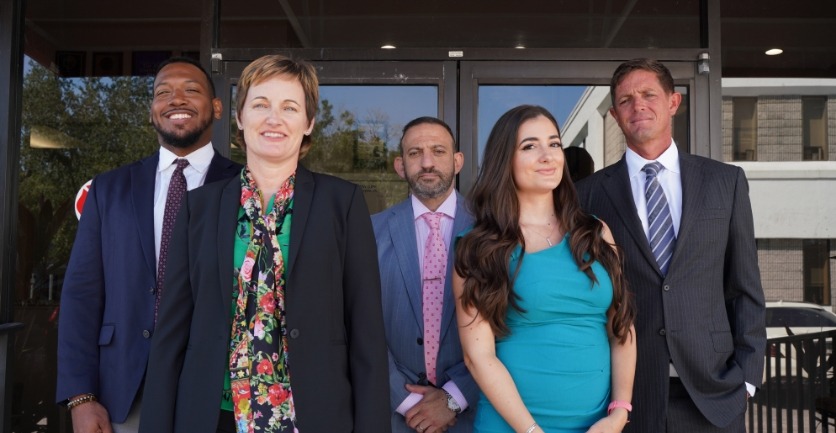 The Time Limitations to Watch out for When Pursuing a Car Accident Legal Claim
If you were injured in a motor vehicle accident, another issue you have to stay aware of is the statute of limitations. This law dictates how long people must bring a lawsuit after an alleged offense. In Indiana, car accident victims will only have two years from the accident date to file their suits. If these individuals fail to meet these deadlines, the court can dismiss the lawsuit and stop them from going after the money they need.
For these reasons, if you want help making sure you do not run out of time to pursue your case, contact the legal team at Dolman Law Group Accident Injury Lawyers, PA, today to determine how much time you have to file your suit according to the state's statute and get help submitting all of the applicable documents before the statute of limitations expires.
Dealing With the Insurance Company
Following a motor vehicle accident, most individuals believe that the insurance company will help them recoup their costs and get the money they need to get over this devastating accident, especially if it was due to another person's wrongful actions. Unfortunately, this is not how these companies work. Insurance companies are businesses that want to make a profit. The less they pay out in claims, the more money they can make for themselves and their bottom line.
As a result, these companies and their adjusters will try to do everything they can to get you to admit to something that can hurt your case and impact the amount of money you can receive.
That is why, after an Indiana car accident, before you speak with these companies about your accident, discuss the crash with a knowledgeable Indiana car accident attorney.
Our lawyers can explain the games the insurance companies may try on you and what to avoid discussing with them. We can also take over these discussions for you, ensuring the insurer does not take advantage of your vulnerable state and get you to say or do something that can affect your legal claim.
Taking Action After an Indiana Car Accident
After an Indiana car accident, make your health and safety your priorities, so get medical attention. However, to protect your legal rights, strengthen your case, and get the help you need to pursue the maximum financial damages you deserve, you may also:
Call 911 Immediately After the Motor Vehicle Accident
You need to call 911 immediately after your car crash. If you cannot do this yourself, yell for someone else around you to do it. Not only is this the fastest way to get the authorities to the scene and get the medical attention you need, but once the police arrive, they can investigate the accident and write down their findings in their police report.
If you decide to pursue legal action after this accident, this report can help your attorney with your case by providing critical information about the accident and what happened.
Go to the Doctor
If you did not receive medical attention at the crash scene, you should still get to a doctor to get examined. Symptoms of serious injuries, such as brain trauma, can often take a few days to appear. However, the longer you delay getting treatment, the worse your condition can become. That is why a doctor should ensure you have no severe injuries.
Additionally, when your doctor prepares a medical report detailing the extent of these injuries, it can help your attorney prepare a convincing claim and assist you in seeking maximum compensation.
Work With an Experienced Car Accident Lawyer to Obtain Evidence From the Scene
Following a car accident, make your main priorities healing and getting better, not finding witnesses or gathering evidence to help prove your claim. Thankfully, when you work with an experienced car accident attorney, you will not have to deal with these issues alone.
Instead, our lawyers can quickly gather photos and videos of:
The scene of the accident
Damage to the vehicles
The placement of these vehicles on the street after the crash
Traffic lights and signs near the crash scene
Weather conditions and traffic conditions at the time of the accident
Visible trauma you can see
These legal professionals can also find individuals who saw the accident and get their personal details. These witnesses are known for not only providing further information about the accident that your attorney can use to create strong legal arguments, but they can offer testimony to help validate your legal claim.
Watch the Comments You Make to Others
Watch the comments you make to others after the accident. This means avoiding apologizing, taking any blame, or making definitive comments regarding what happened. The other side can use these statements against you to hurt your case and impact the amount of money you can get.
Contact Dolman Law Group Accident Injury Lawyers, PA, Today and Go Over Your Legal Options
Fight back if you suffered harm in an Indiana car accident because of another person's recklessness, negligence, or intentional acts. Contact the legal team at Dolman Law Group Accident Injury Lawyers, PA, as soon as possible to review your legal rights and determine your best legal course of action. 
Our attorneys can also:
Investigate the accident and obtain relevant evidence to help show what happened and who was at fault.
Bring in specific experts to help validate your case, such as accident reconstructionist specialists.
Handle settlement negotiations with the other parties involved, including the insurer, and fight for a fair settlement.
Determine if the trial is necessary, depending on the other side and their willingness to settle.
For more information about car accidents in Indiana, contact Dolman Law Group Accident Injury Lawyers, PA, at 833-552-7274 (833-55-CRASH) for your free case consultation.
The Dolman Law Group works with local counsel in any jurisdiction outside Florida for the purpose of filing lawsuits in jurisdictions wherein we are not licensed. Thus, we will follow each State's ethical rules to ensure a local attorney is involved.