Car accidents kill or injure people every day in Denver. Crashes happen on in-town thoroughfares like Colfax Avenue, highways such as I-70 and 225, and the winding streets of suburban neighborhoods. Denver car accidents inflict trauma, distress, and costs that victims and their families struggle to overcome everywhere in our city.
If you or someone you love recently sustained injuries in a Denver-area car accident, you may have the right to seek significant compensation for your losses. The experienced Denver car accident lawyers at Dolman Law Group Accident Injury Lawyers, PA, can help you explore your options. We represent crash victims in legal claims seeking damages. Contact us to learn what we can do for you.
A Seasoned Car Accident Team
Dolman Law Group Accident Injury Lawyers, PA, is a leading car accident law firm. We team with law firms nationwide to represent clients from coast-to-coast, including in the Denver and Front Range region. In every case, our mission is to secure maximum compensation for crash victims and their loved ones while delivering individualized services tailored to each client's unique needs.
Our firm has compiled an enviable track record of success in car accident cases. We've secured tens of millions in compensation for our clients from at-fault parties and insurance companies. No matter how complex the crash or challenging the injuries our client has suffered, we have the resources and know-how to get top-dollar results.
The Dolman Law Group works with local counsel in any jurisdiction outside Florida for the purpose of filing lawsuits in jurisdictions wherein we are not licensed. Thus, we will follow each State's ethical rules to ensure a local attorney is involved.
Denver's Shocking Car Accident Statistics
According to data compiled by the Colorado Department of Transportation (CDOT), Denver averaged around 32 car accidents per day in a recent year, about one-quarter of which (8 per day) involved reports of injuries or fatalities. At least 67 people died, and 563 suffered injuries deemed severe.
And that's just accidents within the Denver city limits. That year, the tally reached over 46,000 crashes in Adams, Arapahoe, Douglas, Denver, and Jefferson Counties combined, more than 12,000 of which resulted in deaths (227) or injuries (1,691 serious).
Crash maps compiled by Denver's Vision Zero traffic safety project and a companion initiative by the Denver Regional Council of Governments (DRCOG) reflect that fatal and injury crashes happen all over the metro area.
They're common in commercial districts like Downtown, Lodo, and Capitol Hill, along busy roads like Federal Boulevard, and in neighborhoods like Montbello. They're also a frequent occurrence on major highways. Without exaggeration, no matter where you turn in Denver, you're never far from the site of a recent car accident.
T-bone (or front-to-side) and rear-end accidents are the types most likely to cause injuries or fatalities in Denver, according to CDOT. Together, those crashes accounted for more than half (59 percent) of the fatal or injury crashes in the region in a recent year. Though far less common, head-on collisions, sideswipes, and rollovers (7, 4, and 2 percent of crashes, respectively) also tended to inflict severe harm to drivers and passengers in the Denver area.
Those are troubling data. But even so, they only tell part of the story. No statistics can adequately capture the toll a car accident takes on a person's life or the lives of their loved ones. The damage inflicted by a crash can alter every aspect of a victim's existence, burdening them with difficulties they should not have to bear alone.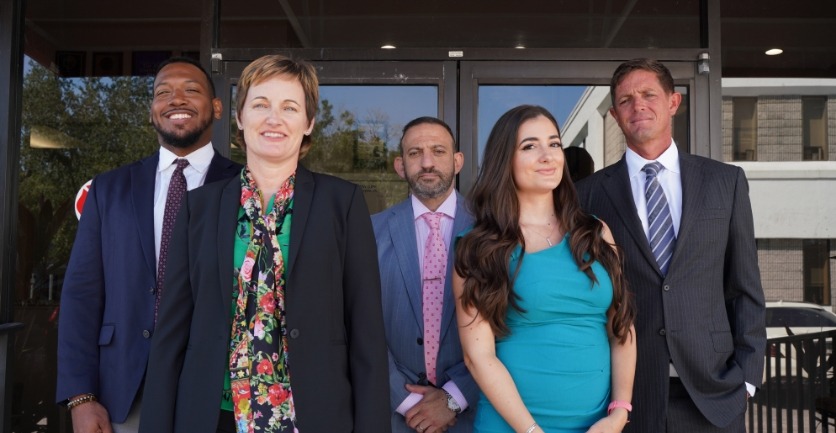 Do You Have a Right to Compensation for a Denver Car Accident?
The harm done by a Denver car accident rarely falls only on the person whose actions triggered the crash. Often, innocent victims sustain losses because of an accident they had no hand in causing. Colorado law entitles those victims to seek compensation for the physical, emotional, and financial harm they've suffered. At Dolman Law Group Accident Injury Lawyers, PA, getting them that compensation is our top priority.
Parties Liable for a Denver Car Accident
In Colorado, anyone who causes a car accident by engaging in careless or reckless actions (or inaction) can have liability to a victim who suffered injuries. Others can share that liability if they have a legal duty to answer for an at-fault party's conduct. Sometimes just one party will bear the blame for a crash in Denver. But in many cases, multiple parties are at fault and share liability for a victim's losses.
The attorneys at Dolman Law Group Accident Injury Lawyers, PA, scrutinize the facts of every car accident case we handle to identify the party (or parties) who owe damages to our clients. Every crash differs, so we approach each case with an open mind, ready for our investigation to reveal liability on the part of any number of individuals, businesses, or entities.
For example:
A motorist whose careless actions behind the wheel, like speeding or getting distracted, led to a crash
The employer of a negligent motorist who crashed a work vehicle or while performing job duties
A bar or restaurant that served alcohol to a visibly intoxicated or underage drunk driver
The manufacturer of defective automotive parts that played a role in causing a car accident
A government entity or private road owner is at fault for failing to maintain reasonably safe roads
An insurer that issued liability insurance coverage to any at-fault party
These are just some examples. There's no telling who will be liable for the damages a Denver car accident victim suffered until a lawyer reviews the evidence.
Dolman Law Group Accident Injury Lawyers, PA, works tirelessly to identify as many liable parties as possible to ensure our clients have every opportunity to secure the maximum compensation available. When justified by the evidence, we may seek payment from multiple parties on behalf of our clients.
Compensation for a Denver Car Accident
Victims of Denver car accidents have the legal right to receive compensation for every harm they suffer in a crash. The Dolman Law Group Accident Injury Lawyers, PA, team ensures that any legal action we take on our client's behalf seeks the maximum payment available.
Every case differs, but often we can secure monetary damages for our client that include:
Medical expenses for treating car accident injuries
Costs to repair or replace a damaged vehicle
Expenditures for goods and services our client needs while healing from or living with their injury
Lost pay and benefits from missing work while healing
The loss of future earnings or opportunities due to a disability
Physical pain from injuries and medical treatments
Emotional distress from the car accident or injuries it caused
Inconvenience and loss of independence
Diminished quality and enjoyment of life
Sometimes, we can also secure a court award of exemplary damages when fraud, malice, or willful and wanton conduct triggered the crash. In some circumstances, our clients may also receive statutory damages.
The amount our clients can receive for their car accident losses varies from case to case, depending on the evidence, the severity of their injuries, and the liable parties' financial resources.
Our team has secured awards totaling hundreds of thousands, and even millions, of dollars in car accident cases. Of course, there's no guarantee we can get that much money in every case.
But clients of Dolman Law Group Accident Injury Lawyers, PA, always have our commitment to pursue as much money as possible to help them pay their expenses and plan for the future.
Denver Car Accident Wrongful Death Cases
As the above statistics reflect, hundreds die in Denver region car accidents annually. Fatal crashes inflict devastating losses on the deceased victims' surviving loved ones.
Under Colorado law, they can seek damages for their loss through a wrongful death lawsuit, which may result in compensation for:
Loss of the victim's income, services, or financial support
Loss of the victim's companionship or consortium
Surviving loved ones' grief
The victim's pain, suffering, and emotional distress
Funeral and burial expenses
At Dolman Law Group Accident Injury Lawyers, PA, we recognize that monetary damages can never make up for losing a loved one. But in our experience, the money we recover for our clients in a wrongful death car accident case can provide crucial financial support to assist them in paying their bills and rebuilding after a tragedy. Contact our team to learn your rights if you recently lost a loved one in a Denver car accident.
Car Accident Injuries We Can Handle
The lawyers at Dolman Law Group Accident Injury Lawyers, PA, have years of experience pursuing compensation for car accident victims. We've secured money for clients afflicted with all manner of severe injuries and impairments.
Our team understands the law and science involved in obtaining damages for, among other injuries:
Traumatic brain injuries (TBIs)
Spinal cord injuries (SCIs)
Crushed or amputated limbs and appendages
Loss of bodily function
Facial injuries resulting in disfigurement or loss of eyesight
Burns, lacerations, and other disfiguring trauma
Nerve damage
Internal injuries
Broken bones, joint dislocations, muscle tears, and other orthopedic injuries
No matter what trauma you sustained in a Denver car accident, we have the knowledge and resources to assess your losses and build a convincing case for damages. Talk to our team about the harm you suffered in a free, no-obligation consultation.
What Services Can a Denver Car Accident Lawyer Provide?
Dolman Law Group Accident Injury Lawyers, PA, is a full-service car accident law firm. We can handle anything a car accident case throws our way, no matter how factually contentious or legally complicated.
Depending on a client's needs and priorities, our team is ready to:
Investigate a Denver car accident, with the help of forensic experts if necessary, to determine how it happened and who should pay damages to our client;
Assess the value of our client's losses to ensure we seek maximum compensation on their behalf;
Analyze any insurance policies that might cover our client's losses, whether purchased by our client, an at-fault party, or someone else;
Handle all interactions with insurance companies to save our clients the stress of dealing with aggressive insurance adjusters;
Answer our client's questions and advise them on life, health, and financial decisions that could impact their rights;
Serve as our client's representative in dealing with law enforcement, official investigators, or the media;
Gather evidence to support our client's claim from at-fault parties, eyewitnesses, law enforcement, medical providers, and others;
Prepare and file lawsuits or insurance claims in our client's name seeking maximum payment for their losses;
Negotiate settlements of our client's claims whenever possible;
Go to trial to prove our client's case to a judge and jury when necessary; and
Ensure our client receives all money due under an insurance claim, settlement, judgment, or jury verdict.
We aim to make our services as affordable as possible for anyone who needs them. We offer a free case evaluation to Denver car accident victims and their loved ones. And we represent clients in car accident cases on a contingent fee basis. That means we don't charge upfront fees or hourly rates.
Instead, we receive a percentage of any money we recover for our client. In other words, we only get paid if we get you results.
Contact an Experienced Denver Car Accident Lawyer at Dolman Law Group Accident Injury Lawyers, PA, Today
Denver car accident victims have the right to substantial compensation. But legal rights do not automatically translate into actual payments. The parties liable for a victim's damages may deny liability or resist paying what they owe. It takes the careful, skillful work of an experienced car accident lawyer to secure the maximum damages allowed under Colorado law. 
If you or someone you love recently suffered losses in a Denver-area car accident, the team Dolman Law Group Accident Injury Lawyers, PA, wants to hear from you. In a free case evaluation, a member of our team can review your circumstances and explain your potential options. Contact us today at 833-552-7274 (833-55-CRASH) to learn more.