Car accidents can have a severe negative impact on the lives of victims and their loved ones. Accidents often result in severe injuries and deaths, making it important to hold liable parties accountable if their negligent actions contributed to an accident.
If you want to file a claim or lawsuit against negligent parties after an accident in Colorado, you should know what a potential case would involve and how to approach the process. A knowledgeable and experienced Colorado car accident lawyer may help you seek compensation in a claim or suit and guide you through the process.
At Dolman Law Group Accident Injury Lawyers, PA, we have over 120 years of collective experience handling vehicle accident cases and other personal injury cases. As a result, you can trust us to help you negotiate with insurers or even take your case to court if needed.
Why Connect With Dolman Law Group Accident Injury Lawyers, PA?
Victims of car accidents may file an insurance claim or lawsuit against liable parties if they cause an accident resulting in injuries and other damages. By doing so, they may recover financial compensation that would help them recover economically from medical expenses and other costs associated with the accident. At the same time, they can hold responsible drivers and other parties accountable for their actions.
If you're considering building a case against any liable parties, it's in your best interest to discuss your case with an experienced Colorado car accident lawyer. The right attorney can take on your case, identify all responsible parties, and seek full compensation through a claim or suit.
The legal team at Dolman Law Group Accident Injury Lawyers, PA, has handled more than 400 cases, many of these involving car accidents. In turn, we've recovered millions of dollars in settlements for our clients by providing them with the representation they need in these cases.
What helps us stand apart is our understanding of insurance company tactics. We'll work to ensure adjusters don't wrongfully deny or minimize your claim if we decide to take on your case.
Contact Dolman Law Group Accident Injury Lawyers, PA, today for a free case evaluation with a lawyer and determine steps to take to build a potential case.
Types of Compensation for Car Accidents in Colorado
Victims of car accidents and their loved ones may recover various types of compensation in Colorado car accident cases, depending on the extent of the injuries and other damages sustained. Often, these cases involve a combination of economic and non-economic damages that account for the financial and personal losses that victims and their families endure.
The following is a brief look into the different damages resulting from car accidents:
Economic Damages
Car accident cases often result in different types of economic or special damages. These damages apply to the financial losses that victims sustain, and they may also involve financial losses that a victim's family needs to cover after a victim's death.
Some specific examples of economic damages in car accident cases include:
Medical expenses, such as the cost of initial treatment and ongoing care
Lost income resulting from the inability to work or to work in the same capacity
Lost earning potential
Rehabilitation and physical therapy
Damage to vehicles and other property
Modifications made to vehicles or homes to make them accessible to victims with disabilities
In addition to these expenses, the loved ones of a wrongful death victim may need to pay for burial and funeral expenses, among other additional costs.
Non-economic Damages
Also known as general damages, non-economic damages often result from car accidents. These damages involve the pain and suffering victims and their loved ones endure following a car accident. While these are more difficult to prove, it's possible to do so by documenting victims' personal experiences after a car accident.
The following are some examples of non-economic damages:
Physical pain resulting from injuries
Anxiety, depression, and trauma affecting victims psychologically
Loss of relationship or companionship
Loss of enjoyment of life
Disfigurement
These and other potential non-economic damages may apply to victims' families in the event of a wrongful death, with additional general damages in these cases including loss of parental guidance and other forms of personal loss.
Punitive Damages
Some car accident cases in Colorado may also involve punitive damages that complement the above compensatory damages. These damages aim to punish defendants for unusually negligent or malicious behavior to prevent similar behavior from the defendant and others. Unlike economic and non-economic damages, only the courts can award these damages, and they rarely apply to accident cases.
If you need help identifying and calculating all damages in your car accident case, the Colorado car accident attorneys at Dolman Law Group Accident Injury Lawyers, PA, can assist you.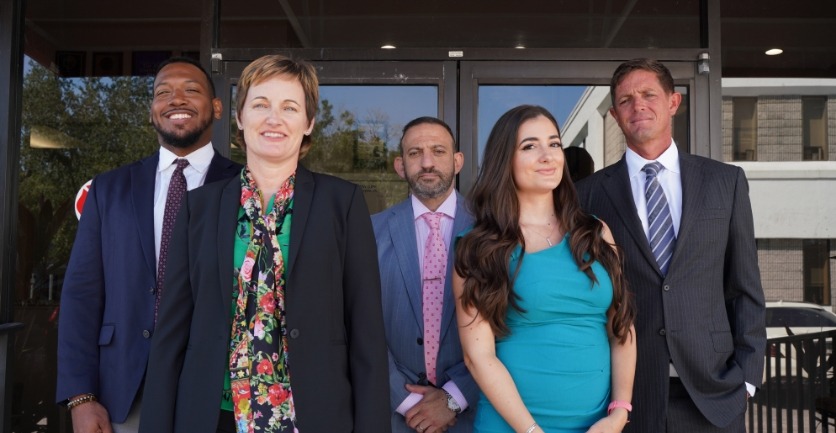 Where Car Accidents Occur in Colorado
Car accidents are commonplace in the U.S., including Colorado. Data from the Colorado Department of Transportation (CODOT) found that one recent year saw 94,949 car accidents, with an average of about 108,314 accidents occurring annually across the state. Of those 94,949 accidents, 671 resulted in fatalities, and 3,043 involved severe injuries.
Also, according to CODOT, the following are some of the most dangerous intersections and roads in the state:
Colfax Avenue or U.S. Route 40
Interstate 25
U.S. Route 160
Interstate 70
CO-79 & East 88th Avenue
These and other busy streets and intersections see surges in accidents because of heavy traffic, inclement weather, poor road conditions, and many other factors.
In Colorado, the statute of limitations for car accident cases gives you three years after the accident or discovery of injury to file a claim or lawsuit before you cannot recover compensation.
Types of Car Accidents and Injuries
Several types of car accidents can occur, depending on the specific situation and the behavior of the drivers and others involved, among other factors.
Here are some of the most common types of car accidents, according to data from the National Safety Council (NSC):
Rear-end collisions - According to data from NSC and other national sources, these accidents are the most common in the U.S. These accidents result when one vehicle hits another in front of or behind it. While they most frequently result from the rear driver hitting the vehicle in front due to tailgating, they may also occur when a driver in front backs up and fails to notice the rear vehicle.
Angle collisions - Another common type of accident involves angle collisions, which occur when a vehicle hits another at anywhere between a 90- and 180-degree angle. These accidents often result from drivers improperly changing lanes or running stop signs or red lights.
Sideswipe accidents - Vehicles may also hit others with their sides, resulting in a "sideswipe" impact crash. These frequently occur when drivers attempt to make lane changes without checking for other vehicles in the target lane or failing to remain in the right lane.
Head-on collisions - These accidents are the most dangerous because of the force of impact they involve. A head-on collision results when two vehicles headed in opposite directions collide. They may result when one vehicle crosses into an oncoming lane, and the vehicle ahead doesn't have time to stop or turn away from the offending vehicle.
These accidents and others often result in many types of injuries, including anything from minor to severe injuries, such as:
Whiplash
Cuts and scrapes
Bruising
Burns
Traumatic brain injuries (TBIs)
Broken bones and fractures
Head and neck injuries
Spinal cord injuries
Back injuries
Crushes
Hand and arm injuries
Foot and leg injuries
Amputations
Road Rash
Reaching a Settlement With Insurers
One of the first steps you may want to take following a car accident in Colorado is to file a third-party liability claim or lawsuit against the parties responsible. When communicating with insurers and starting a claim, these companies will assign an adjuster to handle your claim. This adjuster may appear to help you, but they're always looking for reasons to reduce the settlement amount or deny your claim entirely.
If you say the wrong thing or fail to provide enough evidence of your injuries or proof of the other party's negligence, you may be unable to seek and recover compensation.
The fact is that adjusters aren't on the victim's side in car accident cases. They work for insurers and, while they may seem friendly and eager to assist you, want to avoid paying out large settlement amounts as much as possible.
Accidents resulting in more severe damages will cause adjusters to work harder to reduce or deny a claim. Also, adjusters may make a small initial offer far below what your case is worth, in what is known as a lowball offer. If you accept this offer, you may be unable to reopen your case and recover the compensation you deserve.
With the help of an attorney with experience handling car accident claims, you can navigate the claims process more successfully. The right Colorado car accident lawyer may help you determine how much your case is worth and negotiate a favorable settlement with adjusters.
Dolman Law Group Accident Injury Lawyers, PA, know what tactics adjusters and insurance companies use to reduce or deny claims. We can work to ensure you can continue negotiating past the initial offer until you reach a fair settlement based on all damages involved in your accident case.
How to Proceed With a Case After a Car Accident in Colorado
If an accident results in injuries and other damages affecting you or a loved one, you can build a successful car accident case by taking the right steps following the accident.
To prove liability and increase your chances of getting a fair settlement in a potential claim or lawsuit:
Speak With a Lawyer
Before communicating with insurers and taking other steps to build a case, you should meet with an experienced attorney at a firm that has previously handled accident cases like yours.
A good attorney can discuss your options and determine which steps you can take to file a claim or suit. If the attorney decides to represent you, they may help prove liability, gather evidence, negotiate with insurers, or even take your case to court if it must settle in a trial.
Dolman Law Group Accident Injury Lawyers, PA, have worked with clients in many accident cases to recover compensation for victims and their families.
Collect as Much Evidence as Possible
You must also collect enough evidence to show how the other party was liable and the extent of all damages involved.
Some vital pieces of evidence in these cases include:
Medical records and bills
Proof of lost income
Police reports
Photographic and video evidence of injuries and the accident scene
Journals detailing personal losses, including all pain and suffering experienced after the accident
If you cannot gather this evidence at any point, a Colorado car accident lawyer may be able to obtain it and organize it for a case.
Don't Wait to File
It's in your best interest to file a claim or lawsuit as soon as possible to avoid passing the statute of limitations in Colorado for car accidents. Not only will filing early help you avoid running out of time, but it will also enable you to seek compensation sooner to cover mounting expenses and losses.
Connect With a Colorado Car Accident Attorney
After a Colorado car accident, you can recover compensation with the help of an accident attorney. The team at Dolman Law Group Accident Injury Lawyers, PA, is here to give you the assistance you need if you're eligible to recover compensation from liable parties.
You can find out your options by calling for a free consultation. Get in touch by contacting us online or calling us at 833-552-7274 (833-55-CRASH) today.
The Dolman Law Group works with local counsel in any jurisdiction outside Florida for the purpose of filing lawsuits in jurisdictions wherein we are not licensed. Thus, we will follow each State's ethical rules to ensure a local attorney is involved.