Many car accident victims suffer severe injuries and losses. They can, however, hold liable drivers and other parties responsible by recovering compensation from them. First, you must find the right attorneys to build a strong case.
At Dolman Law Group Accident Injury Lawyers, PA, our team of Phoenix car accident attorneys can recover compensation from motorists and other potentially liable parties in a car accident case. We have more than 120 years of collective experience in our firm, allowing us to provide some of the most reliable representation in and around Phoenix, Arizona.
Why Choose Dolman Law Group Accident Injury Lawyers, PA?
Following a car accident, victims may be able to file a liability claim or lawsuit against the people or entities responsible for the accident to recover financial compensation. Like other types of personal injury cases, building a car accident case will require victims or their loved ones to prove negligence with plenty of evidence.
With a Phoenix car accident lawyer, you may identify the liable parties responsible for an accident, calculate the damages resulting from the accident, gather sufficient evidence to prove liability, and successfully file a claim or lawsuit to recover full compensation.
Over the years, Dolman Law Group Accident Injury Lawyers, PA, has handled hundreds of car accident cases. Working closely with our clients, we have recovered millions of dollars in car accident settlements. We understand how insurers work and the tactics they may use to reduce or deny claims, and we work to help our clients get the maximum amount of compensation they deserve.
To learn more about what Dolman Law Group Accident Injury Lawyers, PA, can do for you, schedule a free case evaluation with us today.
Types of Recoverable Compensation for Car Accidents
Car accident victims may recover several types of compensation after a crash, including economic, non-economic, and, in some cases, punitive damages. Knowing each kind of damage may help you determine what you can recover in a car accident claim or lawsuit.
Economic Damages
Economic damages, also known as special ones, include all financial losses from a car accident. They account for all the costs of injuries and property damage, which can lead to many expenses when injuries and damage are extensive.
Some specific examples of economic damages in car accident cases include:
Medical bills for treatment, including ongoing care and future treatment
Lost income due to time taken off from work to recover or a disability
Lost earning capacity
Vehicle damage and other types of property damage
Rehabilitation and physical therapy
The costs of modifications to homes or vehicles to accommodate disabilities
Wrongful death expenses, including burial and funeral costs and loss of services, along with the above damages
Non-Economic Damages
Some cases may also involve certain types of non-economic or general damages. While economic damages are straightforward to calculate in many cases, non-economic damages are more difficult to identify and prove. However, car accident victims and their loved ones may be able to show how a car accident affected their daily lives to help prove non-economic damages.
The following are some examples of potential non-economic damages involved in a car accident case:
Physical pain resulting from injuries
Mental anguish
Anxiety and depression
Trauma
Disfigurement
Loss of enjoyment of life
Loss of companionship and support\
Punitive Damages
Phoenix car accident cases may involve punitive damages. The courts may award punitive damages if a liable party engaged in egregious acts, including gross negligence and maliciousness. Only courts award these damages, so the case must go to trial before victims receive punitive and compensatory damages.
While compensatory damages help victims recover medically and financially after an accident, punitive damages punish defendants for preventing them and others from committing the same acts.
To identify and calculate all damages you can recover in a car accident claim or lawsuit, the Phoenix car accident lawyers at Dolman Law Group Accident Injury Lawyers, PA, are here for you.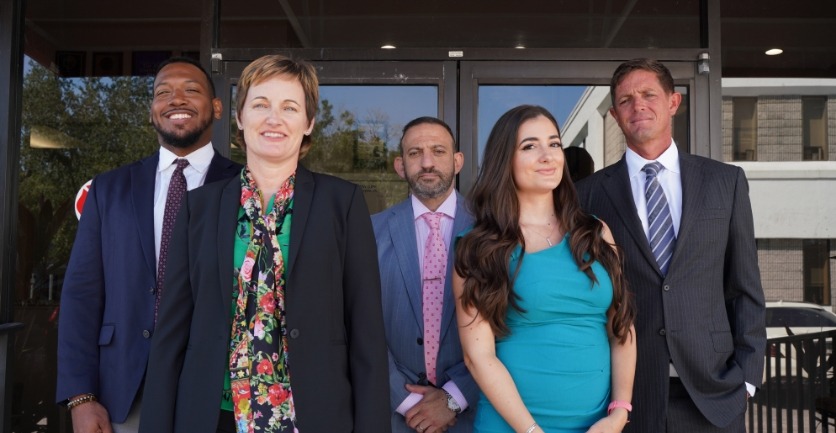 Where Car Accidents Occur in Phoenix, AZ
Car accidents occur all over the country, with thousands occurring in Arizona alone. According to crash data from the Arizona Department of Transportation (ADOT), there were 121,345 reported car accidents in one recent year, with 35,203 resulting in injuries and 1,063 resulting in fatalities.
The same report concluded that Maricopa Country accounted for 86,687 of those accidents, and Phoenix saw 40,833 accidents. In other words, Phoenix accounted for 34 percent of all traffic accidents in the state and 47 percent of the accidents in Maricopa County.
Like other large cities, Phoenix is home to over one million residents and continues to grow, and many professionals commute in and out of the city for work. Subsequently, heavy vehicle traffic passes through the city, leading to many harmful or fatal accidents.
Some intersections and roads are also more dangerous than others, with the Maricopa Association of Governments (MAG) ranking some of the most dangerous in Maricopa County.
Areas that see the highest number of accidents include the following streets and intersections:
75th Avenue and Indian School — Phoenix
67th Avenue and Indian School — Phoenix
67th Avenue and McDowell Rd — Phoenix
99th Avenue and Lower Buckeye Road — Phoenix
51st Avenue and Camelback Road — Glendale
If you want to file a claim or lawsuit for a car accident in Phoenix, remember to file before the statute of limitations passes. All liability cases have a statute of limitations that dictates how long victims must file. Arizona's statute of limitations for personal injury and wrongful death cases is two years from the accident or discovery of injuries.
Common Types of Car Accidents and Injuries
Many car accidents can occur, from minor fender benders to fatal collisions.
The most common types of car accidents in Phoenix include:
Rear-end collisions - The most common car accident is the rear-end collision, when one vehicle in the back hits another in front or vice versa. They often result when the rear driver tailgates and follows too closely to the vehicle in front, which doesn't give the driver enough time to react when it slows or stops.
Head-on collisions - These accidents occur when two vehicles crash into each other from the front while traveling in opposite directions. The injuries in these accidents tend to be among the most severe because of the force of impact.
T-bone accidents - When traveling through an intersection, one driver may not acknowledge another's right of way before entering the intersection, potentially leading to a T-bone collision. The name comes from the "T" shape the two vehicles form when one vehicle hits the side of another, and these accidents are often severe.
Accidents with fixed objects - Sometimes, car accidents involve only one vehicle and a fixed object. For example, cars may collide with curbs, guard rails, poles, ditches, traffic posts, and other objects on the side or in the middle of the road.
Sideswipe accidents - Drivers may also get into sideswipe accidents when one vehicle hits the side of another with the front or side of the car. They may result from improper lane changes and turns, failure to stop, or speeding, among other causes.
These and other accidents can cause severe and potentially life-threatening injuries.
Some of the most common injuries resulting from car accidents include:
Cuts and scrapes
Broken and fractured bones
Traumatic brain injuries (TBIs)
Spinal cord injuries
Head and neck injuries
Scarring
Burns
Road rash
Amputations
Knee, foot, and ankle injuries
Hand and wrist injuries
Crushes
Negotiating Car Accident Claims With Insurers
Following a car accident in Phoenix, you may want to begin filing an insurance claim against the liable party's insurance company. During this process, you would negotiate with an adjuster to reach a favorable settlement based on the injuries and other damages sustained.
You must provide plenty of documentation to prove your case and that you deserve the compensation you seek. While negotiating may be straightforward for minor cases involving few or no injuries and minimal vehicle damage, insurers will work harder to reduce or deny your claim when the stakes are higher.
Insurance companies typically assign an adjuster to handle each car accident claim. The adjuster may appear amiable and on your side, but the fact is that these individuals work for the insurer, not the claimant. Adjusters will want you to provide a statement, at which point you may say or do the wrong thing and inadvertently compromise your case.
You may lack access to the evidence you need to help your claim. Additionally, you may not know how much your case is worth and accept the first offer, which is far lower than the case's actual value. If you accept that initial offer, you may not be able to recover any additional compensation later.
If you need help with your case and negotiating with insurers, a Phoenix car accident lawyer can represent and guide you during the claims process. This attorney can calculate the total amount your case is worth, gather and organize any available evidence, and negotiate a fair settlement with adjusters.
The attorneys at Dolman Law Group Accident Injury Lawyers, PA, have plenty of experience negotiating with insurers and ensuring they treat our clients' cases seriously. Even if we cannot reach a favorable settlement during negotiations, we can help take the case to trial if necessary.
Steps to Take After a Car Accident
If you or a loved one get into a car accident in Phoenix, there are some steps you can take to increase your chances of succeeding with a claim or lawsuit. These steps include:
Speaking With an Attorney
After an accident occurs and you've sought treatment for any injuries sustained, you may benefit from consulting a Phoenix car accident lawyer to discuss a potential case. The attorney can review your case in a free evaluation and determine your options. The lawyer may also be able to represent you to seek compensation from liable parties, charging a contingency fee that prevents you from paying the attorney unless and until the attorney settles.
Collecting All Available Evidence
To prove liability and the damages sustained in a car accident, you must have ample evidence to present to insurers and liable parties.
This evidence can come in many forms that support your claim, such as:
Medical records and receipts
Proof of lost income
Photos or video footage of injuries, damage, and the accident scene
Police reports
Journal entries that detail how you feel and your experience after the accident
An attorney may be able to help you collect all relevant evidence if you cannot access it for any reason.
Stick to Your Doctor's Orders
Your doctor will likely give you a specific treatment plan to help you recover from injuries sustained in an accident. Adhere to this plan and don't change it without your doctor's okay. Your treatment plan should help you recover and generate medical records proving the extent of your injuries.
Connect With a Trusted Phoenix Car Accident Lawyer
After a car accident harms you or a loved one, we can build a car accident case against the parties responsible. The legal team at Dolman Law Group Accident Injury Lawyers, PA, can determine what steps to take and the best approach to a potential case. 
Learn more about how our Phoenix car accident attorneys can assist you by scheduling a free case evaluation with us today. Call us at 833-552-7274 (833-55-CRASH) or contact us online.
The Dolman Law Group works with local counsel in any jurisdiction outside Florida to file lawsuits in jurisdictions where we are not licensed. Thus, we will follow each state's ethical rules to ensure a local attorney is involved.