Jacksonville Medical Malpractice Lawyer
At Sibley Dolman Gipe Accident Injury Lawyers, PA, we understand the difficulties you face as a victim of a medical malpractice injury.
It is not easy to fight against medical institutions and insurance companies to get the compensation you deserve or for them to admit fault for your injury. Our team of lawyers understands the system that is up against you, and we are not afraid to take it on and fight for the compensation you may be eligible for under the law.
Positive Results for Clients of Sibley Dolman Gipe Accident Injury Lawyers, PA
We take the commitment to our clients seriously and take pride in the successful outcomes and results for our clients. We understand the importance of recovering compensation to the victims of medical malpractice and their families.
Potential Causes of Medical Malpractice in Jacksonville
It's hard for a victim of medical malpractice to know what went wrong and injured them. Medical malpractice in Florida does not always appear the same and can happen in many different scenarios.
As a patient, you trust that the healthcare professionals will take the steps necessary to protect your health and prioritize your wellbeing. Unfortunately, this is not always the case.
Medical providers and their staff must uphold their duty of care to you throughout each stage of care. If they fail to meet their obligations to you either in their direct actions or by failing to act, they can be liable to you for the injuries and damages that result. The cause of most medical malpractice cases is negligence.
Causes of medical malpractice can include:
Errors in diagnosis – The diagnosis of a patient's symptoms or history is not always perfect, but when a medical professional deviates from reasonable care of a patient and fails to diagnose a threat to the patient's health, offers an incorrect diagnosis or delays a diagnosis unnecessarily, the patient can suffer greatly and a dire situation can result.
Mistakes during surgery – Surgical errors are a common source of medical malpractice claims. Errors in surgery can include the operation of the wrong body part, internal bleeding or damage from incisions, or the loss of surgery tools or supplies within the body cavity.
Improper administration of anesthesia – Anesthesia can cause trouble for many patients. Some even lose their lives due to incorrect dosage or a failure to consider the medical history of the individual. If anesthesia injures or kills a patient, the anesthesiologist or party responsible for its administration may bear liability for the injuries and damages.
Incorrect dosage or use of prescription medication – Prescription errors that damage the health of a patient can occur in many stages and situations. The patient's doctor may prescribe the wrong dose or type of medication, a nurse or assistant can administer the wrong drugs in a hospital or rehabilitation setting, or a pharmacist error can result in a patient unknowingly taking the wrong prescription. Prescription errors can leave significant effects on a patient's health and may lead to the patient suffering worsening symptoms or progression of their illness or injury.
Failures or delays in treatment – When a patient seeks the help of a medical professional, they expect the doctor to take the steps necessary to address their concerns and figure out what might be wrong. Unfortunately, there are situations where a doctor may overlook a patient's complaints without further investigation. This can lead to an overall failure to treat a condition or cause delays in treatment, which can cause a deterioration of the patient's health or a more dire prognosis.
Lack of communication or information to the patient – A healthcare provider must inform each patient who seeks care from them on their conditions and the risks of a treatment plan, surgery, or other procedure. Patients must consent to medical treatment, but they must do so with all of the information to make informed decisions. Informed consent is a critical component to the patient and doctor relationship, a failure in this aspect that later results in injury can be the basis for a medical malpractice claim.
Insufficient follow-up – Follow-up care is necessary to ensure that patients are improving and healing after treatment by a medical professional. Failures in follow-up can cause secondary complications and risks such as a life-threatening infection.
The Potential Injuries in Medical Malpractice
While some patients may be in good health before the medical malpractice incident that causes an injury, most others are likely dealing with an illness or injury that is the reason for their need for assistance from a healthcare provider. At first, some patients may not know if medical malpractice took place and they can't get answers about the long-term impacts of their injuries or how it happened.
Medical malpractice injuries can result in a patient who seeks care for an injury or illness, but then suffers unnecessary pain and further difficulties and complications when their providers fail to keep their interests a priority.
Some victims of medical malpractice may recover with the help of a competent healthcare professional and a proper treatment plan. However, other victims can suffer lifelong consequences from the negligent actions of a medical professional.
Some injuries may not heal, and recovery can be difficult or impossible depending on the type of injury and the severity of the patient's injury.
Common injuries in cases of medical malpractice include:
Birth injuries – Prenatal care, labor, and delivery are crucial times when medical professionals must ensure the safety of the mother and child. From the identification of potential problems or risks to the child or mother, the decision to perform a Cesarean in emergencies, or the choice by a provider to use certain equipment, devices, or techniques, many circumstances can lead to avoidable injuries if providers fail to make correct or timely medical decisions.
Surgical injuries – Surgeons can perform numerous surgeries each day, and sometimes the need for emergency surgery can arise from hectic situations. However, these doctors must always uphold the standard of care their position requires. When carelessness and negligence occur during surgery, a patient's health and life are at risk of injury.
Worsening of an illness or condition – When a provider fails to diagnose or properly treat a condition, the patient will not receive the help they need. This can mean a patient's life is put unnecessarily at risk or their longevity and ability to recover from their condition is in jeopardy.
Secondary infection – Patients that suffer an injury or undergo a surgical procedure are at high risk of infection for some time afterward. Medical providers and staff must take preventative action to protect the patient from the possibility of severe infection. If they don't, a patient may fall victim to a secondary infection and the risks and complications that come with it.
Traumatic brain injury – Deprivation of oxygen during a surgical procedure, childbirth, or improper administration of anesthesia can injure the brain. These brain injuries are often severe and can impair a patient's mobility, movement, and mental capacity.
Fatal injuries – The negligence of a medical provider can have deadly consequences for a patient. If a patient loses their life due to the actions of a doctor or other healthcare staff and the fatal injury was preventable, they can be liable to the surviving family and loved ones for their sudden loss.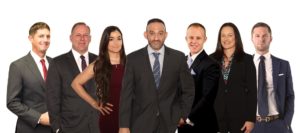 Damages in a Jacksonville Medical Malpractice Claim or Lawsuit
The compensation in medical malpractice cases will depend on the type of injury a victim sustains, in combination with the effects the injury or condition will have on their life.
A victim that suffers an injury due to medical negligence can seek compensation for both economic and non-economic damages under the law. Each category of legal damages covers the losses of a patient that relates to their injury and the impact of those injuries. However, the calculation of these losses can vary depending on which party runs the numbers.
After a medical malpractice claim, the medical malpractice insurer of a provider, if applicable, will make a different determination of your damages—if they accept liability for the injuries. However, insurers rarely offer victims the maximum compensation they deserve. This is where an attorney who represents you can make a significant difference in the outcome of your case.
Your attorney can help you independently evaluate your injuries and the losses that result from those injuries. While many of these losses will relate to your medical care and needs and your lost work, some losses will come because of the effects of the injuries on your personal life and future.
A calculation of losses that accounts for each aspect of damage due to an injury can help you better understand the value of your case and what fair compensation is.
Economic and non-economic damages in a medical malpractice claim include:
Current and future medical costs
Current and future income losses and income potential
Suffering and pain due to your injuries and the recovery of those injuries
Impact on your quality of life and/or the enjoyment of your life
The loss of companionship due to the death of a loved one
The expenses for the funeral and burial of a loved one
The loss of contribution to a family from the wrongful death of a loved one
Who May Be Responsible for Your Injuries Due to Medical Malpractice?
Liability for injuries is always a difficult topic and it is especially complex in medical malpractice accidents. The relationships between patients, providers, staff, and facilities will depend on various factors and the terms of each party's employment or practice. A medical malpractice lawyer can look at each party that took part in your care and whether any of those parties had a hand in your injuries.
Medical negligence liability often lies in the party directly responsible for your injuries because of their actions or failure to act.
However, there are situations in which multiple parties can be liable. In some instances, the discovery of the evidence may show that more than one party was negligent in their care and protection of a patient's health and wellbeing. Even a party's indirect actions can be responsible for the injuries and losses to you.
Liability in a medical malpractice claim or lawsuit can include parties such as:
A doctor
A nurse or nurse assistant
A hospital, healthcare facility, group practice, or rehabilitation center
An anesthesiologist
A pharmacist or pharmacy tech
A manufacturer or distributor of a prescription
Statute of Limitations for Medical Malpractice in Jacksonville
In Florida, a victim of medical malpractice must file a lawsuit against the at-fault party within two years of the date of the discovery that malpractice took place. If a victim fails to file a lawsuit with the court within the statute of limitations, they can't seek compensation for their losses unless concealment, fraud, or the misrepresentation of a practitioner delayed the discovery of malpractice.
For the best possible outcome in your case, it is always best to contact a Jacksonville medical malpractice lawyer at Sibley Dolman Gipe Accident Injury Lawyers at (904) 441-6903 as soon as you suffer an injury at the hands of the medical professionals responsible for your care.
---
Jacksonville Office
12574 Flagler Center Blvd.;
Suite 101
Jacksonville, FL 32258
Phone: (904) 441-6903
Client Testimonial
"AMAZING and understanding attorneys! Did great on my case and I highly recommend Sibley Dolman Gipe Accident Injury Lawyers, PA for anyone that has been injured in an accident!"
Rating: 5/5 ⭐⭐⭐⭐⭐
Koralis R.
Jan 2020
Read more reviews on Google!