Although today's advancements in railroad technology and safety measures have helped reduce the risk of accidents, they can and do occur, often resulting in serious injuries and fatalities. In the event of a train accident in Bonita Springs involving negligence, injury victims and their loved ones may be able to seek compensation from liable parties with the help of a Bonita Springs train accident lawyer.
Following any type of train accident resulting in injuries, the legal team at Dolman Law Group Accident Injury Lawyers, PA, may be able to represent victims to recover compensation. We have more than 700 years of collective experience in personal injury law, enabling us to provide our clients with the representation they need in train accident cases and others.
Why Turn to Dolman Law Group Accident Injury Lawyers, PA?
Following a train accident and resulting injuries, injury victims may be able to build a case against liable parties to recover compensation. However, they will need to build a strong case with ample evidence proving negligence.
With the help of a train accident lawyer in Bonita Springs, you may be able to identify the parties responsible for a train accident, determine all damages resulting from the accident, and file a successful claim or lawsuit against liable parties.
At Dolman Law Group Accident Injury Lawyers, PA, we have worked with many clients to recover compensation following train accidents and other types of vehicle collisions. We offer personalized representation to meet each client's individual needs and help them recover the full compensation they deserve. By seeking representation from our reputable legal team, you can spend more time recovering from your injuries.
For help from a train accident attorney in Bonita Springs, you can visit our offices in Bonita Springs for a free case evaluation. You'll find our office in the Sunshine Plaza on Bonita Beach Road right off of U.S. 41. We can also meet with you virtually if you cannot visit in person, keeping our services convenient to suit your needs. We can help you regardless of where you sustained your injuries.
If you're unsure what results you can get when you turn to Dolman Law Group Accident Injury Lawyers, PA, look at our case results. We've recovered millions of dollars in compensation following train accidents and many other types of Bonita Springs personal injury cases. If you would like to find out what kind of results we can get for you, simply schedule a free case evaluation to discuss your options with us.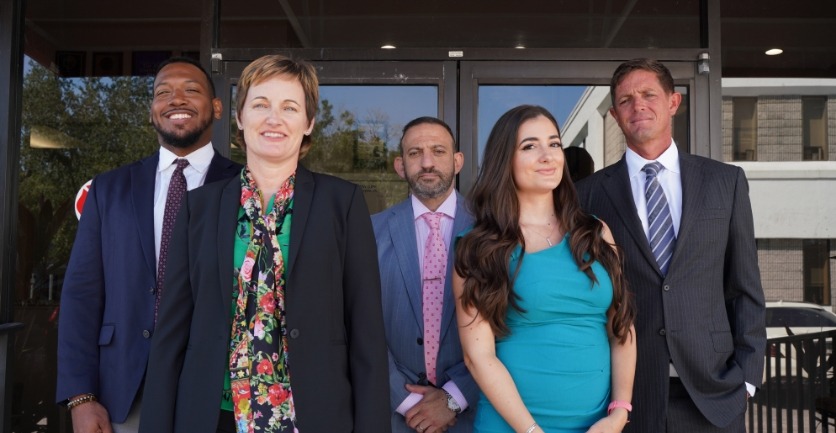 Compensation That Victims Can Recover for Train Accidents in Bonita Springs
Like other types of vehicle accidents, train accident victims may recover various economic, non-economic, and punitive damages for injuries and other losses. Train accidents are often severe and result in debilitating injuries that require ongoing care and lead to disabilities, which can result in steep costs that quickly accumulate.
It's important to understand the different types of compensation you might be able to recover after a train accident and how those damages work.
Economic Damages
The first type of compensation to consider is economic or special. Economic damages account for all financial expenses that injury victims and their families make because of a train accident and resulting damages. These damages are the easiest to quantify because they come with specific dollar amounts. However, you will need our lawyers to identify all of these damages and calculate them in more complex cases, particularly in train accidents involving multiple injured parties and extensive injuries and other damages.
Economic damages may include:
Medical costs for all treatment, including long-term or ongoing care
Damage to vehicles and other types of property
Lost income from the inability to return to work temporarily or permanently after the accident
Lost earning capacity
Physical therapy and rehabilitation
Costs pertaining to wrongful death, such as funeral expenses and medical costs preceding the victim's death
Non-Economic Damages
Another type of damage that you may be able to recover in a train accident case is non-economic, also known as general damages. Non-economic damages involve the pain and suffering that victims experience because of their injuries and the trauma of the train accident. While they don't come with a set price tag like economic damages, it's possible to calculate them and count them toward settlement amounts.
Here are some examples of non-economic damages that victims may recover:
Physical pain due to injuries
Psychological distress
Post-Traumatic Stress Disorder (PTSD)
Disfigurement
Loss of consortium or companionship
Loss of enjoyment of life
Punitive Damages
In addition to compensatory economic and non-economic damages, victims and their loved ones may recover punitive damages. The court awards them to punish defendants who acted with gross negligence and caused an accident because of this behavior. These damages prevent other parties from engaging in the same level of negligence, such as train engineers who fail to prioritize safety.
Regardless of the damages in your case, the Bonita Springs train accident attorneys at Dolman Law Group Accident Injury Lawyers, PA, are here to help identify and calculate them all.
Why Train Accidents Happen in Bonita Springs
Bonita Springs sees occasional train accidents like other Florida and U.S. cities. The state of Florida is also one of the biggest sites of train accidents in the nation. Specifically, Florida is number six in the Federal Railroad Administration's (FRA) list of top 25 states where highway-rail grade crossing collisions occur. According to the FRA, one recent year in Florida observed 94 collisions, with 46 injuries and 22 fatalities.
Federal data also revealed that most train accidents in Florida occur in areas with lower average incomes, urban environments, and high volumes of pedestrian traffic.
Following a train accident of any kind, it's essential to avoid waiting too long to file a claim or lawsuit against negligent parties. Victims and their families only have a limited amount of time to file before they're unable to seek compensation, and their case is no longer valid. This time limit is the statute of limitations, which varies from state to state.
The current statute of limitations in Florida for accidents is four years from the accident, giving you four years to build a case and pursue compensation. This may seem like plenty of time, but building a case as soon as possible is important to avoid running out of time and begin recovering compensation to cover medical expenses and other costs.
At Dolman Law Group Accident Injury Lawyers, PA, we can help put together a case before passing the statute of limitations.
Different Types of Train Accidents and Injuries
There are several types of train accidents that can occur and lead to serious injuries and fatalities.
Some of them include:
Derailments. Train accidents may involve a train that disconnects from the rails, often due to high speeds and momentum preventing the train from staying connected to the railway.
Collisions involving other trains. Some accidents could involve two trains crashing into each other, often in head-on collisions that occur when two trains are heading in opposite directions and incidentally wind up on the same railway.
Accidents involving debris. Certain types of debris may also get onto the tracks and cause trains to collide with them, including everything from fallen trees and other natural debris to equipment that maintenance crews or others failed to remove.
Collisions with other vehicles. Cars and other vehicles could also collide with trains, with many of these accidents resulting from a vehicle getting stuck on the tracks at railroad crossings.
Mechanical errors. Trains may also experience mechanical failure that causes engineers to lose control and crash or derail.
Pedestrian accidents. Accidents could also involve pedestrians who cross the tracks at the wrong time.
Train accident injuries are often serious because of the force of impact involved, even at slow speeds. Trains are large and can cause severe harm and extensive damage because of their mass and weight, particularly when they gain momentum and are unable to quickly stop when necessary.
Some of the injuries that victims sustain in these accidents may include:
Internal injuries
Brain injuries
Amputations
Broken and fractured bones
Back and spinal cord injuries
Burns and scarring
Abrasions and lacerations
Disfigurement
What Happens When You Negotiate With Insurers on Your Own?
After a train accident takes place in Bonita Springs, you may want to file a claim with insurers to begin the claims process and seek compensation from liable engineers or other parties. However, it's important to remember that insurers and adjusters aren't on your side during negotiations.
Instead, they're looking for ways to avoid large payouts. Regardless of how friendly and helpful the adjuster assigned to your case may seem, they are looking for any valid reason to either reduce your settlement amount or deny your claim entirely.
Saying the wrong thing or simply not understanding the details of your case could compromise your ability to recover full compensation. For example, you might not be aware of all the potential damages in your case and how they could factor into the total settlement amount, leading you to accept the first offer the insurer makes even when you qualify for much more.
A train accident lawyer in Bonita Springs may be able to assist with negotiations and ensure you get the compensation you deserve. These professionals can prepare statements, calculate all damages to determine the full settlement amount, and gather sufficient evidence to help build a solid case in your favor.
To maximize your chances of success with your case, consider turning to the experienced attorneys at Dolman Law Group Accident Injury Lawyers, PA. We have handled many types of vehicle accident cases and can help negotiate a settlement or even take your case to trial if needed.
What to Do After a Train Accident in Bonita Springs
In the days after a train accident, it's critical to take the right steps to build a potential case and begin seeking compensation. After seeking treatment from a medical professional, you should take the following steps to get started on a case:
Gather All Relevant Supporting Evidence
You must collect as much compelling evidence as possible to help you succeed with a train accident case. This evidence could include everything from photos of injuries and the accident scene to police reports, medical records, and data from train event recorders installed on trains. If you cannot get ahold of any of this evidence, an attorney may be able to help collect it and organize it in your case.
Follow Your Doctor's Orders
After initially seeking treatment and receiving a diagnosis for your injuries, your doctor will likely prescribe specific treatment and provide guidance regarding recovery. You should follow these orders and stick with your prescription, which could help further prove the extent of your injuries in a case.
Stay Off Social Media
Insurance companies will launch an investigation into your claim after filing, and investigators may look at your social media profiles in the process. Suppose any posts contradict your claims or otherwise show that your injuries aren't as serious as you claim they are. In that case, investigators could consider these a reason to deny or minimize your settlement. To avoid this potential risk, it's often best to stay away from social media until you've closed your case.
Bring All Evidence to a Bonita Springs Train Accident Lawyer
With all relevant evidence in your possession, the next step is to speak with a train accident lawyer in Bonita Springs to discuss your case. An attorney can meet with you in a free case evaluation to discuss your accident and determine what kind of settlement you may recover from liable parties. This attorney may also help obtain any additional evidence that you're unable to gather on your own.
Consult Our Bonita Springs Train Accident Lawyers
If you or a loved one sustained injuries in a train accident and want to seek compensation from engineers or other responsible parties, the attorneys at Dolman Law Group Accident Injury Lawyers, PA, can help you. We provide representation for train accident victims and many other cases in Bonita Springs.
By scheduling a free case evaluation with us, you can determine what options you have when it comes to building a case. Call our Bonita Springs office at (239) 307-2634 or reach out to us online to get started.