The City of Angels has long been considered a shining light in the U.S. It is where many celebrities live, many television and movie productions are made, and other businesses thrive. It's on the bucket list of tourists worldwide and a place nearly four million people call home.
Unfortunately, those navigating the congested streets around the city run the risk of severe injury or even death due to the negligence of other drivers. Reach out to a Los Angeles car accident lawyer.
If another driver injures you in a car accident in Los Angeles, you can seek compensation for your financial and psychological harm. An experienced Los Angeles car accident attorney from Dolman Law Group Accident Injury Lawyers, PA, can explain your legal options and assist you with your claim.
Why You Need a Nationwide Law Firm for Your Los Angeles Car Accident Case
To receive the compensation you need after a car accident injury, hire a law firm to assist you with your claim.
Unfortunately, even in a major city like Los Angeles, many local firms do not have the resources to handle challenging cases.
Dolman Law Group Accident Injury Lawyers, PA, is a nationwide law firm that serves clients throughout the United States. The Dolman Law Group Accident Injury Lawyers, PA, works with local counsel in any jurisdiction outside Florida to file lawsuits in jurisdictions where we are not licensed. Thus, we will follow each state's ethical rules to ensure a local attorney is involved.
The first service we can provide for you is a free case evaluation, which is a conversation you can have with a member of the Dolman Law Group Accident Injury Lawyers, PA, legal team to understand how the personal injury claims process works in California, the type of compensation you can seek, and to obtain answers to the legal questions you have about your claim. While these evaluations were traditionally provided as in-person meetings in many cases, technological developments have provided us with many options for meeting with you, including teleconferencing (video chat) or even over the phone.
The personal injury claims process is a costly endeavor. Smaller law firms commonly lack the funds and experience to handle complex or high-value claims involving catastrophic injuries. By working with local counsel, we can provide a comprehensive suite of services, including access to traffic and medical experts, professionals who can offer insight into the difficulties you face due to your injury, and more. Give us a call or contact us online to obtain a no-cost, no-obligation evaluation of your case.
How Much Is a Car Accident Claim Worth in Los Angeles?
People injured in LA car accidents often face numerous impacts on their quality of life and finances. These impacts include not only medical expenses but also the inability to work while recovering from the injury, the loss of future earning capacity that can be suffered when someone incurs a permanent, disabling injury, property damage to their vehicle, physical and emotional pain and suffering, and loss of the enjoyment of life.
There is no average compensation available for a car accident, as too many factors can affect the value of a claim, such as the type of injury suffered, the severity of that injury, and the availability of coverage through the at-fault driver's auto liability insurance policy. The costs of certain items in Los Angeles—such as medical treatment and wage loss—are often higher than in less populated, less sought-after locations where the cost of living is not as high.
As noted by the Judicial Branch of California, car accident victims in California personal injury claimants typically have two years to file a personal injury lawsuit in court to seek compensation for these impacts.
While this can seem like a long time, many things need to occur before a lawsuit is filed, not the least of which is the need for the claimant to finish treatment for their injuries or a determination to be made about the permanence of the injury, the claim to be valued and filed with the at-fault party's insurance provider, and settlement negotiations.
Most Los Angeles car accident claims are resolved through the settlement process, as this method provides a less expensive and more certain outcome for all parties involved.
Where Car Accidents Occur in LA
California-based Wawanesa Insurance reports that the state—like most parts of the U.S.—experienced a dramatic uptick in traffic accidents during the pandemic. However, the state was among the worst in the nation even before that time, as determined by the number of casualties, traffic citations, and DUIs that occurred here.
The California Office of Traffic Safety (OTS) notes that more than 26,000 people are killed or seriously injured on the streets of Los Angeles in a year.
Wawanesa has declared these the most dangerous roads in Los Angeles.
The Sierra Highway, which begins in the north part of the city and is not only heavily used but the site of some potentially disastrous road conditions.
Interstate 5, commonly known simply as the Five by locals, is the main north-south highway through California. This roadway has experienced one fatal crash for every mile of its length.
I-405, which borders the southern and western parts of the Los Angeles metropolitan area and is the main route to get to three area airports. The road is commonly used by many types of traffic, including commuters and heavy trucks.
Route 118, which runs west to east through Ventura and Los Angeles Counties and also features a dangerous combination of heavy traffic and damaged road conditions.
State Route 1, known as the Pacific Coast Highway, is famous for its scenic views. However, those views can pose a hazardous driving distraction, and many tourists traveling the highway slow down or even stop on the road to take pictures.
I-710, known as Long Beach Highway, extends north from Long Beach to Valley Boulevard and is dangerous due to the high number of pedestrians in proximity to fast-moving traffic.
While the roads listed here are all highways and interstates, it is crucial to understand that accidents often occur on arterial or residential roadways throughout the city.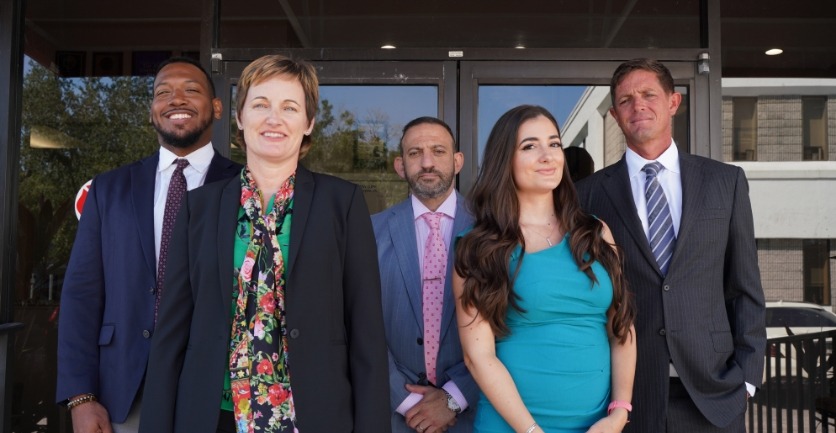 Causes of Los Angeles Car Accidents and the Injuries That Result
The California OTS reports that alcohol is a factor in nearly 2,300 accidents in Los Angeles annually, including more than 100 accidents caused by drivers not old enough to purchase or consume alcohol legally. Over 4,000 individuals are cited for drunk driving on Los Angeles streets each year, making drunk driving one of the most common causes of accidents.
Other common causes of accidents in Los Angeles include:
Speeding: OTS data shows that nearly 3,300 car accidents in Los Angeles result from someone driving too fast for the roadway. Speeding increases the risk of a driver losing control of their vehicle. It deprives them of the time and space needed to identify a roadway hazard, respond by braking, and bring their vehicle to a complete stop.
Distracted driving: The scenery from the Pacific Coast Highway is one of many distractions for drivers on roads in or near Los Angeles. Other common distractions that can make a driver look away from the road, take their hands from the steering wheel, or their thoughts from driving safely include texting and other cell phone use, visiting with passengers, tending to children and pets in the vehicle, smoking, eating, drinking, or even daydreaming.
Wrong-way driving: As the leading cause of head-on collisions, wrong-way driving can occur for several reasons, such as a tourist unfamiliar with the city's roadways or a drunk driver who cannot make safe driving decisions.
A car accident can injure nearly any part of the body.
Some injuries most commonly associated with car accidents include:
Seat belt injuries are a series of injuries to the soft tissues, sternum, spinal vertebrae and discs, and internal organs resulting from the pressure placed on the sufferer's body by a seat belt during an accident.
Traumatic brain injuries involve damage to the brain as a result of a sudden blow to the head or body. These injuries are commonly referred to as catastrophic injuries as they often produce permanent disabilities that prevent the injured party from earning an income.
Spinal cord injuries, like brain injuries, are typically considered catastrophic because the sufferer will likely incur a permanent loss of sensation or function beneath the injury site. This condition is known as paralysis.
Broken bones can occur in all parts of the body. Some common types of bone fractures seen in car accidents include broken arms caused by a driver bracing themselves against the steering wheel with their arms, broken legs, and hips resulting from a side impact accident, and fractures to the collar bone and ribs from the seat belt.
Don't Fight the Insurance Company Alone
The California personal injury claims process generally begins with a claim filed against the at-fault driver's auto liability insurance policy. Unfortunately, insurance companies don't stay in business by paying on claims due to their insured's liability, and they are notoriously reluctant to compensate for the claim's full value.
To avoid paying the claim or to reduce its value, their claims adjusters will often result to tactics such as convincing a claimant who doesn't have an attorney to accept an extremely low settlement or to provide a recorded statement or access to their entire medical history only to have that information used by the insurer to devalue the claim.
An experienced car accident lawyer from Dolman Law Group Accident Injury Lawyers, PA, will communicate with the insurer on your behalf, using their extensive understanding of the responsibilities insurance companies have to their insured and the law to protect your claim from these tactics.
An attorney can handle several other aggravating or time-consuming aspects of the process for you, including gathering the evidence and documentation needed to prove liability, properly valuing the claim to assist you in getting enough compensation to cover your expenses, and even filing a lawsuit and navigating the court process if necessary.
Injuries are often isolating, as they keep you from working or attending social activities. Fighting the insurance company doesn't have to be lonely, however, as long as you have Dolman Law Group Accident Injury Lawyers, PA, on your side.
What to Do After a Los Angeles Car Accident
If you've been injured in an accident, there are several things you can do to help protect your claim's value. One of the most important steps is to seek the medical treatment you need for your injury and comply with your doctor's treatment plan.
If you cannot afford medical care, mention this to your lawyer. They can often help you locate a physician or medical funder who can treat you through a medical lien, meaning you will only pay for the treatment after your claim concludes.
Many car accident victims will keep a journal about their injury, recording their medications, their daily pain levels, the number of medical appointments they must attend, and other information. This journal can help your attorney determine the value of your claim.
Injured in an Accident in Los Angeles? Dolman Law Group Accident Injury Lawyers, PA, Can Help
After an accident injures you, hire an attorney who can focus on your financial recovery while you focus on your physical recovery. With the ability to work alongside local legal counsel and the resources to handle even the most complex claims, an experienced car accident lawyer from Dolman Law Group Accident Injury Lawyers, PA, can help you determine your next steps. Contact us online or at 833-552-7274 (833-55-CRASH) for your free case evaluation.