If you live in Spring Hill, Florida, you're witnessing an exciting period of growth. You see increased commercial and residential development, population growth, and traffic upsurge. While these activities benefit the city and its residents, they also increase the potential for life-threatening events.
If your loved one sustained fatal injuries in an accident, the Spring Hill wrongful death lawyers from Dolman Law Group Accident Injury Lawyers can determine if a negligent party owes you financial compensation.
When a loved one dies, it affects your life in innumerable ways. The sudden loss weighs you down with unbearable grief. You must work through unanticipated social, emotional, financial, and lifestyle transformations. If your spouse becomes a victim, the losses affect every aspect of your personal life. You lose your companion, your family advisor, and often your primary breadwinner. You manage more responsibilities, often with fewer emotional and financial resources.
Florida's wrongful death statutes anticipate these types of family struggles. They provide legal recourse for recovering damages from those who cause fatal injuries. The process is usually complex and time-consuming. It requires timely compliance with negligence, probate, and statute of limitations laws. When you contact our wrongful death lawyers, we address your legal issues while you spend precious time with your family.
We Protect Our Clients' Legal Rights
At Dolman Law Group Accident Injury Lawyers, PA, we have always fought aggressively for our Spring Hill clients. Our seasoned attorneys have offered grieving families the compassionate legal services they needed. As they deal with unimaginable crises, we listen to their stories and learn about their challenges. Our legal team investigates their accidents and assess liability issues. We research their loved one's injuries to ensure accurate damage evaluations.
Our Spring Hill personal injury law firm always explores whether multiple entities share liability for a single accidental event. Considering this possibility, we examine and evaluate the evidence and identify every negligent party. We placed each person, business, or entity on notice of our client's legal rights. When appropriate, we initiate legal action to hold them accountable to our client.
Our Firm's Commitment to Our Clients
At Dolman Law Group Accident Injury Lawyers, PA, we have worked hard for grieving families who lost loved ones due to untimely death. Through our focused effort, we have protected their rights and recovered millions in critical financial compensation.
Our wrongful death attorneys accomplished this by investigating each case as quickly as possible after an accident. We focused on collecting evidence to create compelling arguments for legal issues and prepared our cases for whatever came next.
Responsible parties and insurers rarely resolve wrongful death cases without legal action. Even after we filed a lawsuit on a client's behalf, we have still sought recovery through informal means. When appropriate, we have negotiated settlements directly with defense attorneys or insurers. We also resolved cases through court settlement conferences, mediation, and other Alternative Dispute Resolution programs.
When adverse parties negotiate unfairly, our early preparation allows us to transition seamlessly into litigation and discovery. When a trial became the most reasonable option, we confidently present our clients' evidence in Hernando County courts and let a judge or jury decide.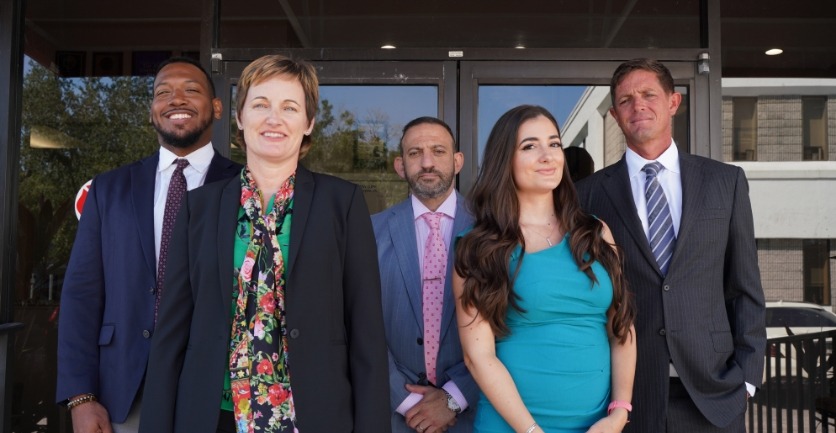 We Are Proud of Our Results
We are proud of our commitment to injured clients and their families, and how they have benefited from our attorneys' 120 years of combined legal experience.
The Dolman Law Group Accident Injury Lawyers legal team has:
Provided professional legal services that helped over 40,000 clients.
Resolved over 400 cases for amounts exceeding the defendants' pretrial offers.
Recovered over $400 million in damages for our clients.
As each case involves unique circumstances and damages, we can't predict or guarantee a certain outcome or amount of recovery. However, our case results and client testimonials demonstrate our commitment to our clients' rights, including a $6,703,000 recovery in a wrongful death claim.
What is Wrongful Death?
A wrongful death occurs when a person, organization, business, or other entity causes someone's fatal injuries. Deadly incidents occur on private and public properties, local roads and highways, work environments, and many other locations. The circumstances often involve negligent acts, which are often simple yet critical errors or omissions.
Vehicle Accidents
The Federal Highway Administration's most recent State Highway Safety Report lists 3,331 traffic accident fatalities in the state. A recent-year City-Data report documents 13 auto accident fatalities in Spring Hill. These crashes occur primarily due to driver error. One media source regularly reports motorists' complaints about drag racing, dangerous intersections, and "lawless" drivers.
Accident victims include passengers, pedestrians, motorcyclists, and bicyclists. Based on the Centers For Disease Control and Prevention's data, motor vehicle accidents remain one of the primary causes of fatal injuries for children of all ages. Law enforcement officers often list alcohol consumption, speeding, distracted driving, and other negligent acts as causation factors. The potential for catastrophic or fatal injuries increases when a large truck crashes into a smaller vehicle.
Premises Incidents
Premises injuries occur for several reasons. They sometimes involve poor property maintenance, such as bad lighting, unrepaired deterioration, inadequate safety and security measures, or unresolved pavement and parking lot issues. While these conditions don't always cause fatal injuries, wrongful deaths still occur far too frequently.
Pools
Based on the CDC's most recently published statistics, drowning remains the number one cause of fatalities among children ages one through four. For children ages five to 14, drowning is the second leading fatal injury cause. These incidents often occur because of fencing issues, inadequate warnings, and neglected safety issues.
Falls
Falls often involve negligently maintained stairs, landings, floors, walkways, and other surfaces. Due to physical frailties, older adults and young children remain particularly vulnerable to falls.
The CDC's recent statistics show that, in a single year, 34,000 elderly victims died due to fall-related trauma.
The CDC's most recent Traumatic Brain Injury Surveillance Report explains that unintentional falls caused 29.9 percent of all TBI-related deaths. The Occupational Safety and Health Administration consistently reports falls as the number one factor in construction fatalities.
Fires
The U. S. Fire Administration's most recent statistics show that 2,282 people died due to home fires. The causes include equipment malfunction, electrical malfunction, cooking incidents, and other causes.
Workplace Fatalities
The most recent annual data from the Bureau of Labor Statistics documents 275 workplace fatalities in Florida. As the data represents fatalities across all employment sectors, causation varies significantly. The most frequent fatal workplace incidents throughout the nation involve transportation, violence, animals, falls, and exposure to toxic substances. Workers also sustain fatal injuries from malfunctioning equipment and machines with inadequate hazard warnings.
Medical Errors
Past research has determined that medical professionals commit more negligent acts than statistics confirm. One study determined that medical malpractice was the third leading cause of all deaths in the United States. Fatalities occur due to missed diagnoses, improper or delayed treatment, surgical missteps, negligent obstetric and childbirth care, and many other errors and omissions. Researchers found that death certificate coding inadequacies left many of these causes unrecorded.
The most recent annual data from CDC's National Center for Health Statistics estimates 107,622 drug overdose-related fatalities nationwide. Of these deaths, 71,238 involved synthetic opioids, a drug typically prescribed for moderate to severe pain. Florida experienced 7,231 drug overdoses throughout the state.
While an increasing number of these deaths involve illegally manufactured fentanyl, addictions and overdoses still occur due to inappropriately prescribed and dispensed opioid prescriptions.
Other Causes
Each day, people encounter situations that cause accidental fatal injuries. Dog bite fatalities happen infrequently. When they do occur, they often involve young children. Adults, children, and infants sometimes lose their lives due to improperly manufactured consumer goods.
The Consumer Product Safety Commission issues product recalls and attempts to remove harmful products from the market. Unfortunately, they can't take action until they receive complaints or notification of product-related injuries or fatalities.
Who is Responsible When a Wrongful Death Occurs?
When a wrongful death occurs in Florida, the state's negligence, product liability, workplace, and professional malpractice statutes establish the legal parameters for determining responsibility. When our wrongful death lawyer seeks damages on your behalf, our evidence must prove that the involved parties acted negligently.
The process is often complicated, but a simple negligence formula provides a basic framework for assessing legal responsibility.
Someone owed a duty to the decedent (to drive safely, manufacture safe equipment, etc.)
They breached that duty through an act or omission.
Their breach of duty was the proximate cause of the fatal injuries.
The victim incurred damages as a result of the breach of duty.
The burden of proof could be more complex for medical malpractice and product liability cases. Essentially, we must prove that a medical professional failed to meet the accepted standard of care that other medical professionals would have implemented in similar circumstances.
Sometimes Several Parties Share Liability
The Dolman Law Group Accident Injury Lawyers, PA legal team thoroughly investigates wrongful death cases before placing negligent parties on notice of our client's claims. In some situations, we determine that more than one party shares responsibility for an incident.
Private Passenger Vehicle Accidents
A vehicle operator is responsible for their negligent actions. A private passenger car or truck owner assumes the driver's financial responsibility. Florida requires that a vehicle owner provide Personal Injury Protection (PIP) coverage for their vehicle occupants' medical, wage losses, and other benefits. Fatal injuries meet the medical threshold that allows a family to seek damages from negligent parties that exceed the PIP coverage.
Sometimes, survivors have a separate right of recovery against an owner for negligent entrustment of a vehicle. This usually occurs when an owner knowingly gives an unsafe driver access to their vehicle.
Commercial Vehicle Accidents
Commercial vehicle accidents often include more complex issues. When a driver acts within the scope of their employment, their employer usually assumes responsibility for any damages. In most states, survivors also have a separate recovery right for negligent entrustment involving transport company vehicles.
Vehicle Manufacturer, Repair, or Maintenance Defects
A vehicle manufacturer shares liability when a vehicle defect or defective part causes or contributes to an accident. This is also true when a garage or mechanic's negligent repairs or improper maintenance cause or contribute to an accident.
Workplace Injury
When someone sustains fatal injuries on the job, most state laws limit the employer's responsibility to worker's compensation benefits only. If a subcontractor, non-employee, or another party's negligence causes the injuries, survivors sometimes retain their litigation rights. These cases sometimes involve defective machinery, negligent maintenance, vehicle accidents, and other circumstances.
Premises Liability
When a condition on a property causes or contributes to a fatal injury, the owner sometimes shares liability with other entities. These include construction contractors, management staff, security guards, pool companies, dog owners, and other parties responsible for maintaining a property's safety and security.
In assessing liability for a Florida property owner, state laws consider a person's status as an invitee, licensee, or trespasser on the property. An attorney can help determine your status when you were injured and what rights that status affords you.
Product Liability
When a product defect causes a fatal accident, the designer, manufacturer, or distributor may share liability for the damages.
Medical Negligence
When survivors believe that a medical professional caused their loved one's death, we must prove their case as required by the state's medical malpractice statutes. This requires that we follow a designated process. We must also prove that the medical professional did not comply with local professional standards.
Compensation for Wrongful Death Damages
Wrongful death settlements often include financial compensation for these and other damages:
Grief and sorrow from the injury date
Mental pain and suffering from the injury date
Emotional distress and suffering
Loss of companionship and counsel
Loss of services
For claim settlement purposes, a financial expert usually projects future damages and reduces them to present-day value.
They consider multiple factors:
Existing and future relationships
The decedent's potential future income
The value of support and services the decedent would have provided
The decedent and beneficiaries' life expectancies
A child's remaining years as a minor
Who Receives Wrongful Death Compensation?
If we file a wrongful death lawsuit, we name the decedent's personal representative. We also protect each survivor's legal interests by naming them as individual plaintiffs. Florida recognizes the surviving spouse and minor children as primary beneficiaries. Under specific circumstances, older children, parents of minor or adult children, and other parties may have a legal entitlement to certain damages.
Wrongful Death Damages
Our wrongful death attorneys seek compensation for losses a decedent incurs before and after their death. These often include economic and non-economic damages traditionally recoverable through a bodily injury liability claim.
Damages often include:
Hospital costs
Physician expenses
Medication
Therapy and rehabilitation services
Diminished spousal relationship
Diminished family relationships
Scarring and disfigurement
Losses to bodily function
Pain and suffering
Funeral and burial costs
How Responsible Parties Defend Themselves
Responsible parties often become defensive the moment they learn of a serious injury event. When the responsible party's insurer investigates a claim, they usually initiate an investigation from their insured's point of view. Even after an insurer recognizes the negligence issues, they work to reduce the claim value as much as possible. That often means minimizing the victim's losses and attempting to settle the case to minimize their losses.
When a responsible party is self-insured, they often look to avoid or minimize claims even more aggressively. As self-insured entities, they must pay claims using their assets, which increases the entity's direct losses and pressure to avoid the same.
Outright Denial
When responsible parties and their insurers deny liability for a claim, they force grieving families into immediate litigation. Depending on the accident circumstances, some claimants walk away rather than seek justice through a drawn-out court battle.
Unfair Negotiation
Negotiating parties rarely agree on settlement values. At some point, they resolve their cases anyway. When an insurer, self-insured entity, or defense attorney negotiates unfairly, settlement is rarely the goal. Unfair negotiation is often another tactic that forces plaintiffs to move forward with a trial or accept less than the claim's value.
Affirmative Defenses
When defendants respond to a legitimate lawsuit with a list of affirmative defenses, they set the tone for a lengthy, contentious litigation process. Affirmative defenses are evidence introduced to negate the party's liability, even if they did the alleged wrongdoing. Defense attorneys cite affirmative defenses, believing they can influence a jury to reduce a wrongful death judgment or reject a case completely.
Questioning Damage Validity
Even when liability appears clear, defendants often attempt to undermine the claimed value of a wrongful death. This strategy sometimes influences a jury's decision-making process and reduces compensation.
As seasoned litigators, we have often encountered these types of defense strategies. We have dealt with them by recognizing key legal and damage issues, preparing our cases early on, and developing a strong strategy of our own.
In taking these necessary steps, our legal team has remained confident when presenting evidence and arguments during negotiations, ADR discussions, and trials.
Spring Hill Wrongful Death Lawyer
If someone's negligent actions fatally injured your loved one, our wrongful death lawyers are prepared to protect your legal and financial interests. The Dolman Law Group has dedicated attorneys in convenient offices on both Florida coasts, including Spring Hill.
When you're ready to discuss your case, contact us by phone at (352) 612-3437, or complete our consultation form. We'll arrange a free consultation to determine your legal options and how we can help you.