Victims of defective or harmful products can seek compensation for their sustained injuries or damages. When a product, such as a faulty appliance or unsafe drug, fails to function to its intended standard, it can lead to severe physical, emotional, and financial harm. You can hold the product manufacturer, distributor, or retailer that sold the defective product liable for any damages that result.
If you or a loved one sustained injury or harm due to a defective product in Spring Hill, you should understand your right to compensation.
The team of experienced Spring Hill product liability lawyers at Dolman Law Group Accident Injury Lawyers, PA, have what it takes to evaluate your case, fight for your rights, and secure compensation to cover your damages.
Experienced Product Liability Lawyers in Spring Hill
Dolman Law Group Accident Injury Lawyers, PA, is a renowned personal injury law firm serving Spring Hill, Florida, residents and those in its surrounding area. Our highly experienced team of product liability lawyers has an excellent track record of successfully representing clients after experiencing harm from defective consumer and industrial products.
We have an impressive depth of legal knowledge, experience, and success in product liability cases, we take pride in navigating complex product liability cases and fighting for your rights relentlessly..
With a convenient location at 10485 Heley Street in Spring Hill, our firm is easily accessible to clients throughout the area. If a defective product harms you or your loved one, we can assess your case and determine your legal options.
<iframe width="200" height="113" src="https://www.youtube.com/embed/sYGkfII8vzc?feature=oembed" frameborder="0" allow="accelerometer; autoplay; clipboard-write; encrypted-media; gyroscope; picture-in-picture; web-share" allowfullscreen title="When to Hire a Car Accident Lawyer"></iframe>
Overview of Product Liability Law
Product liability refers to the legal responsibility of manufacturers, distributors, and sellers for any damage their defective or dangerous products cause.
Under the legal principle of strict liability, you can hold manufacturers liable for any injuries their products cause you, regardless of whether they negligently made or sold of the products, provided the products exhibit one of three basic defect types:
A design defect: The product design renders it inherently dangerous or defective, even with proper manufacturing and usage.
A manufacturing defect: An error or mistake during manufacturing makes the product unreasonably dangerous for its intended use.
A warning defect (or marketing defect): The manufacturer failed to provide adequate warnings or instructions about the product's safe use, leading to injuries.
Distributors and retail sellers of defective products can also be liable for their products causing harm. Their liability is subject to whether their actions when handling, distributing, or selling the product were negligent or reckless.
Spring Hill Product Liability Examples
Product liability incidents happen frequently in Spring Hill.
Defective products can cause harm in many ways, often resulting in severe injuries or fatalities, for example:
A faulty child safety seat fails to protect a child in a car crash on Mariner Boulevard.
The safety guard on a defective power tool malfunctions and causes a severe injury to a worker during a home renovation project in Berkeley Manor.
A design flaw for a blender—which the customer buys online and has delivered to a home near Hunters Lake—overheats and sparks a fire in a residential kitchen.
A batch of tainted over-the-counter cough syrup—selling at a Barclay Avenue pharmacy—poisons consumers, leading to hospitalization.
The brakes on a new car fail to engage, leading to a multi-car pileup on Route 19.
The glue necessary for installing tiles in an office building on Landover Boulevard gives off toxic fumes, causing illness among the workers.
A patient's artificial joint—which a Spring Hill orthopedic surgeon implanted—wears out prematurely, causing pain and spreading metal debris throughout the patient's body.
These examples illustrate the pervasive dangers of defective products. If you or a loved one was a product defect victim, you may seek compensation. Our experienced product liability attorneys can evaluate your case and explain your options.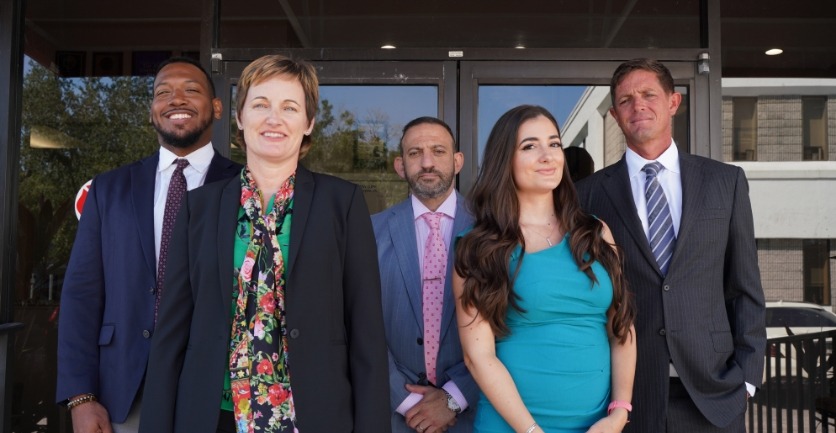 Seeking Compensation for a Spring Hill Product Liability Injury
If a defective product harms you or your loved one in Spring Hill, you may recover significant compensation. Multiple parties may bear liability for your damages.
Who Can Be Liable for a Defective Product Injury?
We handle many product liability cases at Dolman Law Group Accident Injury Lawyers, PA, and each one differs.
If you are a victim of a dangerous, defective product in Spring Hill, multiple parties may contribute to your losses, including:
The product manufacturer may be liable for any proven defect.
A wholesale distributor may be liable if their negligence in product handling causes a dangerous flaw.
A retailer that sold the product to a consumer may be liable if their careless or reckless actions contributed to the product's hazardous condition.
A service provider may be liable if they chose to ignore or their actions caused the product's defective condition when selecting, installing, or repairing it.
A property owner may be liable if they supply guests with a faulty or dangerous product for use on their premises.
Discussing your case with an experienced Spring Hill attorney is the most reliable way to determine who potentially owes you compensation for your damages.
Potential Compensation for Product Liability Victims
If you or a loved one are victims of defective products in Spring Hill, you can seek compensation for your physical, emotional, and financial harm.
Your maximum award amount depends on the specifics of your case, but you may recover compensation for:
Medical expenses, including emergency care, doctor visits, surgeries, medication, and rehabilitation.
Lost income and job benefits if your injury causes you to miss work or reduces your ability to earn.
Property repair or replacement if the defective product damages your property.
Physical pain and emotional distress from the defective product.
Diminished quality of life.
Scarring, disfigurement, or loss of bodily function.
Florida law allows you to claim punitive damages in some product liability cases.
If the defective product causes a fatality, the surviving spouse or family members of the deceased may seek wrongful death compensation, which includes payment for the loss of the deceased's financial support, services, companionship, consortium, and guidance.
Every product liability case is unique. Our experienced attorneys at Dolman Law Group Accident Injury Lawyers, PA, can explain the compensation types and amounts you could receive.
We Take on Insurance Companies so You Do Not Have To
Insurance coverage is crucial in compensating for defective product-related injuries and losses. Your insurance may cover some of your losses—your health insurance and homeowner policies might pay for your medical care and property damage, respectively.
The at-fault party's liability insurance coverage—or the liable party if they opt for self-insurance—should bear financial responsibility for your losses, but you should note that this may not happen automatically.
Product liability cases create massive financial exposure for businesses. A defective product could have harmed thousands of victims, and the resulting liability could place a severe financial strain on the companies involved, if not put them out of business.
A stand-alone Spring Hill product liability claim can trigger significant pushback from at-fault manufacturers, other liable businesses, and their insurers. Many companies often resort to aggressive and unfair tactics to undermine victim claims and protect their bottom lines.
This might include putting undue pressure on you to give a recorded statement to an adjuster or release your medical history. Businesses and insurers will fight when they face a potentially substantial defective product liability claim.
Dealing with those tactics solo can be extremely risky and stressful.
At Dolman Law Group Accident Injury Lawyers, PA, we handle all insurance-related aspects of a Spring Hill product liability case. You never have to deal with insurers directly.
We will manage the initial investigation, claim preparation, follow-up, and negotiation, taking the insurers and self-insured businesses to court if necessary. We fight for you so that you can focus your time and energy on healing from a traumatic injury.
What to Do After Suffering an Injury From a Defective Product in Spring Hill
Your actions after suffering a defective product-related injury are crucial to securing compensation for your losses. Here are some vital steps to protect your rights.
Focus on Healing and Well-being
Make your health and well-being your top priority after suffering an injury from a defective product. Seek immediate medical attention and follow your doctor-recommended treatment plan to the best of your ability.
Keeping follow-up appointments, taking your medicine, and doing physical therapy can improve your health and protect the value of your claim. Your medical records can prove your losses and establish the extent of your injuries.
Do Not Throw Away or Repair the Defective Product
If a defective product harms you, you must keep it as evidence for your claim. Do not throw it away or attempt to fix it. Store it safely until your Spring Hill product liability attorney can arrange for a forensic engineer or another expert to examine its defect.
Avoid Quick Settlement Offers
Following an injury from a defective product, insurance companies or the liable parties may offer you a quick settlement. Such offers rarely pay what you deserve. Accepting a speedy settlement offer could leave you without the resources necessary to cover future medical expenses, lost income, or other damages.
Before accepting any settlement offer, contact an experienced Spring Hill product liability lawyer. At Dolman Law Group Accident Injury Lawyers, PA, our attorneys have the necessary skills to evaluate the value of a product liability claim. We can negotiate with insurance companies and at-fault parties to ensure they pay the highest possible compensation for your damages.
Hire a Knowledgeable Spring Hill Product Liability Lawyer Immediately
There is no substitute for professional legal advice in a product liability case. Proving your injury came from a product defect requires careful investigation and analysis due to the complex product liability laws. Our experienced product liability lawyers understand these complexities and can build you a strong case.
Hiring a product liability lawyer in Spring Hill is affordable. At Dolman Law Group Accident Injury Lawyers, PA, we offer free consultations to assess your case and explain your rights after suffering a defective product injury. We also represent our clients on contingency, meaning our fees are a percentage of any money you obtain. You only pay us if we recover compensation in your case.
Contact a Skilled Spring Hill Product Liability Lawyer Today
Dangerous, defective products regularly harm innocent victims in Spring Hill. If you or a loved one sustained injuries from a defective product, you can claim financial compensation to cover the damages. According to Florida law, the product manufacturer or another liable party should pay your losses.
Our experienced product liability lawyers at Dolman Law Group Accident Injury Lawyers, PA, can fight for your rights to receive maximum compensation. We are ready to fight against the most prominent manufacturers and insurers nationwide, holding them accountable for your harm and their defective product's role in causing it.
Contact our team today or call our Spring Hill office at (352) 612-3437 for your free consultation.
Great lawyer, glad we switched! Met with Mr Dolman regarding an auto accident. My daughter had "soft tissue' damage. I was unhappy with my current lawyer, but thought it was too late to change. We discussed my daughters case for about an hour and a half. Mr Dolman is very intelligent -legally and medically…I learned more that day than in the past 2 yrs with my last lawyer, that night my husband and I choose to switch both cases to Matt Dolman. No regrets! He noticed that a test had been missed on my daughter, the doctor agreed, and we found that she has bulging discs. We knew she was hurting, and now we have some proof as to why. Thanks Matt! My case is much more intricate…I am looking at possible cervical surgery, and live with pain and radiating numbness down my arm everyday. The good news is, I feel like my lawyer is finally fighting for me. He answers my calls immediately (prefers to be called on his cell phone so messages don't get lost). He is also "down to earth" & easy to talk to. Very Pleased!
Very Good Experience. I was with another attorney who did not return my phone calls, messages, or help me with any questions and had no advice as far as who to go to for the medical attention I needed. I found Matt and got everything I needed, my questions answered, and he was very fast , professional & helpful.