Paying taxes is part of earning income from employment. Your employer deducts a portion of your earnings from each paycheck to pay Social Security Disability Insurance (SSDI) to protect you if you suffer an occupational illness or injury that prevents you from working.
A claim for SSDI involves plenty of paperwork and navigating a complex system. It is common knowledge that the Social Security Administration (SSA) denies most claims the first time they receive an application for benefits. An New Smyrna Beach Social Security Disability lawyer can help you fight for benefits and get the best outcome for your situation.
If you have a disability that can be medically verified, you have the right to collect Social Security Disability (SSDI) benefits if your disability prevents you from working. However, getting approved for benefits is not always a smooth and easy process.
The legal team at Dolman Law Group Accident Injury Lawyers, PA, can help you navigate the complexities of your Social Security Disability claim. Our firm has been advocating for clients since 2004. Contact us today to discuss the details of your claim.
Why Choose Us for Your New Smyrna Beach SSDI Claim
After being diagnosed with a permanent disability, you need to focus on occupational therapy and other activities to help you learn how to function day-to-day with your challenges.
This leaves little time for you to deal with the Social Security Administration (SSA) to secure benefits, especially if your claim has been denied.
Dolman Law Group Accident Injury Lawyers, PA, has advocated for clients for over two decades. They have the knowledge and resources to take on the SSA, appeal denials, and seek out potential possibilities for third-party liability.
The skilled New Smyrna Beach injury lawyers at Dolman Law Group Accident Injury Lawyers, PA, has received national recognition for its commitment to client advocacy and professional excellence. Specifically, the firm and its members have received accolades and awards from National Trial Lawyers, Best Lawyers, and Super Lawyers. Additionally, members of the firm belong to prestigious organizations, including the Million Dollar Advocates Forum and the Multi-Million Dollar Advocates Forum.
Our New Smyrna Beach Social Security Disability lawyers understand the laws surrounding disability benefits and know how to apply them to get the best outcome for our clients. Let our team handle the details of your claim while you focus on coping with the challenges that come with your disability.
If you live in New Smyrna Beach, you are about an hour from Dolman Law Group's Cocoa Beach office, conveniently located at 1980 North Atlantic Avenue, close to the Cocoa Beach Wells Fargo Branch.
We like to meet face-to-face with prospective clients, but your disability might prevent you from traveling to one of our several Florida offices. If you cannot travel to us, we also offer convenient virtual meetings. Contact us online or call us for your a free consultation to discuss your Social Security Disability claim.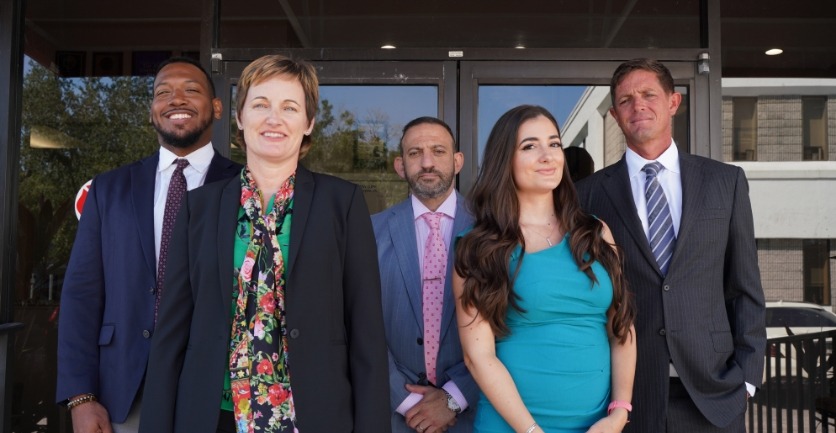 Questions About Your SSDI Claim
You might be starting your investigation into filing for Social Security Disability payments, or maybe you have applied for benefits and been denied. In either case, you likely have several questions about the process and receiving benefits.
Meet with a New Smyrna Beach Social Security Disability lawyer to discuss your case and determine the best path forward for your situation. Until you have the chance to meet with an attorney, the answers to these questions provide some preliminary information.
How Does the Social Security Administration Define Disability?
SSDI claims fall under federal guidelines. On a broad level, federal law defines a disability as any physical or mental impairment that prevents someone from engaging in any "substantial gainful activity." More specifically, the impairment must persist for at least one year, or doctors must expect it to last a year. An impairment that leads to death also qualifies as a disability.
Although someone might suspect they have a permanent disability, whether or not they qualify for SSDI benefits depends on time. If you were denied benefits, you might have applied too soon after discovering your injury or condition. A skilled New Smyrna Social Security Disability lawyer from Dolman Law Group Accident Injury Lawyers, PA, can advise you on the timing of your application to ensure it does not impact the SSA accepting your claim.
Who Qualifies for Social Security Disability Benefits?
The Social Security Act of 1935 describes those who can qualify for Social Security Disability benefits if they have paid into the system during their employment. Title II includes:
Disabled workers who have not yet reached retirement age
Disabled people under the age of 22 who is a dependent on a parent entitled to SSDI payments
Dependents of a deceased parent entitled to SSDI payments
Disabled widows/widowers between 50 and 60 years old whose late spouse received SSDI payments.
Title XVI of the Social Security Act of 1935 covers adults and children with limited income and resources, so they can receive SSDI payments for blindness or another disability.
How Does the Social Security Administration Decide if Someone Receives Benefits?
The SSA looks at five different factors of a claim to determine if an applicant will receive Social Security Disability benefits. If the SSA has denied your application, it is likely you have received an explanation that falls under one of these five areas. Fortunately, you have options if you have been denied, and your lawyer can help you. If you are only beginning the process, here is a broad overview of the five factors that impact the SSA's decision:
Work Activity
If you are currently working and have filed an SSDI claim, expect the SSA to review your current work activity. They want to know how often you work and what kind of work you do. They will review if you are working the same hours and performing the same duties as you were before your application.
Performing your duties with an impairment does not always mean you do not have a disability. Some people push through the challenges and pain of their disability because they need income for basic needs.
Severity of Impairment
The severity of someone's physical or mental impairment plays a large role in whether they receive Social Security Disability payments. The SSA reviews each claim to determine how someone functions in a work setting with their impairment. For those who are not working, the SSA typically evaluates why the impairment impacts the ability of someone to do their job.
If the claimant is a minor, the SSA does not use impairment in a work setting to evaluate the severity of impairment. Instead, they compare the claimant to other minor children who are not impaired.
Medical Determination
The SSA maintains a list of impairments and medical criteria that automatically qualify people for SSDI payments. They organize the list by major systems and include specific impairments that prevent someone from seeking gainful employment. Sometimes a person's impairment is not on the list, but this does not automatically mean they do not have a disability.
In these situations, the SSA typically requests additional information as evidence to prove a disability. Often, "additional information" translates to a physical and medical evaluation by a doctor who can make a medical determination about someone's condition.
Capability of Performing Your Current/Previous Job
After the Social Security Administration evaluates the above factors, they take a closer look at the ability someone has to perform the same work they did before the injury or illness that led to their disability. This is especially true for those who claim they are unable to work. The SSA typically only provides benefits when someone cannot perform the work they did before suffering impairment.
Capability of Performing Future Work
The SSA also evaluates a claimant's ability to seek future employment. Specifically, can they perform a different type of job with their impairment? They also factor age, work experience, and education into whether or not someone can seek future employment.
How Much Will Your Social Security Disability Payments Be?
The amount people receive in SSDI payments varies greatly. The SSA reviews your lifetime average earnings before you suffer impairment, which includes income from jobs where your employer deducted Social Security or FICA from your wage or salary.
Ultimately, they calculate your average covered earnings over time, referred to as your average indexed monthly earnings (AIME), to come up with your primary insurance amount. Monthly payments can range from $800 to more than $3,000 each month.
If you want to get a better idea, you can have a look at the SSA online benefits calculator. Additionally, your lawyer can help you figure out this amount as you go through the claims process.
What Should You Do if Your Social Security Disability Claim Has Been Denied?
You might be able to reopen your claim or file a new claim altogether after your SSDI claim is denied. However, in many cases, people choose to go through the appeals process. After waiting months for a decision, a denial can leave you frustrated.
Unfortunately, appealing the SSA's decision will add more time to your wait. You are not required to have legal representation to appeal your decision. However, your chances for a positive outcome greatly increase by letting a lawyer guide you through the appeals process. You do not want to spend months appealing and not get results.
The SSA has four levels of appeals for each claim. You may only need to appeal once, or you might have to go through each level.
Reconsideration
The first appeal is an administrative appeal, where the SSA reviews your initial claim to see if it should have been approved as submitted. In these administrative appeals, state-level teams from Florida who have no connection to the original case and denial review the claim for reconsideration.
Hearing
If the state-level team that reconsiders your appeal once again denies your claim, you have the right to request a hearing in front of an administrative judge. An attorney can give you a better idea of where you might have to attend a hearing, but the SSA typically does not schedule them more than 75 miles away from someone's home. Additionally, the judge who presides over the hearing will have had no prior involvement in your Social Security Disability claim.
Appeals Council
If the judge rules against you at your hearing, you have 60 days from the date of the judge's decision to request a review in writing by the SSA Appeals Council.
The SSA Appeals Council may proceed in one of three ways:
Support previous decisions and once again deny your claim
Refer your case back to another judge for another hearing to review your claim
Make a final decision on your claim, whether approval or denial
Judicial Review
If the SSA Appeals Council does not approve your claim and you have been through each of the administrative options to appeal your case, you have the right to file a civil action against the SSA. A New Smyrna Beach SSDI attorney can help you file an action in Federal district court to seek judicial review of your case.
Contact a New Smyrna Beach Social Security Disability Lawyer
The financial aspects of coping with a disability can create as much stress as the physical and psychological aspects, sometimes more. You need income to pay for your necessities, and you should not have to struggle financially because of your disability. You have the right to seek Social Security Disability benefits if your employer took money out of your income to pay FICA taxes.
A lawyer from Dolman Law Group Accident Injury Lawyers, PA can meet all requirements and deadlines, shortening the long wait that often accompanies an SSDI claim.
Contact the Social Security Disability attorneys at Dolman Law Group Accident Injury Lawyers, PA, at 833-552-7274 to discuss your disability and SSDI claim during your free consultation, or submit your information online. We can evaluate your claim and advise you on the best path forward for your individual situation.