What happens if you or a loved one develops cancer due to the use of a product you thought was perfectly safe? What happens if the side effects of a drug affect you negatively, creating more problems than it solves? What happens if a defective product injures you or a loved one?
The answer to all of these questions is often the same. You may seek compensation for your injuries by joining a mass tort case.
Plaintiffs in a mass tort can seek just financial compensation from the at-fault party. That party can be a corporation, an employer, a hospital or doctor's office, a municipality, or any other entity that injured or harmed you. Contact our New Smyrna Beach mass tort attorneys to get the compensation you deserve.
Dolman Law Group Accident Injury Lawyers: Experienced in Mass Torts
Dolman Law Group Accident Injury Lawyers have years of experience in mass torts. We represent plaintiffs from New Smyrna Beach in product liability claims, medical malpractice claims, personal injury claims, and many other legal actions. We are prepared to pursue justice aggressively on your behalf. Our first consultation is always free.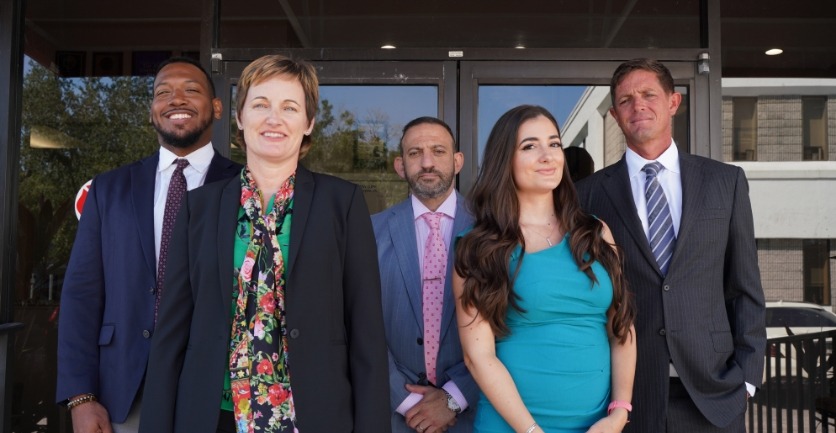 What Type of Mass Tort Claims Do You Handle?
Our New Smyrna Beach mass tort attorneys have worked with clients in mass tort litigation in cases stemming from:
Dangerous toys
Defective cars
Unsafe food
Defective construction
Specifically, we have represented clients in these mass torts:
What Compensation Can I Receive in a Mass Tort?
A tort is "an act or omission that gives rise to injury or harm to another and amounts to a civil wrong for which courts impose liability." "Mass" means the case involves several plaintiffs.
These cases occur when one entity harms another through negligence. Negligence is the failure to exercise the level of care that an entity of ordinary prudence would have exercised. A corporation, for example, should ensure that its products are safe for the public. If they are not, the corporation is arguably negligent.
If the negligent behavior of an entity harms you or a loved one, it bears financial responsibility, or liability, for the specific effects of that harm. If a toy explodes and burns your child, the company that manufactured the toy may be liable for the costs of treating those burns and other related injuries and harm.
If you join a mass tort case, you can seek compensation for:
Medical bills, both already incurred and expected in the future, for doctor's visits, emergency care, diagnostic testing, prescription medication, surgery, physical therapy, retrofitting a home to accommodate the effects of the injury, ongoing care, and more.
Wages lost from work, both already incurred and expected in the future, from time lost due to injury, illness, or medical treatment.
The estimated lifetime value of earnings if the disease or injury is such that you cannot work again.
Pain and suffering for physical, emotional, and mental pain and suffering.
Property damage for personal property damage (such as a car damaged due to unsafe manufacture or defect).
What If My Loved One Died?
If your loved one died due to the negligent actions of another party, the lawsuit is called a wrongful death suit rather than personal injury. In most states, including Florida, the compensation sought in wrongful death cases is slightly different than personal injury.
Wrongful death claims can include medical expenses incurred as a result of the negligence before the loved one's death. It can also include funeral, burial, and probate expenses to settle the deceased's estate.
Loved ones may also seek compensation based on their loss. This can include financial loss, such as the loss of a breadwinner's earnings and the benefits to which they were entitled. It can also include loss of emotional support and companionship.
In Florida, the representative of the deceased person's estate must file the wrongful death suit for the loved one's survivors and the estate within the two year statute of limitations. This limits the amount of time a party has to file before they lose the right to utilize the court system to pursue compensation.
How Does a Mass Tort Differ from an Individual Personal Injury Case?
A mass tort differs from an individual personal injury case in that only one injured party generally brings a personal injury claim for a single incident.
For example, suppose you are in a car accident caused by another driver running a stop light in Florida. Florida requires car insurance coverage, including Personal Injury Protection (PIP) under the no-fault system. The no fault system allows a party to recover nominal losses through their PIP policy no matter who is at-fault. However, you can claim beyond your PIP coverage if you have certain significant injuries and the other driver is negligent.
Significant injuries cause either considerable and permanent loss of an important bodily function, permanent injury, or substantial and permanent scarring or disfigurement. In that case, you can bring a suit for damage compensation against the at-fault driver.
A mass tort case, however, results from events occurring over time to more than one individual. If an automobile manufacturer produces a car with defective brakes that cause it to stop much slower than normal, those brakes might cause accidents, causing injury and harm to you and potentially other people. The driver here is not at fault; the defective brakes are.
Over time, multiple cars with those defective brakes might be in an accident. The potential of every vehicle with the same brakes causing harm and damage due to faulty manufacture makes this a mass tort.
A mass tort is simply a streamlined method of seeking appropriate damage compensation for multiple parties. All the necessary procedures in a court case remain the same, but rather than having every affected individual bring an individual case, they are grouped to reduce the number of times courts must hear the same body of information.
Some courts utilize a three-part test to determine whether a case should be part of a mass tort. The test asks the following questions:
Do the claims stem from the same core of relevant facts?
Does the plaintiff's injury involve a single event or occurrence?
Is the number of defendants high enough to make the joinder impractical?
If you are unsure whether your case qualifies as an individual case or a mass tort, contact a lawyer to discuss your options. An experienced personal injury and mass tort lawyer can tell you whether a case qualifies as mass tort litigation.
How Do I Join a Mass Tort Case?
You may become aware of a potential mass tort case in multiple ways. You may hear of an event, injury, or illness that sounds very much like your own on television or read about it in a newspaper. Or, if you suffer harm from a defective product, drug, contaminated food, or other harmful situation, you may wonder if others had similar experiences.
The experienced attorneys at Dolman Law Group Accident Injury Lawyers, PA, can answer your questions and help determine whether you have a mass tort claim during a free case evaluation.
If your case qualifies for a mass tort claim, we can gather and review the evidence (such as medical records and reports) and decide how to proceed with your claim, whether negotiating a settlement or going to trial. We will draft a complaint and help answer interrogatories (written questions) regarding your experience and injury.
We will collect evidence to prove who or what was at fault and the effect the injury or harm had on your life. We can gather evidence that supports your claim, such as police reports, medical records, eyewitness reports, pictures of your injuries or sites of any accidents, and more.
If necessary, we will interview and depose eyewitnesses, doctors, other medical personnel who treated your injuries, and experts in the field. Experts may also be consulted about the likelihood of future medical treatment and expected future costs to determine a just range for potential damage compensation.
We will negotiate to settle your case before going to court. Corporations and other potentially negligent parties know that judges and juries can often show more sympathy to victims than to companies and award greater damage compensation. They might find it in their interest to avoid a trial, especially as compelling evidence emerges.
If a case goes to trial, our lawyers handle all legal activity after the event, such as post-trial motions and appeals.
What if No Mass Tort Case Exists?
If you consult an attorney about a potential mass tort and one doesn't currently exist, your attorneys can start a mass tort case if other victims suffered harm from the same entity and cause. If your car's brakes proved defective, for instance, it could be that all the brakes from a particular factory or make and model prove faulty.
How Long Do I Have to Join a New Smyrna Beach Mass Tort Case?
All legal cases are subject to a statute of limitations—a period in which a plaintiff must file a claim or risk losing the ability to utilize the court system.
In general, statutes of limitations begin when you receive an injury (in a car accident, for example) or when you are first diagnosed with a disease or condition or the effects of an injury. If, for example, you have uterine cancer caused by using talcum powder, the statute of limitations would begin on the date you were initially diagnosed with this cancer.
The statute of limitations, however, varies from state to state and mass tort plaintiffs can come from any state. An attorney can advise on the time you have to file and ensure you meet court deadlines.
How Much Will a Mass Tort Lawyer Cost in New Smyrna Beach?
Many people are concerned with the potential cost of an attorney. In the case of a mass tort case with our firm, we can set your mind at ease.
First, the initial consultation to discuss your case is always completely free. We need to know what occurred, who or what you feel was responsible for, and the effects on your life. After the discussion, we will let you know whether we think you have a viable case.
Second, we always work on a contingency fee basis. Simply put, this means our clients only pay if we recover compensation for their claim. We take our fees as a percentage of your settlement or judgment and never request fees upfront.
We will provide a detailed agreement with clear terms if we decide to work together. It will specify the percentage of your settlement or judgment that will constitute our contingency fee.
Let Dolman Law Group's New Smyrna Beach Mass Tort Lawyers Help You
Realizing that you are injured or ill due to the negligence of another can cause emotional distress as well as physical pain. But Dolman Law Group Accident Injury Lawyers will fight to see that you're fairly compensated by initiating a New Smyrna Beach mass tort case, if appropriate, or joining your case to an existing one. We have the national presence to do so while conveniently located in several offices across Florida.
Contact us today at 833-552-7274 or through our online contact form.
If you live outside Florida, know that The Dolman Law Group works with local counsel in any jurisdiction outside Florida for the purpose of filing lawsuits in jurisdictions wherein we are not licensed. Thus, we will follow each state's ethical rules to ensure a local attorney is involved.