Rideshare Accidents in Largo
Although ridesharing services have become a staple of our transportation industry, helping individuals across the country get to where they need to go, these companies are not without their faults. Unfortunately, every day innocent lives are lost in a rideshare accident, including in Largo, because of the wrongful, reckless, or negligent actions of another. And even those that survive this tragic accident do not get away scot-free. They, too, may have to deal with catastrophic injuries, excruciating pain, and astronomical medical expenses that will forever change their life.
That is why if you suffered harm in a Largo rideshare accident, do not deal with these challenging and life-changing repercussions alone. Instead, reach out to a Largo rideshare accident attorney at the Dolman Law Group and find out how our skilled legal professionals can help you fight for the justice and monetary damages you deserve.
Table of Contents
Dolman Law Group Accident Injury Lawyers, PA.—About Our Firm
Our personal injury attorneys are known for getting our clients' results. However, more importantly, we are known to provide our clients with top-quality services, regardless of the accident. For instance, when you reach out to us, our experienced attorneys can meet you one-on-one to discuss your case. When you hire us, we are prepared to work directly with you to handle your claim properly and vigorously fight for the compensation you need.
As a result of this hard work, dedication, and drive, we have not only been nationally recognized as "Clients Choice for Personal Injury" by AVVO.com, but over the years, we have also helped countless clients and secured millions of dollars for them, including these recent results:
$1,000,000 for a rideshare accident that killed a father, and a
$939,000 for a rideshare collision
For these reasons, if you are looking for a Largo rideshare accident lawyer, reach out to the Dolman Law Group for a free case consultation. Our experienced attorneys can meet with you virtually or at one of our convenient Florida locations, including our office in Largo, off Ulmerton Road and Block Boulevard. While we guarantee no results, contact us today to see what we can do for you.
What Exactly Is a Ridesharing Service?
A rideshare service transports people where they need to go by matching passengers who need a ride with drivers for hire in the area. Yet, unlike taxis, these rideshare services cannot be hailed from the road. Instead, to get a ride, passengers must use the ridesharing app or website to get one of these vehicles.
Numerous ridesharing companies operate in Largo, but the two most prominent services are Uber and Lyft.
Common Causes of Ridesharing Accidents in Largo
While most ridesharing accidents result from human error, they can also result from various other causes.
In Largo, for example, some of the more common causes of these devastating accidents include:
Inexperienced drivers
Intoxicated driving
Distracted driving
Failing to yield
Poor weather conditions
Malfunctioning cars and parts
If a ridesharing accident harmed you, reach out to an experienced Largo ridesharing accident attorney at the Dolman Law Group. These lawyers can quickly review your accident, figure out if you have a viable car accident claim, and help you go after the financial damages you deserve.
Common Injuries Resulting From a Largo Ridesharing Accident
Sadly, ridesharing accidents can cause devastating injuries to virtually any body part.
And while the extent of these injuries will depend on the circumstances of the accident, most rideshare accidents will usually result in the following injuries:
Spinal cord damage
Traumatic brain injuries
Back and neck injuries
Lacerations
Soft tissue injuries
Broken bones
Burns
Internal injuries and bleeding
Scarring
Road rash
Bruising
Largo Rideshare Accident Lawyer Near Me 833-552-7274
Local Issues to Keep in Mind When it Comes to Largo Rideshare Accidents
Even though a rideshare accident can happen anywhere, in Largo, they tend to occur more frequently at the following intersections and roadways:
Ulmerton Road and Seminole Boulevard
East Bay Drive and Keene Road
West Bay Drive and Seminole Boulevard
66th Street and 142nd Avenue
Belcher Road and East Bay Drive
Ulmerton Road and Starkey Road
That is why it is often beneficial to work with an attorney who knows these locations since they are more likely to provide you with the personalized legal help you need. Fortunately, the Dolman Law Group has years of experience handling these types of claims in the area and knows what they need to do to go after the compensation you deserve.
The Time Limits to File a Lawsuit Following a Largo Ridesharing Accident
Another issue that individuals in Largo should stay aware of is the time limitations to bring a legal claim following a Largo rideshare accident. According to the statute of limitations, which is a regulation that dictates how long an individual has to bring a legal claim following an accident, in Largo, individuals will only have four years after a rideshare crash to bring their legal case. If they fail, they can lose their ability to fight for the compensation they are entitled to.
Exceptions to this rule can affect this filing period. Reach out to a knowledgeable Largo rideshare accident attorney as soon as possible.
At the Dolman Law Group, our attorneys can review the facts of your accident, figure out the maximum amount of time you have to file your case, and ensure all your documents and files are submitted to the proper court before this time expires.
How Does Rideshare Insurance Work Following a Largo Accident
Obtaining compensation following a ridesharing accident can get complicated, primarily because of the insurance rules that ridesharing companies often use. Take, for instance, the following "periods" you should be aware of when it comes to a rideshare accident:
Period 0: The App Is off, or the Rideshare Driver Is Offline
If a collision occurs during this period, the driver's regular automobile insurance covers them following an accident.
Period 1: The Rideshare Drivers App is On, But There Is No Rideshare Request Yet
Under this period, the driver's personal insurance will cover the minimums. However, depending on the circumstances, the rideshare service may offer limited compensation following the accident.
Periods 2 and 3: The Rideshare Driver is En Route to Pick Up the Passenger or Is Driving Them to Their Destination
During this period, rideshare drivers will have additional insurance from the rideshare company, which kicks in when they are en route to pick up a rider and during the trip when they are driving the passenger to their location.
For instance, Uber's policy provides one million dollars in liability coverage per covered accident. This would cover injured rideshare passengers and occupants of other vehicles that suffered harm if the rideshare driver caused the accident.
Yet, while rideshare insurance coverage limits are usually larger than other car insurance limits, obtaining this money can be challenging. Work with an experienced Largo rideshare accident lawyer following a rideshare accident. These attorneys understand how these complicated insurance rules work and can help you go after maximum compensation.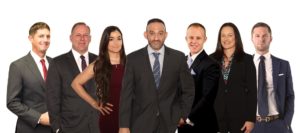 Taking Action After a Largo Rideshare Accident
After a rideshare accident in Largo, the last thing you want to worry about is talking to witnesses or trying to take pictures of the accident scene. However, following these devastating collisions, your actions after these accidents can help protect your health and safety, and legal rights. As a result, following this collision, it may be in your best interest to consider doing the following:
Call 911 Immediately
After a rideshare accident, you should contact the authorities immediately. This is the quickest way to alert the police and medical personnel of the accident and your injuries and get the collision on record.
After the authorities arrive at the scene, they can begin their investigation into the collision. Once complete, they will write down their findings in their police report. If you decide to pursue legal action after the accident, this police report can provide your attorney with valuable information to help your legal claim.
Get to a Health Care Professional
Even if you do not believe your injuries are severe following a rideshare accident, you should still get to a doctor as soon as possible. Often, serious injuries such as head trauma can take some time to manifest. Yet, the longer you wait to get treatment for this condition, the more debilitating the injury can become.
In addition, getting prompt medical treatment can also help your legal claim. For instance, by not getting medical care after your accident, the insurance company may argue that your injuries are not that serious or a result of a separate incident. When you visit a doctor after your rideshare crash, they can prepare a medical report detailing your injuries and provide your attorney with evidence linking the rideshare accident to the harm you suffered.
Gather Evidence Following the Rideshare Accident
Following a Largo rideshare accident, if you can do so, you should try to collect as much evidence from the accident scene as possible.
This evidence should include photos and videos of:
The vehicles involved in the collision and their placement on the road
Your visible injuries
The weather conditions at the time of the crash
The damage to your car
Skid marks and road defects
Traffic signs and signals near the area, and
Any other evidence that can demonstrate what happened
Yet, if you cannot get these pictures because of your injuries, do not worry. After you retain an experienced rideshare accident attorney, these legal professionals can take over this investigation for you and go after the evidence needed to prove your claim.
Talk to the Other Drivers and Witnesses
Try to exchange details with all those involved in the crash, including the rideshare driver. These details should include names, contact details, driver's license numbers, and insurance information.
However, if any of these drivers start to get unruly or seem under the influence of drugs or alcohol, do not put yourself at risk. Instead, wait inside your vehicle for the police to come. These officers can get this information, and your attorney can obtain it from the police report later on.
In addition, try to check for witnesses who saw what happened. If there are any present, try to get their names and phone numbers. These individuals can often provide your lawyer with helpful details regarding the collision and even help substantiate your case by offering their testimony.
Watch What You Say
As you talk to these individuals following the crash, you also want to watch what you say. This means avoiding making definitive statements about the incident, apologizing for what happened, or taking any of the blame for what occurred. The other side can use these comments to hurt your case and reduce the amount of money you receive.
Keep All Your Records and Give Them to Your Lawyer
Another important thing you should consider doing is keeping all of your bills and records related to the accident. Your attorney can use these records and the police and medical report to help show what happened, who was at fault, and the extent of your losses and damages.
Contact a Largo Rideshare Accident Lawyer Today
If you suffered harm in a rideshare accident in Largo, do not wait to get the legal help you need. Instead, contact the Dolman Law Group Accident Injury Lawyers PA today at (866) 826-1298 for your free case consultation and find out how our legal team can help you.
Largo Office Location
10225 Ulmerton Rd, Building 6A-2
Largo, FL 33771
(866) 826-1298
What Are the Different Ridesharing Accidents that Arise in Largo?
Typically, four types of injury claims tend to result from a rideshare accident in Largo.
They include:
The rideshare driver was injured while driving, dropping off, or picking up a customer.
A passenger was harmed in the rideshare vehicle as they went to their destination.
A collision that involved a rideshare vehicle performing a ridesharing task
 harmed another motor vehicle driver.
An accident harmed passengers in a separate motor vehicle that included a rideshare vehicle on its way to pick up or drop off a passenger.
Thankfully, when you work with a knowledgeable Largo ridesharing accident attorney, you will not have to take on these issues alone. Rather, with these legal professionals on your side, they can figure out your legal options and how you can fight for the maximum compensation you need.
Who Can You Hold Responsible For Your Injuries Following a Largo Ridesharing Accident?
Depending on the rideshare accident, there may be several parties that you can hold liable for the crash, including:
The Rideshare Driver: If the rideshare driver was responsible for the incident and you sustained harm because of their wrongful actions, you can pursue legal action against them to recover compensation for the injuries you endured. However, when you go after an individual for money, they may not have the financial resources to pay monetary damages, even when you win.
The Rideshare Company: Since rideshare drivers are independent contractors, you cannot sue the rideshare company directly for the harm that resulted from the accident. Yet, you may be able to collect compensation from the rideshare company's insurance policy, depending on the details of the accident.
Other Motorists: It is not always the rideshare driver that is at fault for an accident. Sometimes other vehicles on the road, including trucks, motorcycles, and cars, can also be responsible for the collision. In these instances, you can pursue a claim against the other parties who contributed to your injuries.
Defective Vehicles: In some instances, these rideshare crashes can result from a defective vehicle or part. As a result, when these defects cause the accident, the manufacturer and others in the distribution chain responsible for this product can be held accountable for the harm and losses you suffered.
Due to the number of parties you can hold liable for a Largo ridesharing accident, work with an experienced Largo ridesharing accident attorney at the Dolman Law Group. These legal professionals can figure out what happened and who caused your accident and then make sure to hold all these parties answerable for the damages you suffered.
What Monetary Damages Can You Pursue Following a Largo Ridesharing Accident?
If you can file a lawsuit against the wrongful party following a Largo ridesharing accident, you may be entitled to pursue certain types of compensation. In Florida, this compensation comes in economic and non-economic damages:
Economic Damages
These damages are the actual losses that result from an accident. They include the following losses:
Current and past medical bills related to doctor visits, surgeries, prescription medications, hospitalization, and other medical treatments
Lost wages and reduced earning capacity
Future ongoing medical treatments
Replacement domestic services
At-home nursing care
Personal property damages, including repair costs and replacement expenses
Other bills related to the accident
Non-Economic Damages
These damages refer to the subjective losses that result from the accident, such as:
Pain and suffering
Inconvenience resulting from the injuries due to the accident
Mental anguish
Loss of companionship
Loss of enjoyment and quality of life
Humiliation
Loss of reputation
Disfigurement
Yet, because these damages include verifiable and hard-to-prove losses, it may be best to reach out to a knowledgeable Largo ridesharing accident attorney as soon as possible after your crash. These lawyers can review these damages, figure out which ones apply to your case, and fight for the maximum compensation you deserve.
How Much Money Can You Collect Following a Largo Ridesharing Accident?
Although an attorney can tell you what types of monetary damages you can pursue following a Largo ridesharing accident, these attorneys can not tell you exactly how much money you will be able to collect following these crashes.
Typically, there are just too many factors that can impact the value of your claim and, ultimately, the amount of money you can receive, including:
The extent of your injuries
The type of medical treatments you will require now and in the future
The wrongdoer's culpability
The credibility of the evidence presented
The extent of your pain and suffering
The ability to work following the rideshare accident
The extent of your lost wages
The ability to take part in normal, daily activities that you did before the accident
However, even though a lawyer cannot guarantee that you will receive money following a rideshare collision, working with a knowledgable Largo ridesharing accident attorney at the Dolman Law Group, can provide you the legal help you need to prepare the strongest legal claim and go after the compensation you deserve.
What Is the Difference Between a Rideshare Vehicle and a Taxi in Largo?
Although people may use both services in Largo, these two transportation options are not the same thing. When you need a ridesharing vehicle, you will hail it by using an app typically on your phone, and you will get a car based on your location and the number of passengers you have. You will also pay for the rideshare services using a credit card on file and will have to rate the driver once you reach the destination.
In comparison, a taxi service is usually owned and maintained by taxi companies and then leased to a driver. In addition, numerous regulations apply to taxis that do not apply to ridesharing vehicles.
Should You Talk About Your Largo Rideshare Accident With the Insurance Company?
Following a rideshare accident, it is likely that the insurance company will be calling. Yet, before you speak with them about your case, it is advised that you first discuss your accident with an experienced rideshare accident attorney.
Many people believe the insurance company will want to help them after an accident, especially when getting the money they need. Unfortunately, this is not how these companies work. These companies are a business, and like other businesses, they want to make a profit.
By offering you less than you deserve, they will make more money. That is why these adjusters will try to get you on the phone as quickly as possible following the collision to get you to admit fault for the accident or find something they can use to justify paying you less than you need.
As a result, if the insurance company wants to talk to you or obtain a statement, you should be careful what you say. This does not mean you should provide them with inaccurate information.
Instead, discuss your case with the Dolman Law Group. Our attorneys can help you better understand these companies and the deceitful practices they may try on you. More importantly, our legal team can even take on these discussions on your behalf to ensure you do not do or say something that can hurt your case or impact your financial recovery.
If You Are Offered a Settlement Following Your Largo Ridesharing Accident, Should You Accept It?
After a ridesharing accident, it is not uncommon for the insurance company to try to offer you a settlement. And while this may seem like great news, in many instances, it is not. This is because this first settlement amount tends to be a meager offer that barely covers current costs, let alone future expenses.
However, insurers offer this amount soon after an accident because they hope a victim will not check whether this amount is fair to them or speak with an attorney about their legal options. Worse yet, if they accept this amount, they cannot go back to the insurance company later on and ask for more compensation.
Consequently, before you accept anything from the insurance company, complete all your medical treatments so your attorney can have a better idea of the compensation you will need. Then, verify whether you can justify this settlement amount by discussing it with a Largo rideshare accident attorney.
Can You Lose Your Rideshare Accessibility if You Pursue an Insurance Claim Following a Largo Accident?
If you pursue a claim following your Largo ridesharing accident, you should not lose access to the services. The whole point of the rideshare insurance policy is to protect individuals following an accident. Many of these rideshare services take a portion of their fares and apply it directly to their insurance.
As a result, if you believe you have a valid claim following a ridesharing accident, do not worry about losing your rideshare accessibility. Instead, reach out to an experienced Largo ridesharing accident attorney, like those at the Dolman Law Group. These lawyers can help you verify whether you have a case and go after the money you deserve.
How Can the Dolman Law Group Help You Following a Largo Ridesharing Accident?
Unfortunately, when it comes to ridesharing accidents, these legal claims can be challenging and tedious to take on. Not only are there numerous rules and regulations you need to keep in mind, but the insurance company will often try to do everything in its power to prevent you from getting the money you need.
Fortunately, when you retain a Largo ridesharing accident attorney, such as those from the Dolman Law Group, you will not have to take on this complex legal claim alone. Rather, once hired, our lawyers can get to work fighting for your rights and going after the outcome you want.
More specifically, our lawyers can:
Go over your rideshare accident with you in detail, figure out if you have a viable case, and determine the legal options you can pursue.
Answer your concerns and questions and provide you with the legal support you require.
Investigate the incident and obtain the evidence needed to show fault and the extent of your damages.
Bring in experts to validate your claim, including doctors, financial specialists, and accident reconstructionists.
Handle the negotiations with the other side, including the insurer, and go after the fair settlement offer you need.
Proceed to trial if the other side is unwilling to settle the case and work relentlessly to get you the maximum compensation you deserve.
Call or text 833-552-7274 or complete a Free Case Evaluation form