Jacksonville Uber Accident Lawyer
Uber has become a convenient and popular choice for travelers and residents alike in the Jacksonville area. The widespread availability of rideshare services in and around the city of Jacksonville makes it an appealing choice for many. Unfortunately, Uber rides sometimes end in accidents, and may seriously injure passengers. If you have been injured in a Jacksonville Uber accident, an attorney can help you understand your rights under the law and the compensation you may deserve.
If You Are in a Jacksonville Uber Accident, Contact Sibley Dolman Gipe Accident Injury Lawyers, PA
Uber accidents can involve many parties and insurance companies. Figuring out who all to file against and how can be confusing, and failing to file against the right party on time could mean losing your chance to recover compensation.
If you have been in a Jacksonville Uber accident, contact our team at Sibley Dolman Gipe Accident Injury Lawyers, PA for a free case evaluation. We will carefully review the facts of your case and your injuries to figure out who all the responsible parties are, and how to hold them accountable. We understand the challenges you face after an Uber accident and want to help you recover and be able to move forward.
We are not afraid to take on insurance companies, whether of another driver or Uber, to fight for the compensation you deserve in an accident due to the negligence of another party. Contact us today.

At Sibley Dolman Gipe Accident Injury Lawyers, PA, we have the experience of going up against rideshare companies such as Uber to fight for the compensation our clients deserve, such as:
A $1,000,000 settlement for the family of a young man who lost his life as a passenger in a rideshare vehicle
A $939,000 settlement for a man with serious injuries including a spinal cord injury and a traumatic brain injury as a passenger in a rideshare
While past results cannot guarantee the outcome of your case, they demonstrate that we know how to bring these cases and recover significant compensation for rideshare accident victims.
Rideshare services such as Uber and Lyft have become a popular option for the transportation needs of many in Jacksonville. From tourists and visitors who find these services cheaper than traditional taxi services or renting a car, to residents who prefer rideshare options to public transportation to get around, there are many people using rideshare services every day in Jacksonville.
Busy metropolitan areas with major airports such as Jacksonville see a high frequency of Uber drivers along the roadways at any given time of the day. Uber usage peaks during the morning and evening rush hours on weekdays and during weekend evening hours when many use the service to get to and from their destinations safely and avoid drinking and driving. These being times of busier traffic, the chances of an accident for everyone on the road are higher.
Rideshare vehicles present unique risks. Rideshare drivers, especially newer ones, rely on GPS to get to locations, which are often completely new to them. While a helpful tool, the GPS can distract drivers, and figuring out how to get somewhere new can in and of itself cause distractions.
In fact, some studies have shown the use of rideshare applications increases the risk of fatalities in motor vehicle accidents. Various factors contribute to this statistic, but one of the most prominent is that the implementation and popularity of these rideshare services over time has led to more vehicles on the road and heavier traffic congestion, especially in bigger cities such as Jacksonville and the surrounding areas.
Challenges In Bringing a Jacksonville Uber Accident Claim or Lawsuit
Claiming compensation in accidents involving Uber drivers can be much more complex than for run-of-the-mill accidents between two individuals driving around in their personal capacities. Uber is a company whose drivers are not employees of the company but rather independent contractors that use their private vehicles for the service.
This unique relationship between Uber, their Uber app, and their drivers makes the service accessible and pervasive. But making drivers independent contractors limits the company's liability for the drivers' negligent driving.
This does not mean that Uber is not potentially liable for the injuries and losses that arise from a car accident with an Uber driver. There are many cases in which Uber and the driver may be liable to you for your injuries and losses. Indeed, Uber's insurance policy does cover accident injuries, depending on when during a ride they occur and the driver's status at the time of the accident. Depending on these factors, Uber, the Uber driver, or another at-fault driver could be liable to compensate you for your injuries.
Parties That You May Hold Liable After a Jacksonville Uber Accident
If you are in a Jacksonville Uber accident, whether as a passenger of the Uber vehicle or the driver or passenger of another vehicle, you may struggle to figure out who is potentially liable to you for the injuries and damages you sustain. Uber's insurance policy dictates when it will share liability in an accident.
You may prefer to file your claim with Uber's insurer as it typically has much higher policy limits, which makes it more likely you will recover full compensation for your losses. A private individual's insurance policy likely has much lower coverage limits. Furthermore, an Uber driver's personal insurer might not cover accidents that take place when the vehicle is in operation as a rideshare and transporting passengers for commercial purposes.
When Uber insurance coverage for an accident kicks in will depend on the stage in the rideshare in which an accident occurs:
The Uber driver is not on the app at the time of the accident
If the Uber driver is not on the app at the time of the accident, either the private personal automobile insurance of the Uber driver or the policy of another at-fault driver should provide coverage.
The Uber driver is online and awaiting a ride request through the application
In this situation, the Uber driver does not have a passenger on board but is waiting to connect with a customer. Any accidents that happen during this interim period will trigger coverage by Uber's policy if and only if the personal policy of the Uber driver is insufficient or does not accept a claim due to the driver actively working as a rideshare driver at the time of the accident.
The Uber policy coverage in this circumstance is:
$50,000 bodily injury coverage per person;
with a $100,000 maximum per accident
and $25,000 in property damage coverage
Any accident that occurs during these periods of a rideshare service may be eligible for coverage under Uber's insurance policy. This applies to passengers of the Uber driver as well as drivers or passengers of another vehicle if the driver of the Uber is negligent and at fault for the accident.
Coverage in this circumstance is:
Up to $1,000,000 in third party liability coverage for damages including bodily injury and property loss
If an accident occurs with an uninsured or underinsured motorist, the Uber coverage can apply to the accident
Bringing a Lawsuit for a Jacksonville Uber Accident
Most claims are successfully resolved through settlement negotiations with an insurance company, often before having to even file a lawsuit. However, there are situations where an Uber accident case may need to be litigated in court. A dispute about fault or Uber's liability for their driver may arise. A dispute may arise about what you deserve in compensation for your injuries.
When you dispute the facts of the case or cannot agree on the monetary damages, a lawsuit may become necessary. Uber accident lawsuits can be challenging. Because Uber classifies drivers as independent contractors, it is an uphill battle to sue Uber. However, even if you can't hold Uber liable, you may pursue compensation from the driver in their individual capacity.
If it becomes necessary to bring a lawsuit in your case, an attorney can advise you as to the best course of action to fight for the compensation you deserve against the parties responsible for your injuries and losses.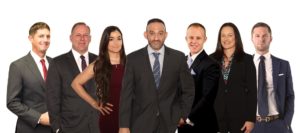 Most Common Causes of a Jacksonville Uber Accidents
Most vehicle accidents trace to some kind of driver negligence. Uber drivers and other drivers on the road who operate their vehicles in negligent or reckless manners increase the likelihood of accidents, injuries, and fatalities. If you were injured in an accident with an Uber caused by driver negligence, you may be able to recover compensation from negligent drivers.
Common negligent driving behaviors that may cause Uber accidents include:
Distracted driving – Uber drivers must constantly look towards their phone screens for driving directions, upcoming rides, or messages from passengers awaiting pickup. Plus, they can become distracted by any of the things other drivers do—something outside the vehicle, eating or drinking, even their own thoughts.
Speeding – When it comes to working as an Uber driver, time is money. The faster a driver can finish a ride, the sooner they can move on to another and pick up another tip. Uber drivers may rush in an attempt to complete rides faster and maximize their compensation.
Driver inexperience or lack of familiarity – There are no special licensing requirements to become an Uber driver. Ownership of a vehicle and a clean driving record is essentially enough to begin to offer rideshare services through the application. Unfortunately, this puts people that have no experience in transporting passengers on the road trying to do just that. An Uber driver might also be new to the area and be unfamiliar with the streets and traffic. In combination with the stress and novelty of the job, inexperienced Uber drivers can make accident-causing errors.
Violation of traffic laws and signals – The rules of the road apply to all drivers, including rideshare drivers. Passengers rate Uber drivers after rides are completed, which should incentivize them to drive safely and legally overall. But even minor infractions, like rolling through a stop sign, can lead to accidents, and these are the kind of infractions an Uber driver in a rush to complete as many rides as possible might make.
Jacksonville Uber Accident Injuries
Just like any other automobile accident, Uber accidents can involve serious injuries to passengers of the rideshare service and occupants of other vehicles. The types of injuries you suffer can impact your ability to enjoy your life, work, and fulfill your responsibilities to your family.
Common injuries in Uber accidents include:
Head and brain injuries
Injuries to the neck and back, including the spine
Broken bones
Bruises, cuts, and lacerations
Internal injuries
Soft tissue injuries
Call Sibley Dolman Gipe if a Jacksonville Uber Accident Injured You
After a Jacksonville Uber accident in which you suffer injuries, you are likely to incur medical expenses and you might need to miss work and lose wages. A victim of an accident should never bear the costs of the negligence of another party. The law allows Uber accident victims to seek compensation, or damages, from the parties at fault for their injuries.
Damages you might recover after a Jacksonville Uber accident include:
Medical expenses
Lost income
Future income loss and medical expenses
Pain and suffering
Loss of quality of life
Property damage
Loss of a loved one
If you suffer an injury in an Uber accident as a passenger or the occupant of another vehicle, contact a Jacksonville Uber accident lawyer at Sibley Dolman Gipe Accident Injury Lawyers, PA at (904) 441-6903 for a free evaluation of your case. We've handled Uber accidents since the dawn of the ridesharing business, and we're here to help you. You can reach us no matter what time it is. Call now.
---
Jacksonville Office
12574 Flagler Center Blvd.;
Suite 101
Jacksonville, FL 32258
Phone: (904) 441-6903
Client Testimonial
"AMAZING and understanding attorneys! Did great on my case and I highly recommend Sibley Dolman Gipe Accident Injury Lawyers, PA for anyone that has been injured in an accident!"
Rating: 5/5 ⭐⭐⭐⭐⭐
Koralis R.
Jan 2020
Read more reviews on Google!