Florida Car Accident Cases: How Long Do They Take to Settle?
Car accidents in Florida can leave a financial burden on victims. Compensation acts as a means to alleviate economic stress. People may be able to receive reimbursement with a lawsuit. They should consult a motor vehicle accident lawyer to determine if the law entitles them to monetary compensation.
An attorney can help investigate to show the negligence of the at-fault party responsible for your accident. The claims process can take significant time and requires many steps to reach a conclusion. Victims often wonder how long their Florida car accident claim will take to settle.
Steps of a Florida Car Accident Case
File an Insurance Claim With Your PIP Plan
The first step of a Florida car accident case is filing an insurance claim with your insurer. This step is required in Florida as it is a no-fault state. Drivers generally rely on their personal injury protection (PIP) plan to cover the initial costs of a crash regardless of fault.
You, however, may find your coverage has limits. PIP in Florida provides compensation for various medical expenses, but only up to 80 percent of those costs. Your insurance also typically covers up to 60 percent of lost earnings up to a $10,000 limit. Even death benefits have a cap in PIP plans.
File a Claim With the At-Fault Driver's Insurer
Some people sustain notable injuries when a motor vehicle collision occurs. A driver or passenger may even sustain fatal injuries due to another driver's negligence as well. The accident-related expenses in these instances will likely exceed PIP insurance limits. The next step, therefore, is to file a claim with the other driver's insurance company.
Florida generally allows victims to seek financial reimbursement for healthcare costs, property damage, and pain and suffering beyond their PIP coverage. Victim's must prove the at-fault driver was liable for the damages. If multiple parties are involved, you may file a claim with each of their insurers.
Find a Florida Car Accident Law Firm
Insurers utilize numerous tactics to reduce or eliminate your compensation claim and generally make the process challenging. The at-fault party's insurance provider might delay issuing a settlement payment or deny the claim for some obscure reason. Proving liability and negotiating with the insurer can be a struggle that an attorney can help navigate.
A Florida car accident attorney can evaluate your case during a free consultation to ensure the viability of your claim. They can answer your questions and help gather the details necessary to pursue the compensation you deserve. A lawyer can take over communication with the insurance company to ensure you aren't susceptible to their tactics and to negotiate to work toward fair compensation.
How Long Does a Florida Car Accident Case Take?
A car accident insurance claim can take weeks, months, or even over a year to resolve. Insurers usually have 30 days to accept or deny a submitted claim. The law requires the company to pay within 20 days once a written settlement has been agreed to.
In some cases, the other party refuses to negotiate for higher compensation or denies allegations of negligence. Your lawyer may decide litigation is necessary as a result. The case then has to go through each step of the litigation process.
A car accident lawsuit, on average, takes several months to settle. A person, however, might have to wait one or two years to get a resolution. The length of a motor vehicle collision case is different for everyone. A lawyer works diligently, but multiple factors may shorten or delay the process.
What Factors Affect the Length of a Florida Car Accident Settlement?
Type and Severity of Your Injuries
The extent of your injuries can affect how long your car accident case takes. Bone fractures, traumatic brain injuries, and other common injuries require an average of six to eight weeks to heal. More substantial conditions, however, may take even longer.
A spinal cord injury, for instance, often leads to hospitalization and rehabilitation. A car accident victim may take 18 months to regain some bodily function.
Attorneys often wait for people to reach maximum medical improvement before settling. This is the point when the victim has recovered as much as possible, even if they were to undergo further treatment. Severe injuries usually mean long recovery periods. A person may deal with thousands of dollars in bills as a consequence. A person may wait to heal to increase the accuracy of their claimed damages.
Expert Witness Availability
Motor vehicle lawsuits can see two types of witnesses. One is the individual who saw the crash, and the other is an expert. Expert witnesses may work as life care planners, accident reconstruction specialists, or another relevant field.
Your lawyer may decide an expert witness can bolster your case. The expert testifies within their area of expertise to support your claim. An expert witness, however, could be busy and difficult to schedule, delaying your claims progress.
Liability Disputes
The insurance company is less likely to sit down and negotiate if liability is unclear. The other party might argue you were responsible for the collision. You may have to find a lawyer to pursue legal action in response. A lawyer can investigate the details of the crash.
The attorney can gather evidence and contact witnesses to establish liability. Some pieces of evidence, however, might take a while to become available. Your lawyer might be unable to obtain all your medical records and bills until you have recovered sufficiently.
Liability becomes evident when the attorney obtains enough proof. The insurance company is less likely to dispute negligence when sufficient evidence is present.
Insurance Delay Tactics
While some people face denied claims, others deal with insurers delaying the process in bad faith. The adjuster might take a long time to return your calls or emails. You might struggle to contact someone after a representative makes a lowball offer.
The insurance company may attempt to avoid paying a settlement by delaying the case. A car accident lawyer can help resolve delays if the insurer holds up the process.
The Number of Involved Parties
The number of involved parties may impact how long Florida car accident cases take to resolve. A lawsuit can proceed more simply if it only has one plaintiff and one defendant, but accidents are rarely present such simple and neat scenarios.
You might include additional people in the lawsuit if the collision involved multiple vehicles. The case may take longer to complete due to the increased volume of paperwork. More than one insurance policy may require review as well. An attorney needs time to go through each detailed plan individually.
Another reason why more parties can slow progress is the shift in blame. Each side might claim another was liable for the accident. Your lawyer may need more time to investigate who was negligent and gather quality evidence.
A Difficult Defendant
Negotiations can happen sooner if the other driver admits fault. Some defendants, however, deny responsibility for the damages. The opposing party might take time to submit an answer after your lawyer files a lawsuit. The at-fault party could stall with a motion to dismiss the action as well.
The defendant may request the judge dismiss all or part of the case. Even if the motion has no merit, the lawsuit halts until the court holds a hearing. Progress resumes only once the judge denies the request to dismiss the case.
A difficult defendant may still attempt to stretch the lawsuit as much as possible. Negotiations may be hard to complete as a result.
Factors That Affect Compensation
Not everyone receives the same amount of money in a car accident settlement. Lawyers estimate compensation as the case progresses. Settlement calculations, however, do not have one foolproof formula. One law firm might estimate the value of pain and suffering differently compared to another office.
Different factors may apply to a motor vehicle case as well. Attorneys may consider each possible element before they negotiate compensation with the insurer.
Injury Severity
Severe injuries tend to increase compensation. The other driver may owe you more for a traumatic brain injury or multiple heavily fractured bones. Victims must spend more time in the hospital to recover and have more expenses. Keep copies of doctor's bills and pharmacy receipts for your attorney.
Life Disruptions
Amputations, paralysis, and other permanent injuries impact how much someone receives in a settlement. A serious condition can cause life disruptions for car accident victims. Injured individuals may be unable to perform daily chores around the house. They may require personal assistance with tasks like getting dressed.
Life disruptions include a person's ability to earn income. Share every detail of how your permanent injury affected you with your lawyer.
Permanent Scarring
Permanent scarring or disfigurement may not require rehabilitation. The injury, however, needs more than a simple doctor's visit to heal. A treatment plan can involve surgeries, skin grafts, or other cosmetic procedures. Permanent scarring can cause an emotional toll as well.
The Credibility of Witnesses
Witnesses are valuable when lawyers need to establish negligence. The credibility of a witness can improve the chances of higher compensation. The other side may be more willing to agree to a higher settlement with more credibility. A doctor who has been practicing for 20 years in brain injuries has significant credibility, whereas a med student may not have sufficient credibility to testify on a victim's condition.
Statements After a Crash
The statements someone makes after a collision can affect the settlement. A person has to be careful when they speak to the other driver or insurance adjuster. Some individuals might say they are okay or mistakenly imply they bear fault for the incident, which could reduce their compensation.
The insurance company can use your statements against you when negotiating for a settlement or in the courtroom. An adjuster with experience can undermine the seriousness of the crash and argue for low reimbursement. A motor vehicle collision victim should minimize communication with the insurer and find a lawyer to handle contact to avoid making any statements that hurt their claim.
Can You Sue Again After Settling?
The settlement process concludes once both parties agree to a compensation amount. The plaintiff and defendant sign the settlement agreement papers. The insurer then sends the check. Victims, however, may discover the damages are more severe after the lawsuit ends.
A defendant might have owed the plaintiff more money for the injuries. A person may have the desire to seek additional reimbursement as a result. The terms of the settlement agreement release the at-fault driver from liability and prevent the plaintiff from suing them again for the same incident.
An individual cannot reopen their car accident case as a result. You, therefore, should not sign anything until you consult a motor vehicle collision attorney. A lawyer can review the terms of the settlement agreement and ensure it fairly covers your losses. Consult an attorney if you have any questions about the settlement process.
How a Child Victim Affects a Car Accident Case
A portion of car accident victims are under 18. Children have the same rights to financial reimbursement as adults. Parents can file a claim with their insurance to cover medical expenses. An injured child can also pursue compensation through a lawsuit against the other driver.
Minors cannot file lawsuits on their own. They can wait until they turn 18 or have a parent open a case for them. A Florida motor vehicle collision lawsuit proceeds as any case would. An attorney can submit a demand letter to the insurance company and file a complaint if necessary.
The lawyer negotiates a fair settlement for the child. A minor can receive money for healthcare costs, lost ability to earn income, and non-economic damages. A few cases may seek punitive damages to punish the wrongdoer.
A lawsuit involving a minor may resemble one for an adult, but a couple of differences exist. A settlement agreement, for example, does not proceed until the judge approves it. Both parties can sign the papers afterward, and the compensation goes into a trust for the minor's benefit. Minors can access the funds once they turn 18.
How Much Does a Lawyer Take From the Settlement?
You would sign a fee agreement before you hire a law firm. The attorney can explain what type of payment you can expect. Car accident lawyers in Florida provide their services by charging a contingency fee. The payment method means you do not give the lawyer anything unless and until they recover compensation through a settlement or court award.
Lawyers deduct the percentage from the compensation before sending a check to their clients. The contingency fee is different for each law firm. The amount may depend on the office's location and the complexity of the case. An attorney can fight for every dollar you deserve, regardless. Contact a Florida car accident lawyer if you have any questions about your case.
Hire a Florida Car Accident Lawyer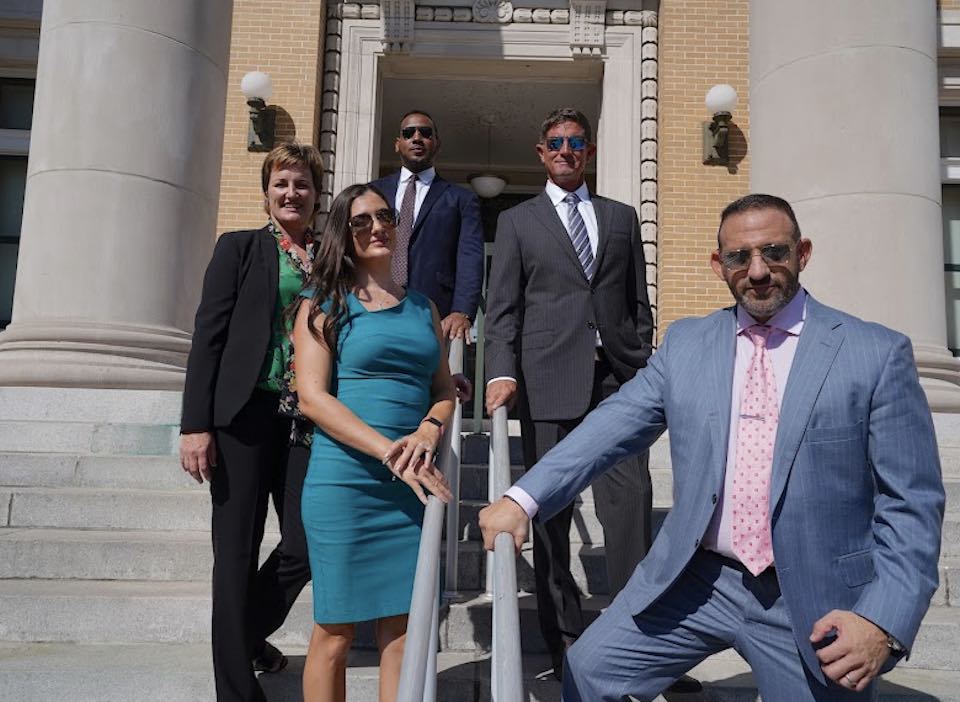 Some choose to go it alone after a car accident, which can be a mistake. Sometimes this means a quicker settlement, but it almost always means the claimant won't get the compensation he or she deserves for damages and losses related to a car accident. In other cases, insurance companies don't always take unrepresented victims seriously and play games to drag out the settlement process.
Hire a car accident attorney who knows the ins and outs of the settlement process to maximize your chances of getting the most compensation for your injuries and losses. Insurance companies take lawyers seriously and are less likely to engage in questionable tactics.
In the long run, experienced attorneys understand the settlement process and know when to take necessary action to move through each step. Using a lawyer may increase your car accident settlement, and a lawyer can also help prevent your claim from stagnating for an unreasonable amount of time. To contact Dolman Law Group Accident Injury Lawyers, PA about a free consultation on your case either call our Clearwater office at (727) 451-6900 or fill out a contact form online.
---
Dolman Law Group Accident Injury Lawyers, PA
800 N Belcher Rd
Clearwater, FL 33765
(727) 451-6900