Car accidents happen instantly, but the repercussions of getting seriously injured are long-term or permanent. Albany is home to many of the top car crash hotspots in the Capital Region, especially around high-transit areas like I-87, Washington Avenue, Central Avenue, and the Adirondack Northway, which all see their fair share of collisions.
At the Dolman Law Group, we've seen firsthand how scary, stressful, and incredibly disruptive car accidents can be. We know that victims and their families face the financial strain of unexpected medical expenses, lost income, and major uncertainty about navigating the legal process.
That's where our team of highly skilled Albany car accident lawyers can help you. We specialize in guiding clients in the Albany community through all the legal hurdles of getting their damages covered after an accident, especially understanding all options for maximizing compensation in their specific circumstances.
Car Accident Advocates in Albany, NY
If you're currently dealing with the physical and financial aftermath of being in a difficult accident, recovering compensation for medical bills and other expenses is a huge priority for getting life back on track. While New York State's unique no-fault insurance system can add layers of complexity to the claims process, you don't have to handle all this red tape by yourself.
Trust the Dolman Law Group's team of experienced car accident lawyers to safeguard your legal rights and place your claim in the strongest position. If you've been injured severely enough to qualify for taking legal action outside the no-fault system, our skilled attorneys can help you make informed decisions and provide support every step of the way.
We also have a network of medical professionals, accident reconstruction specialists, investigators, and other experts who can provide crucial testimony to strengthen your case.
Common Causes of Car Accidents in Albany, NY
Devastating car accidents can happen without warning for many reasons, including scenarios where another motorist's actions place you at unnecessary risk.
After a collision, most Albany drivers will tap into their no-fault insurance to cover damages, which means proving fault isn't necessarily part of the claims process. However, there are also many cases when establishing fault and liability becomes extremely important, especially after an accident that caused severe injuries with significant damages.
Some of the leading causes of car accidents on Albany roads include:
Speeding: Drivers that exceed the speed limit or drive too fast for the road conditions cause many accidents every year, often from losing control of their vehicle while steering around a curve or reacting to an obstacle. Speeding-related accidents are also higher-impact and statistically more likely to cause fatal injuries.
Reckless or aggressive driving: Illegal or dangerous driving behaviors increase the risk of a crash and make the at-fault liable for any resulting damages. Tailgating, changing lanes without signaling, or ignoring traffic signs are all examples of negligence, especially when they lead to accidents.
Distracted driving: Texting or using a smartphone while behind the wheel has become an alarmingly common cause of accidents throughout New York State, although it's illegal. Other dangerous examples of distracted driving include eating, applying makeup, talking to passengers, or adjusting the GPS.
Driving under the influence: NYS law considers anyone with a Blood Alcohol Content (BAC) of 0.08 percent or higher too impaired to get behind the wheel. Whether it's alcohol, recreational drugs, or even legal prescription drugs that cause drowsiness, driving under the influence of substances can affect the driver's coordination, reaction times, judgment, and overall ability to operate their vehicle safely.
Vehicle defects: Serious accidents can also unfold due to mechanical or design defects in one of the vehicles involved, such as faulty brakes, a tire blowout, or a malfunctioning steering system. In these cases, you can hold the vehicle's manufacturer liable for any resulting damages under New York product liability law.
How to Recover Compensation After an Albany, NY Car Accident
The consequences of a car accident can range from immediate physical effects to long-term financial burdens. New York's no-fault laws require insurers to help with medical bills, lost income, vehicle repairs, and other costs, regardless of who caused the crash. However, this system has many significant limitations and a lot of intricate rules to follow, so you need a lawyer to explain how these laws will affect your claim.
At the Dolman Law Group, we use our in-depth understanding of these laws to help our clients make sense of all the available sources for pursuing compensation and maximizing recovery. The two main paths for getting your damages covered after an accident include:
Recovering Compensation Through Your Own Insurer
New York State requires all drivers to have a Personal Injury Protection (PIP) policy that kicks in after an accident to cover related expenses. Ideally, this system's designed to provide injured drivers quick access to medical treatment and lost income benefits.
Some important factors to know about turning to your PIP insurance:
Coverage includes up to 80 percent of your lost income, provided as a monthly payment of up to $2,000
The maximum limit for all damages covered by PIP insurance policies is $50,000
Non-economic damages like pain and suffering or emotional distress are not compensated
PIP doesn't cover property damage, but other insurance might
In most cases, New York's no-fault laws also prevent injured drivers or passengers from suing the at-fault party for damages except when the accident caused extreme injuries.
The overall purpose of this system is to streamline the claims process and make it less contentious. However, the frustrating reality for many Albany car accident victims is that there's still a lot of stress and confusion when trying to get their damages covered by their own insurer.
For example, the insurance company might offer much less compensation than your actual expenses from the crash, even without reaching the limits of your policy. Having an attorney well-versed in handling Albany car accident claims can help you secure the full benefits you should be eligible to receive under your purchased policy.
Filing a Personal Injury Lawsuit Outside No-Fault Insurance System
New York State has specific exceptions for the no-fault system for car accidents where the consequences are so severe that the victim's costs far exceed coverage provided by a PIP policy.
Claimants can qualify to file a personal injury claim, also known as suing the at-fault driver directly if they've suffered over $50,000 worth of damages in medical expenses and lost income or if their injuries meet the legal threshold for being considered severe.
Some examples of serious, life-altering injuries that qualify for an exemption include:
Fractured bones
Permanent scarring or disfigurement
Permanent limitation of a body part or function
Dismemberment
Loss of a pregnancy
Death
Temporary disability, meaning injuries that restrict the victim from returning to their usual activities for at least 90 of the 180 days after the crash
The option to file a personal injury lawsuit after a car accident provides a lifeline for claimants who suffered severe injuries by allowing them to supplement the compensation available under their own PIP insurance. There's also the potential for recovering a much broader range of damages, such as compensation for the accident's emotional and psychological impact.
However, filing a lawsuit is a much longer and more complex process that requires proving fault and establishing liability. Winning fair compensation involves a detailed investigation to gather evidence, substantiating the full extent of your damages, and negotiating a settlement with the at-fault party's insurer.
The stakes in these cases are generally very high for both sides, so you'll need an experienced legal team with the skills and resources to represent your best interests.
Dolman Law Group's attorneys understand the nuances of New York's car accident laws, and we know what it takes to help our clients get fairly compensated for severe injuries.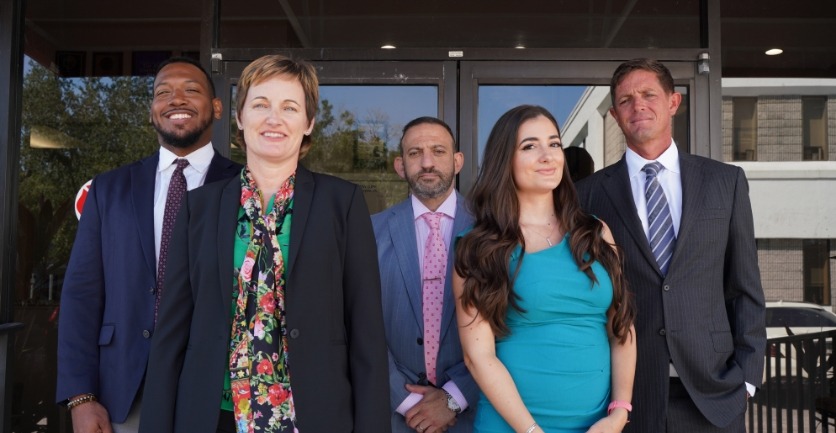 How Long Do I Have to Pursue Compensation After an Albany Car Accident?
A car accident is an incredibly chaotic time, especially if you're seriously injured. However, several critical legal deadlines can affect the claims process or prevent you from getting compensation altogether.
Car accident victims in New York State will need to consider:
Deadlines when submitting a PIP claim: You only have a 10-day window to notify your insurer after being in a car accident that causes injuries or results in more than $1000 in property damage. You also have only 30 days to report your intention to recover compensation for medical expenses, income reimbursement, and other economic costs from the accident. Missing these deadlines would make it difficult, if not impossible, to obtain these benefits, even if you would otherwise qualify.
Deadlines when filing a personal injury lawsuit: New York residents have only three years to file a lawsuit against the at-fault party after suffering severe injuries due to someone else's negligence, including car accidents. This deadline is known as a statute of limitations, and its purpose is to ensure these matters are resolved while the evidence is still available and reliable. Car accident victims that don't begin the legal process in time would be forfeiting their rights for compensation, regardless of the seriousness of their injuries or the irresponsible circumstances that led to the crash.
Deadlines when filing a wrongful death claim: In tragic cases where a car accident victim's injuries are severe enough to be fatal, NYS law allows close relatives of the deceased to recover compensation for Wrongful Death. These damages can include funeral and burial costs, future income the deceased would have contributed, and compensation for the profound grief of a loved one's sudden and preventable death. The statute of limitations in these cases is two years from when their relative passed away rather than from the accident.
Hiring a lawyer early in the process can significantly improve your chances of building a strong case and pursuing all the potential avenues for compensation. The experienced car accident attorneys at Dolman Law Group can ensure your claim is handled correctly by preserving crucial evidence, documenting the full extent of your losses, and safeguarding your claim throughout the legal process.
How We Help Car Accident Victims in Albany
A car accident can cause a whirlwind of physical pain, emotional trauma, and financial stress that's likely to turn life upside down for months to come. Victims and their families also face the challenges of navigating the legal system and understanding all available options. 
When you hire The Dolman Law Group to handle your car accident claim, you will know that we'll do everything possible to help you protect your legal interests and recover the resources to get life back on track. We have a solid track record of success helping clients in Albany and throughout the Capital Region win fair compensation after being injured in a car accident.
We help our clients secure the best possible outcome by:
Conducting a detailed assessment of your case to identify the best paths to recovery and explore all possible avenues for compensation, including whether it's appropriate to file a lawsuit against the at-fault driver
Managing all legal paperwork correctly and on time to prevent any administrative obstacles that can affect your claim
Consulting with medical experts and other professionals to substantiate the full extent of your injuries, including long-term implications for your health and quality-of-life
Using our extensive experience negotiating with insurance companies to push back against lowball settlement offers and recover the maximum compensation for your damages
At Dolman Law Group, we're also known for prioritizing clear, honest communication to reduce stress and help our clients feel empowered. That means we'll always make ourselves available to answer your questions, provide updates on the progress of your case and generally help you understand what to expect while pursuing compensation for your damages after a car accident. Reach out to a New York personal injury lawyer.
Call 833-552-7274 (833-55-CRASH) now to take advantage of our free case evaluation and take the first crucial step toward protecting your financial future.
The Dolman Law Group works with local counsel in any jurisdiction outside Florida for the purpose of filing lawsuits in jurisdictions wherein we are not licensed. Thus, we will follow each State's ethical rules to ensure a local attorney is involved.