Car accidents occur daily in Las Vegas. Tragically, some are fatal. Many more leave victims with debilitating injuries that exact a heavy physical, emotional, and financial toll. Victims of these accidents deserve compensation. An experienced Las Vegas car accident lawyer can get it for them.
Dolman Law Group Accident Injury Lawyers, PA, represents Las Vegas car accident victims and the loved ones of those killed in fatal crashes. Our Las Vegas car accident lawyers can review your case and explain your options for seeking monetary damages for your loss. Contact us today for your free case evaluation.
About Our Team
Dolman Law Group Accident Injury Lawyers, PA, is an award-winning personal injury law firm. We represent clients nationwide, including in Las Vegas and throughout Nevada. Our team of all-star lawyers and legal professionals fights to secure compensation for victims of all manner of accidents. We get top-dollar results in even the most challenging cases.
Car accident cases constitute a core focus of our law practice. Since our founding, we've secured tens of millions of dollars for car accident victims and the loved ones of those killed in fatal collisions. Contact us to learn how we can use our years of experience and substantial resources to obtain the money you deserve after a Las Vegas car accident.
The Dolman Law Group works with local counsel in any jurisdiction outside Florida for the purpose of filing lawsuits in jurisdictions wherein we are not licensed. Thus, we will follow each State's ethical rules to ensure a local attorney is involved.
Las Vegas, NV Car Accidents Take a Heavy Toll
According to the Las Vegas Metropolitan Police Department (LVMPD), 19,891 accidents occurred on Las Vegas roads in just one recent year, injuring 11,071 victims and taking the lives of 152 more. On average, 55 car accidents happen every day in Vegas. Most result from someone's negligent or reckless actions. Better driving would prevent almost all of them.
You're never far from a recent car accident anywhere in Las Vegas, from the Strip to the Summerlin suburbs. But like many cities, some areas are more dangerous than others because of trip volume, traffic patterns, and road conditions.
As a tourism, convention, and business-meeting destination, Las Vegas also gets thousands of additional drivers who don't know where they're going or might find our city's attractions distracting. Many such drivers cause accidents while visiting Las Vegas. They may have crashed into you while driving rental vehicles or carrying out-of-state insurance policies, which could further complicate your claim and require our Las Vegas car accident lawyers to sort it out for you.
Data from the Nevada Department of Transportation (NDOT) reflects that high crash-risk intersections and roads in Las Vegas include:
Sahara Avenue and Decatur Boulevard
Tropicana Avenue and Rainbow Boulevard
Flamingo Road and Rainbow Boulevard
Flamingo Road and Decatur Boulevard
Charleston Boulevard and Rainbow Boulevard
Charleston Boulevard and Decatur Boulevard
Tropicana Avenue and Decatur Boulevard
Spring Mountain Road and Rainbow Boulevard
Sahara Avenue and Maryland Parkway
Interstate 15 (I-15)
Las Vegas Boulevard
No matter where in Las Vegas you or a loved one got into a car accident, however, you deserve skilled legal representation in your corner. Contact Dolman Law Group Accident Injury Lawyers, PA, today to learn about your rights.
What Compensation Can You Obtain for Car Accidents in Las Vegas?
Las Vegas car accident victims and families of those killed in crashes have significant rights under Nevada law. Through lawsuits, insurance claims, or other legal actions, they can obtain compensation from individuals, businesses, or entities at fault for a crash and others who must answer for the at-fault parties' conduct.
At Dolman Law Group Accident Injury Lawyers, PA, we pursue the maximum compensation available from liable parties for our clients.
Liability for a Las Vegas Car Accident
Anyone who causes a crash through their careless, reckless, or intentional conduct can owe damages to the victims of a Las Vegas car accident. Sometimes, just one individual, business, or entity is liable to the victims. But in many cases, multiple parties must pay for the harm the crash caused.
The Dolman Law Group Accident Injury Lawyers, PA team digs into the details of a car accident that injured our client to identify all liable parties. We aim to hold all of them accountable for harming our clients. And we understand that various parties could owe damages in any car accident case.
Our review of the evidence could reveal that you can demand compensation from, for example:
A motorist who caused the car accident through careless actions like distracted driving or speeding.
A business that employed an at-fault motorist who crashed a work vehicle.
A local government entity responsible for unreasonably hazardous road conditions.
A private property owner who failed to maintain safe roads or parking areas.
The manufacturer of defective auto parts that played a role in causing the crash.
These are just a few examples. You can only reliably know who might have liability for your Las Vegas car accident injuries once an experienced lawyer has reviewed your case. Contact Dolman Law Group Accident Injury Lawyers, PA, today to begin learning about liability for the crash that injured you or your loved one.
Potential Damages for a Las Vegas Car Accident
Injured victims of Las Vegas car accidents can claim compensation for the physical, emotional, and financial harm they suffered.
Under Nevada law, a lawsuit or insurance claim might seek payment for:
Past and future medical expenses to treat car accident injuries;
The cost of repairing or replacing a damaged vehicle or other personal property;
Other unplanned expenditures directly resulting from the accident or injuries;
Loss of pay and benefits from missing work while healing;
Future lost earnings and opportunities due to a disability caused by the accident;
Loss of independence;
Diminished quality of life;
Scarring, disfigurement, or loss of bodily function.
The law may also entitle a victim to seek punitive damages to punish the at-fault party's extreme or malicious conduct or statutory damages arising from violating a specific law.
The types and amounts of compensation you could receive in a Las Vegas car accident case depend on factors like the strength of the evidence, the skill of your lawyer, and the financial resources of the liable parties.
At Dolman Law Group Accident Injury Lawyers, PA, we pursue strategies to maximize your financial recovery. And as noted above, we have an impressive track record of getting results for injured crash victims.
Compensation for a Fatal Las Vegas Car Accident
If a car accident victim succumbs to crash-related injuries, the victim's heirs under Nevada law may have the right to seek compensation for their tragic loss through a wrongful death lawsuit and a related suit called a survival action.
By pursuing those legal actions, the heirs and the victim's estate could recover compensation that includes payment for:
Their grief or sorrow;
Loss of the deceased victim's income or financial support;
Loss of the deceased victim's companionship, society, comfort, and consortium;
The deceased victim's pain, suffering, or disfigurement before death;
Medical and other accident-related expenses the deceased victim incurred;
Funeral and burial expenses.
At Dolman Law Group Accident Injury Lawyers, PA, we recognize that monetary damages can never compensate for a tragic loss. But they can provide crucial financial support during this difficult time.
Contact our compassionate team today if you recently lost a loved one in a Las Vegas car accident.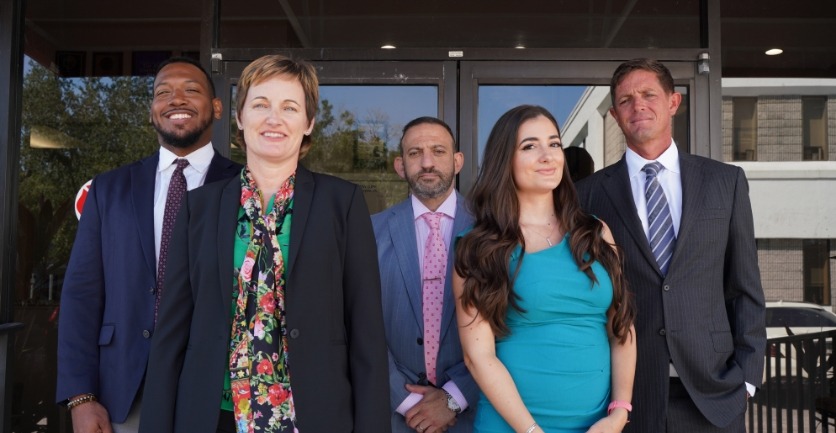 Las Vegas Car Accident Injuries We Can Handle
The Dolman Law Group Accident Injury Lawyers, PA team has years of experience handling car accident claims. We've represented clients suffering from a wide range of crash-related injuries and trauma, so we're familiar with the diverse medical, financial, and legal issues that can arise in a car accident case. Our lawyers can handle claims involving virtually any car accident injury, including:
Spinal cord injury (SCI) resulting in paralysis
Traumatic brain injury (TBI) that causes substantial impairments
Crushed or amputated limbs and appendages
Neck and back injuries, including those resulting in chronic pain and disability
Severe burns and other disfiguring injuries
Internal injuries and loss of bodily function
Lacerations and other injuries resulting in nerve damage
Broken bones, joint discretion, ligament tears, and other orthopedic injuries
No matter what trauma you or your loved one suffered in a Las Vegas car accident, our team possesses the knowledge and resources to assess your circumstances and explain your legal options. Contact us today to learn more in a free consultation.
What Can We Do for a Las Vegas Car Accident Victim?
At Dolman Law Group Accident Injury Lawyers, PA, we're prepared to handle any challenge a car accident case throws at us. Our team comprises numerous lawyers and legal professionals who know the ins and outs of car accident cases and how to win them.
Every car accident we handle is unique. The clients we represent deserve and receive our individualized attention. We tailor every step in a car accident case to meet each client's needs and priorities.
Depending on the circumstances, we can:
Investigate a Las Vegas car accident to identify its causes and the parties liable to the victims;
Evaluate our client's damages to ensure we seek the maximum compensation available;
Analyze insurance policies to determine if and for how much they cover our client's losses;
Handle all interactions with insurance companies as our client's legal representative;
Answer our client's questions and explain their options in clear terms they can understand;
Gather evidence to support our client's claim for car accident damages;
Prepare and file lawsuits and insurance claims seeking compensation for our client;
Negotiate settlements of our client's claims when possible;
Advise our client whether to accept or reject settlement offers;
Argue our client's case at trial in a Clark County or federal district court;
Ensure our client receives all money due from a liable party.
Dolman Law Group Accident Injury Lawyers, PA, provides affordable legal representation to car accident victims and their loved ones. We handle Las Vegas car accident cases on a contingent fee basis. We never charge you an upfront retainer or bill you by the hour for our time spent on your case. You only pay us if we obtain compensation for you.
Tips for Protecting Your Rights After a Las Vegas Car Accident
Your actions after suffering losses in a Las Vegas car accident can influence the chances of receiving fair compensation. Following the tips below can protect your legal rights and financial future.
Seek Immediate Medical Attention
Always seek medical attention after any car accident in Las Vegas, even if you think you have avoided severe injuries. Minor aches and pains you feel now could indicate major trauma that needs immediate care. To safeguard your health and well-being, let a doctor check you over right away.
Getting care also protects you legally. Medical records of your injuries can serve as valuable evidence in a claim for damages. And by seeking care, you avoid being accused of not taking reasonable care of yourself.
Hire a Car Accident Lawyer
Once you've addressed your immediate medical needs, ask an experienced Las Vegas car accident lawyer about handling your case.
Dolman Law Group Accident Injury Lawyers, PA, offer free consultations for crash victims and their loved ones. There's no risk in consulting our lawyers; you will obtain significant benefits by doing so.
Hiring a lawyer ensures you always meet the legal deadlines in your Las Vegas car accident case. Under Nevada's statute of limitations for car accident claims, you have at most two years from the date of the crash and potentially as little as a few months to take legal action. If you miss that window, you could lose your rights. A lawyer can take the action necessary to preserve your claim before it expires.
Do Not Settle Without Consulting a Lawyer
An at-fault party or insurance company may offer to settle with you before you've had the chance to hire a lawyer. Do not agree to any proposal they make or sign anything they send you without consulting an attorney. Settlement offers made directly to crash victims like you rarely pay you fair compensation, and if you accept them, you could sacrifice your right to receive the amount you need to pay your bills and rebuild after the accident.
Our experienced car accident lawyers can respond to the proposal on your behalf and, in most cases, negotiate a far more favorable payment.
Contact an Experienced Las Vegas Car Accident Lawyer
If you or your loved one recently suffered injuries in a Las Vegas car accident, the team at Dolman Law Group Accident Injury Lawyers, PA, wants to speak with you. You can easily reach us at 833-552-7274 (833-55-CRASH) or write to us on our online contact page to learn about your rights and options for seeking compensation.