There are more than a dozen marinas near Hernando Beach Harbor, where residents and tourists go to enjoy one of Florida's many water-based pastimes. Unfortunately, as enjoyable as our regional boating opportunities are, there are hundreds of boating accidents in Florida each year, resulting in injuries and deaths. A third of all boating accidents involve a collision with another vessel, which is almost always the fault of one of the vessel's operators.
If you were injured in a boating accident that was caused by the negligence of another boater, you can seek compensation for the expenses and psychological impacts you incurred as a result of that accident through Florida's personal injury claims process.
An experienced Spring Hill boating accident lawyer from Dolman Law Group Accident Injury Lawyers, PA, can assist you in understanding this process and provide services to help you resolve your claim.
Why Choose Us to Assist You With a Boating Accident Claim?
Dolman Law Group Accident Injury Lawyers, PA, has years of experience helping the injured in accidents in communities across both Florida coasts. There are nearly one million registered boats in the state, far more than any other state in the U.S., including others along the nation's east and west coasts. Because of the popularity of boat ownership here, the state sees a higher number of boating accidents.
Dolman Law Group Accident Injury Lawyers, PA, has gained ample experience in assisting those who are injured in this type of accident or suffer injuries commonly experienced in boating accidents to obtain the compensation they need.
Some of our case results include:
$750,000 for a client who suffered a traumatic brain injury
$525,000 for a client who suffered neck and back injuries
$325,000 for a client after an insurance company declared that their injuries were minor
We cannot guarantee the results of your case or what you will recover, but we can guarantee that we will pour our resources and efforts into each claim to ensure our clients have the best chance of success. While we are a national law firm, our roots are very much in Florida, where we have garnered a reputation for being aggressive advocates for our clients, unafraid to take a case to trial if it means our client's receive the compensation they deserve.
We offer the network and experience of a national firm, while also providing the personal focus and attention to detail that personal injury claimants can expect from a small firm. For our clients, it's a win-win.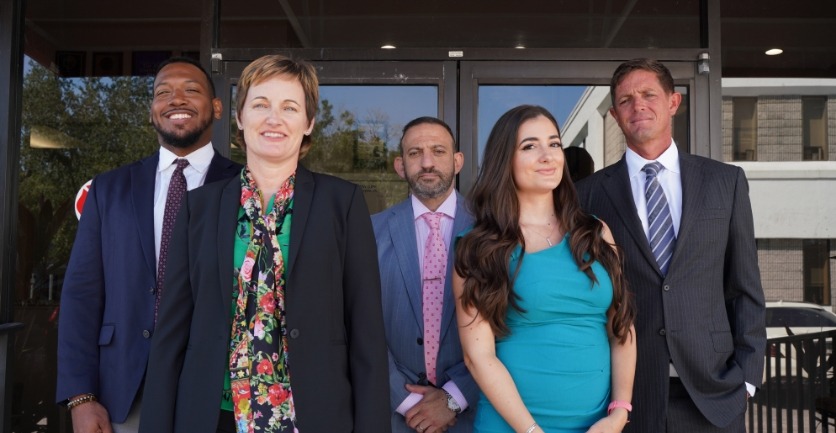 A Local Legal Team to Better Serve You
Receiving assistance from a local legal team has many benefits. They have a familiarity both with the places where accidents occur, as well as the places where claimants live and receive treatment for their injuries. Providing the personal touch of a face-to-face meeting with your attorney is integral to developing trust for the professionals assisting you through the claims process.
Because we understand the importance of having a local attorney, Dolman Law Group Accident Injury Lawyers, PA, has over a dozen law offices throughout the state. Our Spring Hill office is conveniently located at 10485 Heley Street, between Mariner Boulevard and Lamson Avenue, making it easy for you to attend a free consultation with an experienced boating accident lawyer. Visit our office or call us today.
How and Where Boating Accidents Occur in Spring Hill
Marinas in the Hernando Beach Harbor include Gulf Coast Marina, Weeki Wachee Marina, the Blue Pelican and Sterling Marina to the south, and access ramps for smaller boats that include Jenkins Creek and Rogers Park. Commercial vessels also dock and launch from the area.
The Florida Fish and Wildlife Conservation Commission (FWC) gives citations to boaters for unsafe behaviors, including:
Failure to have the proper safety equipment and lights for the vessel. This is the most commonly cited violation to be issued by the FWC after Florida boating accidents, resulting in more than 4,000 citations annually.
Aids to navigation and regulatory markers, which means the boater traveled outside of the area deemed safe for the vessel's size and in consideration of area wildlife, such as manatees. Around 40 of these citations are issued each year after boating accidents.
Alcohol and drugs. The legal alcohol impairment limit for operating a vessel is the same as for drivers, at .08 percent blood alcohol content. More than 600 boaters are cited for operating their vessel while impaired each year.
Boating in restricted areas. This is one of the more common citations given, with well over 7,000 citations issued by the FWC and other agencies in a year entering areas with public or wildlife safety concerns.
Failure to obtain required Boating Safety education, which results in more than 1,500 citations each year.
Livery operations, which refers to a commercial boat rental providing boaters with vessels that do not have the proper safety equipment aboard, rents to minors, or rents to individuals who have not obtained the required boater education. Over 1,000 citations are issued to livery operations after an accident occurs each year.
Negligent operation of a vessel, which involves speeding and other unsafe boating behaviors and results in around 1,000 citations a year.
The Injuries Commonly Sustained in Boating Accidents
More than 400 people are injured yearly in Florida due to boating accidents, according to the FWC. The most common injuries are lacerations, which more than a quarter of all people injured in boating accident.
Other types of injuries commonly reported after boating accidents include:
Contusions
Head injury
Back injury
Sprains and strains
Internal injuries
Burns
Traumatic amputation
Spinal injuries
Injuries to the teeth and jaw
Those who have experienced severe injuries as a result of a boating accident almost always face serious financial costs, including medical expenses, wage loss, loss of their vessel, and other property damage. They also face psychological impacts, such as physical pain and suffering, emotional distress, and loss of enjoyment of life.
The Claims Process After a Boating Accident
When someone is injured by another party's recklessness or carelessness, they can seek compensation for their injuries.
They may also seek compensation from:
A local boat rental, failing to provide proper safety equipment or ensure that the boat's operator is authorized by requiring proof of age and boating safety education.
A local business establishment that served the boat operator alcohol while knowing that they were underage or were a habitual drinker, in accordance with Florida's dram shop law.
Manufacturers whose defects compromised the safety of any vessel involved in the accident.
This process generally consists of first filing a claim against the at-fault party's insurance provider. When the provider receives the claim, they will assign a claims adjuster to analyze it and determine if their insured was liable, if the insurance policy provides coverage for that type of claim, and how much compensation (if any) is owed to the claimant.
Suppose the insurance provider fails to compensate the claim by either paying it outright or engaging the claimant in a settlement agreement. In that case, the claim can be filed as a personal injury lawsuit. This is a legal claim filed in civil court that asks a judge or jury to hear the facts of the case, view the evidence, and decide on the liability of the at-fault party and the amount of compensation owed to the claimant.
What Are the Boating Insurance Requirements in Florida?
Unfortunately, Florida does not require boat owners to obtain insurance to operate the vessel on the state's waterways. However, many boaters do have insurance, particularly when there is a lien against the boat. Additionally, many marinas have boat insurance requirements to cover the liability of negligent operators who cause accidents that harm others.
Boating accidents featuring other forms of liability, such as negligent livery operations or defective parts used on the vessel, would involve claims against a business liability insurance policy.
The Services an Attorney Can Provide for You During the Process
When a boating accident occurs in which someone is injured due to another's negligence, the injured party is often left with many unanswered questions, such as: Does the other boater have insurance? How can I pay for the expenses I incurred in the accident? How can I hold a boater accountable for the injuries they caused to me due to their negligence?
During a free case evaluation from the legal team at Dolman Law Group Accident Injury Lawyers, PA, you can receive answers to those questions and learn about the other services that the firm can provide to assist you with the complex and often overwhelming process of seeking compensation for your injury.
Those services can include:
Determining all sources of liability for the accident and the relevant insurance policies held by the liable parties that can be accessed to compensate your claim.
Determining a value to the claim based on the expenses and impacts you incurred. The claim's value is also often influenced by factors such as the severity and permanence of the injury you experienced, as well as the level of recklessness exhibited by the at-fault party that resulted in the accident.
Communicating with the insurance provider to protect your claim from the tactics insurance companies frequently use to devalue claims and negotiate a settlement that fairly compensates you for your injury.
Filing a lawsuit within Florida's four-year statute of limitations. The statute of limitations is a legal deadline for filing a lawsuit in court. Failing to file the lawsuit within this deadline usually results in losing the claimant's right to use the court process when seeking compensation for their injury. In addition, once the statute of limitation expires, the at-fault party's insurance company no longer has a legal consequence if they fail to compensate a claim.
The litigation process, which involves deposing witnesses, filing and responding to motions made to the court, gathering evidence held by the at-fault party that can help to prove the claim, creating evidence exhibits, and presenting the claim in court. While the vast majority of personal injury claims are settled before trial, a small percentage go to trial. It is impossible at the start of the claims process to know whether a case will settle or require litigation, so it is essential to have the assistance of an attorney who has experience with litigating claims. The legal team at Dolman Law Group Accident Injury Lawyers, PA, has a reputation for being tough to beat in litigation.
Assisting in receiving your compensation from a negotiated settlement or a court award.
Affording a Spring Hill Boating Accident Attorney
In light of the number of services an experienced boating accident attorney can provide and the high-priced portrayal of lawyers on television and in movies, it is understandable that many personal injury claimants are reluctant to seek assistance. However, having an attorney is crucial to receiving fair compensation for your claim, and personal injury lawyers often do not require the inordinately high fees many associate with legal services.
Spring Hill personal injury lawyers at Dolman Law Group Accident Injury Lawyers, PA, use a contingent fee billing method, which allows the claimant to only pay for their attorney's services if the claim is compensated. After the claim is resolved through a settlement or court decision, the attorney helps you receive the award, and a percentage of the award is deducted to pay for their services. The amount of the percentage to be paid for your attorney is explained in full in the contingent fee agreement you enter with your lawyer at the start of the claims process.
If a Spring Hill Boating Accident Injured You, We Can Help You
Boating accidents are not an uncommon occurrence in waters throughout Florida. If you've been injured in this type of accident, a Spring Hill boating accident lawyer from Dolman Law Group Accident Injury Lawyers, PA is ready to provide answers to your legal questions and help you understand the claims process. Reach out to us for a free case evaluation by calling (352) 612-3437 or send us a message.