The Definition of Attorney
For many people, the word attorney conjures up the image of an intimidating professional dressed in a suit and tie, likely with a briefcase in hand, insisting that a witness provide all the information necessary to uncover the key details of a case. An attorney, however, fills many more roles than that. If you need to
file a personal injury claim
, make sure you understand the experience, services, and assistance an attorney can provide.
What Do Attorneys Do?
An attorney not only attended law school and received the necessary licensing to practice law in a specific state, they actively practice law within that state. An attorney has:
Passed the bar exam, which determines an attorney's right to practice law in the state
Received approval to practice law in his jurisdiction
The American Bar Association
notes that an attorney, or lawyer, has two main duties: to uphold the law and to protect a client's rights. A licensed attorney can provide legal advice or represent clients in court to help them achieve the best possible resolution.
Types of Attorneys
Attorneys can fill a variety of roles, usually depending on their specific area of expertise. The type of lawyer you need will depend on the type of case you have. You would not want to hire an attorney whose expertise falls outside your specific needs. Attorneys usually focus on a highly specialized area of the law. While law firms may branch out, each attorney may have a specific specialty that they focus on as they aid their clients and guide them through their legal challenges.
Personal Injury Attorneys
Personal injury attorneys focus on providing aid to clients who have suffered serious injuries due to the negligent actions of another party. Personal injury attorneys can help guide clients through their claims, including helping them better understand their right to compensation following severe injuries and offering them critical advice about how to deal with insurance companies. Personal injury lawyers may also aid in workers' compensation claims, where victims suffered an injury at work and need to seek compensation for those injuries or help going back to work.
Estate Planning Lawyers
Estate planning lawyers focus on providing clients with the tools they need to successfully distribute their assets after they die or to manage medical care, if needed. Estate planning lawyers can help clients decide how to handle custody of minor children following their death, provide vital information about how to create a will, and offer information about trusts and other details. Estate planning lawyers can also aid in establishing power of attorney, which will grant financial or medical decision-making rights to a specific individual in case the client cannot make those decisions for himself.
Employment Lawyers
Employment lawyers focus on all the details of employment law. They can help employees understand their legal rights and how those rights impact their daily responsibilities in the workplace. Employment lawyers can help with workplace discrimination claims, including unjust firing, or help employees collect their fair pay based on the work performed if an employer tries to limit it.
Bankruptcy Lawyers
Filing for bankruptcy creates a great deal of stress for everyone, especially if you do not understand how to file or how your bankruptcy might impact your finances in the future. A bankruptcy lawyer can help you learn more about which of your assets you can keep, how to protect your home or vehicle, and how to manage your creditors, especially as pressure increases to deal with the situation. Bankruptcy lawyers can also help you understand what debt you will still face responsibility for after bankruptcy and even provide valuable advice about how to manage finances more effectively in the future.
Criminal Defense Lawyers
Criminal defense lawyers focus on helping clients accused of crimes. Some criminal lawyers specialize in serious crimes, including murder, while others may focus more heavily on misdemeanors. Criminal defense lawyers may help establish that you did not commit a crime, or may help you minimize the consequences you may face for a crime. While the state will assign an attorney to people accused of a crime if needed, many people choose to hire their own criminal defense attorneys to maximize the odds that they can eliminate or decrease the consequences of those crimes.
Corporate Lawyers
Corporate lawyers focus on law as it relates to businesses. They can help draft vital documents, structure corporate documents, and create policies that will keep a company on the right side of the law. They can also help read over contracts to ensure that they offer favorable terms to the client and do not contain unexpected clauses that could work against the client in the future. Corporate lawyers may assist with creating clear, understandable documents that can help cement deals.
Family Lawyers
Family lawyers deal with a host of issues that have the potential to impact families. They may deal with divorce proceedings, help manage child custody arrangements, or arrange the details associated with an adoption. Family lawyers may also help, in some cases, with drafting prenuptial agreements, wills, or vital documents that pertain to family needs.
What Does a Personal Injury Lawyer Do?
You know that you need to contact a personal injury lawyer if you have suffered serious injuries due to the negligence of another party, but you may wonder what benefits a lawyer can offer. What, exactly, does a personal injury lawyer do? A personal injury lawyer can aid you as you pursue compensation for a
personal injury claim
.
1. A personal injury lawyer can look over your claim and give you a better idea of your right to compensation.
Sometimes, you may not know whether you have the right to compensation based on how your injury occurred and what type of injuries you suffered. You may not even know who you need to sue to pursue the compensation you deserve for those injuries. A personal injury attorney can sit down with the details of your claim and look over them to give you a better idea of the compensation you could expect based on your medical bills, your lost wages, and your other financial losses related to the accident. Once you understand how much compensation you deserve for those injuries, you may find yourself in a better position to negotiate with the insurance company. Since you know how much compensation you deserve, you may avoid accepting a settlement offer that does not reflect the compensation you really deserve for your injuries.
2. A personal injury attorney can help collect evidence related to your claim.
The evidence a personal injury lawyer needs to collect may depend on the circumstances surrounding your injuries, including who caused your accident and what type of accident you suffered. Collecting evidence may mean:
Talking to witnesses. A personal injury attorney can collect witness testimony related to your accident, which may give a better idea of exactly how the accident occurred. Witnesses can provide vital information about the moments leading up to the accident, sometimes including evidence you may not have noticed for yourself at the time of the accident.
Taking a look at the scene of the accident. Sometimes, the scene of the accident can provide vital clues about how the accident took place, including what factors contributed to the accident or whether the liable party may have known about the dangerous circumstances that could have led to the accident ahead of time. An attorney may look over the accident scene to get a better idea of what happened and who may bear liability for your injuries.
Evaluating the extent of your injuries. Extensive injuries, including traumatic brain injury, spinal cord injuries, and amputations, can leave you with immense medical bills and long-term struggles that go along with your medical needs. An attorney can take a look at your medical bills, go over your expenses, and discuss your limitations with a medical professional or expert witness to get a better idea of how your injuries impact you and, therefore, what compensation you might deserve for those injuries.
Reviewing any video footage of the accident. Sometimes, video footage can offer key evidence regarding the accident that caused your injuries. Many stores, hotels, and businesses, for example, have security cameras that could catch a slip and fall accident or falling object. Cameras can also capture car accidents; dash cams, security cameras for local businesses, and even traffic cameras may all have footage of the accident.
The more evidence you have to support your claim, the better your attorney can build a case that could establish who caused your accident and what right you may have to compensation. By working closely with an attorney, you can often improve the quality of your case.
3. An attorney can help build a highly effective case that will increase the odds that you will get the compensation you deserve for your injuries.
Following any type of serious accident, the way you spin the circumstances that led to the accident can have a substantial impact on the compensation you ultimately receive through your personal injury claim. An attorney can help build a highly effective case that will show the details of what you have suffered, why the responsible party or parties bear liability for your injuries, and how much compensation you deserve. Often, an attorney's involvement can help uncover key details that may push the liable party's insurance company to offer more compensation for your injuries. In other cases, an attorney can present your case to a judge or even to a jury, offering up key details that will establish the full extent of the suffering you have faced because of the other party's negligent actions.
4. An attorney can negotiate and communicate with the insurance company for you.
After an accident, you may not know what you need to say to the insurance company that covers the liable party, especially if they want you to issue a statement about the accident or comment on your recovery. You may struggle to negotiate for the compensation you know you deserve, especially if the insurance company makes things difficult for you or tries to trip you up. An attorney can take over those negotiations on your behalf. For many accident victims, simply turning over negotiations with the insurance company to an experienced attorney can go a long way toward reducing stress and making it easier to deal with whatever other conditions come their way.
5. An attorney can represent you in court, if needed.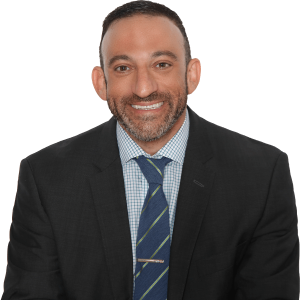 Most personal injury claims settle out of court.
Insurance companies
, in particular, usually do not want to deal with the added expense of taking a claim to court, so they may work with you and your lawyer to come to an agreement that works for all parties to avoid that court battle. Sometimes, however, you may end up in court fighting over your claim, especially if the insurance company tries to claim that you caused or contributed to the accident—or if you have massive, life-changing injuries that require substantial compensation. If your claim does have to
go to court
, your attorney can represent you, provide a solid look at the circumstances of the accident that can help increase the odds that you will receive appropriate compensation for your injuries, and provide you with someone you know remains on your side in the busy courtroom. If you need an attorney, choosing the right attorney can make a huge difference in your claim.
Reach out to an attorney
today to get started.